Over the weekend I put the finishing touches on the Janery sewing studio, and I couldn't be more excited to share them with you.  I'm so sorry I left you hanging last week, by the way. I had business travel which left me with zero down time.
To make up for my absence, I'm going to have a slew of little project posts this week.  Most are simple, cheap, and easy – don't you love projects like that?
There is one egress window in my sewing studio, thanks to its basement location. It's great for letting in afternoon sunlight, but when I transform the space into a temporary guest room for overnight guests, I need to have the window covered for privacy.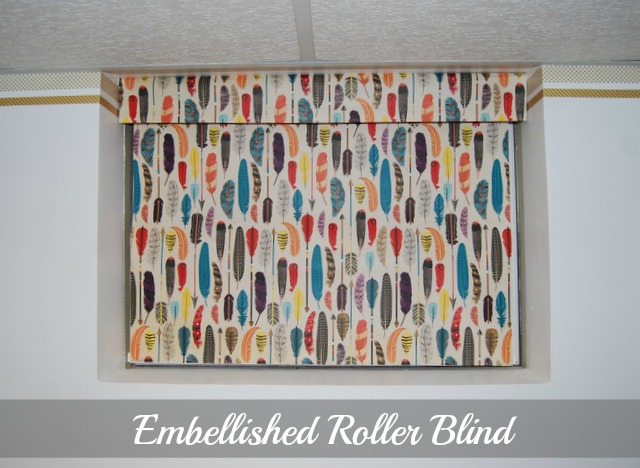 The window is so small that it doesn't lend itself to drapes or anything grand.  After a quick peek at the blinds at Home Depot, I chose a plastic roller blind and had it cut to size.  It was cheap. It was easy to install.  And most importantly, it looked easy to beautify!
My first plan was to use ModPodge to adhere pretty fabric to the blind, but I couldn't find any that I really wanted. I did, however, have a pretty roll of feather print wrapping paper from Paper Source that I had wanted to use in the room.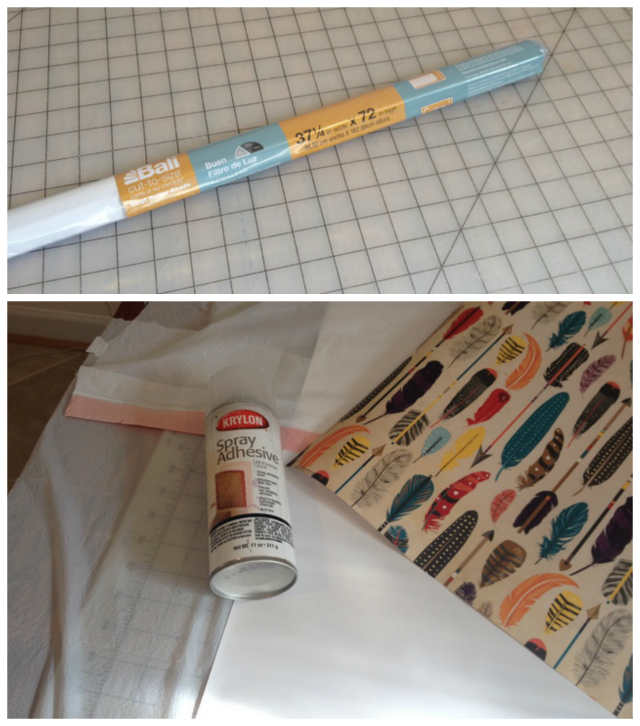 I had no idea if I could coat the blind with paper, but I figured it was worth a try, right? What's the worst that could happen?
I covered the table with plastic garbage bags for protection.
I unrolled the blind and sprayed the bottom 30″ with adhesive.
Then I placed the paper over it, and gently pressed it onto the sticky blind, smoothing from the center out to the edges. I only covered the first 30″ because the window was only 25″ tall.
Then I installed the blind in the window well, and rolled and unrolled it a few times.
It worked!  The paper stayed on just fine!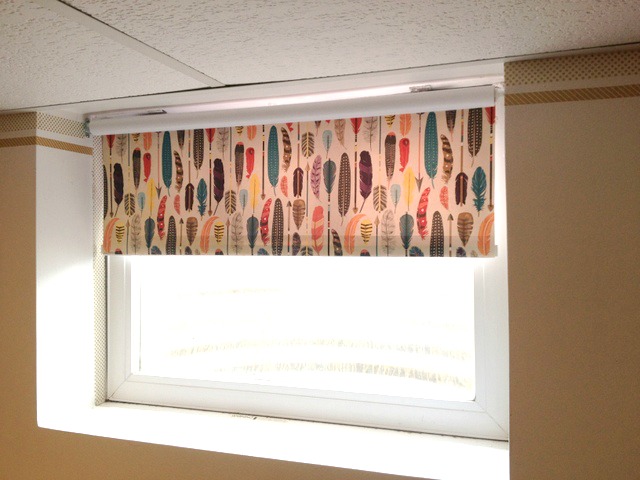 I didn't like how ugly and unfinished the top of the roller blind looked, however.  It needed a little valance, so on a whim I made a tube of paper the width of the window, and taped it shut.  Then I flattened it so that it was about 4″ tall, and slid a tension rod through it.
Voila.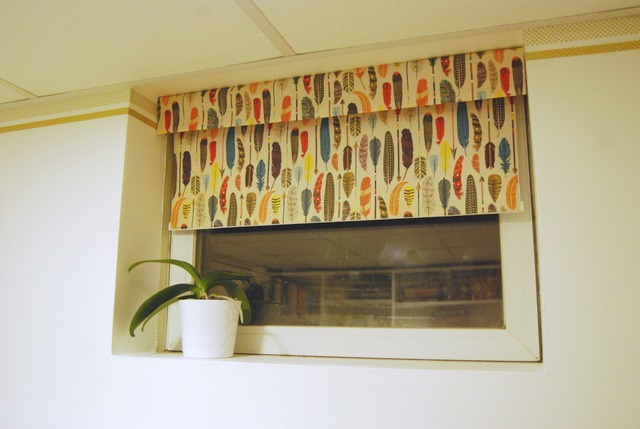 So far this project is holding up well. If I do have any problems down the road, I will let you know.  I don't expect the blind to get a ton of use, because it will only be pulled down for guests. If you have a blind that will see a lot of use you may prefer to use fabric.
Supplies & Cost:
Roller Blind – $8
Decorative Paper – $7
Spray Adhesive – already owned, but cheap
Tension Rod – already owned, but cheap
Total Cost:  $15
In case you missed it: