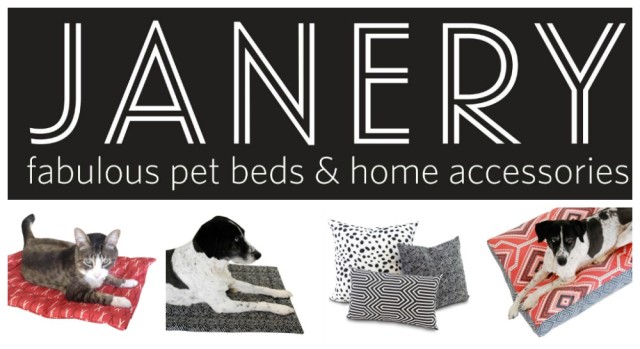 JANERY offers colorful home accessories and fabulous pet beds inspired by my passion for color, interior design, pets, and small US businesses.  My products combine trendy patterns, durability, and washability to create style you can really live with.
With a love for interior design and a house full of rescued pets, I was frustrated with the lack of color and style in the pet bed market. When my first and oldest rescue dog began to have incontinence issues, I realized that even the most luxurious pet beds weren't waterproof, which meant they were ruined by accidents. And thus, the Charlie Cushion was born – a colorful, durable, and plush waterproof pet bed.
In January 2015, I took the leap to run JANERY full-time, and I'm excited to see how the with the goal of expanding my line through wholesale and eventually creating more jobs for women in my community.
All products are currently made by me in my home studio outside Washington, DC, with the exception of pillow inserts and pet bed inserts, which are made in a small US factory.
My design inspiration:
Fabulous decor is no fun if you're scared to use it! I love color and style, but I also love functional design, like pillows designed for easy cleaning – an important feature with pets or kids in your home. My throw pillows are double-sided with zippers in the bottom for easy cushion removal, and my colorful pet beds are either waterproof, or fully machine washable.
My Philosophy
I'm passionate about supporting US manufacturers, so I source US-manufactured supplies as much as possible, and I'm working towards hiring women in my local community (and maybe even partnering with a local manufacturer). I'm also focused on giving back to the community, so every year I donate a portion of my proceeds to foundations for homeless people and pets.
What are customers saying?
"These pillow are perfection. I am so impressed by the quality. The fabric is not only gorgeous, but the perfect pillow weight, and what I'm showing you in this picture is the nearly invisible zipper. My Pottery Barn zippers aren't even invisible! It's truly gorgeously made."  – via A Home in the Making
"Her stuff is great looking and well made, you can tell she puts a lot of time and effort into all of her creations. Wendy found a great pillow cover that will go well in our sun porch, and we also took home a much needed chevron cat bed for Mel.. . He's now been a pretty consistent fixture on his new stylish cat bed just hanging out and observing, all thanks to Janery." – via Old Town Home
"Ethical standards are few and far between in business these days, and I am happy to say that Jane of Janery is an exemplary business owner! Not only does she focus on amazing quality project, she has a insatiable passion of bringing beautiful, eco-friendly products into people's lives! She even uses eco-friendly shipping materials (that are reusable)… seriously! She makes me smile, and so does the amazing pillow she sent me."  – via Design Build Love