I'm excited to finally reveal the completed faux built-in shelves in my sewing studio!
How I did it:
I'm going to save a detailed how-to post for another time, because I am working on a little document that shows the steps.  In short, I assembled the frame of top, bottom, and vertical supports, then I drilled holes in all the verticals to create adjustable shelves, and then I painted it.  After that I added the backing, and measured and cut the shelves for each column.
It's not perfect, and it's not quite square, because I used cheap pine lumber which has some warp to it. But it's really close to perfect, and the shelves lay flat, and that's all that really matters.  At about $220 in material costs, this solution wasn't cheaper than the Ikea cabinets I tried, but it is a much better one that uses every inch of the space.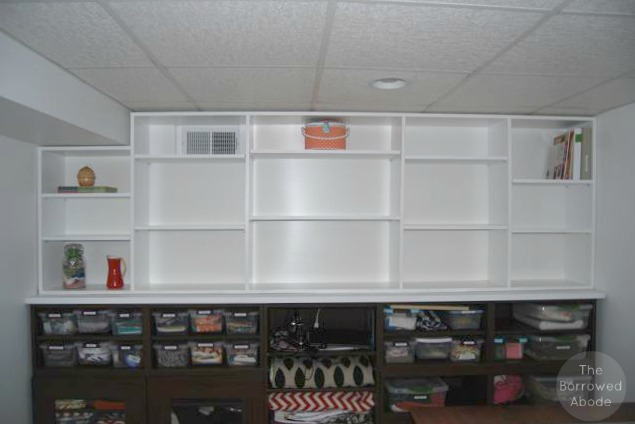 The Installation:
There were a few moments of sheer terror as Ryan and I attempted to move the 10-foot-wide unit into place.  It had fit when we tried the frame, but at that time the far left side and top and backing hadn't been installed.  But the completed unit was a much tighter fit, so much so that at times I really, really didn't think it was going to get in there.
When we gave it a final heave up and against the ceiling, and then we were able to wedge it back onto the exiting shelves, it fit perfectly.  So tightly, in fact, that it's going to take a little work to remove it some day.
I immediately started jumping up and down and screaming "hell yeah" with excitement and relief.  I just couldn't contain myself.
So the shelves are not styled yet, but they're in, they're working, and they're totally awesome – and I'm riding on a DIY high that no drugs could possibly compete with.
But enough about me and my current feeling of awesomeness.  Even better, I'm happy to report that this is a totally rental-friendly solution, because there is nothing attached to any walls.  And it totally solves the dilemma posed by that awkward corner where the ducts go through the wall.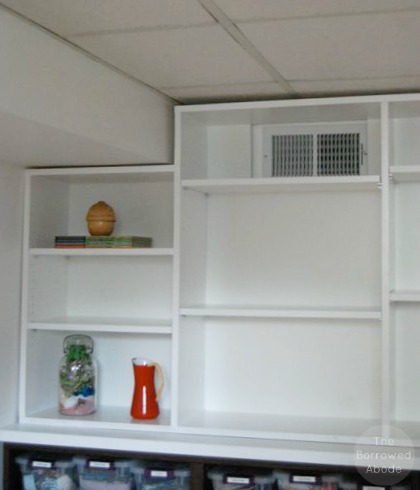 Wish List / Final Touches
Adding another board to the base so that it's totally flat and finished. A reader asked if I was going to build it off of the white shelf I had already built over the base cabinets, but silly me – I didn't think to do that.  /Facepalm.
Replacing the bottom cabinet doors and drawers with white ones so that everything is more seamless. (I can't get more medium-brown ones, b/c that was discontinued.)  Also, I would like more drawers and have Ikea credit I need to use.
Installing trim around the entire unit so it looks more officially built in.  Right now there are uneven gaps in places b/c the walls, floor, and ceiling are not level or straight.
I'd also like to wallpaper the unit with a beautiful wallpaper, but that's also going to wait.  I think I may try to incorporate the colors of my new logo when I do it.
Speaking of the back, I backed the unit with the cheapest thing I could find – white-coated MDF board – and cut out a space in it for the A/C vent.  I didn't get it measured exactly right, but close enough.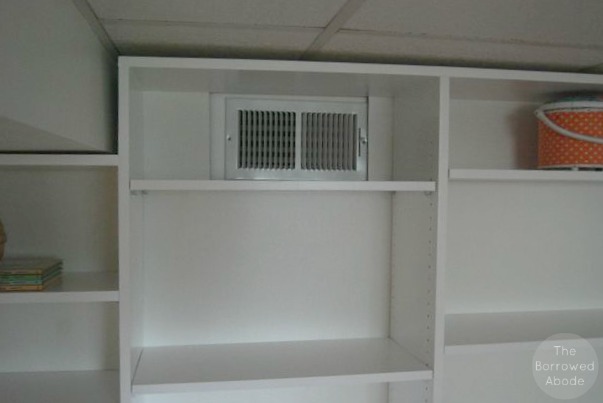 Styling the Shelves
Let's chat for a moment about the idea of "styling the shelves."  As much as it pains me to admit it, I'm really excited to get to do this.  We don't have a single shelving unit in our home and so itching to have some shelves to play around with!
Honestly, the idea of "styling shelves" makes me roll my eyes because it seems so damn pretentious and silly,  but at the same time I do love beautifully styled shelves. Many designers appear to purchase objects solely for the sake of styling, and that seems wasteful to me. The ultimate styled shelves are ones that blend awesome design and layout with super functional storage and organization.  I think I can achieve that over time.
Are you relieved that the saga of my shelves is finally over?  I know I am, but even though it delayed my studio makeover, I'm glad I chose the custom solution.  It was more work, but totally worth it.  Now comes the fun: Decorating!
In case you're new here: