Have you ever tried pureeing almonds in your blender?  Oh my gosh, the resulting homemade almond milk is so much tastier than that stuff in the soy milk aisle at the grocery.  I love making a few batches and then storing them in the fridge for a quick snack or meal replacement.  It's low in sugar, high in protein, and super healthy all around.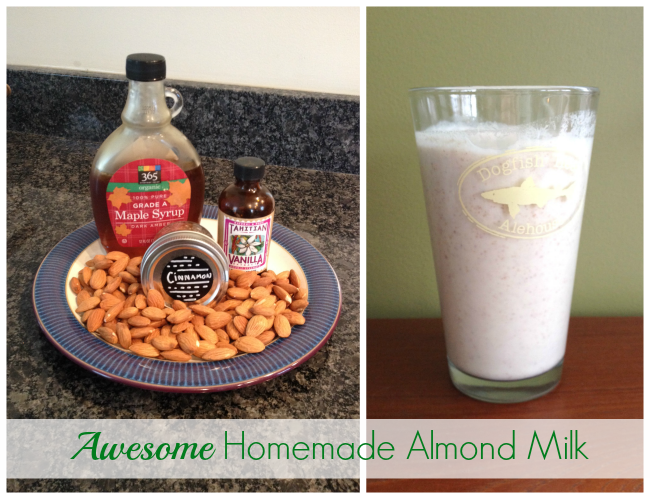 Ingredients:
3 C Water
1 C Almonds
Splash of Maple Syrup
Dash Cinnamon
1/3 Vanilla Bean, or a dash Vanilla Extract
1. Put all the ingredients except the vanilla bean into the blender.  Then slice the vanilla bean lengthwise and scrape the seeds into the blender. (If using extract, just pour in.)
2. I use my reconditioned Vitamix blender, so I set it to Smoothie cycle and that's it.  If you are using a regular blender, just blend carefully until smooth.
3. This is the part where a lot of people strain it through a nut-milk bag to get it thin and smooth.  However, I prefer to drink it as-is, with the thick texture of the pulverized nuts. It's kind of like a smoothie.
Low sugar diet?  Adjust sweetener of choice to taste. Or use a few dates.  Or honey, or agave, or whatever floats your boat.  Heck, you could omit it entirely if you need to.
Shelf Life: I keep mine for up to 4 days in the fridge, but it's usually gone before then. 🙂 I don't know the official shelf life for homemade nut milks.
PS: I use the Vitamiz