Ok, guys, on Monday night I started to set up my top cabinets for the wall of shelving in my studio.  I stopped after getting the first frame in place. I wasn't feeling it.
The height of the IKEA Besta cabinets left an awkward gap between their tops and the A/C duct in the ceiling, and aside from the looks of it, I just hate wasting space.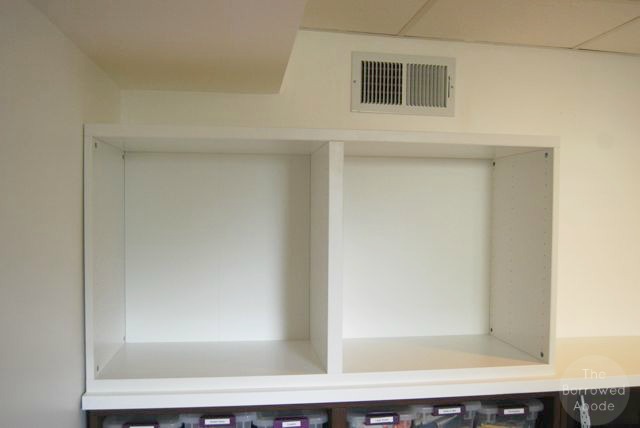 With the set of top cabinets coming in at about $200 total, I hemmed and hawed over it and last night I decided that I just can't settle for so-so.
And this is a lesson it's taken me a while to learn.  But if your gut feeling is that a solution isn't really working for you, trust it.  Because you don't want to spend the next few years just regretting a decision.
The only solution I'm liking now is to build my own shelving unit with adjustable shelves.  And the more I thought it out and sketched ideas, the more I feel like it's something I can knock out in about 5 days.  Heck, I could do it in one day if I didn't have a job – It's not as scary as I originally thought.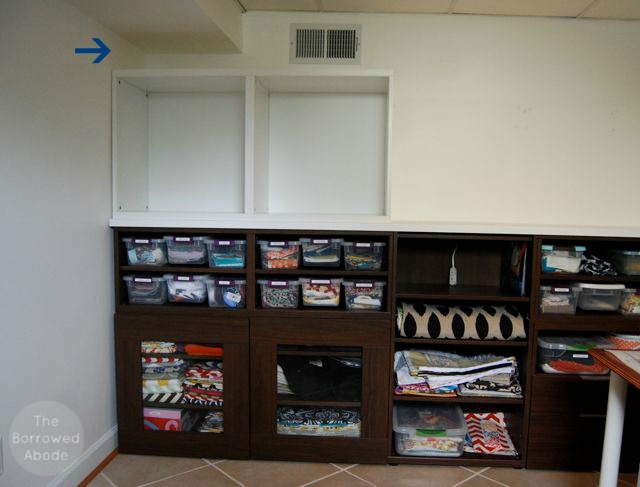 Even though I'm not sure where I'll find the time to get this done, I'm excited.  I can make it a little more shallow (the current picture shows a 15″ deep top cabinet) and I can make it conform to the odd corner in the ceiling.  And it won't be as bulky or as expensive, I hope.
Blog may be silent for a few days as I just focus on getting. this. done.  Time is of the essence – I've got fall craft shows to sew for!
In case you're new here: