During the first step of creating my Janery sewing studio, I had a revelation related to painting (or not painting) the walls in a rental.
After removing the Tempaper, I grabbed my paint swatch booklet and tried to find a neutral wall color.  I wanted to keep things simple and light in this small space.  But what undertones should I try to coordinate the paint with?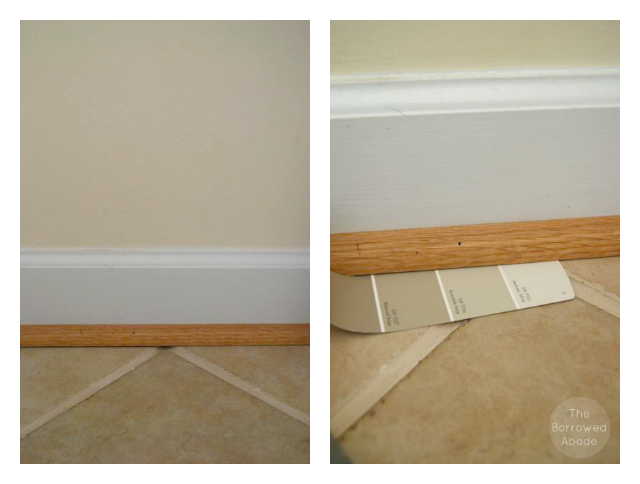 In choosing a wall color for this tiny room, I had to consider:
Cream walls – yellow undertones
Beige tile – pink undertones
Neutral grout – gray undertones
Wooden quarter-round molding – yellow undertones
White baseboards
So many colors were fighting in there, providing a great example of a decorating challenge in a rental:  you're often stuck with key design elements that can not be modified.
I considered painting the natural wood trim white so that it blended in with the baseboards, but it's not my house and the trim was brand new when we moved in.  Re-tiling the floor was also out.  Clearly, the yellowish paint on the walls was the easiest element to change.
Then, another idea crashed into my head, leading me to a perfect solution.   Ryan and I had talked about painting one wall in the house white so that I had a pure white background for photographing the larger Janery products (like dog beds).
Aha!  I could paint the studio white and have one big white box for photography!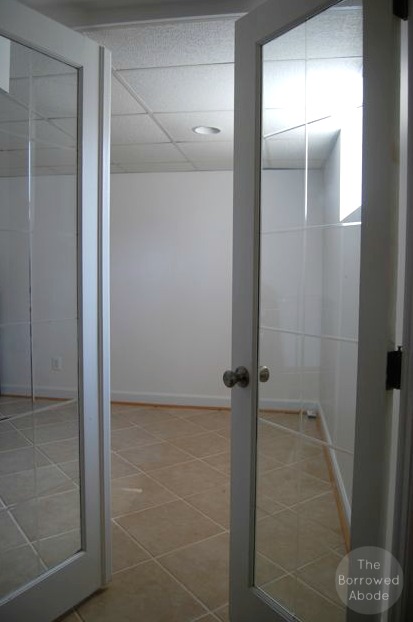 It's not the most exciting wall color, but it would solve a problem while keeping the space light – and it wouldn't fight with any of the undertones in the room's trim.
I selected my favorite white paint chip from my swatch deck, and marched into Home Depot, where I asked the paint guy to mix it up for me.  Looking at the paint swatch, he said "Just grab it off the shelf, there's nothing to mix."  I was confused, until he explained that the color I chose was the pure white base color.  It doesn't get any brighter or whiter than that!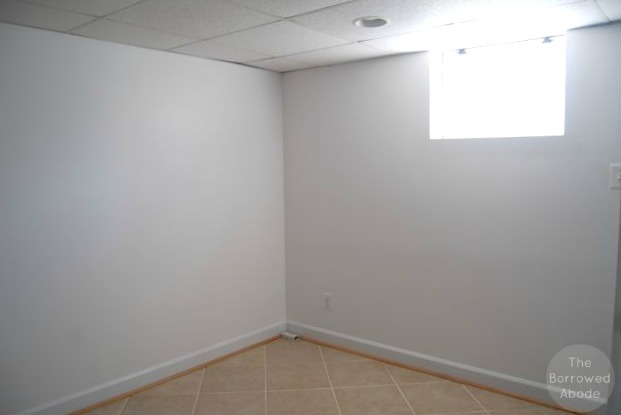 Once I finished painting, I was amazed at how the room almost seemed to glow with light and the pure white walls actually seemed pretty.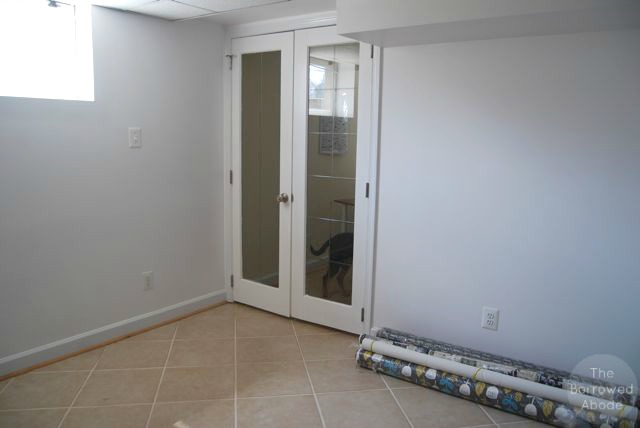 After 10 years of renting and hating the concept of boring white walls, I found myself embracing white paint.  And that's when it hit me:  so many rentals have drab, dirty white walls.  It's not the white that's depressing, it's the drabness of it that is.  A fresh coat of white paint could do wonders!