For months I've wanted to convert my handmade 7 x 4 foot sewing table into a drop-leaf table, simply because its massive size is sometimes more than I need in my 10 x 10 sewing studio.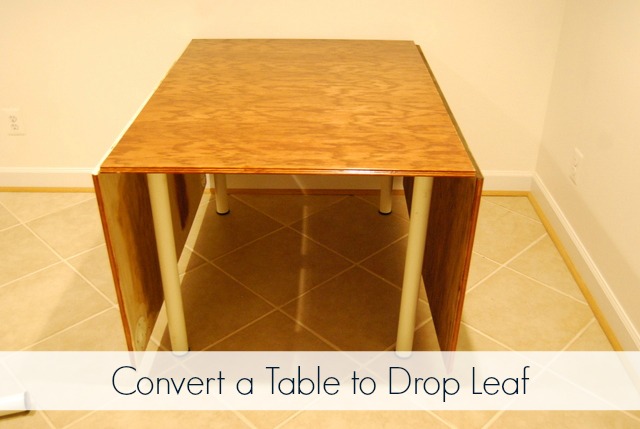 Because the table was built from a thick sheet of plywood, trim molding, and screw-on Ikea desk legs, it was easy to modify.
Supplies needed:
4 packs of Narrow Utility Hinges
8 table legs
Process:
I measured the height between the table top and the floor, because the two drop-leaves needed to be shorter than that distance so that they did not bump the floor when folded down.
I used painter's tape and a ruler to mark the cut lines.  Make the leaves at least 2″ shorter than the height of the table.
Ryan made the two cuts using a circular saw while I held the table.  (His arms were longer.)
I flipped the pieces upside-down when we were done, and then joined the pieces back together with hinges. 
I had to get Ryan's help again to flip the table right-side up because it was super awkward now that the leaves were attached by hinges.
Voila! With one leaf extended and one leaf dropped down, the table is the right size for my large cutting mat but small enough that I have a lot more room in the sewing studio.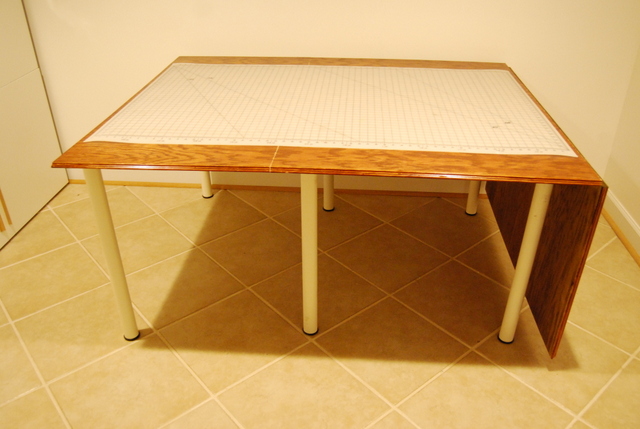 In the spirit of total transparency, I will admit my frustration that the veneer top layer of the table splintered so much along each cut line.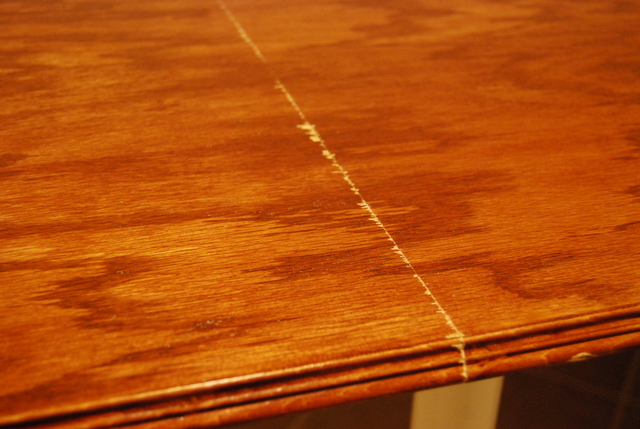 I sanded the rough edges, and I need to stain them to match.  The only problem? I mixed two stain colors when I made the table, and I have no idea what they were.  This weekend I'll play around with stains and hopefully find a good match.
For now, however, I'm happy with the result.  The table is sturdy, functional, and most importantly – flexible!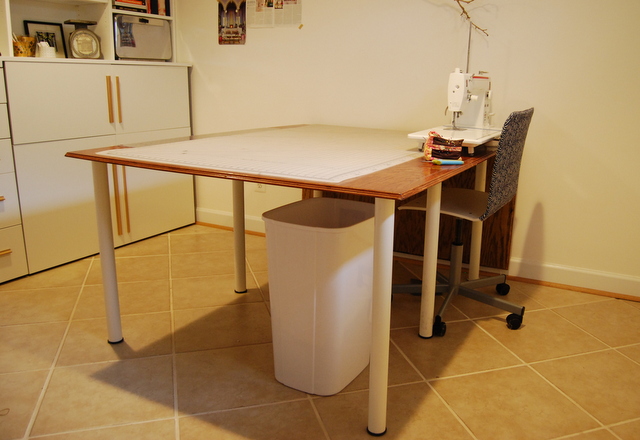 In case you missed it: