A few weeks ago I spent 6 hours organizing our tiny coat closet.  What is wrong with me?

I mean, really.  Who spends 6 hours organizing a closet? Me, apparently.  And it was supposed to be a quick-n-easy project.  But in the midst of emptying out the closet, I stood there trying to decide if I should paint it. But then I was inspired to try something.  Something ridiculous.  Could I use contact paper to "wallpaper" the walls?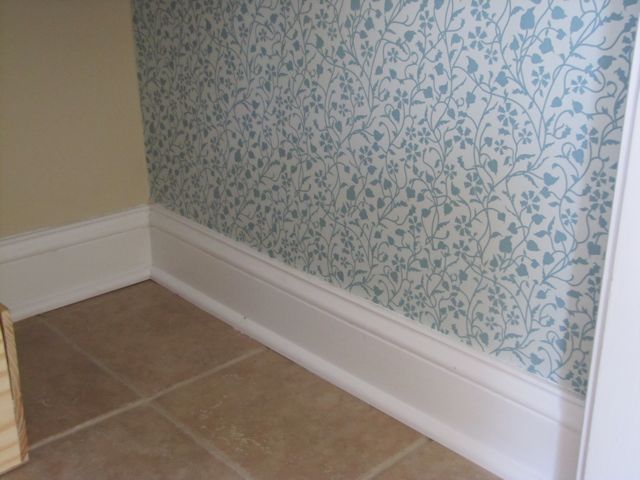 I decided to try out a little rental-friendly decorating trick on the off-chance that it worked. And it did.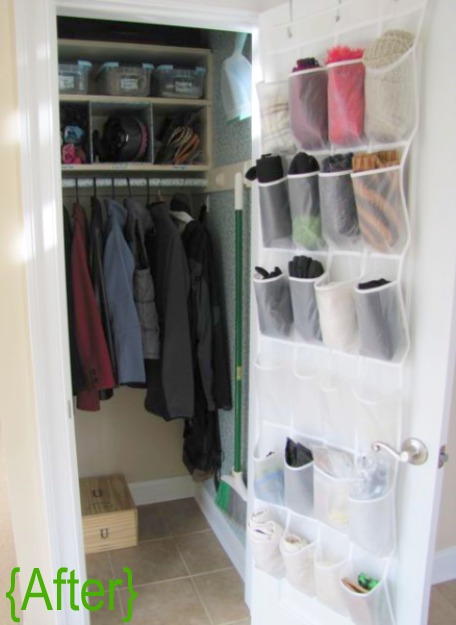 Here's how it went down.
I must warn you:  our closet was mortifyingly messy.  When we moved in I decided to "just put stuff in there" and not worry about it until winter.  But I didn't get to it in December. . . or January. . . and with spring looming over the horizon, I decided I couldn't take it any longer.   Time to launch operation closet cleanup.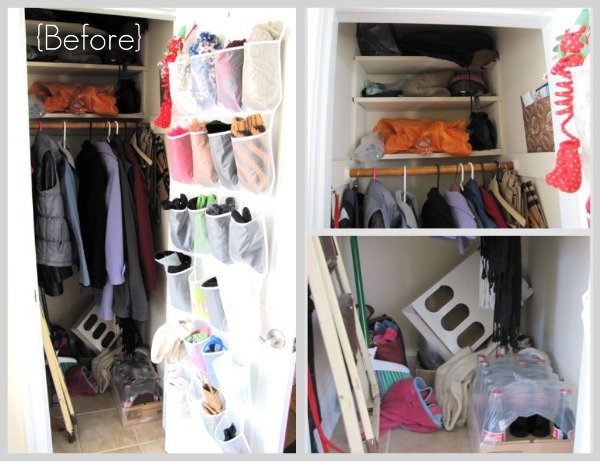 So on that fateful day, I yanked everything out of that sorry excuse for a closet.  

First, I measured the width of the wall.  Then I cut strips of the contact paper to size.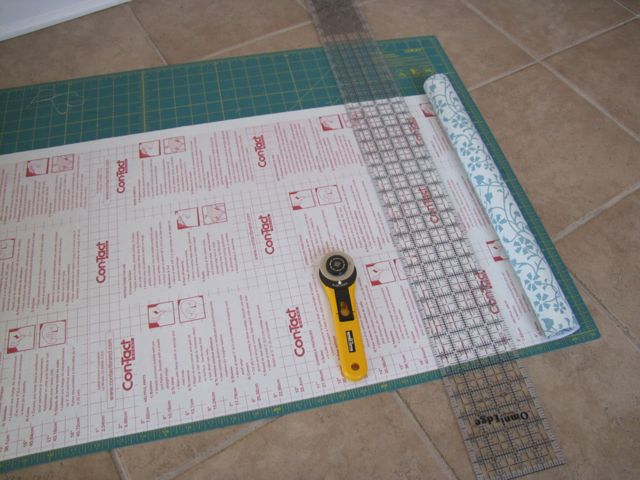 Next, I peeled the backing off the piece of contact paper, and carefully pressed it onto the wall.  It took a little patience to get it smooth and straight, but it was not at all the nightmare I thought it would be.  Thanks to its "easily-removable" nature, when I found the paper going on crooked I was able to just peel it off and try again.
*I found that it worked best if I lined up the side of the contact paper along the wall seam first, then smoothed it horizontally across the wall.  I allowed about a 1/2 inch overlap between sheets, so that if it wasn't exactly straight you couldn't tell.
Here's a little action shot, because – being the good blogger that I am – I tried to photograph every step of the process.  Note that I didn't worry about matching up the pattern perfectly at each seam.  Actually, I didn't try to match it at all – because I didn't want to waste paper.  Heck, I don't even know if matching up was possible for this pattern.  It's busy enough that you don't really notice.  And remember, perfection is not the goal.  It's only a closet, after all.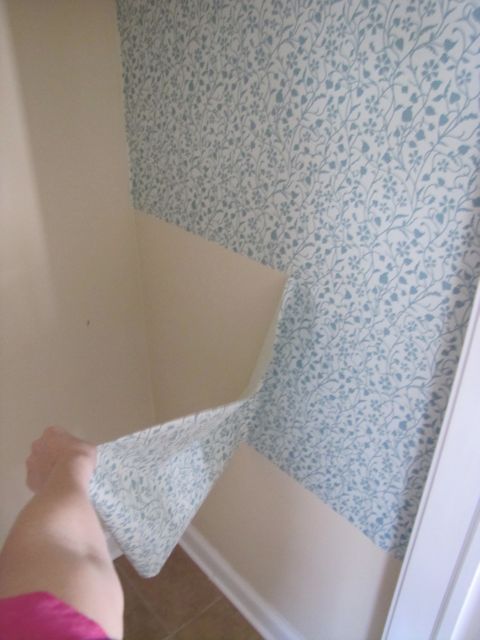 Several hours later, when I was almost done covering the walls, I ran out of contact paper.  It was then I knew I was in love with the idea, because I ran off to Home Depot (again) for a second roll – so that I could finish the top of the closet walls.  I think I've finally learned to do things the right way, even if it means they take longer.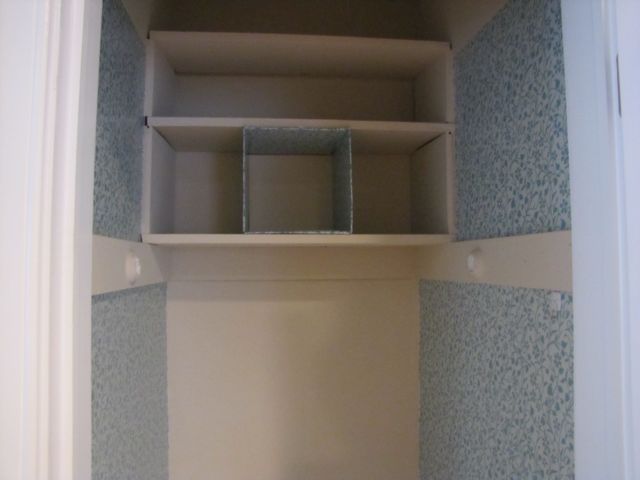 But back to the faux-papered walls.  Once I'd covered each wall, I wanted to have straight, tidy seams at the corners, so I held a straight-edge to the corner and ran a razor blade lightly down the corner, trimming the uneven ends.
I love how this crazy decorating idea worked out.
I am not sure how it will hold up over time, so I'll be sure to update you in a month or so.   My gut feeling is that it will stay put, because that stuff has some serious cling to it.  In a month or so I intend to carefully peel some corners back, to see if the paper can be removed without damaging the paint. Again, the product is supposed to be removable as a shelf and drawer liner, so here's hoping the same holds true with walls.
As for the total cost?  $12 for two rolls of contact paper.  That's a price I can live with.
And I have 2/3 of the second roll left, so that's a bonus.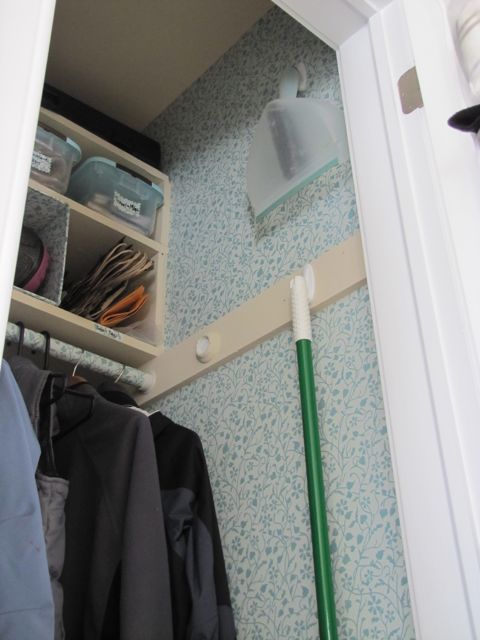 This is by far the biggest decorating risk I've taken so far, and I can't guarantee that it works in the long run.  But you don't know if you don't try, right?
Stop back tomorrow and I'll share some other fun organizational DIY tricks I used in the rest of the closet!
If you have any experience putting contact paper on your walls, please let me know how it turned out for you!  Or if you have an alternate non-paint wallcovering idea that works in rentals, I'm sure we'd all love to hear about that too!
Psst: I'm glad I waited until now to share this project, because it's just in time for the Nester's National Take A Risk Day link party! Be sure to visit her and see what risks more fabulous women have taken.
Update:  9 months later I can tell you the closet wallpaper is still holding strong, but peels off safely if I want it to.