Here's a virtual tour of our rented home. Enjoy!
Living Room
When we first crossed the threshold of this rental home, we immediately loved how open and bright the living room was.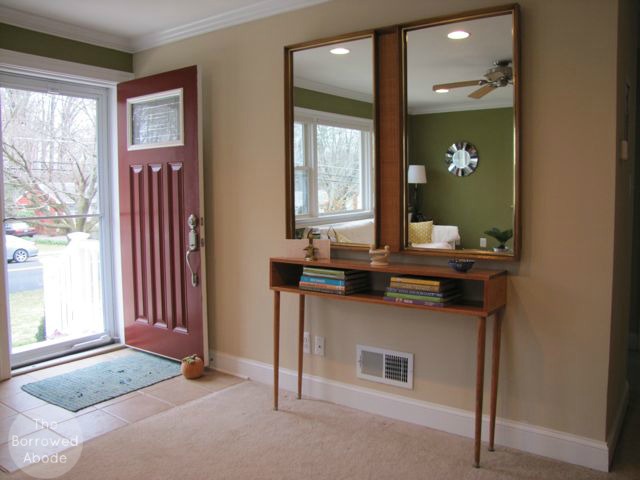 Entryway Details & Projects:
Living Room Details & Projects:
When I did a budget breakdown for the entire space, I was thrilled to find that this entire space cost only $745 (before we recovered the sofa).
Dining "Area"



The living area opens straight into the dining and kitchen areas, contributing a loft-like feeling to the main floor. It was challenging to find a dining table that fits comfortably in the space, which is short and narrow.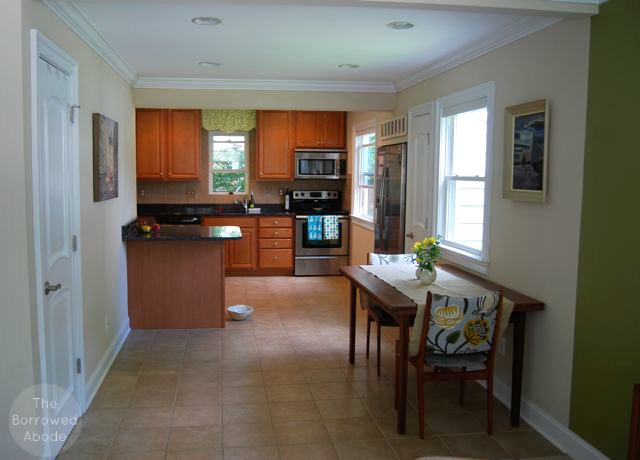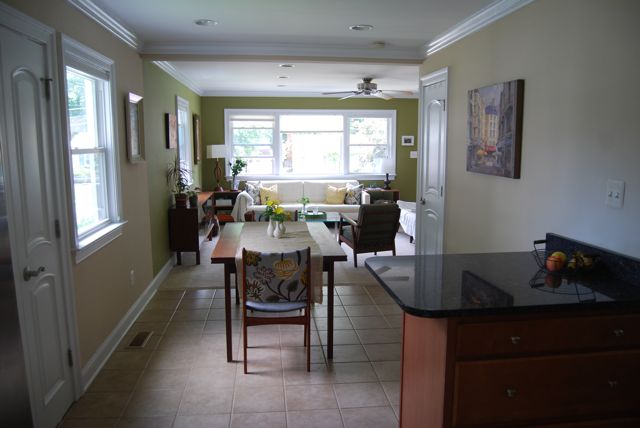 Dining Room Details & Projects:
Kitchen
The kitchen, on the other hand, is perfect, and it's definitely not your average rental kitchen. I haven't really had to do much with it.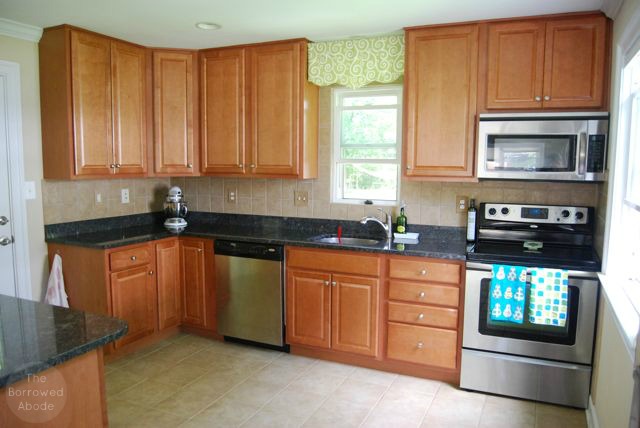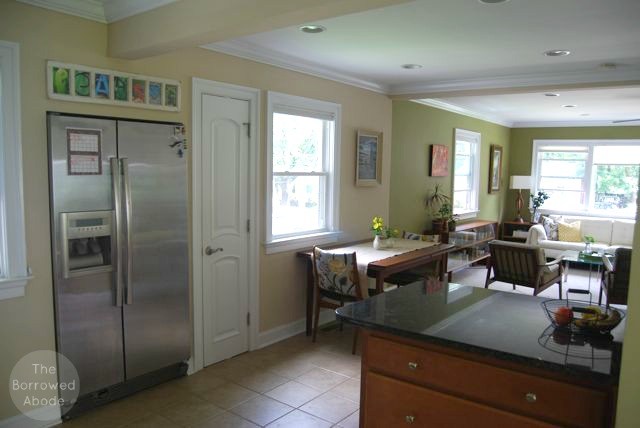 Kitchen Details & Projects:
Hallway
From the other side of the living room, a tiny hallway separates the bedroom and bath from the living area.
My Office & Dressing Room

This space used to be my sewing room as well, but after starting Janery I had to move the sewing studio and storage to the basement because it was taking over!
After three years of playing around with various layouts and decor themes, I feel like I really found my style with my current office & dressing room: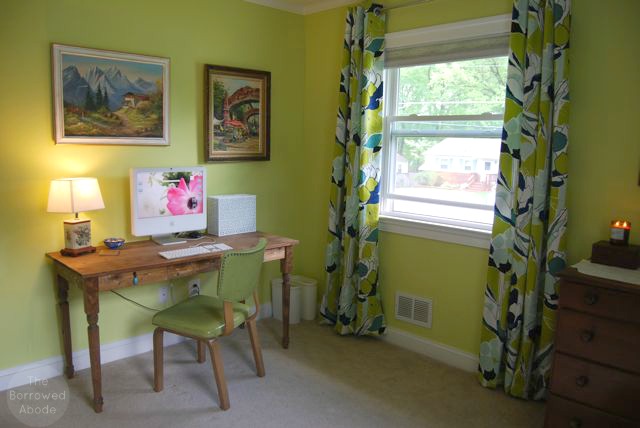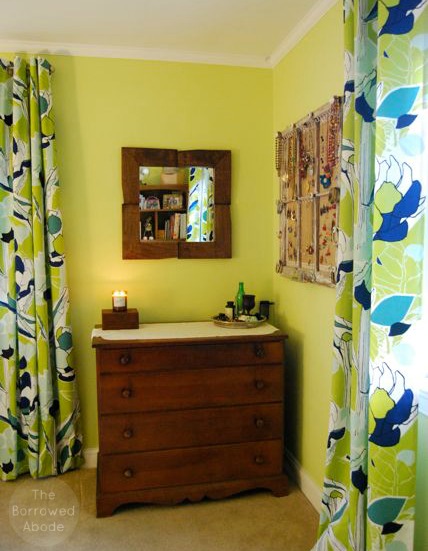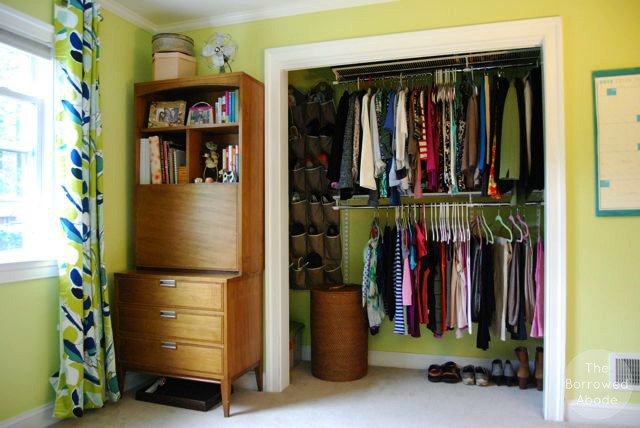 I could have "finished" the space off by hanging curtains to hide the closet, but let's face it: I'm grabbing clothes out of there so often, the curtains would only be closed for blog photos. And I refuse to do a project just because it would look good in photos.
Office / Dressing Room Details & Projects:
Ryan's Office / Dressing Room
Ryan also has a dressing room & office on the main floor, and it's usually the one blog-free spot in the house. Ryan's dressing room & office, but at his request that is the one blog-free zone in the house. In fall of 2011 I decorated it for him as a surprise engagement gift, using the paint color he'd already chosen.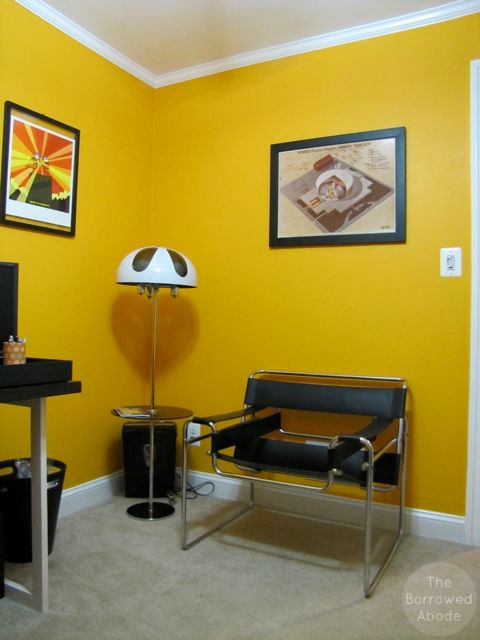 Ryan's Office Details & Projects:
Master Bath
Beautifully renovated and tiled, our master bathroom doesn't require much decorating. Decorating bathrooms in a rental, and creating enough storage in them, is often a challenge – but we really got lucky with this one.
If I ever run out of projects, I'll repaint the walls so that they're more of a light, warm cream that blends with the tile rather than their current yellow-toned beige.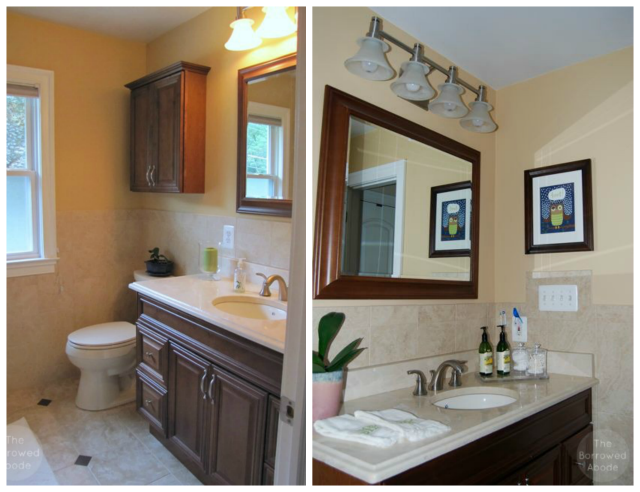 Master Bath Details & Projects:
Owl art from Funnelcloud Studio
Glass vanity items from Crate & Barrel
Other plants and counter decor (candles) rotate on my whim 🙂
Master Bedroom
The master bedroom was the first room I "finished" decorating when we moved in. Light and airy, with a window directly over the bed, this room gets a beautiful breeze and makes it hard for me to get out of bed in the morning. It got a seriously hand-made treatment, from custom curtains to home-built nightstands with handmade (and upcycled) storage bins. I customized and hung wall-mounted lamps for night time reading. As for accessorizing, I've made some special art and some personalized photography.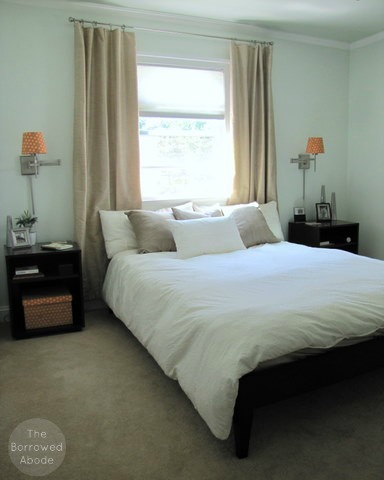 And then . . . well, then we "undecorated" the room. I explained why in the post about the wedding quilt. We still haven't built our new king size bed, but we're getting closer. Maybe in July?
Once we build the bed, then we'll start from scratch in the room. In the mean time, we're keeping an eye out for some small mid-century nightstands.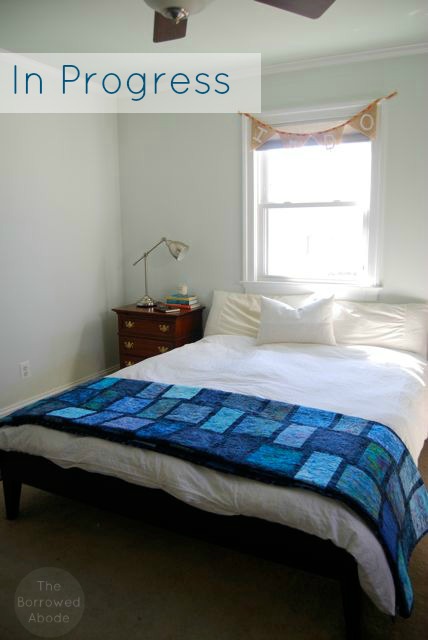 Bedroom Details & Projects:
Basement



The finished basement practically doubles the size of our otherwise small ranch home, with a spare bedroom, a second full bath, a workshop, a laundry corner, and a family room. It also proves that we have more space than we have time to decorate.  We have plans for the family room, but other projects keep kicking the basement to the bottom of the to-do list.
It's a little bizarre, so I made a floor plan (not quite to scale) to show you the layout: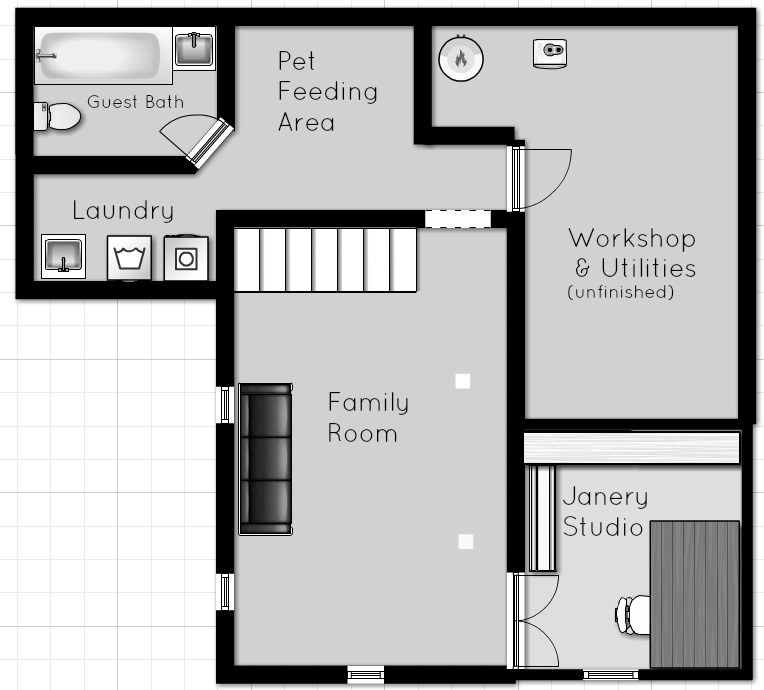 Family Room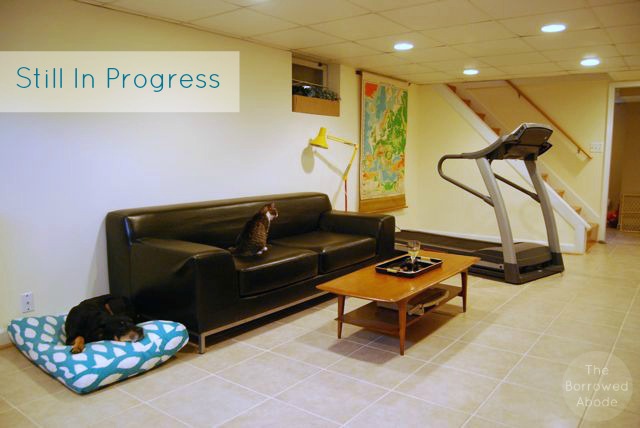 You may notice a few things have changed since I last shared this space. The biggest change is that my sewing table has moved into my studio, freeing up this corner of the basement.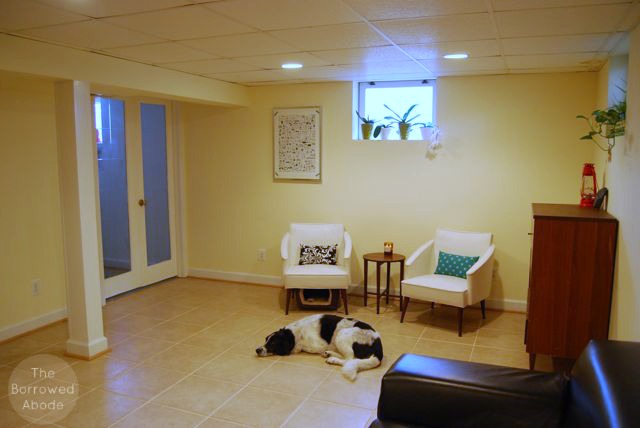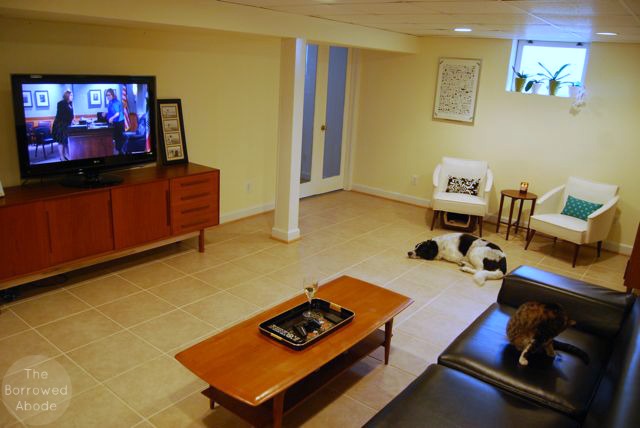 Family Room Details & Projects:
Vintage map, tiny round table, vintage floor lamp (top photo) – Just L Modern Vintage
White club chairs – flea market
Pillows & Dog Bed – Janery
Dresser – side of the road
TV Console – consignment shop
Coffee Table – yard sale
Sofa – Ikea; Cover by ComfortWorks
Black & White Wall Art – Things That Are Awesome by Funnelcloud Studio
Pets – various streets in Richmond, VA
My Janery Sewing Studio
In this rental house we were fortunate enough to get an extra basement room in addition to our family room. It has become my official Janery studio.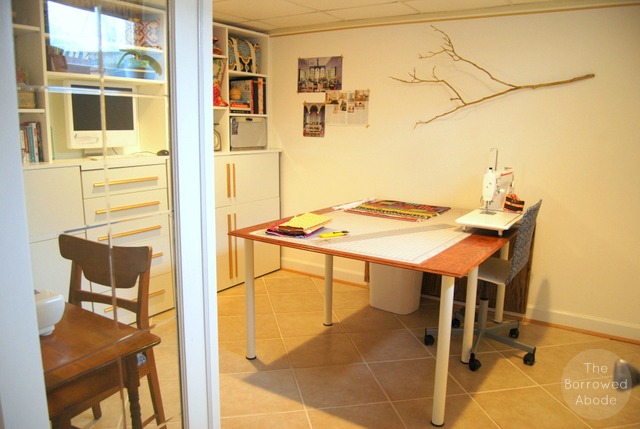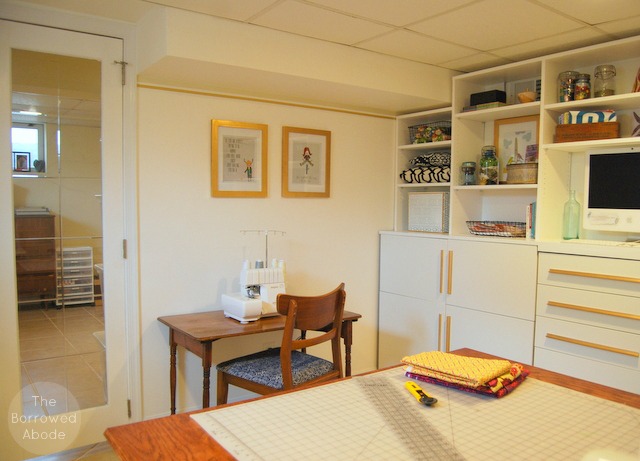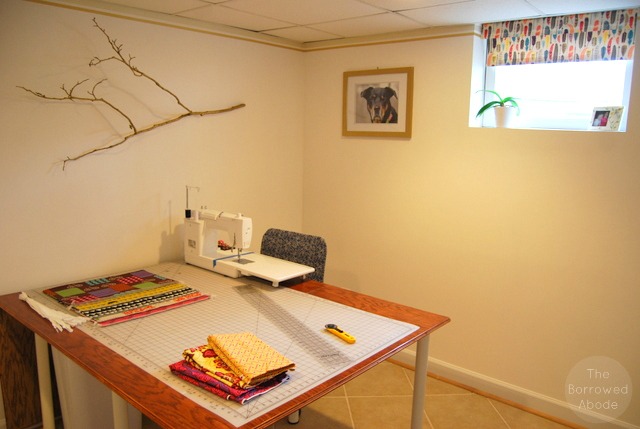 Janery Studio Details & Projects:
Former Guest Room
Before the Janery Studio was a sewing room, it was our basement guest room. I still convert it into a space for guests to sleep when needed, but it no longer looks like this: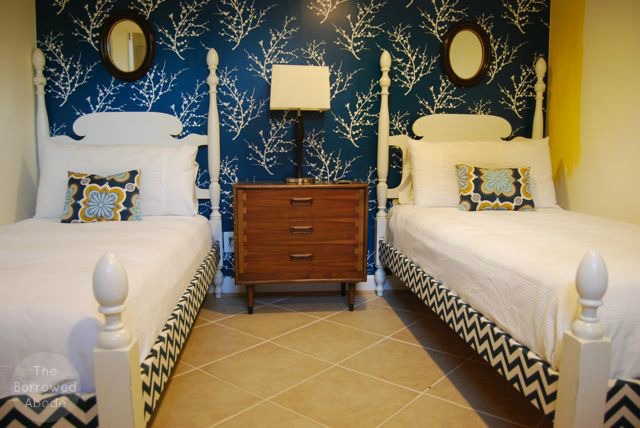 Guest Room Details & Projects:
Re-sizing the antique bed frames
Night stand: Vintage Lane Acclaim record cabinet via Goodwill
Laundry Area

Our laundry area is the most cramped space in the house. After living with it for three years I have decided that, if we owned the house, I'd move the laundry over to the "Pet Feeding Area" because that slightly larger nook would allow me to make a really nice laundry space.
I may tackle this space in the coming fall or winter. I do have some ideas for slightly more functional storage, and perhaps making the nook prettier.
For now, though, a galvanized metal tub holds rags (we don't use paper towels, so we need plenty of rags) and the cleaning solutions and "dog towels" are also on the shelf.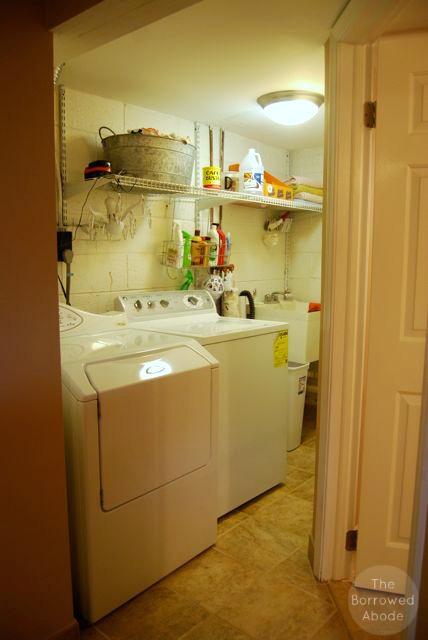 Pet Feeding Area
In the odd little nook between the TV room and the guest bath, I created a pet feeding station, complete with a pet pharmacy. Eager to create even more function for the space, I then built a work table that does double duty as kitty litter camouflage.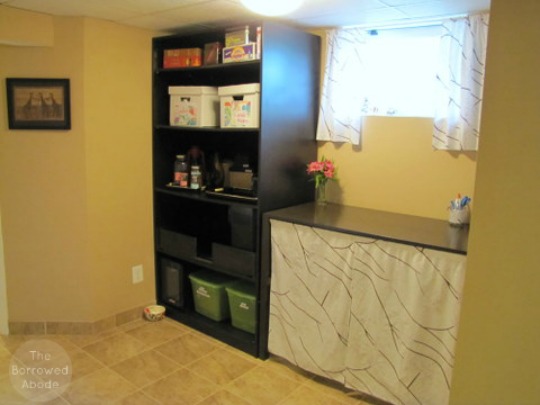 Workshop & Storage Space
We also have a great storage room / workshop in our basement. In addition to providing storage for our camping gear, paint supplies, tools, and extra decor, there's plenty of work space left over for my carpentry projects.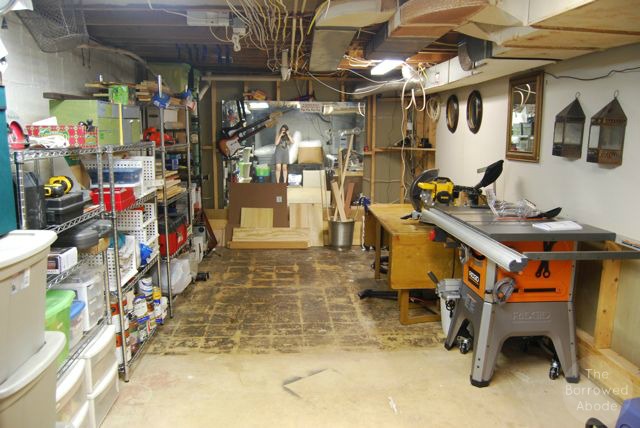 You can find a more detailed video tour and explanation of our first round of organizing here.
Back Porch & Yard
Our back yard is an little imperfect slice of heaven on earth. We love sitting in our back porch "living room," watching the birds, grilling, or enjoying thunderstorms.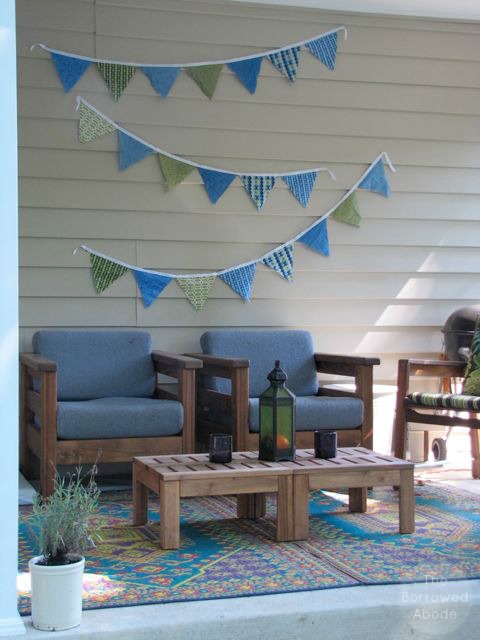 Back Porch Details & Projects:
Outdoor rugs (fair trade & eco-friendly) from Gaiam
Tables – Ikea
Chairs – This End Up via Craigslist ($5 each!)
Bunting – DIY with tutorial here
During the first two summers I put a little effort into setting up the back porch seating area. Then last summer I focused on making the actual yard more inviting. We moved our fire pit to the far back, and hung a hammock. After adding some flowers and extra lighting, we were able to enjoy many evenings with friends around the fire.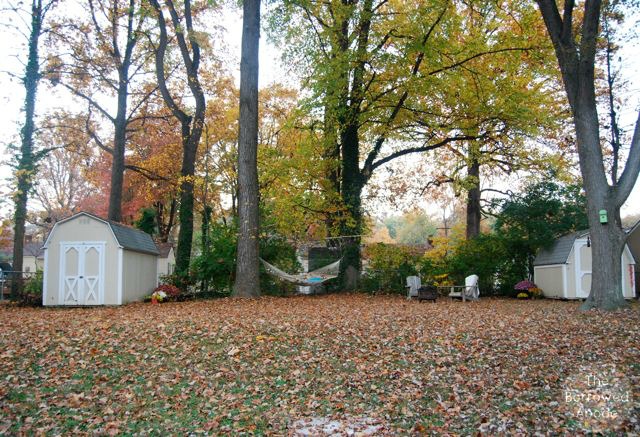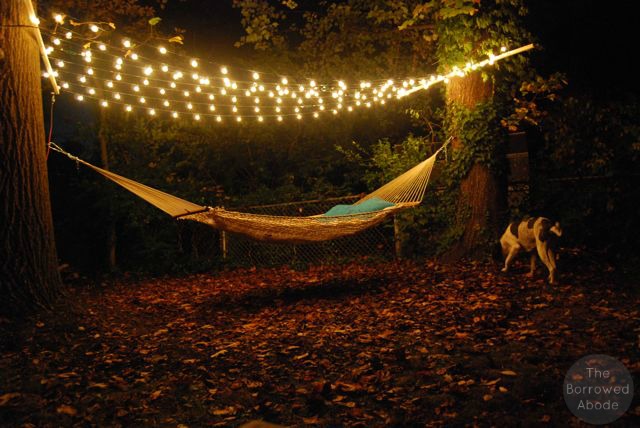 Gardening Projects: