As I mentioned in yesterday's branding post, the fall and winter shows are quickly approaching for Janery, so I need to get sewing.  That's why I'm aiming to complete the Janery Studio Makeover in the month of August.
If you've hung around here for a while, you probably know that I don't have a great track record with quickly completing projects.  That's mainly because I fit them in when I feel like it, around work and the shop and the blog.  But I'm trying to do better with that!  This studio makeover is a great chance for me to really stay focused and see how speedily I can actually complete a room from the ground up.
That's why last night I raced to the hardware store and bought my lumber.  I got it home using my tried-and-true Official Oversized Board Transportation System.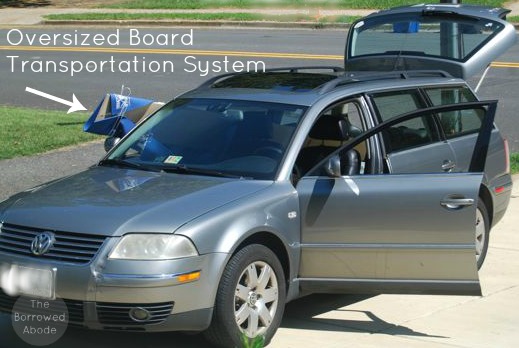 Simply insert long planks into car, and keep inserting until they go straight out the (open) front window.  Wrap with yoga mat to protect car and boards from each other. 🙂
Then I got started on constructing the built-in shelving for the studio.  Right now the frame is assembled (except for the jutting-out bit that will go under the A/C conduit) and the glue is drying.  Woohoo!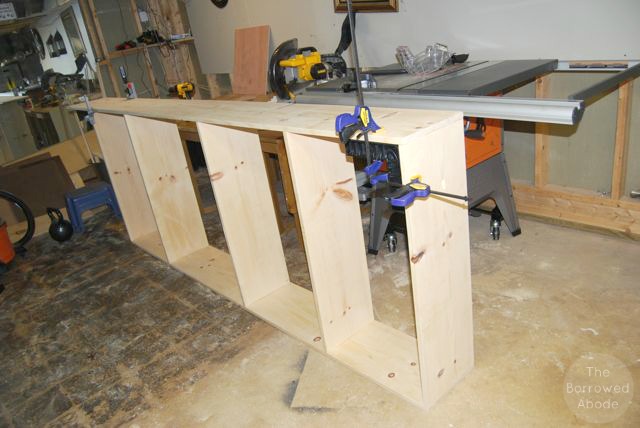 There's no reason I can't have some beautiful faux built-in shelves to show you on Monday morning!  Well. . .  I am hoping I got the center vertical supports square enough that they'll hold adjustable shelves. . .  
And there's your nail-biter of a cliffhanger for the weekend 🙂  I hope your weekend is off to as positive a start as mine!!
In case you're new here: