Last week I revealed the finally completed studio shelves.  You may have also noticed that I added gold cabinet hardware to the base cabinets.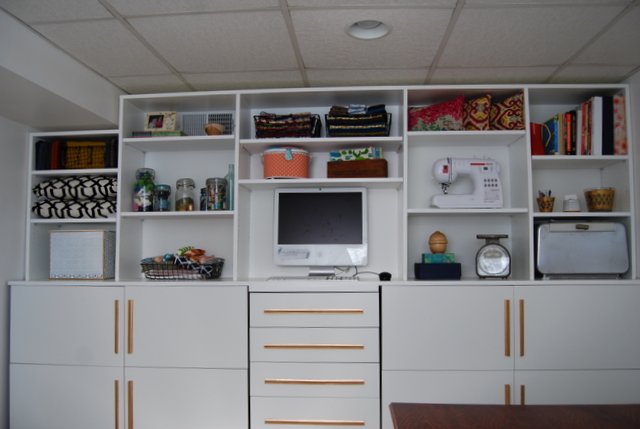 I knew I wanted streamlined and modern gold hardware to make the base cabinets look more polished and to break up all that white.  I didn't want to install heavy duty cabinet hardware, because I didn't need it (the doors are all spring loaded), I didn't like the cost, and I didn't want to drill holes in the cabinet doors yet.
Looking around our house, I found inspiration on the basement TV console – which is a mid-century buffet cabinet.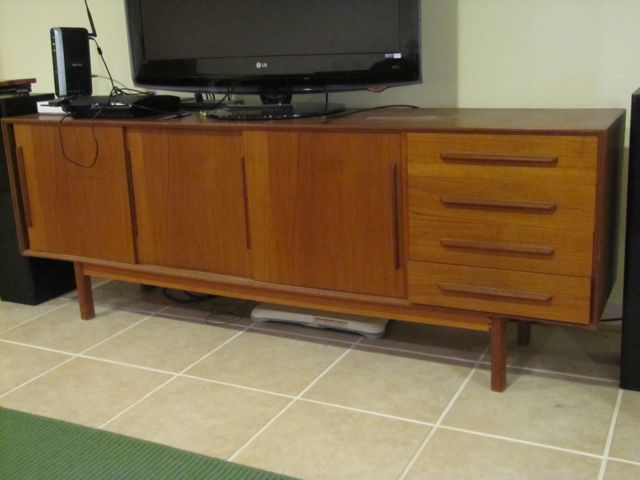 The drawer and door pulls on this are small, triangular strips of wood, and I like how low profile and modern they look.  They reminded me of wood molding, so I looked for the closest fit in the molding and trim section at Home Depot. (We probably could have made something using a router, but I wanted a quick and easy solution.)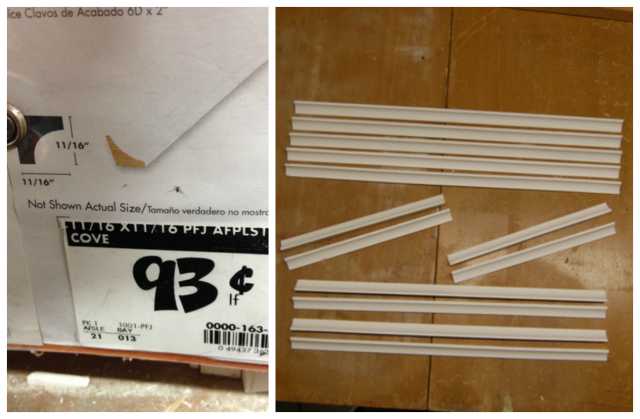 This molding was the closest match to my TV console, and the price was right, so I went for it.
After cutting the molding down to size and coating each piece in gold leaf paint, it was time to attach them to the cabinets. I used Liquid Nails for a strong adhesion that didn't require drilling holes.  If I become sure I want this long term, I'll add screws or nails if I need to.
Using a level and a light pencil line, I marked the spots where the hardware would go.  Then I attached each handle with a thin bead of Liquid Nails.  I used painter's tape to hold them in place while the adhesive dried overnight.
I'm very happy with the result.  This hardware is definitely more cosmetic than functional, but I didn't need super strong handles because the drawers and doors are spring loaded and open with a touch of the finger.  I really just wanted to add hardware to make the base cabinets a little more glamorous and polished looking.
Total cost:  $18.  You really can't beat that price for 13 pieces of gold cabinet hardware.
In case you missed it: