Wednesday night, while on business travel in the suburbs of Orlando, I headed to the town of Winter Park to find an interesting meal.
My meal at the bar of Prato ended up coming with a surprise side order of much-needed business advice and two homework assignments.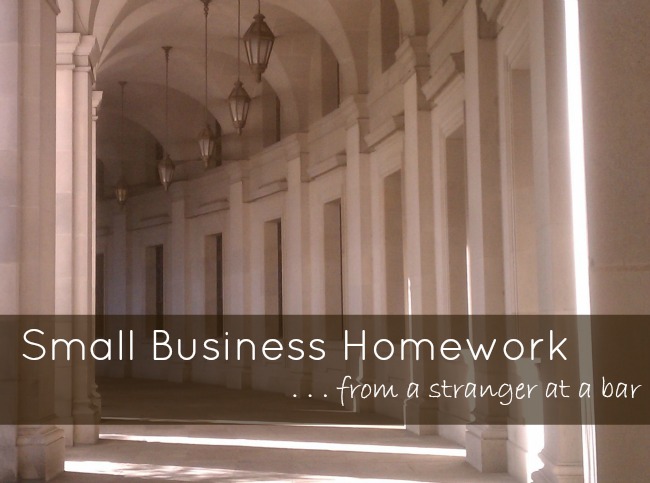 I got talking with another customer and was intrigued to learn he was a real estate developer and restaurant owner.  Real estate isn't really my thing, but because I love talking to business owners and asking a million questions, we talked business, and eventually discussed my grand plan for Janery.
Upon his asking me to describe my mission and products in one sentence, I totally froze, and gave him the Most Boring Tagline Ever:  I make durable and decorative dog beds.
Yikes.
Seriously, my friends, I know better than to freeze like that. I also know the importance of an elevator speech. And so I was embarrassed when he spit my company's mission statement back at me, in a much more polished, professional, and elegant manner.
Every week at my "day job" I meet small business owners, many of whom can't elegantly describe their business in 1-2 sentences.  I unofficially coach them to work on this, I know the importance of presenting your business well, so how is it that I've failed to do this for myself?
My first homework assignment of the night was clear:  Perfect my elevator speech; both the one-sentence version and the longer, 30-second one.
But the homework didn't stop there.
The man went on to ask "so how long have you been working on your business?"  
When I answered 3 years, and said I was having trouble finding US factories so that I could execute the wholesale part of my plan, he gave me a hard time again. I don't remember how exactly he said it, but I do remember the essence: He told me that I needed to stop wasting time playing at business  and focus instead on actually doing business, by hiring some help already.
I argued (hopefully politely) with him at first.  I was really put off by a stranger daring to suggest that I was wasting time or making excuses rather than executing.  No one who pours their energy into a new business wants to hear they haven't been focusing on the right things, but as he and I talked more, my ego recovered and I realized he was absolutely right.
I've said exactly the same thing to other business owners.  Why didn't I see that I was falling into the trap myself?
Several times I've considered hiring a seamstress or two on a contract basis, but I never followed through with it, and frustration ensued.  I always had an excuse for why I wasn't ready.
As I answered this stranger's questions at the bar, I started to see what he was already seeing.  I was ready to take the next step.  Yes, I do have a prototype.  Yes, I have sold my pet beds successfully.  Yes, I have identified marketing opportunities.  Yes, I know there is a demand for my product because I know the market and have spent years analyzing it.
So what was I waiting for?  Why hadn't I put an ad on Craigslist to hire help?
The answer was simple:  I was letting fear of the unknown and fear of failure stop me.  It's funny how those little apprehensive voices in the back of your head can keep you from taking the next steps to grow your business.
With that, my second homework assignment was set:  Stop making excuses, and hire help now.
Back in the hotel later that night, I worked through all the "worst case scenarios."  I always suggest doing this when you're fearful about taking a new step.
When you intelligently work through your worst case scenarios, the big scary goal starts to look achievable. 
Then I compared existing seamstress ads on Craigslist, and wrote my own.  It was so easy to do that I found myself thinking "why on earth did I wait this long?"
Regardless, I'm finally making headway with it, and all thanks to a kick-in-the-pants from a stranger in a bar.  As we parted ways and I thanked him for the great conversation, he challenged me to beat him to finding a factory as well.  Two hours later he emailed me a potential factory contact, but that was one challenge I was happy to lose.
So if you're still reading, here is my homework for you:  If you're trying to start or grow a business, get out there and talk to people.  Be curious about their stories.  You will learn so much, and not just from people in your niche.
And as the stranger said in his email to me:
"I am 51.  I only know this stuff because people shared their knowledge with me.  Pay me back by paying it forward."
Helping others grow or start their businesses?  That's something I've always done, and always will do.
Is there anything that maybe you need a shove with?  Let's chat about it and help encourage each other in the comments!