Wow!  You guys made my freakin' day with a boatload of happy Facebook comments, tweets, emails, and blog comments when I launched my shop yesterday! I am so thankful that I am surrounded by such encouraging, positive people!

Today's the second day of my Janery launch week celebrations!  I wasn't kidding when I said I had 5 days of awesome giveaways to celebrate the launch of my shop.  In addition to giving away several of my own products this week, I've arranged for three giveaways from people/business owners who have truly inspired me during this longer-than-expected process of starting a business.
Today's inspiring business owner is Scott Stratten, the author and social media celebrity behind UnMarketing.
He's awesome, and not just because he's confident enough to dress up like a princess.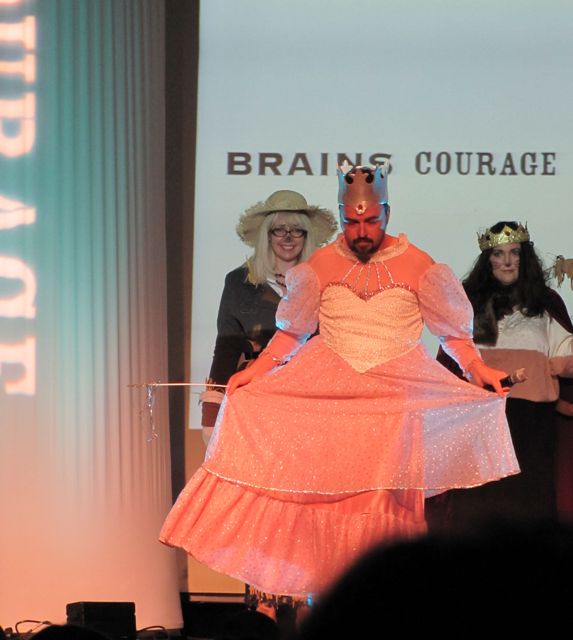 Before I heard Scott speak at Blissdom, I seriously thought Twitter ranked up there with "stupidest things ever invented."   Kind of like MySpace, or those damn shoes with wheels built into them.    But by the time Scott finished speaking, Twitter totally made sense to me.  Heck, I even got on my slow-ass vintage blackberry and "live-tweeted" a few of his nuggets.
Then I came home, and eagerly wrote a blog post summarizing everything I'd learned from Scott's speech.  The info he shared was totally awesome, and I use it to this day.  You should go read it before you enter this giveaway.   I can almost guarantee it's worth it, because Scott Stratten himself commented on that blog entry:

(If you can't read it, he said: "Well, I just became the president of your fan club!  Thank you for this, and not just the epic pic!!  You summarized my points better than I ever have.  Thank you so much for the kind words, I'm so glad I had a hand in making the event worth it for you.  It truly was one of the greatest audiences I've ever spoken to."
Yeah, I'm not gonna lie – I totally squealed with excitement to see that he not only read my blog post, but approved of my recap!
Giveaway #2:
An Awesome Autographed Copy of UnMarketing!
***This giveaway is now closed.***

If you have a blog that you want people to read, or you"re at all involved in social media, or you're a business owner who wants to understand how to use Facebook and Twitter to market your business without being obnoxious you need to read this book.  I have a copy, and I've read it several times, each time finding new nuggets to apply to my social media approach.
Now's your chance to win a copy.  An awesome autographed copy!
Here's how to enter:
Simply comment on this post and if you're feeling talkative, let me know where you stand on all things Twitter.
For a second chance to win, tweet this post and include @borrowedabode and @unmarketing  in the tweet.  Here's a shortlink to make it easy: http://theborrowedabode.com/?p=7827
Other details:
This giveaway closes on Thursday, 6/16/2011 at 10:00 PM
The winner will be randomly chosen and announced on or after Friday, 6/17/2011
The prize will ship after Friday, 6/17/2011
That's it for today!  How about some awesome links?
Disclaimer:  No one paid me to ramble on about how awesome Scott and his book are.   Though now that I think of it, if they wanted to, I wouldn't complain.   It's totally my personal opinion.   Scott is, however, providing a free autographed copy of his  book for this giveaway.  And if you buy his book through my Amazon link, I get a minuscule bit of dough.