When you're developing a business, one of the best things you can do is learn from more seasoned business owners whom you admire.  Sure, you can do this by reading their books or attending lectures (if they give them), but my favorite way is to just talk with them.
Enter Jim Law, the owner of Linden Vineyards, who's become one of my small business heroes in the 8 years I've been a customer there.  Over the years I realized that Jim's passion for the vines and renegade approach to business set him apart from the hundreds of other vineyards in the state.
During my fall visit to the vineyard I asked Jim if he'd be willing to sit down with our small business group so we could pick his brain about what he's learned in the 30 years he's been doing this.
"Sure, but I should warn you my business approach isn't considered typically American."   He went on to explain that he is a bit of a renegade, driven by his passion for wine and his desire to simply make a comfortable living doing what he loves – not live an extravagant life.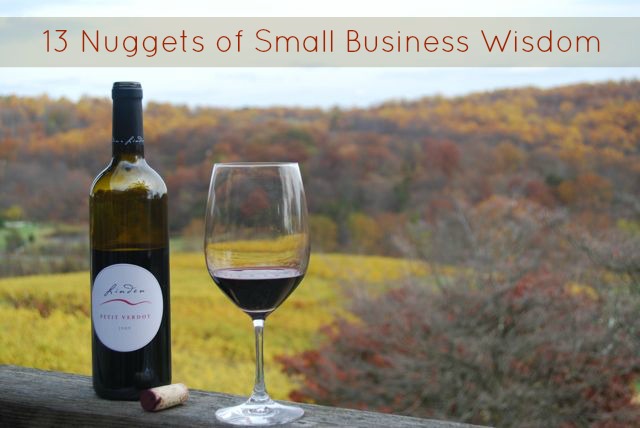 1. As an entrepreneur, you have to have fortitude.
2. Don't accept just anyone as your mentor.
You should have a business mentor, but study under the best, not just anyone in your business area.  Even if you have to wait for years for them to be available – do it.
3.  The younger your business is, the more risks you have to take.
"When you start you take risks because you have to.  If you don't, it's not going to happen."
But don't make rash decisions; sort out the "crazy risks" from the "reasonable risks.   Jim noted that as his business has developed, what used to be a reasonable risk then might now be a crazy risk.
As you take all these risks, keep your mistakes small.
4.  Always evaluate your actions.
Don't ever stop asking yourself "Why am I doing this?"
By this, Jim did not mean the question "why am I pursuing this business,"  though that is a good reflection. He meant more specific evaluations of your actions for the business, such as:
Why am I making this purchasing decision?
Why am I making the product this particular way?
The answer should not be "because that's how it's always been done."  Really evaluate it and see if it's the right way for you to be doing it. Or even if you should be doing it at all.
5.  If your products are handmade, you're likely in a "luxury market."
Jim pointed out this seemingly obvious fact to us when the conversation turned to product pricing.  Before then I hadn't consciously thought of my products that way.
6. When marketing your luxury product, it's all about the story.
I asked his thoughts on staying competitive with pricing, citing examples of Etsy sellers whose prices are unrealistically low in all of our niche markets.  We can't compete with them and actually make a living.
He wisely pointed out that we shouldn't try to and also  "You can't view your product as a commodity.  There's a story and personality behind it.  It's all about the story, so tell people that story."
7.  When marketing your products, ask "how do I make consumption decisions?"
You've most likely created your product line based on your tastes.  Therefore, your target customers probably have some similarities to you, so consider how you make purchasing decisions when thinking how to market to them.
8.  A "sale" is death to a brand.
When Jim dropped that little nugget on us I did a double-take, then immediately several examples came to mind.  Think of the stores that have sales and coupons available all the time.  I'd be shocked if you told me you were OK paying full price for their products.
This really hit home for me.  As a small handmade artisan, it's hard to price my products for profit while keeping them as accessible to consumers as possible.  A sale of even 10% off cuts into my bottom line – and it may be telling my customers that my products aren't worth the full price I've set for them.
Jim doesn't do sales, and his customers keep returning.  This is definitely food for thought.
9. View wholesale as a marketing expense/opportunity.
I didn't think Jim sold a lot to distributors (to have his wine in retail outlets) so I was intrigued when he said he was starting to do more wholesaling to them.
When you sell your products wholesale, you sell them for 30 – 60% less than your selling price.  Your profit takes a hit.  This can be profitable if your quantity sold increases dramatically.
But while a factory can increase production and do more sales when the wholesale requests come rolling in, wine production doesn't increase. It can't, because the grape yield remains constant.
Jim said he views the wholesale opportunities as a marketing cost.  By getting his wines into restaurants and retail outlets, he extends the reach of his brand, exposing it to potential new customers.
This was a great concept for me.  I'm a one-woman operation, so I can't increase my production drastically for wholesale efforts – and I can't make much profit at wholesaling either.
10. Create a great employee culture with three simple things:
Respect your employees.  Pay better than the competition.  Create a stress-free environment.
Jim went on to explain that "as an owner it's your job to absorb the stress affecting the business and not pass it on to your employees.  After all, it's your business."
Simple but so wise. Think of all the times your employers or managers have been stressed and passed that on to you.  No fun, right?
11. Make efficient decisions.
You only have 24 hours in the day, and often you don't have time to do everything you need to for the business.  Make efficient use of that time, which may mean quickly paying for something without much shopping around in order to save the time searching for savings.
An example Jim gave is this.  You need to obtain a part from a place that's 2 hours away.  You can have it shipped overnight and pay an extra fee, or you can drive to get it.
If time is money, and your time is worth $50 an hour . . . then you just spent about $200 (plus $.50 a mile) to go get it, just to avoid that $50 shipping premium.  Was that the most efficient decision?
12.  Live in your own bubble.
How many times have you seen people saying negative things about you / your blog / your brand somewhere online? And when you see it, do you read it?
Live in your own bubble, pretend they don't exist, and focus on your business.  Because you can't win an argument on the internet.
For example, Jim runs his vineyard differently than many in the state.  He added some restrictions as the wine tourism trade increased, causing more of a bar or party atmosphere that stressed his employees and negatively impacted loyal customers.  Linden has gotten negative reviews for the rule that you have to buy a case a year in order to be allowed to lounge on their small deck after a tasting, or that limos aren't welcome at the vineyard.
Jim saw some of the negative things being said, but quickly realized that it wasn't doing any good to see it, so he stopped looking.
However, he also realized that those negative reviews were helping the right new customers find him – the people who wanted to visit a vineyard that was serious about its wine.
13. My Exit Strategy is Death.*
Jim said his least favorite business jargon is the phrase "exit strategy."  Why spend time detailing an exit strategy for your business; why not spend that effort making the business successful instead?
(*If I'm lucky.)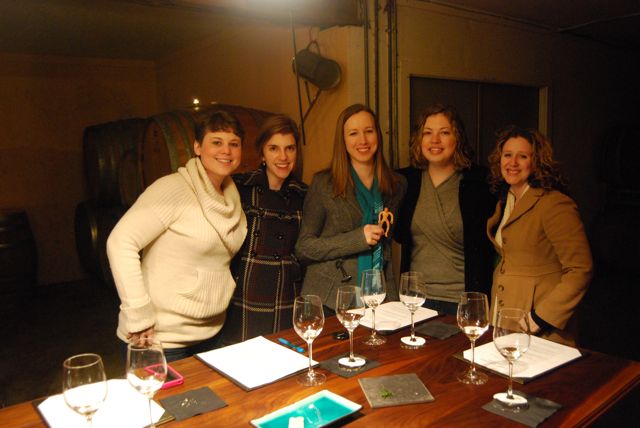 And that's it!  All in all, it was one of the most awesome business conversations I've ever had, and I think the rest of my group felt that way too.  We couldn't thank Jim enough for his time.
Thanks so much for visiting – Please subscribe to my RSS Feed or come say hello on Facebook!