If you're an indie business owner, or even just a blogger who wants to spread the word, you've got to have an elevator speech.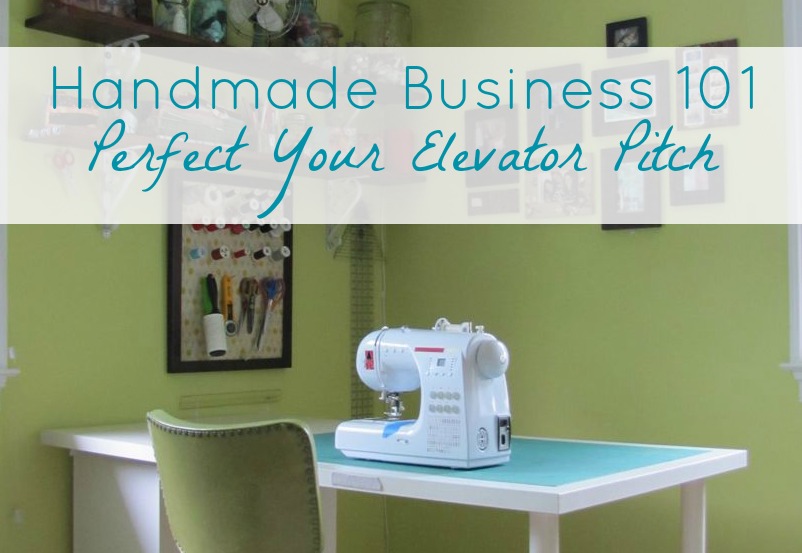 As a handmade or indie business owner, it's easy to sell yourself short. "Oh, I just make some things and sell them on Etsy,"  you want to mumble.  It's easy to get shy in a culture that values the corporate 9-5 more than the daring pursuit of entrepreneurial awesomeness.
That needs to stop. As creative entrepreneurs we need to be singing confidently from the rooftops, sharing our awesome companies in a professional way.
To share it professionally, to get people excited about it, we need to clearly describe our businesses in 2 minutes or less.
I never truly understood the term "elevator speech" until this past year, when I began living it in my day job. Now, because I'm the link between small business and the large company that employs me, small business owners talk to me on elevators, in conference lunch lines, and at my trade show booth.
You know what? It's amazing how many of them, including seasoned and talented professionals, are incapable of delivering a succinct and clear introductory pitch.
Here's how to do it:
First, Create Your Pitch:
What do you make or what services do you offer?
What makes you stand out from the competition?
How do you solve a customer's problem?
Play around with these questions and try different combinations of sentences and different adjectives.  When you think you've got it, run it by some friends
Now, Give Your Pitch
Say This:  Hi, I'm Jane, and I have a handmade business called Janery.
Don't be in such a tizzy over handing them your business card that you forget your manners!  Remain calm.  Shake their hand first, then offer your business card.
Next, you don't want to bulldoze them into listening to your pitch.  You must invite yourself.
Do Not Say: "I was hoping I could take a few minutes of your time to tell you about my company?"
Say This: "May I tell you about Janery?"
When they say yes, it's your time to shine.  (Skip the "May I" line if you're already in conversation with the person.)
Pitch It:  Janery offers luxury, waterproof pet beds that are not only comfortable but also fashionable. I designed them because my older dog kept ruining the bed inserts when she had accidents, and it was also hard to find patterns that complemented my decor.  Everything is handmade locally, with a focus on using USA-made materials. I sell these, as well as handmade accessories, both online and at local art shows.
Now, STOP talking.
Sure, you'd like to tell them more, but you have to keep it short.  If they are interested, they'll ask you questions.  If they don't, bring it to a close.
Close With A Call to Action:  Please take a look at my shop and let me know if you have any questions about Janery!  Thank you so much for your time.
A few more tips:
Always have your business card ready, but don't go running at them with card outstretched in hand!
Always use your company's name.  Not "we", but the actual name.  Try to say it 3 times – remember, you want them to remember the name.
Pay attention to nonverbal cues.  If they look antsy or bored, don't keep spewing more words in an attempt to engage them. Thank them and move on.
If they ask you to follow up, by all means, follow up! Not a month later, but in a week.  Preferably a few days.
As soon as you've parted ways, make a note on their business card about them, so you can remember them.  If they've asked you to follow up about something, note that on their card, too.
Be aware of your personal presentation.  Wear deodorant and keep gum/mints on hand to ward off bad breath.  I shouldn't have to say this, but I've experienced it far too often.
Phew! That's a lot to read, i know – but I tried to provide a lot of detail in the hopes that it would help.  If you'd like to share the elevator pitch for your small or handmade business in the comments, I'd love to read it!
Want to read more?  Check out my other Indie Business Posts here.