Last month I experienced a bit of a crisis of faith in the path my life was taking.  I started questioning several things that were a significant part of my life.
Fortunately, my new husband was not one of them.  🙂
It was as though I came up for air after the wedding and realized a few things:
Running Janery, while keeping my day job, this blog, and my home projects going – not to mention life with my new husband – was really just too much.   It had turned into another obligation.  If I wasn't sewing, I was feeling guilty like I *should* be sewing.
Creating the same products over and over was, at times, tedious and boring.
I really, really missed having time for blog projects and blog writing.
How did I get here?  The goal was never to become a one-woman sweatshop who spent all her free time sewing.   The goal was to create some special pet beds, test them out, and then either find a local factory to produce them or hire some local seamstresses part-time to create them in bulk so I could wholesale them.
However, I was so busy trying to keep on top of my shop's day-to-day part time activities that I wasn't able to work on my bigger goals.
But let's back up.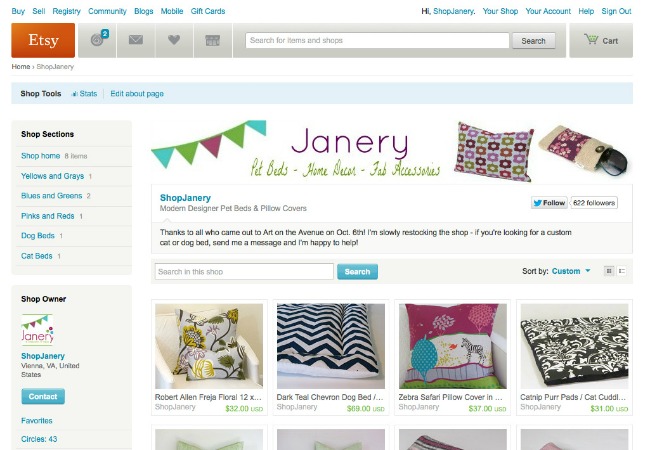 I started selling my custom pet beds on Etsy in January 2012.  Between Etsy sales of all my products and wholesale orders, every week I had items I had to sew after work.  I wasn't selling enough to be raking in the dough,  but I was selling enough that it kept me busy.  And when I wasn't sewing for custom orders, I was trying to bring some of my other designs to life.  And when I wasn't doing that, I was trying to do home projects and blog about them.
In other words, I'd bitten off more than I could chew. As a result I was doing a lot of things a little bit and not feeling wildly successful in any of them.
In the busy months before our wedding I blogged less and less, and eventually I "closed" my Etsy shop because the wedding had to be top priority, of course.
The feeling of relief that swept over me caused some unease, but I told myself I'd get a second wind and dive back into it after the wedding.  I was determined!  Setting up summer & fall promotions with big blogs, I thought "I'm going to rock my shop once this wedding is over!"
Too bad the determination was quickly replaced by the feeling of overwhelm soon after our wedding, right when I reopened my shop.  All of the stress and worry I felt finally congealed into one basic thought in late July.   Maybe I should close my shop.  I missed the days before I started Janery, when I was "just" a blogger in the evenings after work.
Here's the thing no one tells you when they talk about their handmade business.  Sewing is tiring.  On nights where I sat at my sewing machine for hours, I'd go to bed with my neck stiff and my back aching.  And sewing the same pillow cover or pet bed over and over got boring quickly.
Yikes.  I'm not supposed to say that, right?    But it's true! While I love creating things from fabulous fabrics, I don't always love the tedious, repetitive creation of the product.
After some long talks with Ryan, I decided not to "close" my shop; I wasn't ready to make that kind of move.
Factors I had to consider:
I wasn't ready to close my shop entirely – I just wanted it to be more of a fun choice than a monkey on my back
I was accepted to Art on the Avenue, a huge fall art market in October.  Participating at this festival was one of my original goals, and I really enjoy the personal touch of selling at markets.
I needed more time for blogging and DIYing things for myself.
I had a seriously massive stash of fabrics and supplies, and there's no way I wanted to quit before making use of them.
Steps taken to make shop-keeping more fun again:
I removed the custom orders from the shop, including all pet beds. This way the only items people can purchase are the ones that are already made and ready-to-ship, which means that sales won't impact my personal schedule.
I'm listing only a few pet beds each month.
I stopped accepting wholesale orders – they're too time consuming and not very profitable
I've stopped promoting my shop until I know where I'm headed
I'm focusing on building up a strong inventory of multiple types of products for Art on the Avenue.  Any leftover inventory can be listed in the shop.
It's been a few weeks now, and the new approach to production feels good.  I've been sewing up a storm for Art on the Avenue – and I've also fit in time to do some sewing projects for our own home.
It's easy to find blog posts about people launching or growing their handmade product businesses . . . yet nearly impossible to find people blogging about closing their shops.  That's why I decided to share my thoughts here – in the hopes that it helps others who may be going through the same dilemmas as I have been.
If you've had any experiences like mine, I'd love to hear about them in the comments. Or if you're just plain nosy about my business or related topics, feel free to ask away.  I'll answer any questions in a future post.