I'm rethinking my approach to the gallery wall in our dining room/kitchen area.  Here's why:
The dining/living/kitchen area is all open and flow-y.  Or something like that. And that's why I'm starting to think that the art that goes on one of the two dining area walls should fit the same style as the rest of that are.
For example, on the living room wall we have two paintings, one of which is this: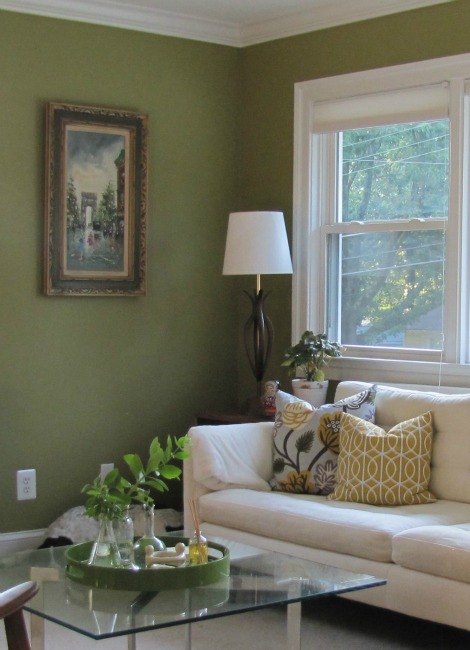 And if you continue down that wall to the dining area, we have a moody Ships at Sea painting which I picked up at Just L, our favorite mid-century modern shop, during the minimoon.  I am absolutely in love with both of these paintings.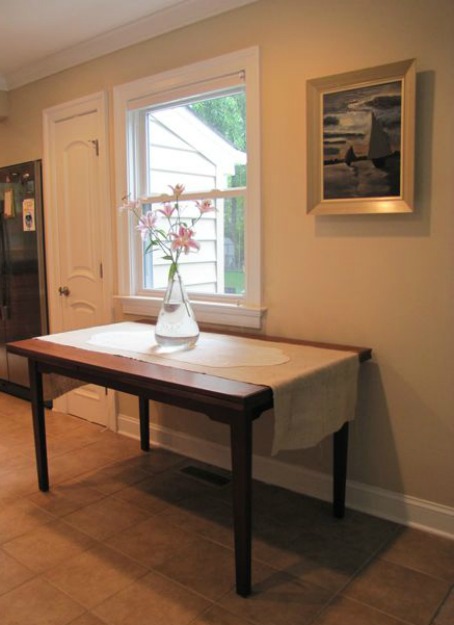 So with that in mind, I think it might be too random and clashing to have the opposite dining room wall display a growing gallery of random modern art prints and photos, framed in plain white frames.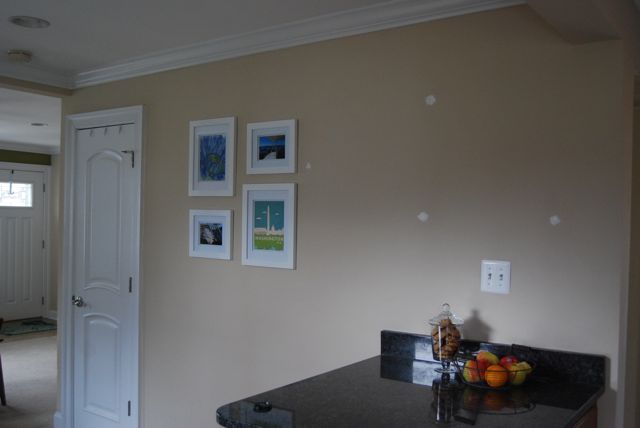 The photo above shows the current state of the wall (I just spackled all the holes in preparation for refreshing the paint).
If we continue that white frame wall over to the island, that's going to be a heck of a lot of white on that wall.  I feel like it may just look boring.  I don't like boring.
Random old paintings, however, in funky ridiculous old lady frames, however, may add a little more fun to the wall while blending better with the rest of the art we have in the entertaining spaces of the first floor.
Here's some of what I'm loving, via Etsy, right now:
1.  This Moulin Rouge oil painting via Shop on Sherman at Etsy.  But at $190 it's a little more than I think we'd like to spend right now. The style is so much like the Italian painting in our living room.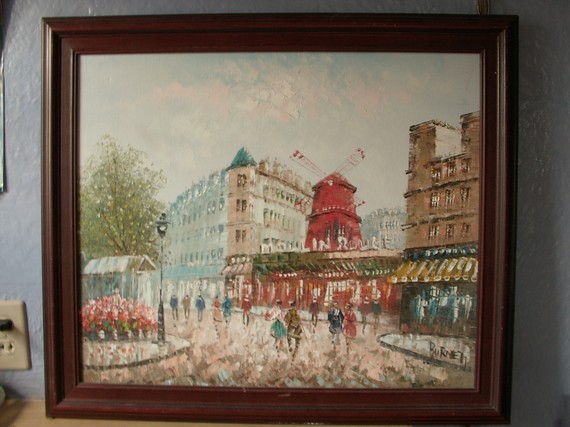 This set of two miniature Dutch Oil Paintings via LittleBearandBunny on Etsy.  I am really craving some miniature sets of paintings right now, I have no idea why.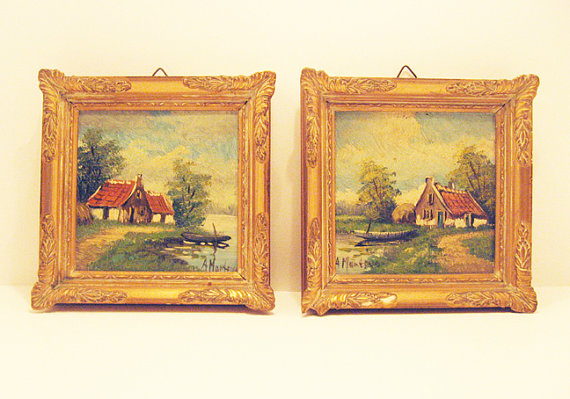 With this in mind, I'm actually wondering if I could mix some older, classical-style paintings with some of our more modern art prints that we love, such as the Washington DC print in our kitchen photo above.
What do you think?  If I popped the pop art into some old Granny style frames, would that help it all come together as a cohesive collection?  Or do I need to pick one style – prints or old paintings?
Thanks so much for visiting – Please subscribe to my RSS Feed or come say hello on Facebook!