Did you know you can DIY a totally awesome appliqued throw pillow without sewing a stitch?  It's true! 
As part of my January goal to "finish abandoned tasks" I'd like to share with you how I made my no-sew Modern Christmas Tree Pillow cover shown in my Holiday Home Tour 2012.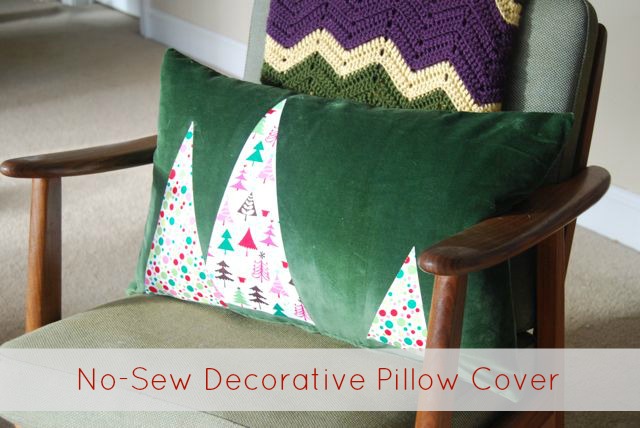 But before you rag on me for posting a Christmas decor tutorial after the holiday, let me promise you that this DIY is applicable to any season.  Better yet, this one's gonna be a quickie, because it's so easy.
Supplies Needed:
Iron
Solid Color Pillow Cover (I used an Ikea one)
Thermoweb Heat'n Bond Ultra Hold Iron-On Adhesive
Patterned Fabric
Scissors or a Rotary Cutter
(Cost:  about $20 for the webbing and pillow cover, but I have a lot of fusible webbing left for other projects.  If you use fabric scraps it helps save!)
How-To:
This project was totally inspired by the solid green velvet Ikea pillow cover that I found in my Christmas decor stash.  I looked at it and thought "hmm, what could I do with this to make it more exciting?"
Enter the fusible webbing (Thermoweb Heat'n Bond) and the patterned fabrics.  Once I determined that I wanted to applique some simple triangular "trees" for a modern Christmas tree look, the steps were simple:
Place the patterned fabric, pattern side down, onto the ironing board.
Set the Fusible Webbing on top of the fabric, with the paper side facing up.
Iron on top of the paper, leaving the iron in place for 6 seconds on each spot.
The fabric is now adhered to the fusible webbing.  Cut out your fabric shapes.
Peel off the paper.
Place the fabric shapes, patterned side up, onto the pillow cover.
Iron to adhere.
Voila!  Those may look like a lot of instructions, but they're really simple. I promise.  My pillow cover took me about 10 minutes to make.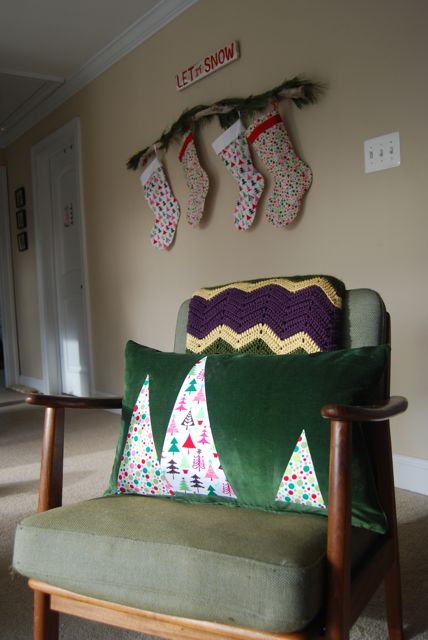 I wasn't sure how well the Fusible Webbing would work, but now I can tell you – this stuff is supremely awesome!  I used the light Heat'n Bond, because I'm going to machine-stitch the edges of the "trees" for a more decorative look (just need to find the time!) but if you don't sew, go ahead and use the Heat'n Bond Ultra, the strongest strength.  This will give you a great hold that will last for years to come.
I hope you liked this mini-tutorial.  I love that the fusible webbing makes it easy for anyone to make a customized decorative pillow cover.  Monograms?  Animals?  Geometric shapes?  The possibilities are endless!!