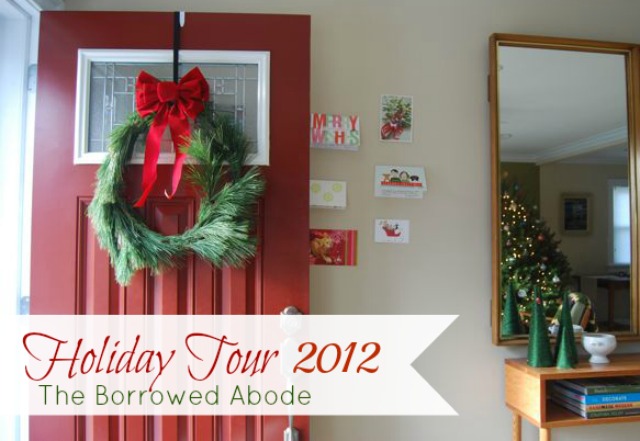 Welcome to the 2012 Borrowed Abode Holiday Decor Tour.  I'd like to thank Jen on the Edge for hosting a Holiday Homes Tour, which helped motivate me to actually decorate this week.
On this tour we're pretty much going to stick to the living room, because – what with my not being Martha Stewart and all – I haven't made enough decorations to include other rooms yet.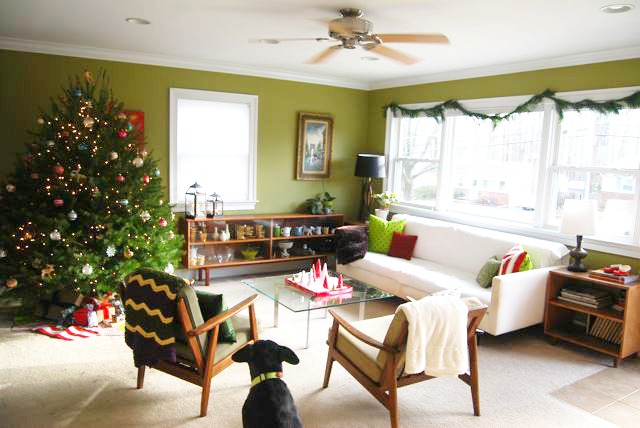 This year's tree is not the best we've ever had.  Ok, it's really the worst.  It's been shedding needles like crazy, and it's fat and awkward – a sharp contrast to our overly skinny 2010 tree – and poorly pruned.    That's what we get for going to Home Depot late at night.  I first dragged Ryan to a small, family-owned tree market in our town – but the trees we liked were all so expensive.  I couldn't justify spending $90 on what was, essentially, a dead tree that would end up being mulched in a few weeks.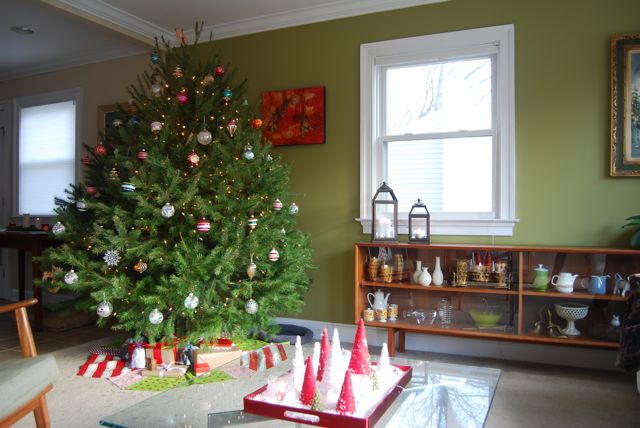 Because the tree is so fat, it looks bare. I don't have that many ornaments – or lights – for it. I'm working on collecting the vintage glass Shiny Brite ornaments.  The ones I have now were my grandmother's, and even though the paint is wearing off they are my favorite.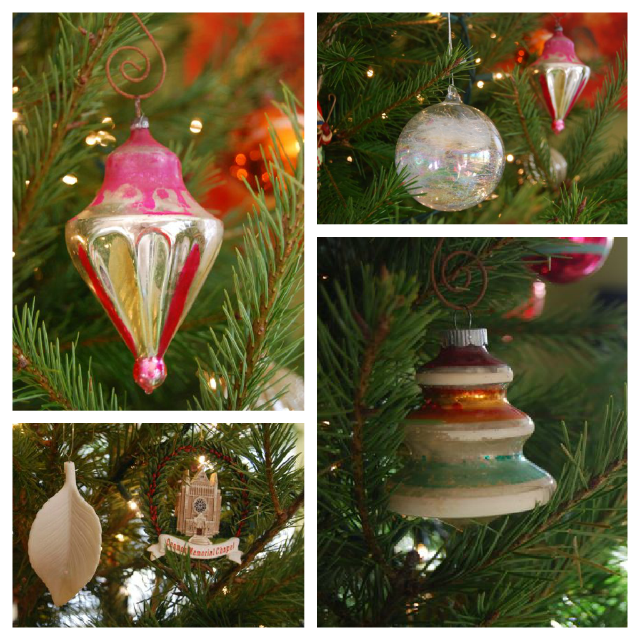 I have a few other special ornaments, too – I love the spun glass iridescent ornaments in the top right.  Then there's the white "repurposed" leaf that I gave to Ryan as a joke, and a new addition – the Canon Memorial Chapel from my college (shown with the white leaf).
There was no good place to put such a fat tree, so it's in the weird space between the dining 'room' and living room.  It makes for an awkward transition, and pretty much dwarfs the dining table.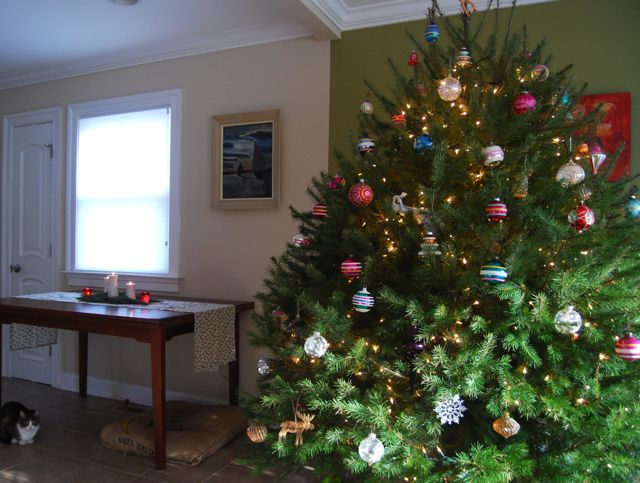 I attempted a little festivity on the dining table with my favorite white wood-grain candles and some snowman votives.  Boy, does the winter table runner bring back memories.  I sewed it with a broken sewing machine about 10 years ago, when I was dying to learn to make home decor.

Now I have a kickass sewing machine, I've created Janery, and I can whip up some pillow covers with invisible zippers (like those below)  in no time.  (The smaller sequined pillows are from last year at Crate and Barrel.)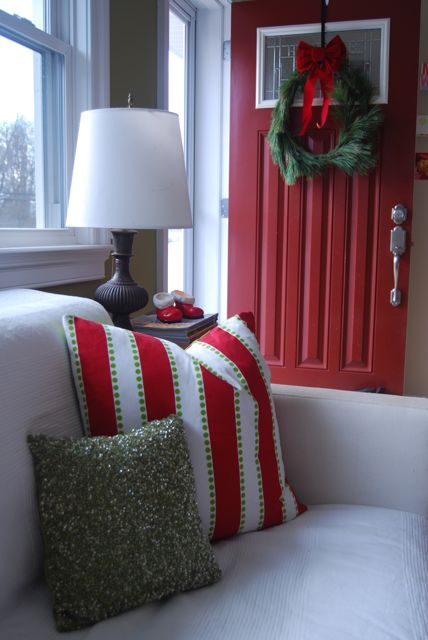 The little red shoes on the end table are vintage candle holders that first belonged to my grandmother.  I made the wreath by wrapping leftover pine garland in a circle, securing the loop with a few pieces of fishing twine, and adding a bow I saved from last year's wreath.
For those of you who don't sew, I made these easy no-sew Christmas tree pillow covers by using fusible webbing to adhere fun fabric to an existing Ikea pillow cover.  Tutorial coming this weekend. You can do it in 10 minutes, flat.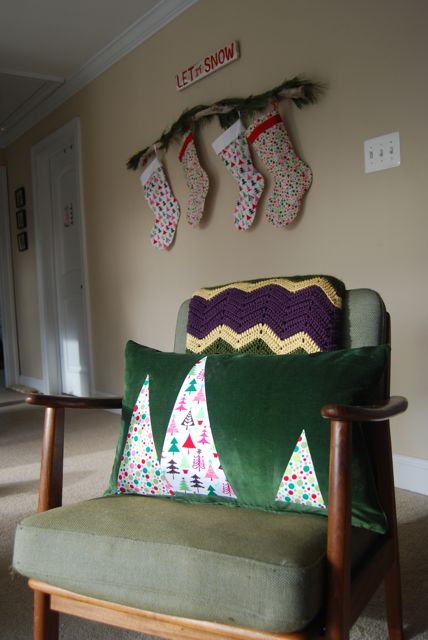 Behind the chair you see our Christmas Stocking Wall.  It was my solution to our lack of a fireplace mantel in our rented home.
The entry wall has an empty space behind the front door, so that's where we're hanging our Christmas cards this year.  The entryway table displays a few of my yarn trees from three years ago, as well as a huge pine tree candle I splurged on at Crate and Barrel this year.  I will not be burning it – it's a perfect decor piece.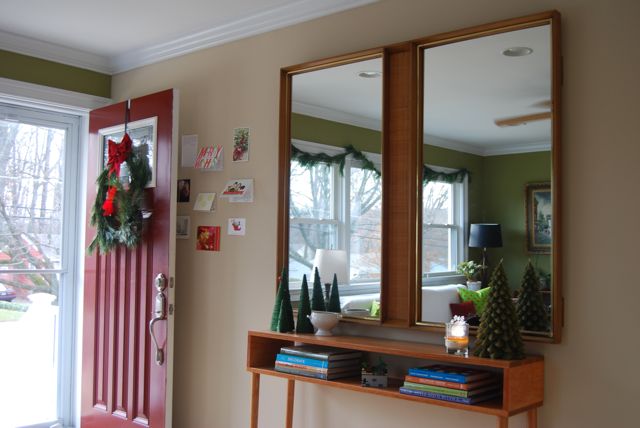 When it comes to Christmas decorating, it's definitely the little touches that I enjoy the most.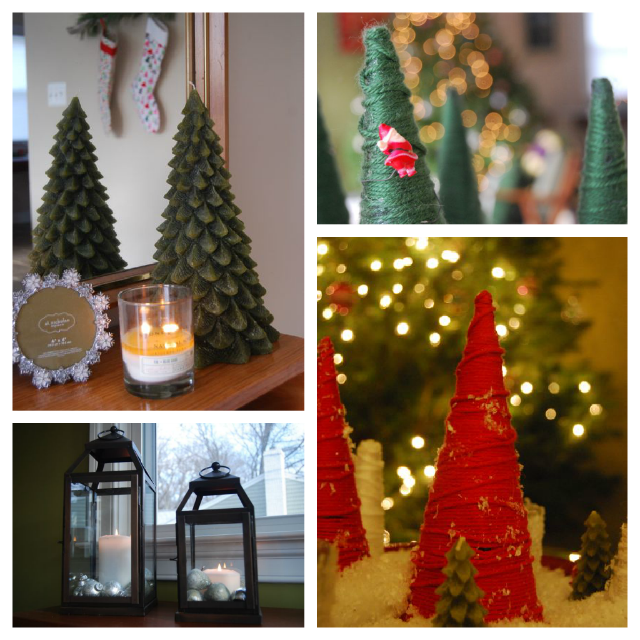 Above, clockwise from top left: 
1.  Loving the handmade candles from Sydney Hale – the amazing scents are totally worth the splurge.  2.  A tiny vintage Santa is climbing my yarn tree.  3.  Love my red yarn trees in my coffee-table-scape. This year I added some green pine tree candles from Crate & Barrel.  4.  The candle lanterns looked a bit bare, so I added some small silver ornaments and glittery pears as filler.
I'm so glad I did finally decorate this year.  Last night I came home from work, determined to get it done.  I put on my striped Santa socks and a dorky red sweater vest, and stuck some glitter twigs out of my pony tail.  It helped me get in the spirit.  I powered through, and Ryan loved the results.
If you've shared photos of your holiday decor, please leave your link in the comments! I'd love to check it out!