In the spirit of my January goals to Clear the Clutter and Finish Abandoned Tasks, last night I set about working on my blog.  If you're reading via RSS reader, I would be thrilled if you'd click over to see the changes in real time.
For months, now, the design of this site was driving me crazy.  I wanted to simplify the layout and sidebar design, but never got around to it because I was planning on hiring a web design and branding company to completely overhaul my Janery logo, my Borrowed Abode logo, and the website all at once.
But my financial priorities have changed a little bit because of goals with my Janery products (more about that another time), so the full branding overhaul is on hold until spring.  That's why last night I decided to spend just a little time fixing the things that were within my control.
I'm not finished, as I still need Ryan's help with coding to customize the site, but I'd really like your help, too.  I want your opinions, your favorite features, your pet peeves when it comes to blogs in general – because you're the ones using this site.
Here is the old site design: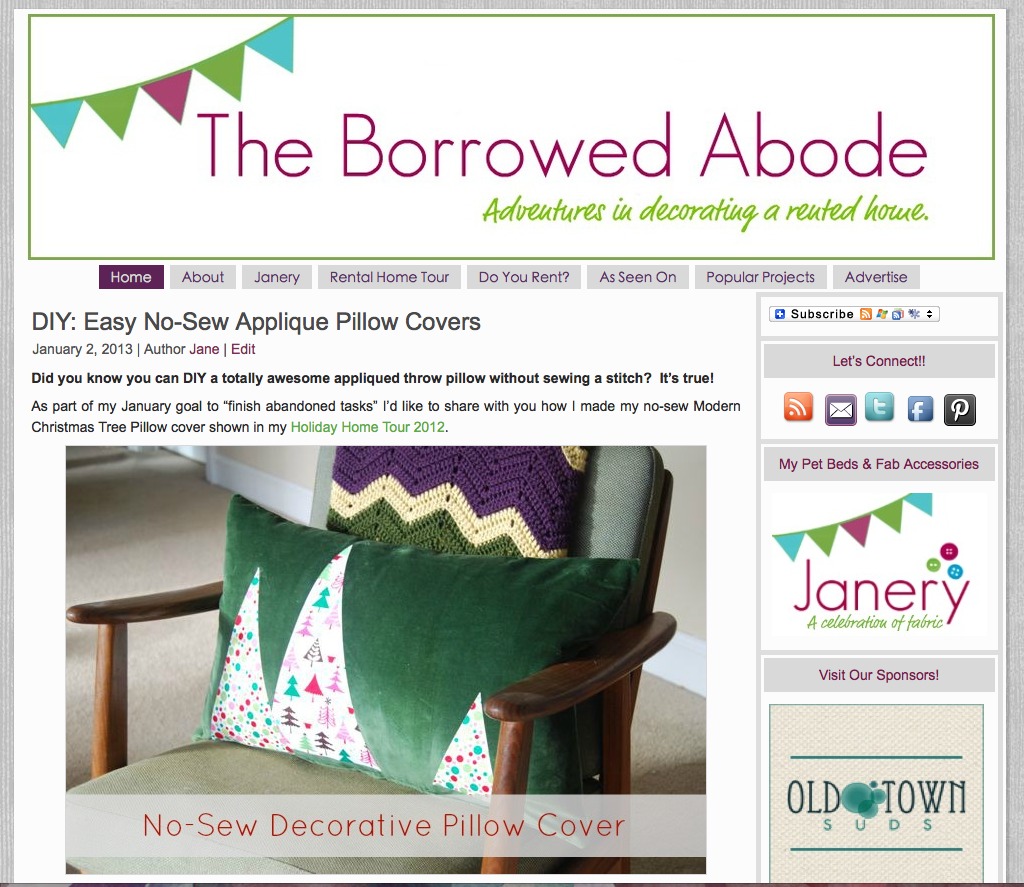 And here is the new version: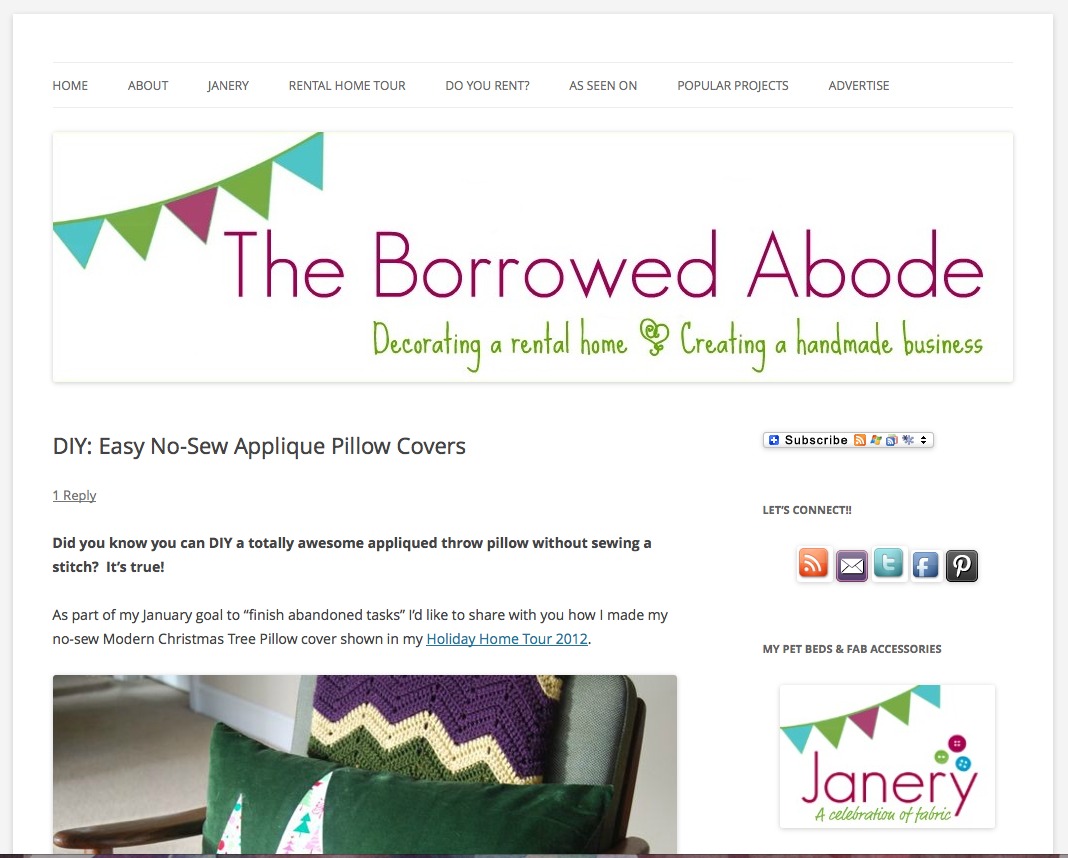 And then I briefly tried uploading a new banner that I designed, but I felt like it lacked color and personality.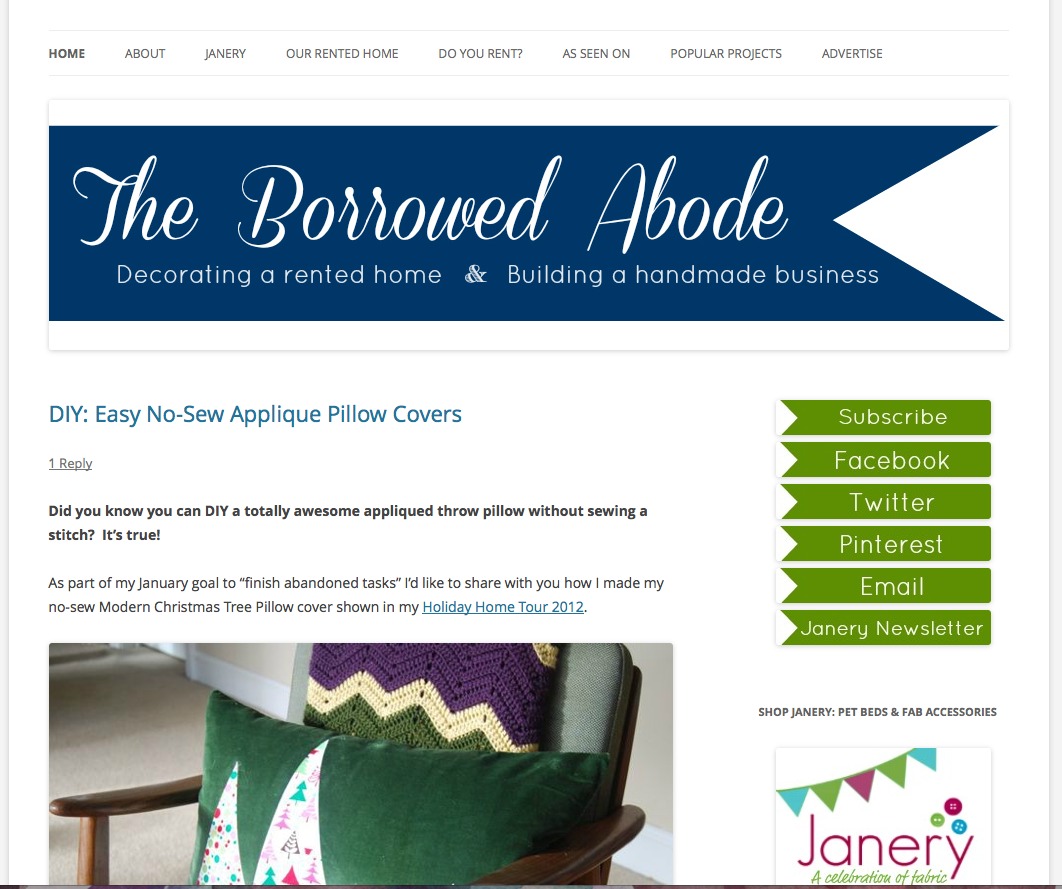 I was reluctant to install a new template and start practically from scratch, because I don't know how to design behind the scenes instead of in real-time.  But finally I decided that it wouldn't be the end of the world if you guys happened to visit The Borrowed Abode mid-tweak.
Here are my thoughts, as it stands now:
I'd like to move the top navigation bar to sit below the header, rather than above it
I'd like to tweak the existing logo so that it is better resolution
I like the clean white display, but is there too much white? Do I want a background image?
I'd like to add an "About Me" intro in the top of the sidebar.
I'd like to add tabbed navigation to the sidebar (for categories, archives, etc)
So here you have it.  The Borrowed Abode, in the midst of it's very own DIY project.
What are your thoughts on the new layout?  On the new header logo that I tried?  Any feedback is welcome, and thank you in advance for taking the time to share your thoughts!
***Update – thanks to those who pointed out how awkward the commenting button is.  It's at the top, if you haven't found it yet.  I hope I can move that to the bottom of the post in the future. ***