Happy New Year!  
What a happy day it is for me, because even though it's just another day, that psychological effect of knowing it's a "new year" has me feeling like the slate is wiped clean.
A clean slate was needed here at The Borrowed Abode, because though 2012 was a year of great joys – welcoming my brother's beautiful new son, welcoming a best friend's new baby, getting married (truly the best day of my life), spending more time with family and friends, and seeing my shop succeed – it was also a year of inadequacies.  The house got messier, half-finished projects stacked up, and I consistently felt like I was failing as a blogger and a homemaker.
Enter some much-needed inspiration with which to welcome the new year:  The Happiness Project, by Gretchen Rubin.  I received it for Christmas and I am finding it so inspiring, even though I already consider myself a happy person.
The Happiness Project chronicles the author's year-long journey to seek a happier life.  I had a major light bulb moment while reading through the first chapter of her journey – January.  Two things spoke to me:  clearing clutter and "getting things done."  I'm good at clearing clutter, but not good at the latter.
She discusses how completing those nagging-at-the-back-of-your-mind tasks can do wonders for your happiness. Running little errands you've put off.  Finishing tasks you started and then abandoned.  Taking that extra 30 seconds to hang your coat up instead of slinging it over the back of a chair.
As soon as I read this chapter I knew what I had to do.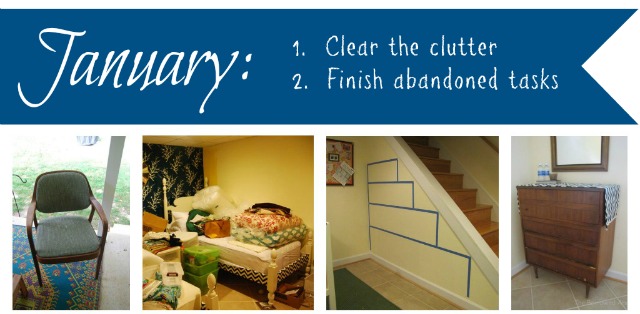 Why is clearing the clutter so important?  The less junk you have, the easier it is to keep your home clean.  I used to think having tons of clothes and underwear and linens was great – longer time to wait before doing laundry, right?  While that's technically true, it also means that when you do run out of clean stuff, you're facing towers of dirty laundry that could take days to wash, dry, and put away.  For the last few months Ryan and I have been trying to make more room at the abode, but this past week we became much more ruthless in pairing down.
Because Ryan and I spent the last week clearing the clutter, we are ready to move on to the second big goal: 
Finish Abandoned Tasks. 
Oh my.  The list, in my head, of abandoned tasks is something that truly eats away at my happiness on a daily basis.  Finishing the guest room.  Framing and hanging art.  Touching up paint on the walls.  Reupholstering chairs.
Not all of my "abandoned tasks" are home decor related.  Some are blog-related.  There are wedding DIY posts I want to share, but have not because I'm embarrassed that the wedding was 6 months ago.
I'm throwing fear of rejection to the wind, and I'm  going to write those blog posts anyway.  I need to do it to clear my mind.
Now raise your hand if you're in a similar boat.  Who wants to join me in making January the Month of Getting Things Done?