Welcome back to Launch Week Celebration & Giveaway, Day 4!
Today I'm pretty excited today to give you not only a peek at my favorite local (Vienna, VA) business, but also an interview with the owner!  Oh, and yes, there's a great coffee-themed giveaway to top it all off.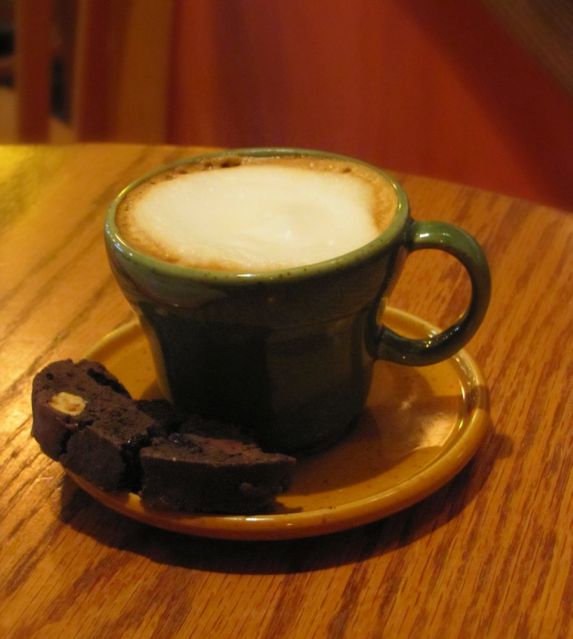 You've probably seen me go on and on about Caffe Amouri, my local coffee roaster /coffee shop, either on Twitter, Facebook, or this blog.  That's because I'm a huge fan.  Have you ever tasted coffee that is freshly roasted?  It's unbelievable!  Ever since Caffe Amouri opened last summer, I've been a totally loyal customer.  It's a totally chill place to go read a book, do some work, blog, or catch up with friends.    And I feel very fortunate that I've gotten to know Michael Amouri, the owner and roaster, because not only is he an awesome guy – he's been a huge source of  inspiration and also advice as I head down my entrepreneurial path.  (Thanks, Michael!!)
If you're ever in the area, you should visit Caffe Amouri first thing in the morning, when the coffee beans are roasting.  (Follow on Twitter and Facebook to know when the roasting is going on.)   You can smell it in the air – I don't even know how to describe it, but it's awesome.  Upon entering, you can't help but notice the big yellow roasting machine: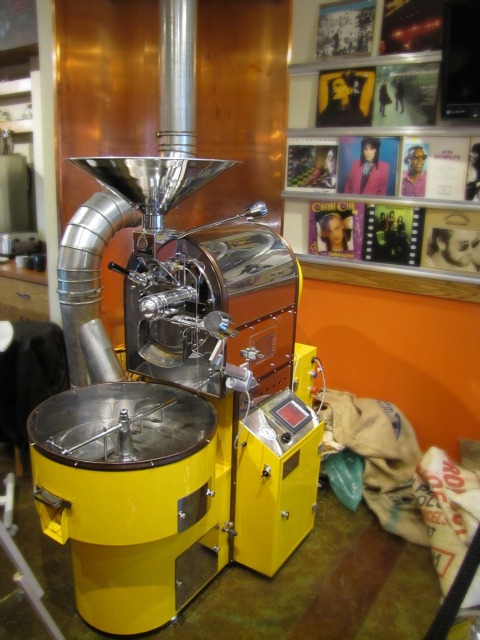 The walls of the shop are covered with Michael's vintage record collection: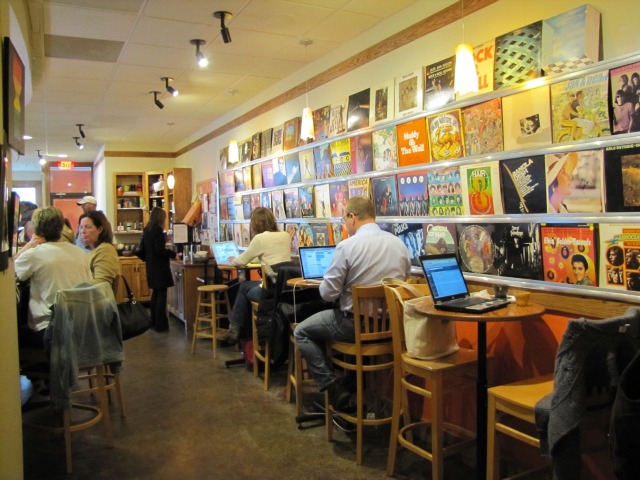 But those vintage LPs are more than just decor.  Friday nights are "Club Night" at Caffe Amouri, one of the ways in which Michael has expanded the shop to be more of a community gathering place.  During Club Night, customers of all ages can choose records off the wall, and Michael plays them on a good old-fashioned record player.  How cool is that?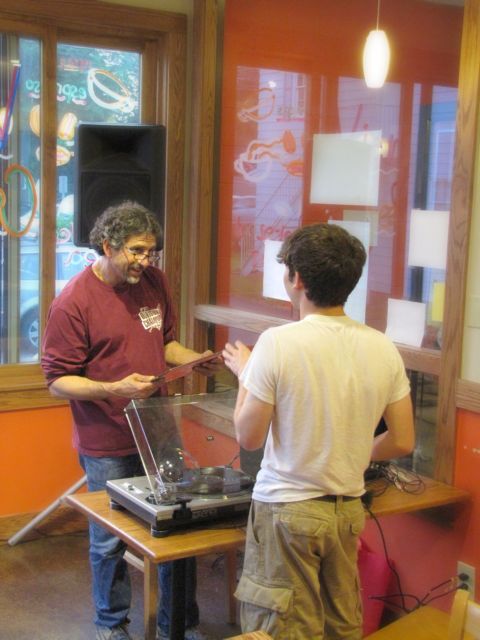 Another fun design element (to me, at least) is the wooden siding on the counters.  The rough-hewn boards are reclaimed lumber from an old building that was torn down: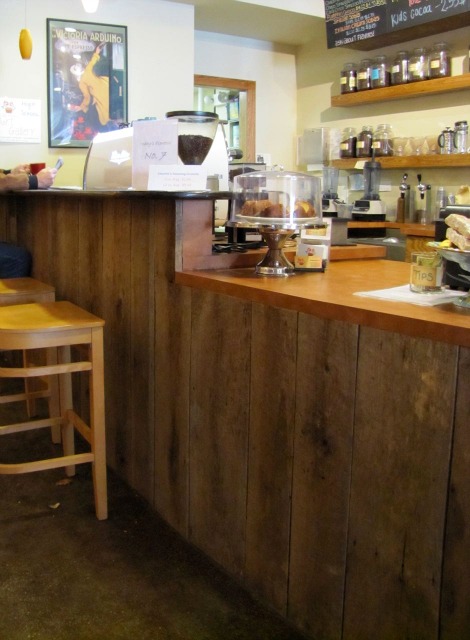 In addition to offering the usual espresso and coffee drinks, Caffe Amouri serves a delicious variety of teas, iced teas, 100% fruit smoothies, and Italian Cream Sodas.  Some days I have the hardest time choosing just one drink from the menu.
See all those glass jars?  Those are the many different beans and blends that are roasted in-house.  Once you start trying the different coffees, it's amazing to notice all the nuances of flavor that accompany beans from different regions around the globe.
Are you curious what goes into the making of a coffee shop (and roaster)?   Michael was kind enough to answer a mini-interview about the details behind the making of Caffe Amouri.
What inspired you to take the plunge and not just open Caffe Amouri, but turn it into a coffee roaster  as well?
The business plan was always to open not just a coffeehouse, but a roaster as well.  A coffeehouse, according to my research and calculations, is more a "following your dream….passion" sort of thing.  It's much harder, I believe, to really make a living with just that.  With a coffee roaster, you not only increase your margins through vertical integration but also open up an entire realm of different revenue streams – Wholesale, internet, etc…
Another reason is quality.  Roasting, I control what I serve.  I tried home roasting about 10 years ago after reading an article on the 'net. Spent my first years roasting in a hot air popcorn popper.  Once I tasted fresh roasted coffee, I was hooked and honestly believed that the marketplace would feel the same.
What steps did you take to prepare for starting your own business?
Big question.  I spent about 10 months developing a business plan.  Everything from visiting coffee shops to sitting in Starbucks for hours on end with a pad of paper making little jot marks for every item purchased.  I did this at different times of the day, different days of the week.  I even hired my daughter and her friends to do the same.  I sat on Church St. and counted cars.  I looked for and found market studies of the demographics of who was drinking coffee, what age, what kinds of coffee.  I read about roasting and tried it at home.  I experimented with different blends at home and gave them out to all my friends and family (they loved it!).  I talked, and talked, and talked to people throughout the industry to roasters, bean brokers, coffee house owners, equipment providers,…. etc…. ad nauseum…
You seen to spend a ton of time actually working behind the counter at Caffe Amouri, but surely there is a lot more behind-the-scenes work to be done.  How do you make time for all of the different responsibilities you have, as the owner, while still visibly working in the shop so much?
No sleep.  I'm trying to get out from behind the counter more and more so I can develop the business.  Part of doing this is hiring, training and then trusting good folks to work for you.  I have just instituted a management structure that has a responsible person as a shift supervisor for each of 3 shifts during the day – morning, mid and evening.  Slowly, I'm handing them over to these folks to "own".  They will build out the shift work, have full responsibility and authority over the shifts and, basically, run the shop shift to shift.  In addition, I'm preparing to hand over some of the other "management" aspects to them like scheduling, inventory control/ordering, bank work, etc…  But, again, no sleep for the first year or so seems to be the key.
What's the most exciting part of having your own business?  What is the most difficult part?
Meeting great folks and making them happy.  Also, doing things for the community, using the shop, that otherwise I wouldn't be able to do.
What is the hardest part?  When sales slack off and I wonder what it is that we've done wrong to turn people off?  Or not getting folks flocking in during the morning hours……eats away at me.  Also, as you mentioned above, the sheer number of things that have to get done and the anxiety over not "getting to them".

What advice would you give to someone who'd like to start their own business, especially a brick-and-mortar business like yours?
Don't!
Just kidding.  Refer to the info above – just plan, plan, plan.

So there you have it – a peek at what goes into starting and running your own coffee house.  Ever since I've learned just some of the work Michael put into launching his business, I haven't been able to look at a coffee shop the same.  It's amazing how much thought and work is behind that cup of coffee or tea!
Giveaway #4:   A Clever Coffee Dripper & 1 Pound Fresh-Roasted Coffee
**This giveaway is now closed.**

The lucky winner of this giveaway will win a pound of coffee (your choice of a particular roast/origin) and a Clever Coffee Dripper, packaged inside one of my handmade coffee sack gift bags.
What's a clever coffee dripper? It's an awesome little single-cup coffee maker that is totally space-efficient, and totally portable.  It's perfect for storing in your office or packing in your suitcase (if you're a coffee snob, like me).  In order to have an amazingly fresh, delicious coffee anywhere, all you need is boiling water, some ground coffee beans, and your Clever Coffee Dripper.  Trust me, it makes a killer cup of coffee.
Still curious as to how exactly it works?  Come back next week when I"ll be sharing a how-to on using the dripper to make an awesome cup of coffee. 

Here's how to enter:
Simply comment on this post!  If you want, spill the beans (ha,ha) on your drink of choice.  Coffee?  Tea?  Something else entirely?
Other details:
This giveaway closes on Monday, 6/20/2011 at 9:00 PM
The winner will be randomly chosen and announced  after Monday, 6/20/2011
Legal mumb0-jumbo:  I was not compensated in any way for this post about Caffe Amouri or the Clever Coffee Dripper.  I just happen to be a huge fan!  
And that's it for today!  See you back here tomorrow for the 5th and final Launch Week Giveaway post, with a big prize from my shop!