The New Year is incredibly motivating when it comes to getting organized. Sometimes tossing your house to get that fresh start seems like the right thing to do. The slash and burn method of household cleaning can easily lead to being overwhelmed. Using what you have to easily transform an unused area, pillow, or organize a bit? That's something that won't result in hysterics.
In combing the archives here at The Borrowed Abode I found some fast fixes that you can easily knock out today.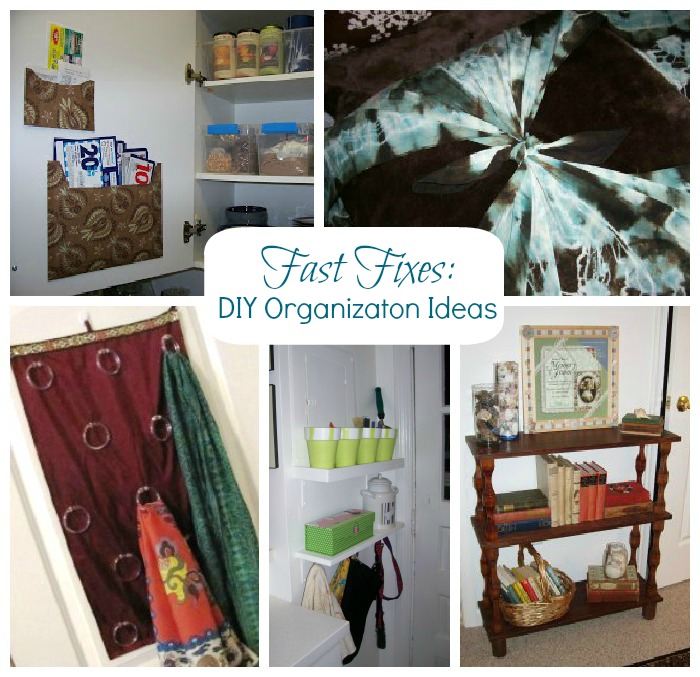 (In clockwise order, from top left:)
1. In a small rental apartment, every inch of space counts! Use the insides of kitchen cabinet doors for DIY coupon storage. You can also use this space to hang recipes, calendars, and other bits of paper that normally end up in piles.
2. Do you have an old pillow just taking up space instead of on display? Update your old and boring pillows with this quick and easy fix!
3. Scarves don't have to take up space in a drawer or thrown over a chair. Create a DIY over the door scarf hanger to cut the clutter in other areas.  Or, if you have more space, try a larger (& prettier) one that can be hung anywhere!
4.Small spaces often seem impossible to keep clean. Old containers can quickly be recycled into DIY organization systems. Create a unique and organized entry space using old flowerpots or other empty containers you have on hand.
5. Use what you have to organize your home! While an old bookshelf may not be your favorite piece, it will keep clutter to a minimum.
Do you have any quick and easy storage solutions to add to this list? Leave your tips and tricks in the comments below, we'd love to see your ideas.
(Disclaimer: Some of these posts have tiny pictures because it was the early days of the blog.  The ideas are still good, though!)
Thanks so much for visiting – Please subscribe to my RSS Feed or come say hello on Facebook!