I absolutely love talking to small business owners, hearing their stories and learning as much as I can.  That's why I'm so happy to bring back my Small Business Spotlight series, and I'm excited to tell you I have about 12 business owners already lined up for this series!

Today's interview is with Rachel Roellke / Funnelcloud Studio, a Washington,DC-based artist who I was fortunate enough to meet through my blogger meetup last winter.  I love her art, especially the way she uses color and pattern in her illustrations.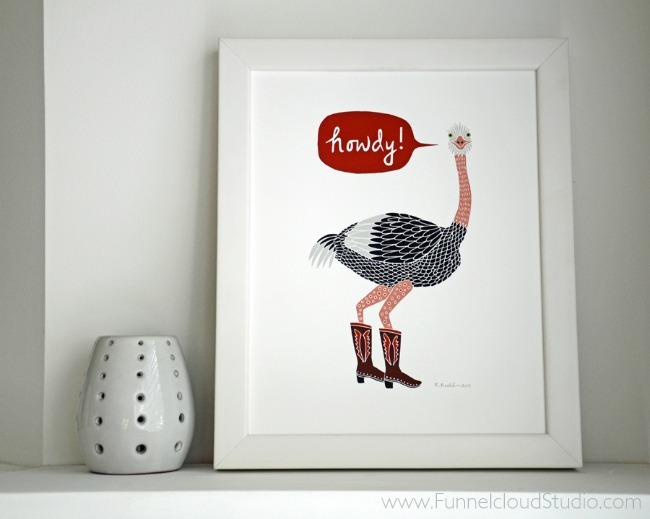 Q:  I know you used to work as an architect, but you now work full time (so cool!) as an artist and indie business owner.  How did this transition happen?
I wish I could tell you that this was a well-conceived plan and that I worked for years to prepare myself to quit my day job. However, it was a much more compulsive decision.
I had been unhappy in my architectural position for years – I hated working in a cubicle, and architecture was not providing the creative outlet that I'd hoped it would. Yes, I dreamed of starting my own business, but I wasn't sure how to make it happen and I knew the demands of my day job meant I couldn't make it happen while I was working for someone else.
I did initially reduce my hours to work part-time at my architectural position for a few months, but that still wasn't enough time to really focus on growing a new business and I was still unhappy during the time I was in the office. I finally came to the realization that it was now or never, that I'd never be happy in the situation that I was in, and that I'd regret it my whole life if I didn't at least take the chance to focus on my own business and find something that made me happy. So I quit my day job and opened an Etsy shop.
For a while, I really struggled with the idea that I was "quitting" architecture. Many of my college classmates didn't even make it through the demanding architectural curriculum, and I managed to finish a thesis, graduate from a challenging program, and get a job with an architectural firm immediately after getting my degree. Between school and work, I was in the architecture field for 14 years. I wondered if my family and colleagues would think I was throwing it all away to become an artist. But then I realized that whether it's architecture or art didn't matter – I'm a designer, and starting Funnelcloud Studio was just the next step in my design career.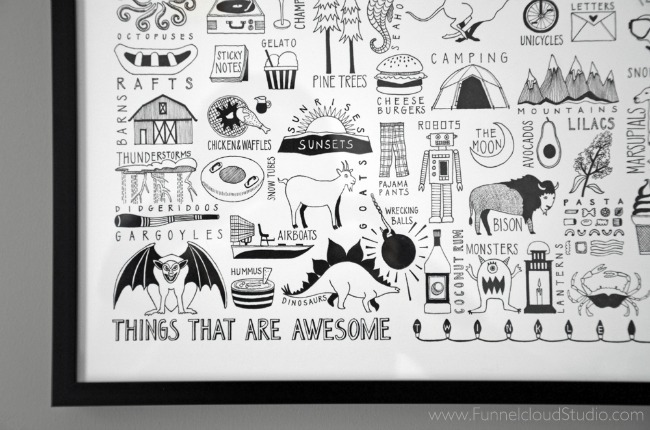 Q:  Your shop name and logo are awesome.  What was the inspiration behind them?
My studio is always a mess and I joke that it looks like a tornado ripped right through it, so that is how my shop got its name. (Creative types are always messy, right?)
The logo design came about when my shop was in its infancy and I had been invited to participate in a small art market. My shop was so new that I didn't have any marketing materials or graphics yet, so I was forced to design business cards and a shop banner and have them printed in less than a week. Thankfully, I tossed my original idea of a tornado logo and came up with a hand-drawn pattern that is both representative of my artistic style and symbolic of the creative debris that I work in. Sometimes the tightest deadlines result in the best work! (Or at least being able to cross something off your To Do List!)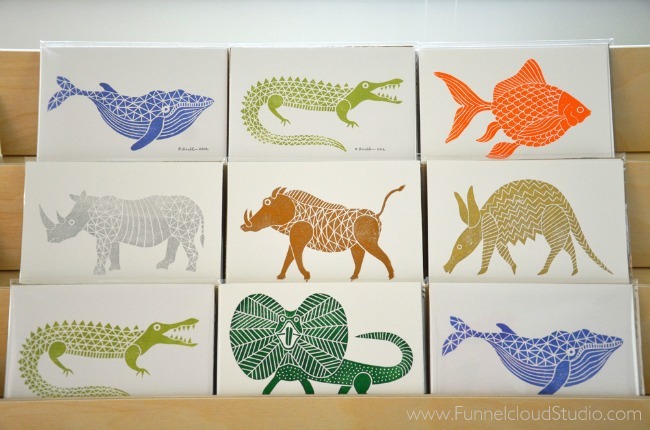 Q:  What are the highlights (and challenges) of running your own home-based indie business full-time?
Highlights: My dogs are my co-workers. I never have to wear stockings or high heels. I get to be creative. I can make my own work hours. I am my own boss.
Challenges: It can be lonely and isolating. I often feel like I'm always working (nights and weekends, too). I am my own boss.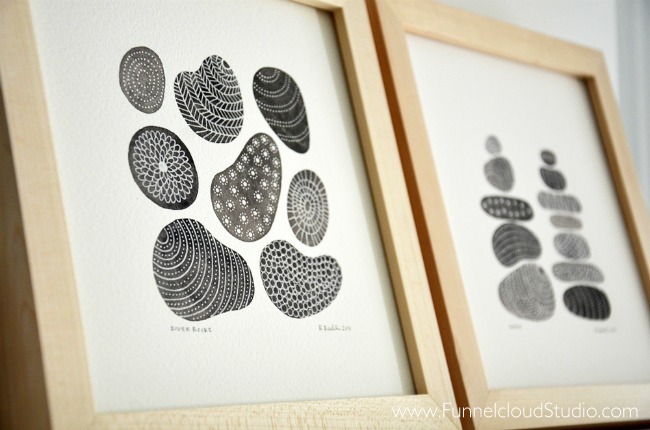 Q:  How do you promote your work, and get your shop and art noticed?
Over the past few years I've come across a lot of people who dream of opening an Etsy shop. I had this dream, too, and eventually followed my own advice of Just Do It by signing up to be a seller and listing a few block prints for sale – just to see what happened. Would anybody find my shop? Would they like my art? Would anybody spend money to buy things that I had created? It was nerve-wracking. And slow going. The first six months my shop was open resulted in a handful of sales (and I was elated!), but it certainly wasn't the booming business I dreamed of.
But I kept at it. I made a few more pieces and listed them. I felt both hopeful and discouraged. Some of the best advice I read when I had just opened my Etsy shop was "How is anybody going to find your work if you don't tell them?" Excellent advice, and it sounds obvious, but I think it is probably the last thing anyone with a new shop wants to do. When my shop was brand new, I certainly did not want to announce to my friends/family/the internet "Hey everybody, look at my new shop that I'm not quite satisfied with yet and the few pieces of art I have in it – I promise there will be more soon, but I'm still figuring things out…" I kind of wanted to keep the whole thing a secret until my shop and my artwork met my expectations. But that's not the way to go about doing things. There are hundreds of thousands of sellers on Etsy and your shop and work will immediately get lost if you don't do a bit of self-promotion.
This isn't an easy task, especially because I think there are wrong ways of self-promoting (just say no to spam!) and because many people (myself included) don't want to come across as bragging about their work. I took a slow and steady approach. I started blogging around the same time I opened my shop and used the blog as a platform to share my art work. My blog is primarily a personal blog, and I use it first and foremost to document my life – I think this keeps it from becoming an advertisement for my shop. I also eventually joined Twitter – and I tweet both personal things and shop news. While I have a very small following, I still think blogging and tweeting are a good way to share what I'm up to – and it allows my readers to get to know me as a person and not just an artist/business owner. Both platforms are also great for making connections, and I've met a handful of bloggers and business owners who have turned into real-life friends this way.
Being active on the internet (through Etsy, blogging, and Twitter) led to some lucky breaks along the way. After months of sales just slowly trickling in, one of my prints was featured by a blogger with a large following and my shop was transformed into a one-woman twenty-four hour sweatshop over night!
At the time, I certainly wasn't prepared to take on that many orders at once, but as my worked gained popularity through other bloggers and Pinterest, I knew that I had to make the most of the increase in visibility to grow my business. I worked around the clock for a few weeks to keep up. Months later, the interior designer for a boutique hotel chain placed an order for a hundred prints. A few months later a pair of popular bloggers stopped by my booth at an art market and featured my work on their blog.
While I know that I got extremely lucky to have my work noticed and promoted by bloggers with large followings (and I am SO grateful to them for featuring my shop!), I also know that if I hadn't put my work out there – on Etsy, at art markets, on my blog – I never would've gotten noticed in the first place. Two years into this gig and I've learned that as with most things, running your own business takes a lot of hard work and little bit of dumb luck.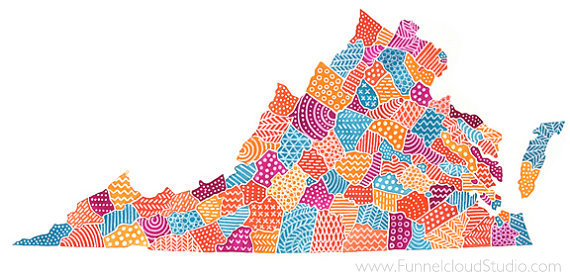 Q:  I know you've done 7 art shows and craft fairs this year.  That must keep you busy!  What kinds of trends and tips have you picked up on along the way?
Art markets are challenging because it's nearly impossible to predict how much product you need, how many people will attend, or how well your business will do. Business varies from market to market and from year to year. Some markets are wild successes that leave me fired up to do as many shows as possible. Others are duds that leave me with a fleeting feeling of quitting.
The best advice I can give is to participate in a number of art markets until you find the ones that work best for your business. Finding your niche is important. If you sell traditional pottery, you probably won't do well at an indie art market. Conversely, if you sell posters of skulls and robots, your work probably isn't a good fit for a traditional craft show. Do some research, take some chances, and find the venue that's right for your shop.
Q:  Please share one piece of advice for handmade or indie business dreamers.
These are cliches, but Just Do It and Fake It Until You Make It really are words to live by when you're starting and running a small business.
If I had waited until everything in my life was perfect before I started my business…well, I'd still be waiting and I'd still probably be working in a cubicle, more unsatisfied and unhappy than ever. I took some big risks to start Funnelcloud Studio, and two years later, I'm still taking risks to continue this business. And while it's true that risks can result in failure, if you don't take risks in the first place you will never achieve success.
I know you only asked for one piece of advice, but my second suggestion is to find other small business owners to meet with regularly, bounce ideas off of, and drink wine with!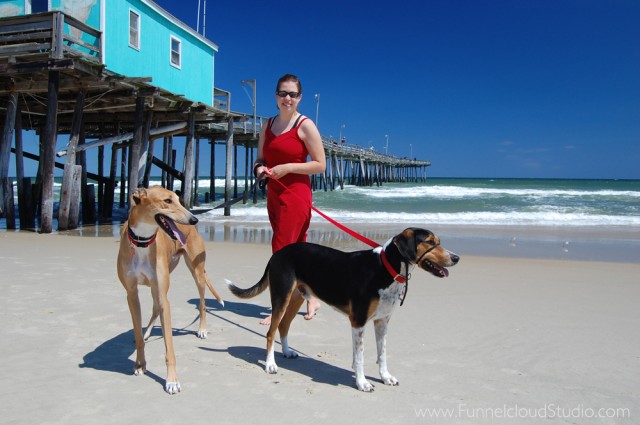 Q:  What's next on the event calendar for Funnelcloud Studio?
I have several more art markets coming up as 2012 comes to an end, including a couple of holiday art markets which are always the most fun and busiest markets of the year. My shop will be at 2 Hands Indie Craft Market in Severna Park, Maryland on November 3rd, Charm City Craft Mafia's Holiday Heap in Baltimore, Maryland on December 1st, and GRUMP at Artisphere in Arlington, Virginia on December 15th. I also keep a calendar of upcoming shows on my blog.
Where can we find you?
Shop: www.funnelcloudstudio.com
Blog: http://funnelcloud.blogspot.com
Twitter: https://twitter.com/FunnelcloudRach
Instagram: @funnelcloud
Pinterest: http://pinterest.com/funnelcloud
I hope you all have enjoyed this interview with Rachel!  Please let me know if there are any topics or particular business niches that you'd like to see covered in future Small Business Spotlight posts – and you can go here to read the previous interviews.