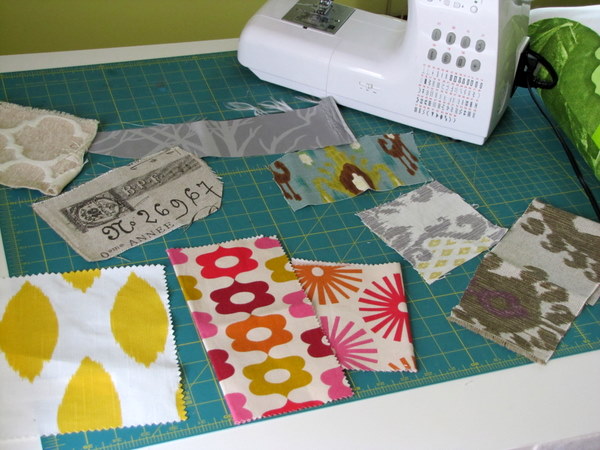 And . . . I'm back, with the second installment of "Ramblings from a first-time craft-fair seller."
Product line.  It goes without saying that this is kinda important, considering products are what I hope to sell my customers, right?  Right.  Well, it's totally stressing me out.
I've got a million ideas, but not enough time to make them all happen before Memorial Day Weekend.  And to top that off, in the last 6 months or so I've learned a lot about what not to do. Yup.  A LOT of lessons learned tucked under this sewing fanatic's belt.
This week's concern was that I had 25 days until the festival, and now that I'm registered as a business and have my tax ID#, I had to make some final purchases.  In some cases I'm now able to use that tax ID# to make a bulk purchase at a discounted wholesale price.  I was terrified of making those purchases.  Order $500 of supplies in one fell swoop is a scary thing to do!
But back to that product line that I'm struggling with.   The initial idea behind my line was to create coordinated pillows,  cat purr pads and dog beds.  Over the last few months I've been buying fabrics, but forgot to think through the fact that I needed to have multiples of each product in each fabric.  (Duh!)   I could have spent my money better in past months if I hadn't bought so many single yards of fabrics I loved.
Here's what NOT to do, when launching a product-oriented business:
Do not – I repeat, DO NOT get excited and go out and buy random fabrics just because you like them.  If you do, your product line will have total style ADD.  And I'm no business expert, but I'm pretty sure that's a big no-no in the product design world.  You want your shop to offer a cohesive feel, with groups of items in similar styles.  Yes, you you want variation, so that your products appeal to more people, but you want to choose the different variations in a thoughtful way.
Want a peek inside the head of Jane, when shopping for fabric on a whim?
"Ooh! Pretty blue and brown quilting fabrics.  Coool, I'll get a few yards of these.  Hmm.  Maybe 1.5 yards.  Oh what's that?  Pink and brown oversized floral?  Cool, I'll snag that too.  And maybe one yard of this black, brown, and cream Ikat print.  Hmm, I like this green geometric upholstery-weight fabric.  Oh, I'll need more heavyweight fabric.  How about this Michael Miller floral print in pinks and aquas?  And these Joel Dewberry fabrics in garnet, gray, and green.  I'll get a yard or two of each of them."
Yeah, I did that, when I should have been ordering fabric swatches instead.  And now, less than one month before d-day, I realized that I would have the most bizarre collection if I didn't do something differently.  I've got this random jumble of completely unrelated fabrics in 2-yard increments.  So yes, I'll be using up those fabrics that I purchased on a whim, but I ordered a few other fabrics to try and round things out and create a few collections:
The popular modern patterns & geometrics in a few bold colors as well as neutrals
Super fun and unique Japanese Echino prints that are my favorites
Ikats and traditional prints for the more classic customers
But I could only afford to order so much fabric, so to round things out I've decided to have a fabric swatch book at the booth, and offer custom orders to customers.  This will also come in handy with the dog beds, because frankly the cost of supplies is quite high (they're made with really supportive upholstery-grade foam) and they're bulky to stock up in the house.  By having samples of them, and selling them only as a custom item, I can hopefully keep life  a little more simple and keep up-front costs down.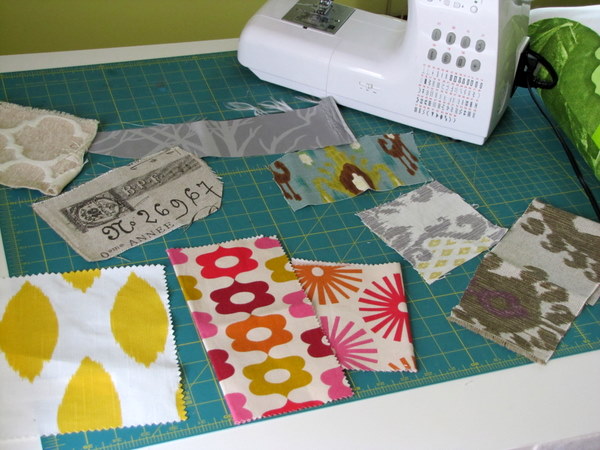 Another comment in regards to fabrics:  I was going to purchase these fabulous zig-zag fabrics, but it appears that a ton of people are already selling zig-zag pillows on Etsy. I'm not sure I want to try and compete with all of them when there are so many other fun fabrics to play with.  Which brings up another good question to consider: 
How will my pillows stand out in the ever-expanding handmade pillow market?
This is something I need to be able to discuss with potential customers.
My pillows are made with the same (or coordinating ) fun fabrics on either side.  I won't add a plain white back to keep costs down, because I don't think that looks as good – and it would keep the customer from being able to show off both sides of the pillow.
My pillows are made with invisible zipper closures on the bottom seam, not made with envelope closures in the back.  Envelopes are easier to sew, but they don't look as good on the pillow – and again, prevent the customer from alternating sides of the pillow if need be.
Finally, I'll offer both types of pillow form:  a 100% hypo-allergenic poly fill that feels as fluffy as down, or real down pillows.  Bonus:  All of my pillow forms are made in the USA.
So, in conclusion, if you're planning on creating a fabric-based product line, here's how I recommend you do it:
Look carefully at many fabrics.  Save images of ones you like.
Create image collages to categorize the different fabrics that appeal to you.
Order swatches so you can see all the fabrics in real life, and see how they mix and match.
Decide what aesthetic you are going for  with each collection, and carefully select a few complementary patterns, in several colors.
If finances and time are an issue, only do one style of collection the first time around, so you can afford to have several options in that category.
Then, once you've settled on a cohesive collection, order the fabrics, and order enough to make multiples of each pattern.
I guess that's it for my business-related ramblings today.  Are there any patterns you think I must absolutely stock?  What colors do you think are must-haves?