I finally finished my closet makeover.  And I love it.  Finally, for the first time in my entire adult life, I feel like I have a closet that holds everything I need it too, keeps everything organized perfectly, and is easy to use.  Only took me 10 years and 8 moves to be able to say  . . .  I love my closet!
It's not a fancy walk-in closet, but it's fine.  Its size forces me to only own clothes and shoes that I love.
I changed the layout of the front.  (Last Friday when I shared my love of Elfa shelving it wasn't done.)  Now I have two complete bars of short hanging space going across the 4-ft opening.  Above the hanging space I have boxes for sewing storage.  Notice that below I no longer have my two-tiered shoe storage  –  it wasn't working well.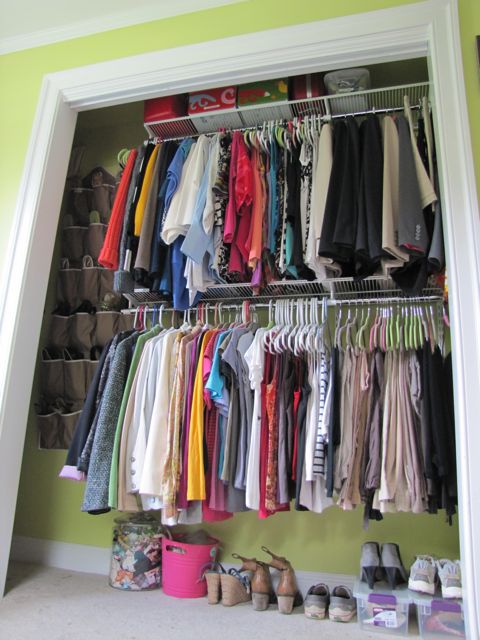 Most of the shoes now live in an over-door shoe organizer which hangs on the wall in the space between the closet opening and the way back of the closet.  I realized it was a great way to make use of the space, while leaving enough room for me to stand in there looking at the back of the closet.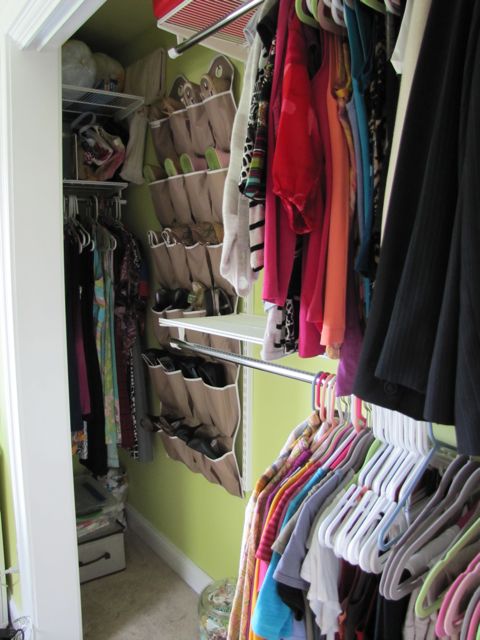 Speaking of the back of the closet, all my dresses now hang back there.  Because I didn't want to use up a ton of space, I found a way to double-up the long dresses and skirts so that they only hang as long as a short dress.  That leaves the bottom space open for me to easily slide out the boxes which store my cut fabrics for products-in-process.
The top two shelves hold purses and more sewing storage.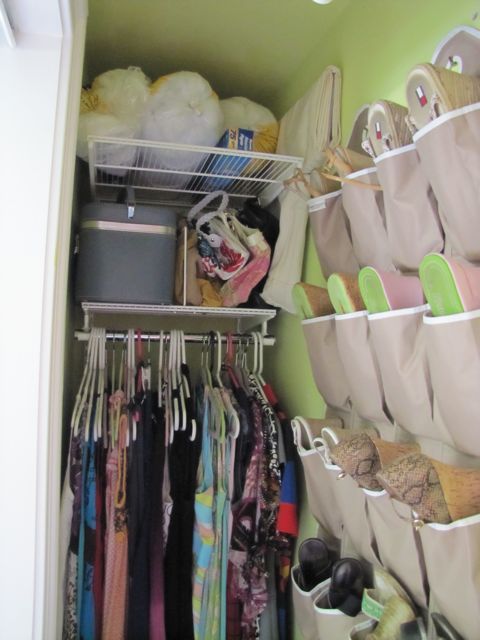 As for my belts, sunglasses, scarves, and other accessories – they live on the back of my studio door, in another hanging shoe organizer.  And the hooks on the wall behind the door hold my pjs and my purse.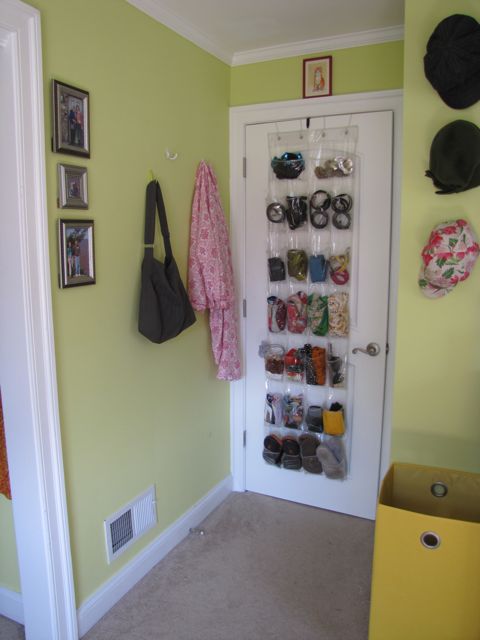 And that's how I store my stuff in my heavenly little space that I call my Studio & Dressing Room.