As of this past weekend, all home décor projects have stopped.  There is no more organizing. No building. No crafting. There is only sewing and preparing for Art on the Avenue because it's two weeks out!
Can someone preemptively give Ryan the "Saintly Husband" award?  He's going to be helping and putting up with me during these two weeks!
So I'm here today with a belated weekly status update – as promised.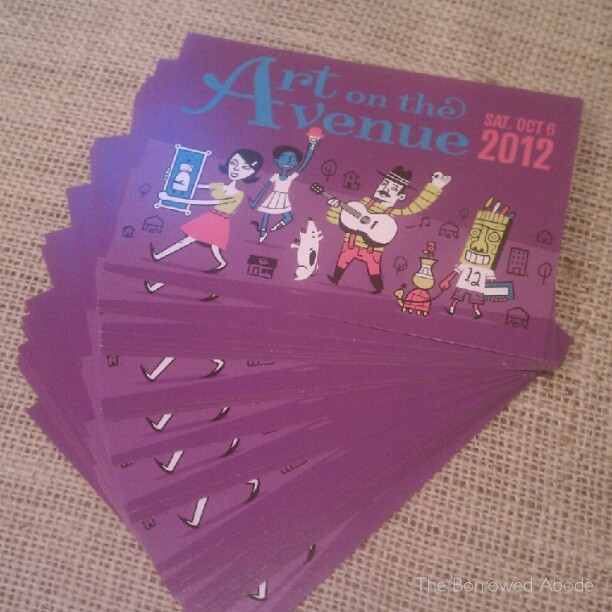 First of all, I'm having fun getting ready!  When I told you I was considering closing my shop, I mentioned that I got bored when creating the same products over and over again.  I guess the goal of creating for this live festival has altered my mindset.
Progress-wise, I feel pretty good, despite the fact that my goal was to have $5,000 of merchandise created, and right now I only have $2,000.    But I'm getting really excited!  When the weather is good, the event gets about 50,000 attendees.  (Please let the weather be good.)
I'm so glad that I impulsively built my massive sewing table in the spring.  Having a 7 ft x 4 ft solid workspace has been invaluable for cutting fabric and foam and doing all sorts of bulk production.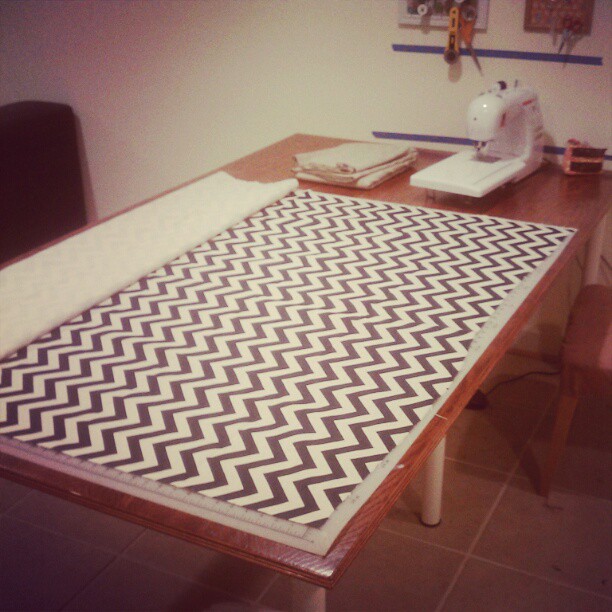 In this shot you can see how one side of my sewing studio space looks right now.  It's never evolved past the "bare necessities" setup that I implemented when I moved it to the basement last winter.   After all it's sewing, not "designing the sewing room" that brings in the money.  And this unfinished space gets the job done.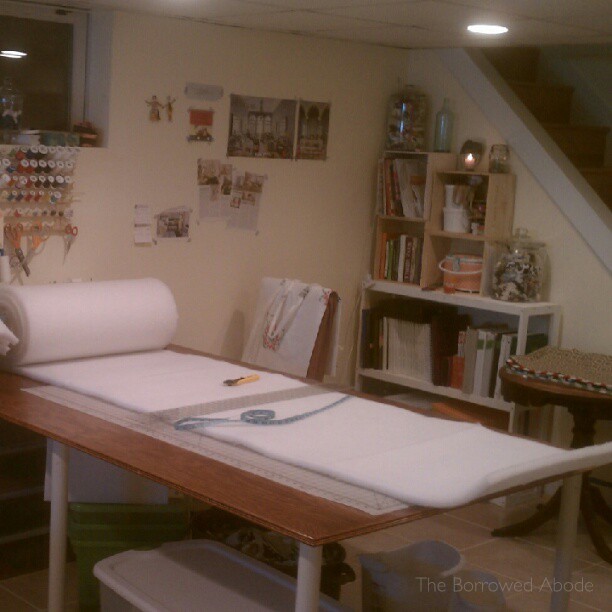 Until this past weekend I hadn't actually made any of my pup pads – now officially named Merlin Mats – for the show.  Why?  I had tested out a few tweaks to the design and the supplies used, but I was reluctant to just make a decision.  I'm noticing a pattern; reluctance to commit to a decision is has been a challenge that causes me to fall behind on tasks.   It happened with our wedding invites, other wedding design options, and now with multiple decisions for Janery.
This weekend's proximity to Art on the Ave forced me to make decisions, and the end result was a pile of pretty Merlin Mats.  I'm excited about the new design, because I was able to shorten production time while keeping them durable and washable, and I added a new feature to make them even more portable.
The end result?  A lower price and a product that I am absolutely in love with.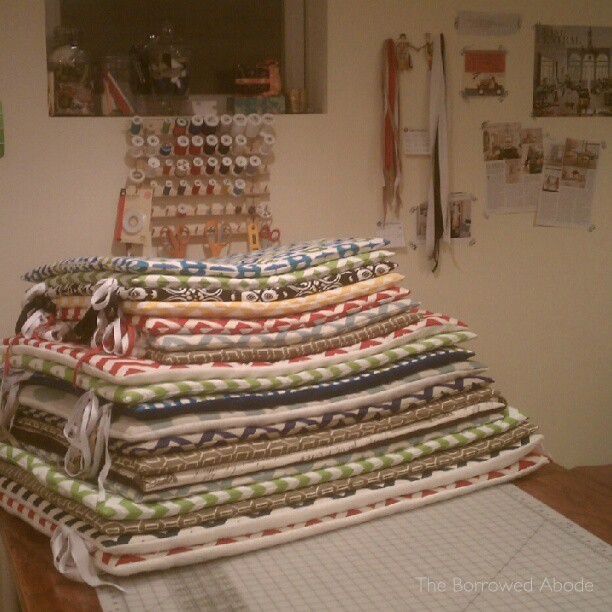 Sidenote:  With a text message coupon and the sales going on at the fabric store this past weekend, it ended up cheaper for me to buy some supplies there than through my wholesale account with the manufacture.
I also made some of my Flour Sack Towels, which were my top selling item at Viva Vienna in 2011.  This totally retro fabric may be my favorite of the bunch!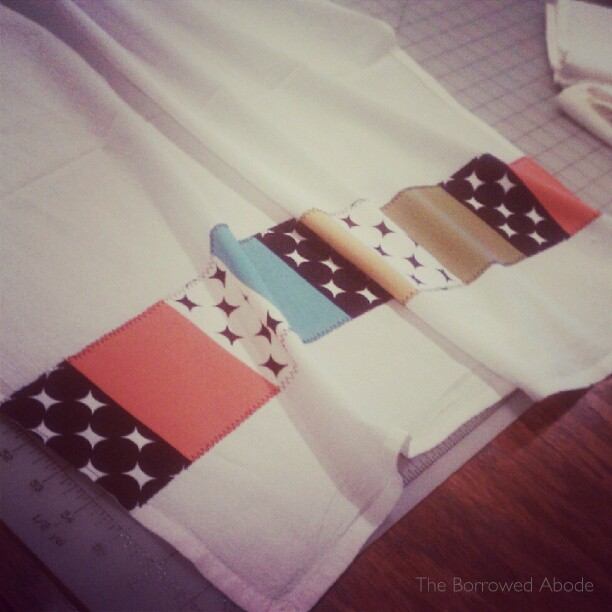 Also, a few weeks ago I became obsessed with the embroidery stitches on my sewing machine. I have been using them to add a little extra embellishment here and there.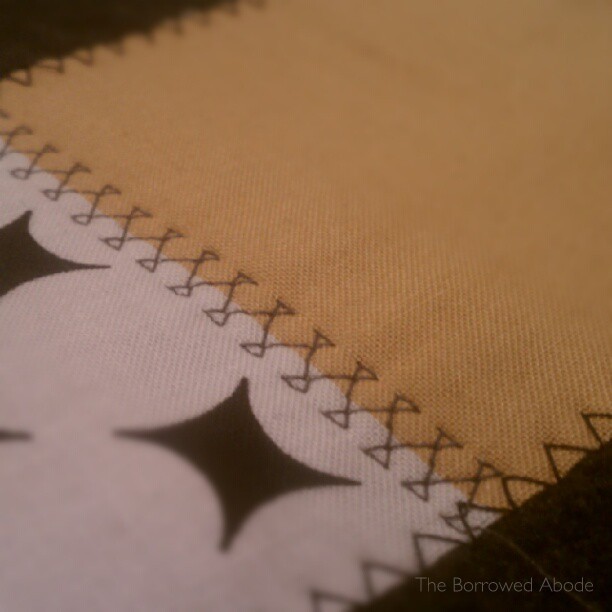 There are still products that I haven't started making, and I'm going to tackle the "cutting" of fabric for them tonight, then sewing them up later this week.  I'd like to have some of everything created by Saturday night, then I can focus on other preparation (labeling, signage, booth design tweaks) and the making of extra stock during the next and final week.
There's one significant bump in the road, which I've saved for last.
On Thursday I realized I hadn't received a shipping notice for a large and expensive supply order:  Supplies for the plush and cozy dog beds I was planning to make.  I called the manufacturer, who is thankfully in the US, and we discovered that though my card had been charged for the order, the order hadn't shown up in their system.  Since the pet bed inserts and pillow inserts are made to order at the factory, this was bad news.
Fortunately the company provided super speedy and awesome customer service – a perk of dealing with a small, US factory – and they promised to get my order manufactured and shipped as quickly as possible.  So I'll be sewing up my dog beds at the last minute, it looks like.  Oh well – if I don't get to them in time I'll save them for the next event, or for Etsy.
Before I sign off for the day, I want to thank you all for your wonderful feedback on my questions in last week's status update.  I really appreciated all the food for thought, and have decided not to offer gift boxes for the products.
Art on the Avenue is Saturday, Oct 6 from 10 am – 6 pm in the Del Ray neighborhood of Alexandria.