I can't stand having clutter on kitchen counters.  Maybe it's because I make a mess when I cook, or maybe it's because I grew up in a home where the counters cluttered.  I think kitchen tools and utensils should be stored away, which is why even my wooden spoons and spatulas are stashed in a drawer by the stove – not in a counter-top caddy.  The clearer the counters, the easier to clean up after cooking.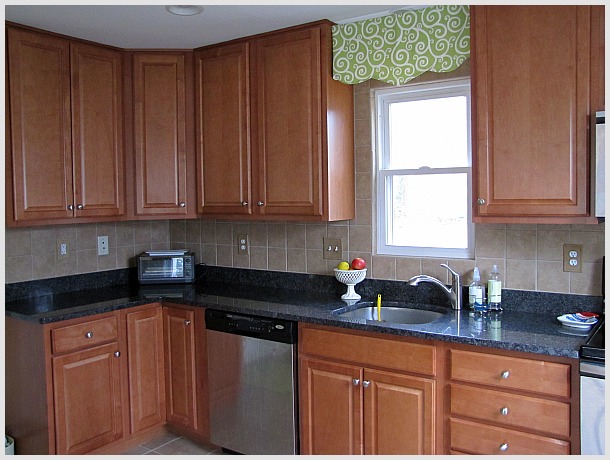 Before Ryan, I never had a dish drainer.  In my first DC condo money was tight – why waste it on that!  I'd hand-wash my dishes and set them on a towel to dry.  My kitchen was so small that I had to put them away ASAP, or I'd be out of counter space.  I quickly realized that I really didn't need one, no matter the size of my kitchen. Fast-forward to this year.  Ryan wanted a dish drainer. I compromised, buying a very tiny one.  It holds the little things – like my reusable glass straw, icing bag tips, knives, etc – that we hand wash.
With that in mind, I told Ryan that I absolutely could not stand to have it on the counter.  Even if we had a double sink, I wouldn't want it in there.  It just invites clutter and grime.  So we made a space for it under the kitchen sink.  That way things are tucked out of sight.  And when we have large dishes to dry, we just use the old towel-on-counter trick.  Once done, we just hang the towel to dry.  Much more space-efficient than a huge dish drainer.
Oh – and to protect the bottom of the undersink cabinet from water damage, I use a little plastic tray under the dish rack.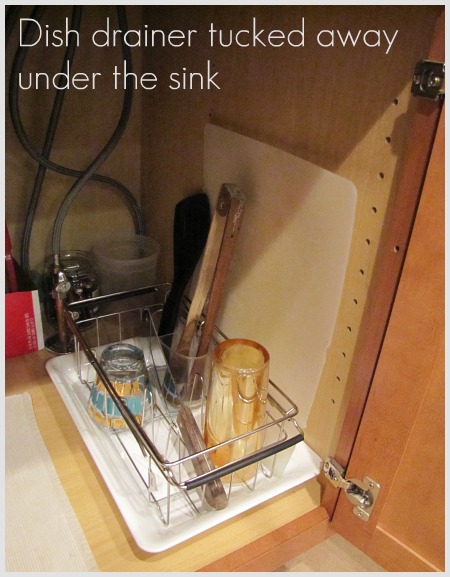 Behind the dish rack we have some recycling and cleaner storage.  An old glass jar holds used batteries, and a plastic take-out container collects wine corks (for recycling at Whole Foods).  (Did you know that cork is quickly becoming a depleted resource?) Next to that I have my granite countertop polish and the ceramic stovetop cleaner.  You can see that I'm using the end of a Pepsi can box to store them.  I told you organizing doesn't have to cost, if you use trash!  Oh, and by pulling from my stash of old jars and containers, I was able to customize the solution to fit perfectly.  That rarely happens with fancy containers from the store!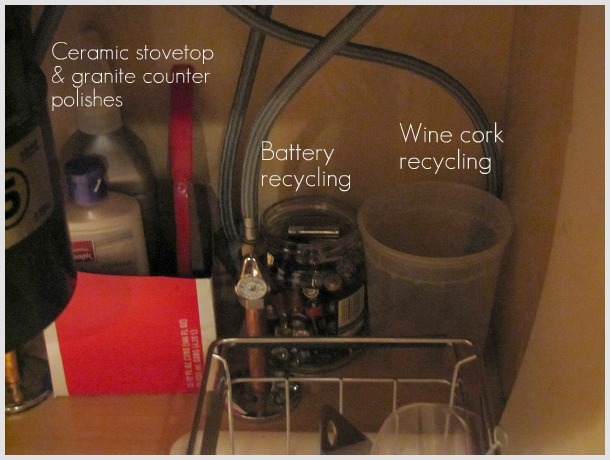 On the other side of the cabinet I installed a plastic-bag holder.  It was a bit tricky to insert it up high behind the sink basin, but I wanted to make use of that upper space.  It's not the easiest to insert the bags in the top, so we just shove them in the bottom.  It works.  This is one organizing item I heartily recommend buying.  Below it you see we have a fire extinguisher.  Which we haven't needed yet – but with the frequency that I manage to set off smoke alarms when cooking, it's a miracle it hasn't had to be used.  Please, if you don't have one in your kitchen, get one.  Now.  And read up on how to use it. Even if you're a less-smoky cook than me.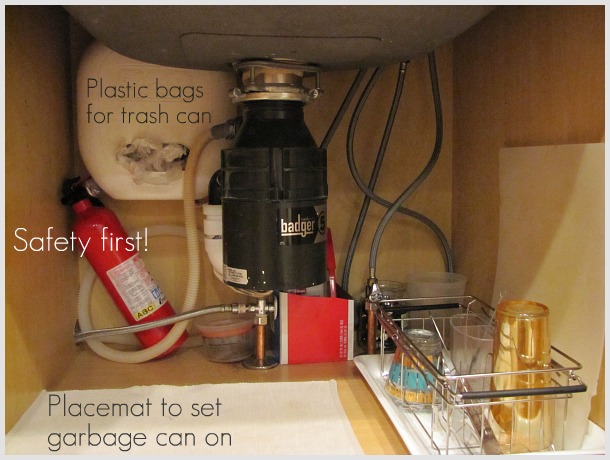 We keep the tiny trash can on an old placemat, along with our semi-eco-friendly dishwasher detergent.  (Am I the only one having trouble finding a truly eco-friendly detergent that really works?)  This trashcan is another holdover from my first condo – it's made specifically to hold plastic grocery bags, with notches in the sides that you loop the handles over.  Even though we try to use reusable bags for groceries, we inevitably end up with the plastic baggies now and then.  The small size works (usually) because we recycle almost everything – our town collects plastics of all numbers (1-7), all metals, papers, etc.  And you can never end up with a huge heavy bag of old stinky garbage, because the small size has you emptying it more frequently.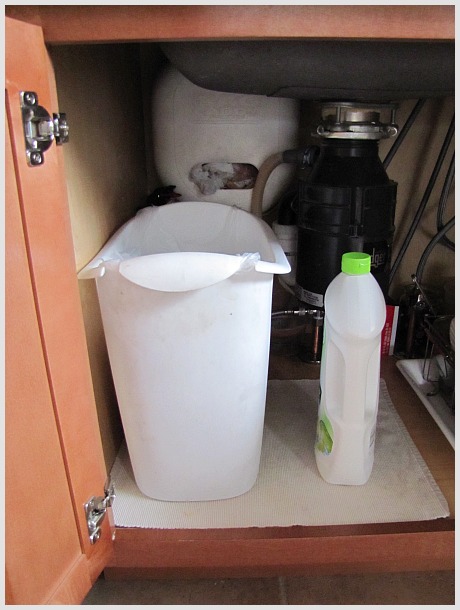 Finally, I just added a little Command hook (you know I love them!) on the inside of the cabinet door to hold some fun rubber gloves.  I'm hoping that using them will help keep my hands from getting all dry and worn out like they do every winter. How do the gloves hang from the hook?  Easy – I clip a little binder clip to them, which has a convenient metal loop on the end.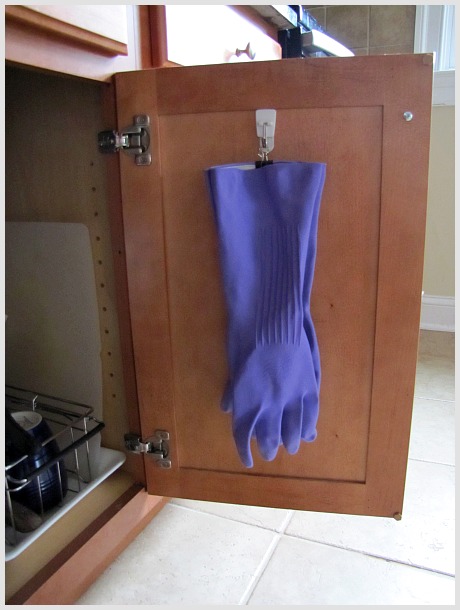 So that's a very-in-depth look at what's going on under our sink.  Am I the only one who can't stand having a dish drainer out?  And please, if you have found a great eco-friendly dishwasher detergent, let me know!
PS: Thanks to Jen at IHeart Organizing for inspiring this close-up of some of my kitchen storage tricks.   I totally blog stalk her for constant organizing inspiration. I've never seen someone so addicted to organizing – it's fabulous!  Be sure to check out her kitchen details, from the way she organized her fridge, to her perfectly organized drawers, and everything else.
Shared at Organize Your Stuff Now!
PS: If you'd like some free help with a decorating challenge posed by your rented home, please hop over here!