Drawerganization:  The art of organizing one's drawers. Does my post title kick ass in the silly puns category, or what?
As a kid I never even knew drawer organizers were something you could buy at the store.  But I wanted to organize things,  so I learned to work with what I had: cardboard boxes.  (Oh, and taped-together construction paper for drawer liners.)  But now that I'm all grown up, I've graduated. . . . to some plastic organizing bins, but also more cardboard boxes!
Well, when I saw this Apartment Therapy article suggesting you buy dividers to help get your dresser drawers in order, I figured it was time to set you all straight.
Sure, plastic bins can be handy.   The ones I already had on hand work well in my kitchen drawer, for sorting my aprons and napkins and dish towels: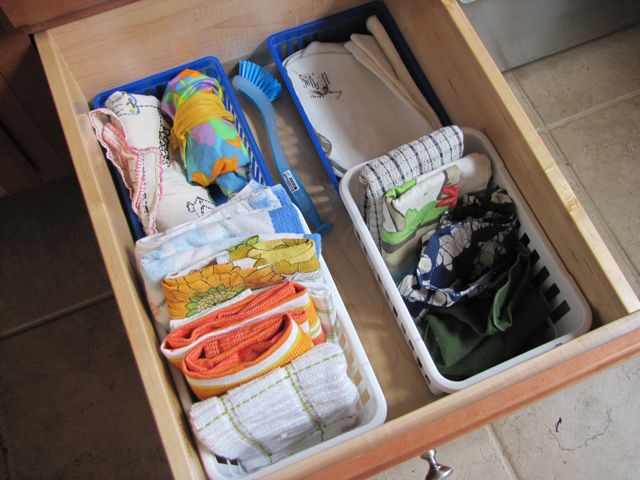 They also get the job done in my bathroom cabinet drawer, holding my makeup and such: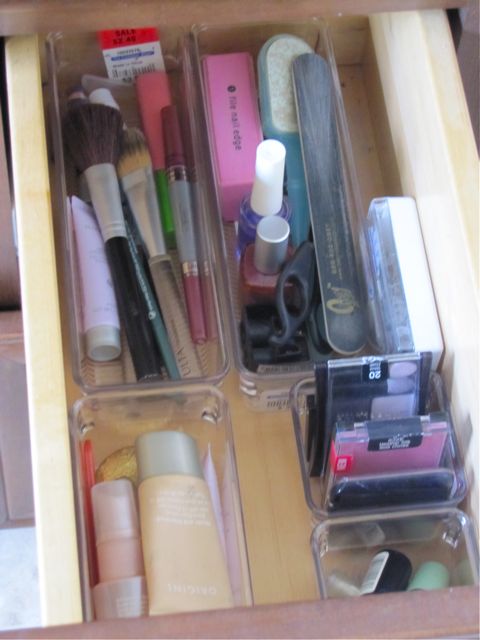 But when it was time to organize the clothes drawers in my new studio storage cabinets, I turned to my trusty little stash of cardboard boxes.  Why?
I'm thrifty: Why dish out part of my decorating fund just for drawer organizers that no one will see?
I prefer not to purchase products made without fair labor conditions, especially when there's another option that will work just as well.
It was New Years Eve, around 11 pm, and it was doubtful that any store was open.
And why were drawer dividers necessary?  Becuase, when you're working with limited drawer space (in my case, 3 clothes drawers), you've got to divvy up the spaces to maximize the storage.
So here we go:  An old Behr paint box keeps my socks divided from my stockings and tights.  Sure, it's not all pretty and colorful and covered in fabric, but it gets the job done.  Oh, don't mind my legwarmers.  The 80's are back, after all.
And look!  A shoebox does a great job corralling all my drawers in my drawers!  (Yes, I'm showing you my undies.  We all wear them.  I'm sure my mother will lecture me later, but I'm used to that . . .)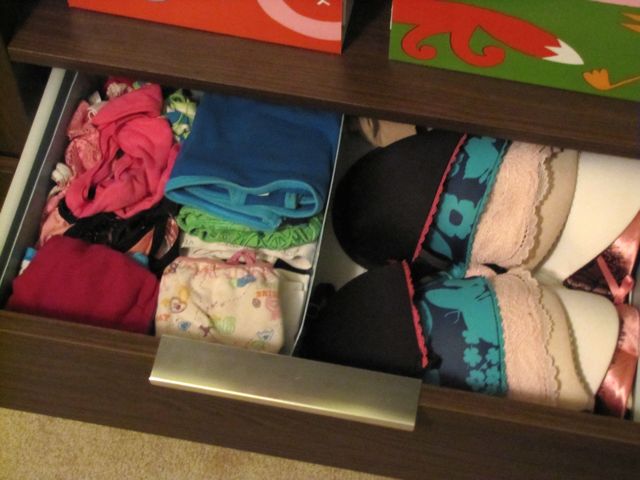 Finally, some random piece of cardboard with tabs on either end fit my drawer perfectly, dividing it in two.  I just used a little painters' tape to keep it in place.   Sports clothes on one side, PJs on the other.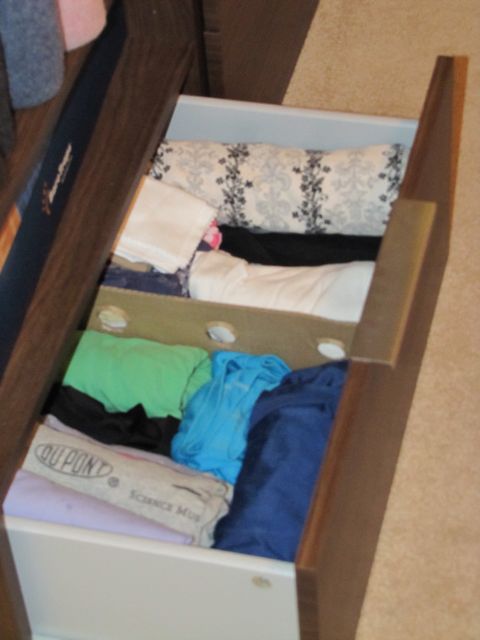 So there you have it – a peek into my drawerganization tendencies. How do you keep your drawers in check?  Store bought plastic bins?  Fabric dividers from Ikea? Or do you toss the stuff in there, just feeling thankful if it actually makes it into the drawer?
Shared at Thrifty Decor Chick's Organize It! party.
PS:  Yesterday I shared some awesome nuggets of info for bloggers, taken from Scott Stratten, the keynote speaker at Blissdom.  Be sure to check it out.  Oh, and it's legit:  Scott actually commented that  I summarized his messages well! (That pretty much made my week.)

PSS: Some related thrifty storage ideas you might like: