It's been a busy week – but in a reasonable way.  After realizing that I practically missed November, I've regained some balance between sewing for the shop and taking time to organize, blog and spend time with Ryan. I thought I'd end the week with a glimpse at a few products I'm finishing up, as well as sharing a small but exciting development.
But first – a winner must be announced!  Remember when I asked you all to vote on my shop name, offering one lucky winner a $25 credit to Flourish! Pets & Home once I opened it?  Well, I haven't fully-stocked the virtual shelves yet, but I'd like to let you all know that the lucky winner is Jennifer over at the eco-friendly, DIY-ing, recipe-loving, blog Peas and Crayons!
Jenn, shoot me an email at borrowedabode(at)gmail and I'll give you the details on how it works.  But if I were you I'd save that credit for just another week or two (or as long as you want) because I've got a few fun decor-related items coming soon!
Now for my personally exciting news:  here's one of my handmade recycled jute coffee bean gift bags that the owner of my local coffee shop will be selling in his holiday gifts corner of the store!  That was my exciting development for the week – having  a business owner like my idea enough to want to sell my product to customers!  I think it's a great way to give the gift of cofees and teas, and he's also set up a nice display of French Press coffee makers and cast iron teapots.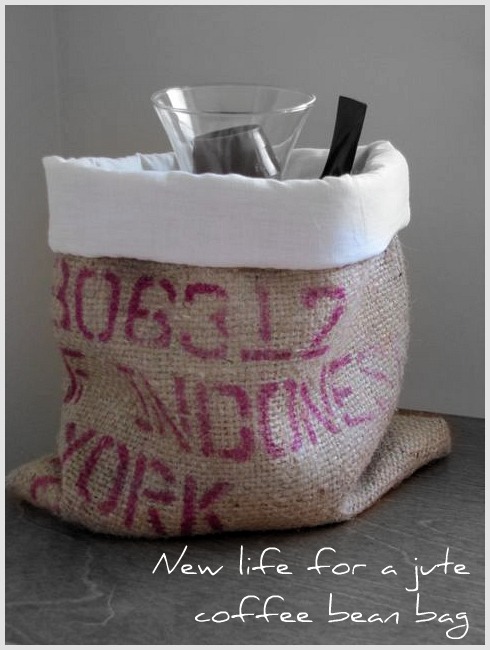 If you're in the area and want to support a great new business with fabulous, friendly staff and delicious, roasted-in-house coffees, it's Caffe Amouri on Church St. in downtown Vienna, VA.  I've been thrilled to see that he's staying busy despite the location of Starbucks only a block away.
Now on to the new items for the shop.  Speaking of gift bags, here's a set of 6 gift bags – 3 wine-sized and 3 smaller pouches – that I listed last night.  I created these little bags thinking that it would be more fun to give a gift in a little cloth bag that could be reused.  Also, it was a great way to repurpose (sorry, Ryan) the smaller pieces of fabric that don't always have a home. No fabric left behind!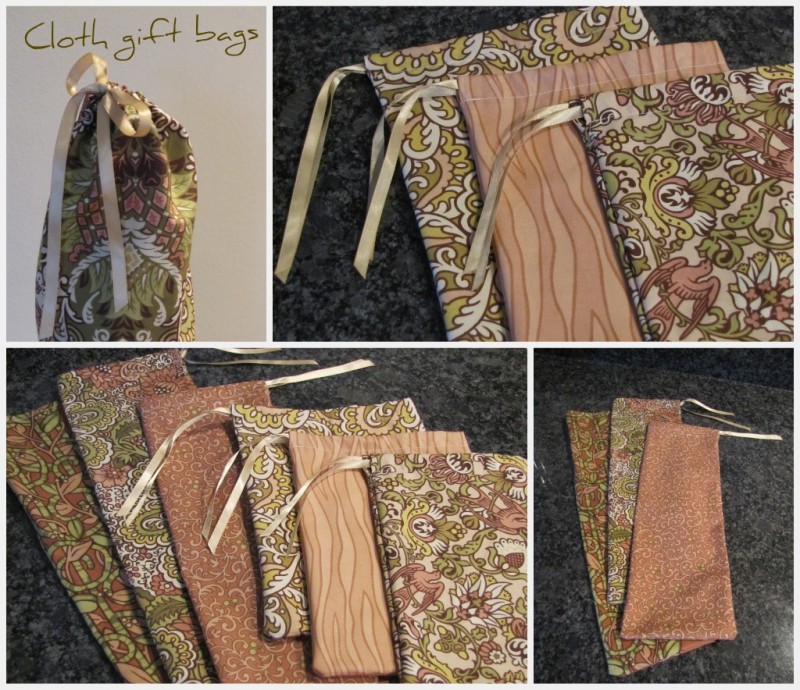 And one more topic in the reusable-bag category:  my hand-stamped reusable produce bags will be ready by the weekend!  I had hoped to have them done before Thanksgiving, but I was absolutely unable to get the permanent fabric ink in time.  It finally arrived and I spent last night stamping to my heart's content, covering the kitchen counters like crazy.
The bags come in two sizes – small and large – and are made of the lightest natural material I could find:  unbleached cotton muslin.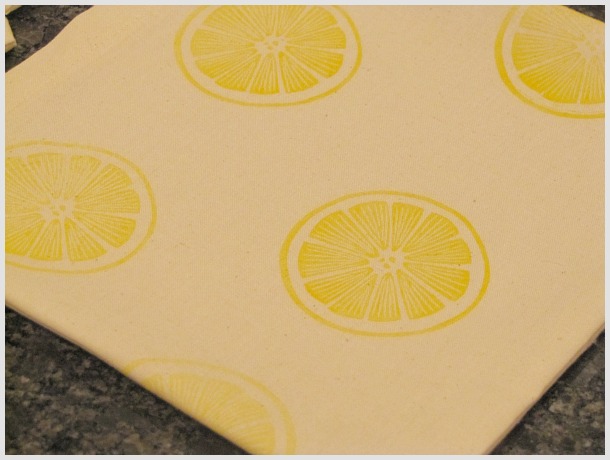 Curious about the stamps?  In an effort to keep my operation small-business friendly, I ordered the custom fruit stamps from a wonderful Etsy seller whose shop goes by the name Sugarskull7.  I can't say enough about how great she was to work with.  I'll definitely be ordering more stamps from her in the future.  I've got a few hand-stamped houseware ideas I'm working on .  . .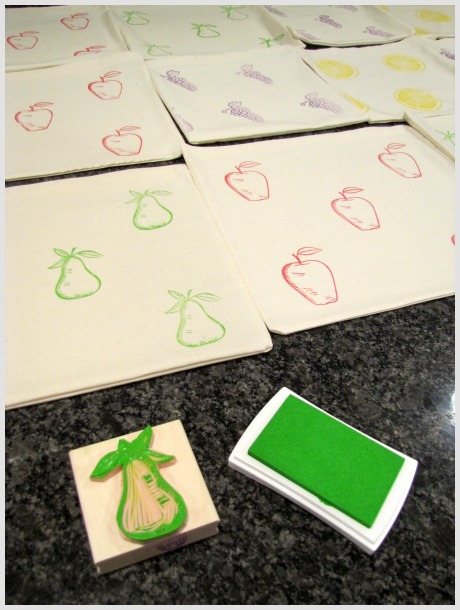 So that's a wrap for me.  I've got to get to bed, tomorrow's going to be a busy Friday at work, followed by a very Christmas-y weekend!  Who else is getting their tree this weekend?  And what about Chanukah?  Are any of you guys celebrating that holiday?  If so, do you decorate for it?
What's in store for next week?  A few fun no-sew, budget-friendly Christmas decorating projects, suggested handmade holiday gift ideas, and a mood board and some other details for my much-needed office/studio makeover!
PS: If you'd like some free help with a decorating challenge posed by your rented home, please hop over here!