It is with great joy and excitement that I announce to you:  This morning we signed the lease on the completely renovated 1000-sq ft ranch house that we fell hard for a few weeks ago.  Even more exciting?  Our landlord gave us the keys when we signed on Tuesday, even though we planned for May 1st occupancy.  Um, yeah – he's pretty much awesome.
Now for the planning!
Excited about the fabulous kitchen, I used the text feature of Google Picasa to plan out where all our kitchen goodies would be stored.    With this handy guide, settling into this space will be a breeze.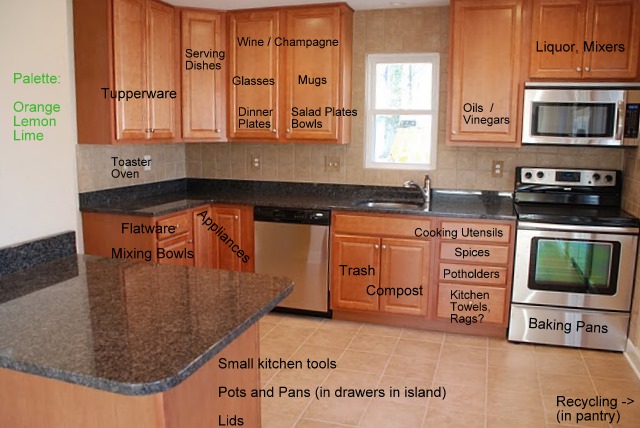 Only one dilemma:  where to store the plastic cutting sheets/boards.  I just can't seem to find the right spot.  I guess I'll spend 5 minutes figuring it out once I've unpacked everything else.
As for the other rooms – I'm still drafting floor plans for them, but moving furniture around is easy and fun.  So I don't mind if they aren't figured out prior to the move.
What do you think?  Is this over-the-top OCDness setting in?  Am I going to far in my pre-move planning, or is this sensible and efficient?  I love that not every shelf in every cabinet will be utilized immediately.  Hooray for empty spaces and good [supposed] fung shui.