Make sure you read that title right. I told Ryan what I was doing the other night, and he misunderstood me at first. I guess I mumbled. Because he said "you're doing WHAT?" Replace the "p"s in shipping with "t"s and you'll see what I mean.
"No," I said to Ryan. "We already have that station. It's for the cats, and it's hidden under the shiPPing station."
We're so mature.
Remember this project from last year?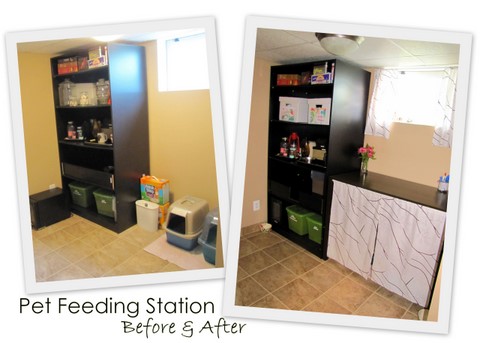 I turned an awkward nook in our basement into a totally functional pet feeding station, pet pharmacy and storage area – while building a strategic (yet simple) table that hid our two cat litter boxes and served as a supposed "gift wrapping station."
Though I loved how that project turned out, the table kept getting cluttered with stuff, because I rarely needed to use it as a "wrapping" station. Big surprise, huh? Nor did I use it as a "rapping" station. My career just wouldn't take off.
Recently, though, I thought up the perfect use for it: A shipping station for all the fabulous packages I'll be preparing and shipping out when Janery.com actually starts working!
So I pulled a few thrifty tricks out of my decorating sleeve, and in just an hour turned it into the perfect space for wrapping and prepping my products for shipment.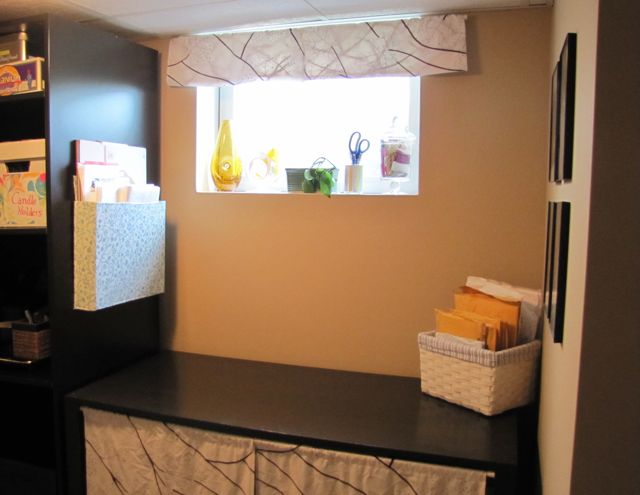 On the shelf created by the window well, I used some of my glass jars to create storage, and added a vase and a sad little potted plant to dress it up.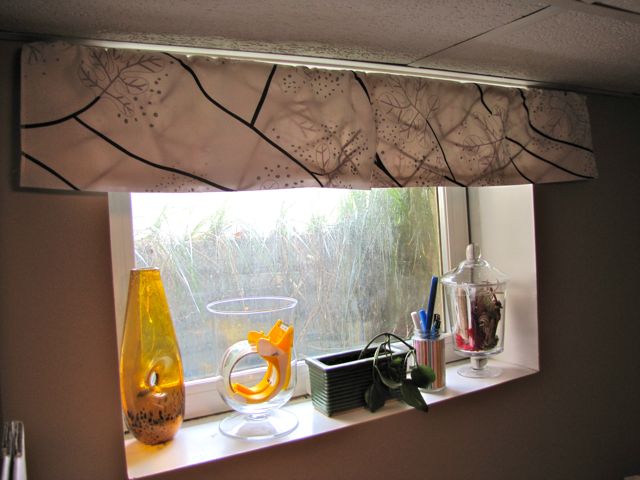 The lidded jar holds bits of twine and string ribbon – because every order will be shipped out wrapped in recycled tissue and wrapped in a string or ribbon, ready for gift-giving. A smaller jar, mod-podged (previously) with craft paper, holds pens, markers, and scissors.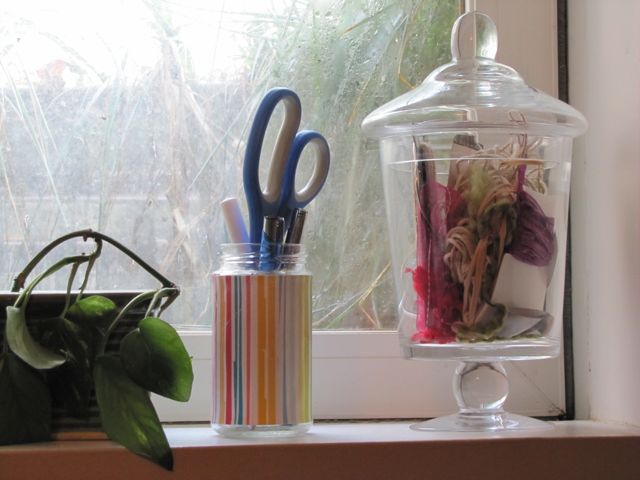 A glass hurricane holds my packaging tape (with room for an extra roll).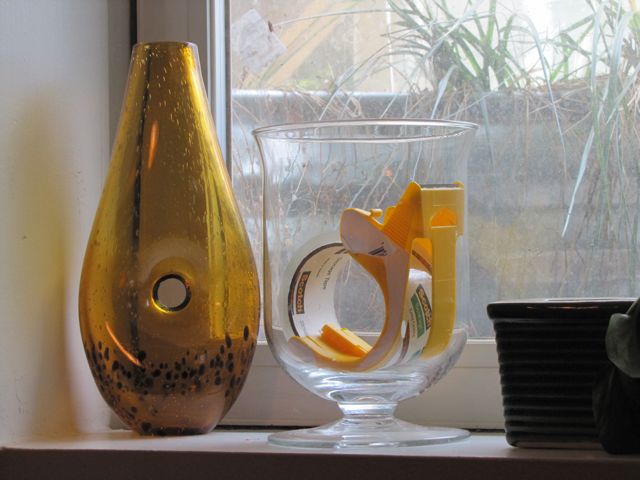 On the left side of the table, I created some totally-free hanging storage for my priority mail envelopes and boxes. I took a used priority mail box that was destined for my recycling bin, and covered the exposed sides in the contact paper leftover from my coat closet "wallpapering" project.
Then I attached it to the side of my Ikea wardrobe with 2 Command strips. I hammered a few nails through the back of the box, into the wardrobe, for extra holding strength.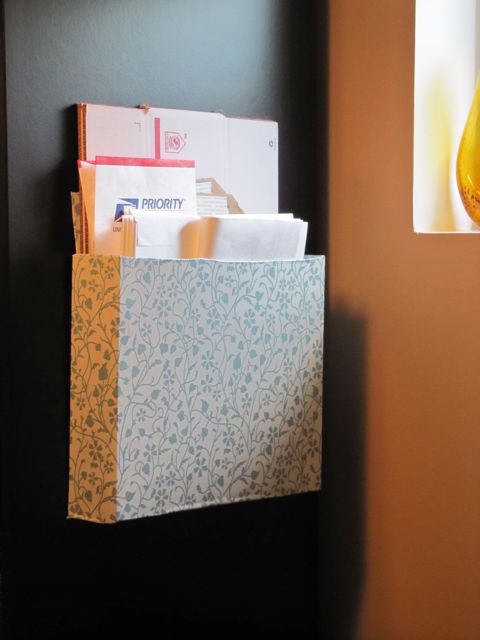 On the other side of the table, I put my used (yet hopefully re-usable) bubble mailers in a small basket that I had on hand.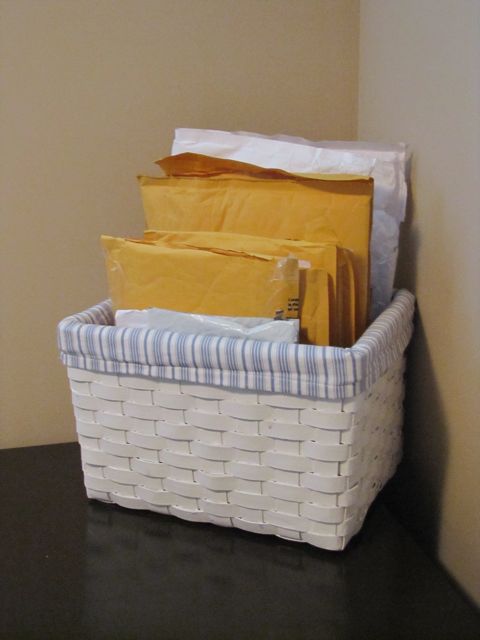 Below the table, on the shelf behind the curtain, I stashed some small cardboard boxes I've saved for shipping the bulkier items. On the right of the boxes, a long underbed storage box holds all my tissue paper. Below the shelf – and behind the mouse-hole door 🙂 – is the cats' "rhymes-with-shipping" station.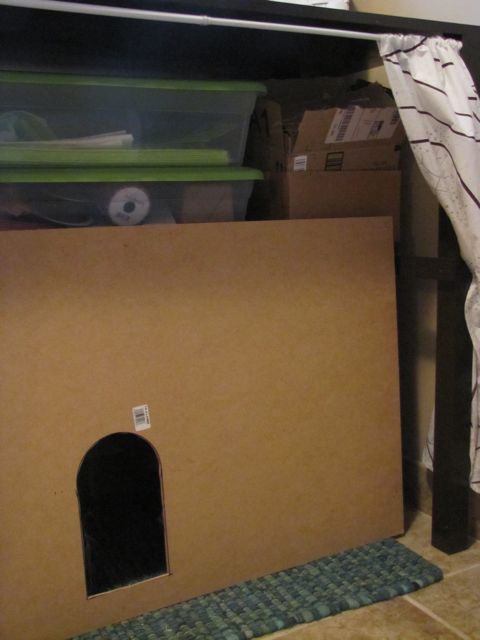 Once Ryan and I buy a wireless printer (I'm assuming such a thing exists), I'll make room for that on the shelves of the wardrobe (to the left of the table). That way I'll be able to print my shipping labels and find them ready and waiting for me downstairs.
And just like that, my shipping station was created.
Total cost? $0.00
Now I just need to get my shop working!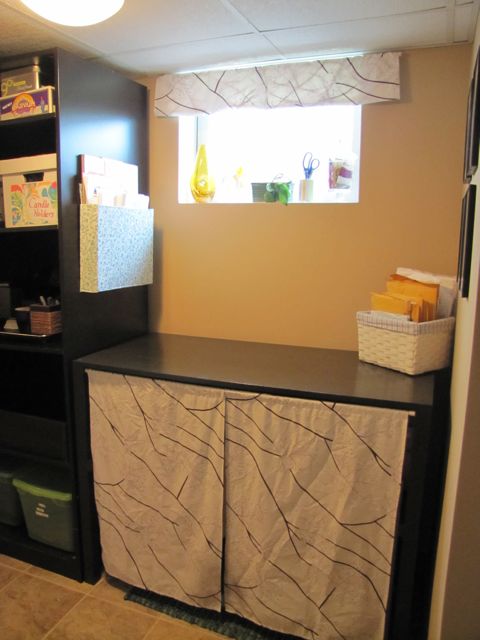 I have just one question for you: As a potential customer, would you be offended if your package arrived in a previously used mailing envelope? I like to reuse them if they're still structurally sound, simply because of the environmental impact of throwing them out after only one use.