Would you like a glimpse inside a week of my life balancing my baby and handmade business?
Last week I decided to blog my daily activities for one week, inspired by the many bloggers who had just finished up the Week in the Life challenge.
I always love Week in the Life because I'm nosy by nature.  This exercise gave me some clarity into why I always feel like my business is growing so slowly, and this week I'm trying to improve my schedule and time management based on what I learned last week.
With that, here's what last Monday looked like.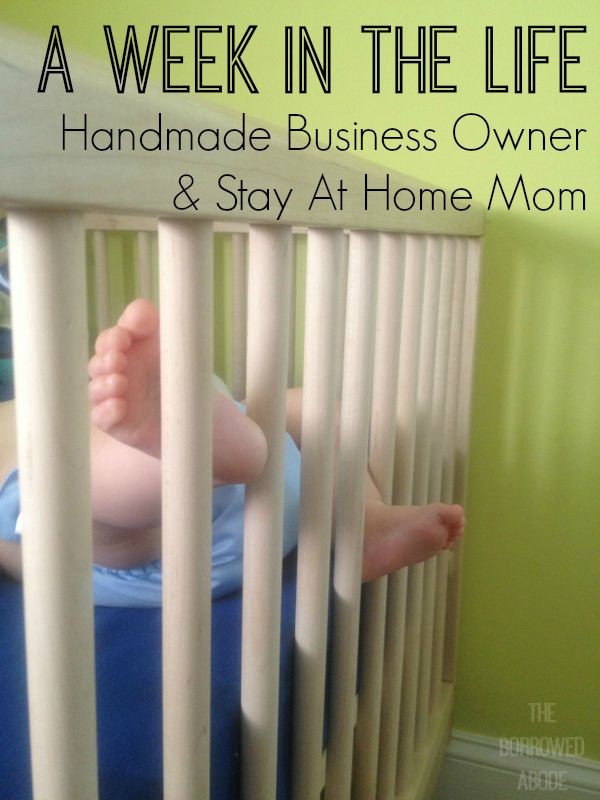 8 am:  Wake up, wanting more sleep, but looking at Maple who is grinning gleefully up at me.  She's been awake for an hour already, talking loudly to herself after I pulled her into bed to feed her at 5 am before drifting back into a semi-sleep state.  Some mornings she allows this more than others, but on this Monday she talked and made wookie yells pretty much nonstop.
I make my breakfast while Maple sits in her high chair at the kitchen island, playing with a wooden spoon and a washcloth.
As I eat breakfast, I talk to Maple and work through my schedule in my planner.  I want to do a lot of work this week and want to kick it off with a bang.
9 am:  Maple goes into her crib to nap.  I'm trying to get her on a daytime schedule now that she's 7 months.  I drink my coffee in the yard while listening to podcasts and playing fetch with Amber, because, like any younger dog, she needs exercise in order to remain well behaved during the day.  I also sand and seal the shelves for my office, hoping they'll be dry enough to hang tonight.
10:15 am: Dishes and cloth diaper laundry are started.  I head to the sewing studio to work on sewing some dog beds.
11 am:  I hear the tiniest noise, and know Maple has woken up from her nap.  She's sideways in the crib, her little feet kicking the rails as she plays and talks to herself. I feed her and then fold laundry in the nursery as she plays.
After reading her a few books, it's noon – time for lunch!
12 pm:  I set Maple back in her high chair, and I put a few blobs of baby food on her tray.  She can finger paint with it and maybe get some in her mouth.  I'm prepping my lunch – a salad – when I hear a funny noise. I turn around to see Maple bent over, trying to suck the food off her tray.  Her fingers, face, and belly are coated in the food, and she's finally discovered that food tastes good.  I can't help but laugh out loud.
We eat lunch together as I feed Maple in between bites for myself.
12:30 pm:  I clean her up, nurse her, and then we head outside to fill the bird feeders.  The weather is amazing so we sit in the hammock for a while and she looks around the yard, interested in everything.
When Maple starts rubbing her ears, I know it's almost 1 pm and time for her next nap.  After she's in her crib, I change out the laundry and sit at the kitchen island for a minute.
I'm tired.  Time for more coffee.
My shelves are dry so I bring them inside before the sun can hit them directly, and I clean up from the shelf project.
1:15 pm:  Coffee in hand, I head down to my office to check business emails, and print out the orders that came in over the weekend.  But my computer is having issues, so nothing works.
2 pm:  I've now wasted 45 precious minutes of nap time, my prime sewing time when I can focus .  I give up on the computer and go into the studio to finish sewing the morning's Charlie Cushions.
And then I hear Maple giggling in the room above me.  Her nap has ended early.
It's at this point that I start to feel stressed.  I realize I should have used the morning nap  to sew, and I start to worry about how I'm going to get enough sewing done before the day is done.
But I set that aside, get the laundry from the dryer, go upstairs to Maple.  She greets me with a happy squeal.  I set her in the middle of our bed and fold more laundry as she plays.  Then I shower and put away laundry as she plays in her room.
3 pm:  We head to the kitchen to prep dinner.  I can interact with Maple as I work in the kitchen, so I save those tasks for when she's awake.  I put together a Thai Red Curry with fresh veggies from the weekend farmer's market.
3:30 pm:  Ryan is home from work!  He plays with Maple as I cook.
4 pm:  I feed Maple before putting her down for her late afternoon nap.  Then I head back to the kitchen to make chicken vegetable soup for my neighbors.  They're in their 90s and have come down with Bronchitis and I worry about them eating enough. My mom always made chicken broth for colds and coughs, so I follow her lead.
5:30 pm:  I take the soup over to the neighbors.  When I get home I see Amber skulking out of the kitchen . . . I left the trash can out, and Amber has eaten the chicken skin and bones.  Ryan and I proceed to worry, because chicken bones are dangerous for dogs.
I open a bottle of wine and take a few minutes to just sit and rest my feet on the back porch.  And worry about Amber.  And remind Ryan that we should get her enrolled in pet insurance ASAP.  I also wonder how the day got away from me so quickly.
6:30 pm:  Dinner time.  Maple continues to nap, which is unusual.  For once Ryan and I get to eat dinner without juggling a baby.  (She usually wakes up just as I'm about to take my first bite, which means I've gotten good at nursing while eating.) We watch Orange is the New Black.
7:45 pm:  Maple wakes up from her nap with only 15 minutes before bedtime.  While Ryan feeds Maple, I fight with my computer and then ask Ryan to look at it because it's still slow.
8:15 pm:  I nurse Maple and put her to bed, then sit with her for a while as she yells.  She seems fussy and kind of clingy, which is unusual for her.
9 pm:  The sugar cravings are hitting me hard, so I make some decaf coffee with cream and a few drops (just a few) of Cointreau for orange flavor.  Have you tried this?  It's delicious!!
I manage to respond to some email but still haven't been able to print out my orders and mailing labels.  My computer is freezing up on me again, and then Google decides that I read Polish.
I think my computer would benefit from being thrown on the floor, but I take it to Ryan to devise a less violent solution.
I try to install my office shelves only to find the screws I got are too short.
9:45 pm Abandoning all hope of working, I take the dogs for a 3-mile walk.  We all need the exercise.
10:30 pm:  I make Ryan's lunch for the next day and clean up the kitchen and Maple's room.  After a shower and a spoonful of peanut butter I head to bed.
12:00 pm:  I hit the pillow and tell myself not to worry about my lack of productivity today, because the week is young, and tomorrow I'll get more work done.
Of course, if Maple could talk, she would tell you she had an awesome day with her mom.