This past weekend we had the first of two little birthday celebrations for Maple.  Yeah. . . my little munchkin is 1 year old already, and I'm having a hard time accepting how fast this first year flew by!
We had a sort of flamingo theme for Maple's party, and it was a blast.  I was busy hosting the party so I didn't get many photos, which I'm kicking myself over!
We didn't invite many people, just my dad and my best friends, so I didn't really need to mail invites.  However I chose this printable invitation from Lemonade Moments on Etsy.  I was able to send it out as a PDF in an email, and print one for Maple's scrap book, which was great.
I also got a little excited and ordered a flamingo print dress from Busy Little Things in the UK.  It's adorable and I sized up so that Maple can wear it through the summer.  At the end of the very long day (Maple didn't have a nap!) I remembered to get a family photo.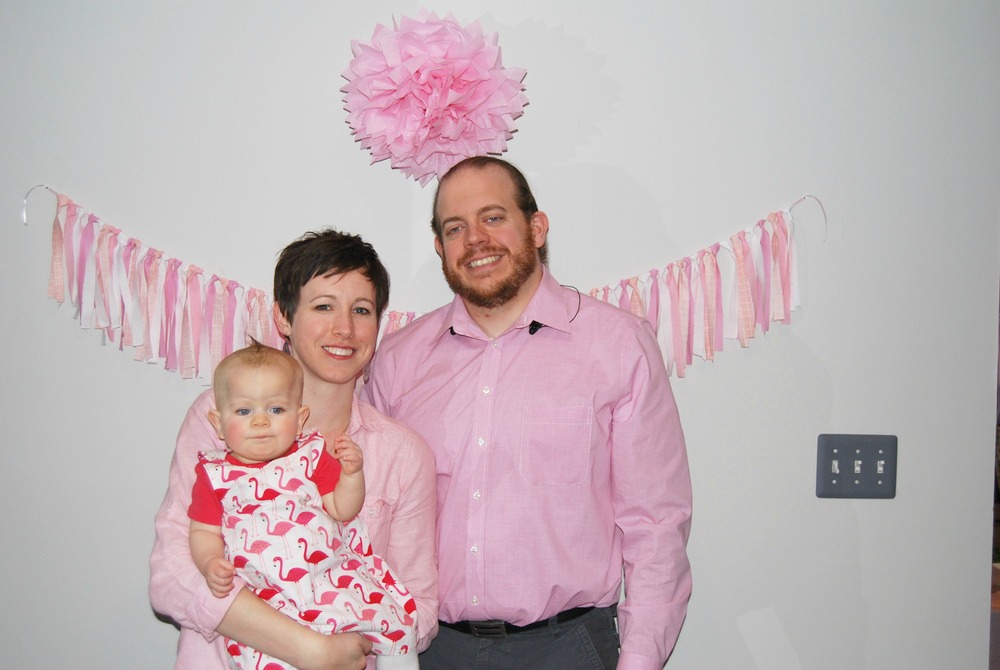 At first I got excited looking at all sorts of flamingo-themed decorations.  But then I thought of the cost and the waste – most are just cheap plastic things that will go in the garbage afterwards, and they're (of course) made in sweatshops.  Plus, it was a small party and she wouldn't know the difference.
I decided to keep things simple by just making a few fun fabric banners and a ton of tissue paper flowers to hang from the ceiling.  I can reuse them for her big family party in New Jersey later this month.  In the end it was just a very girly, pink party, but I felt better that we kept costs down and didn't buy a bunch of plastic crap.
I also dyed some deviled eggs pink using beet juice! I got the idea from several posts on Pinterest, and it was fun and easy.  
We did splurge on a delicious cake with passion fruit filling from our favorite bakery, Silva's Patisserie in Vienna.  Maple was surprisingly ladylike and delicate when we served up her slice!
Maple was a little overwhelmed by the party, I think because she was tired, but she was in a great mood and I was so proud of her.  In the invite we requested that guests forego presents, because Maple has so much stuff after Christmas.  I know some people like to do something, so I provided the idea of donating to Carry the Future (an amazing organization helping refugee moms and babies!) if they felt they must spend money.
As Maple grows up I don't want to be the "fun police" and keep her from getting gifts, but I do hope to encourage her to think of others and recognize all that we are fortunate to have.  I will sort of adjust my approach as the birthdays come each year.
That was the party in a nut shell.
As for life with our little baby / toddler:
Everyone told me to cherish the snuggly early months, because they'd be gone before I knew it – and they were right.  I tried to listen to the advice, but now that Maple is a wiggle monster who won't cuddle, I sure do miss those sleepy newborn days!  At the same time, though, I am loving seeing the little independent person she's becoming.
There's something new about her every day, it seems, whether it's a noise or word she's experimenting with, or a gesture, or an actual skill.  She's currently crawling all over, playing with her toys, and clapping and waving at every opportunity.  Though we've had some cranky days thanks to fevers or teething, overall Maple continues to be a happy, easy going baby.
She recently started cruising along the furniture, and I swear she's happier when she's standing, even though she needs support.  She's also obsessed with clapping and waving, which is really cute.  Over the holidays I took her to the library and let her sit in the kids' section watching the other kids.  She would raise her hand to wave every time she saw another child, then her face would drop a little when they didn't wave back at her!
Maple has her two bottom front teeth now, and meal time has become quite adventurous. Sometime around her birthday she went from eating anything and everything to being more picky.  But not in a way you'd think – she actually pushes away a lot of simple baby food and snacks, and wants to gulp down our "adult" food like curried pumpkin mushroom soup, curried lentils, and spicy bean chili.
Along with the one year birthday comes adjustment for me.  My work / life balance is in a much better place now than it was when I posted my "Week In the Life" series this past summer. That was pretty much the breaking point that showed me how I needed part time daycare in order to be both a good mom and a good business owner.
Maple now goes to part time daycare in the neighborhood, and that's allowed me to focus on work part time so that I can focus on her when she's home with me.  I'm planning to do a new "Week in The Life" series later this winter to show how different our life looks now.