We got a new bed, and my back couldn't be more excited.
I don't know if it's pregnancy or just the fun of getting older, but my back has been bothering me a lot lately. My recent business trips were torture, because the airplane seats wreak havoc on my lower back. So when I noticed I was waking up with less back pain in hotels and at my parents' house than I was at home, I realized it was time to bite the bullet and get a new mattress.
Our inexpensive queen size IKEA mattress held up really well for 5 years – which is a steal considering it cost under $300. In the last year, though, it's started to sag and we knew it was due for replacement. The only reason we hadn't? Ryan and I were trying to build our own king size bed. But sometimes life gets in the way – first I was traveling a lot for work. Then I was pregnant and so exhausted in my first trimester that I was useless. Then my mom became sick and we weren't in town.
I was ecstatic when Ryan suggested the other day that perhaps we should just buy a cheap bed frame from IKEA to use for the next year, because we probably have our hands full until we've adjusted to life with a human child.
If you've read here before, you probably know that Ryan and I don't usually buy furniture to use "just for a little bit." It seems wasteful. But in this case comfort wins out, and IKEA bed frames have a pretty good resale rate on Craigslist.
Here's the bed frames we considered:
IKEA MALM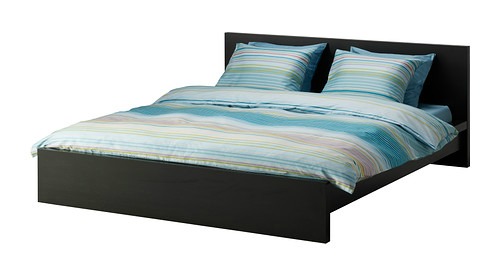 When it comes to IKEA furniture, it doesn't get more basic, classic, or inexpensive than the MALM pieces. This bed frame doesn't get me all excited from a design standpoint, but it's got a headboard (one of our requirements) and it's modern and simple.   The $259 price is nearly as cheap as they come for a bed of this size.
IKEA NYVOLL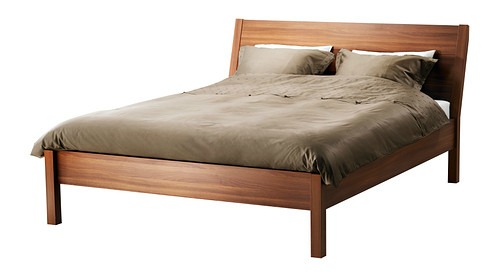 At $309 this frame is a bit more pricey for a temporary solution, but I love the angled headboard and the Danish modern style of the NYVOLL. I think it will resell better too, as there are fewer available on Craigslist.
I asked about this one on social media, and got positive responses from those of you who already own it. That's good, because it's the one we chose!
So, How Is It?
We bought the bed frame Sunday night on the way home from visiting my parents.  It took about 3 hours to assemble it – maybe because first we emptied the bedroom, steam cleaned the carpet, and then tackled the bed around 9 pm.
It is nice to have a headboard after 4 years without one.  I have only one complaint with the bed frame.  While there is a steel middle support beam, there is no support leg in the middle. That's just lazy construction, in my opinion.  We'll add one ourselves with a piece of 2×4, but come on, IKEA.  Just add a middle support leg and charge a little more.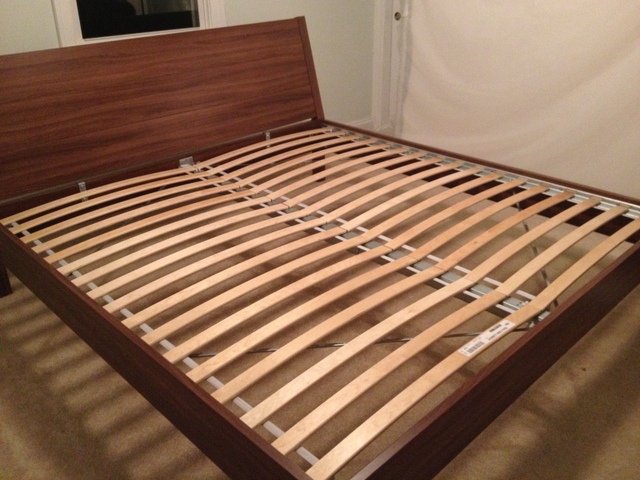 Next up – the mattress.  We ordered our mattress online, but that's a story for the next post.
For awesome updates & exclusive discounts on Janery pet beds, please sign up for my newsletter!