I have been tearing through books lately, both audio books and regular printed ones.  Inspired by my friend and fellow blogger Sarah R Bagley, I've decided to share a monthly "book report". Here's what I read in February.  If you read any of these and want to comment, or if you have a book recommendation for me, let me know on Instagram, Twitter, or Facebook.  Or you can comment on the blog, but I know that can be harder on mobile devices. 🙂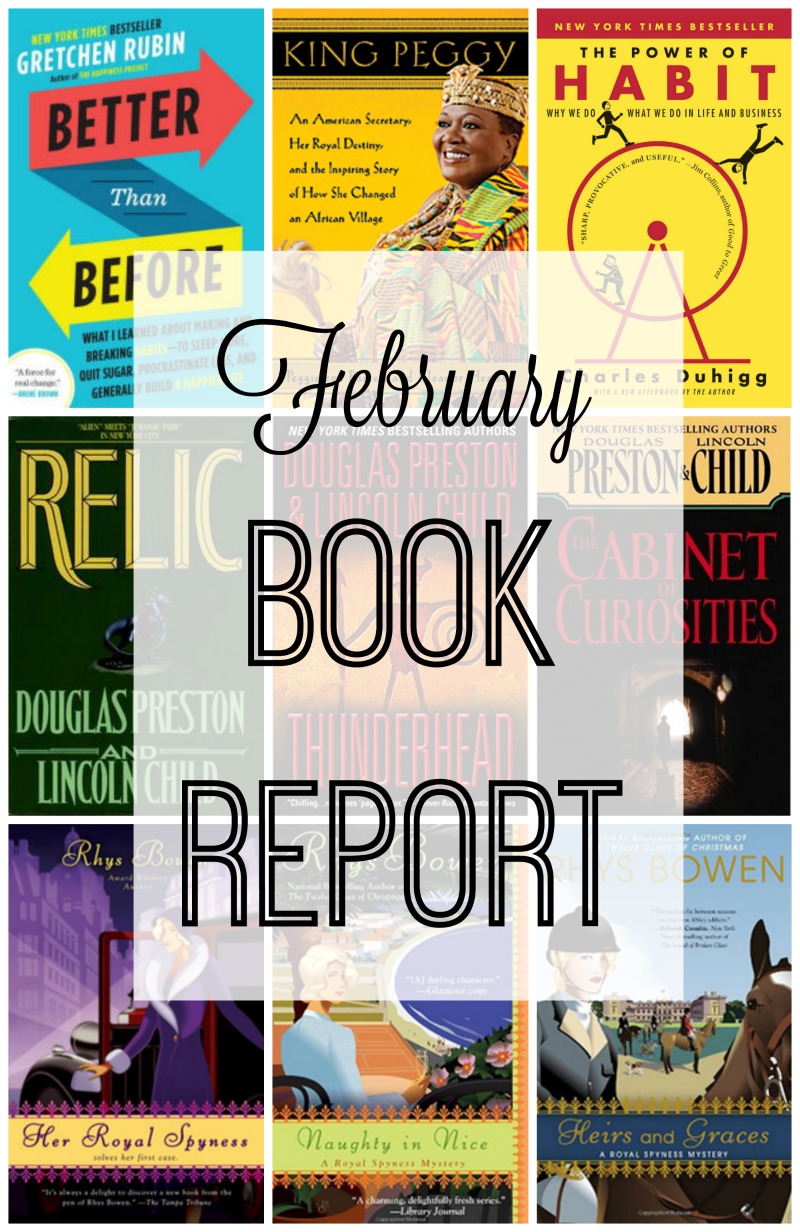 Better than Before by Gretchen Rubin
After hearing an interview with Gretchen Rubin on a podcast, I started this book in the new year. I was excited to read about the four personality categories of people that she uncovered when she researched for this book. Understanding the how and why of habits and hearing her anecdotes about her journey with them was helpful as I started to tackle some better habits. However, the end of the book left me feeling that I didn't have as much of a concrete action plan as I wanted. It was a good "starter book" on the journey.
King Peggy by Peggielene Bartels & Eleanor Herman
Ryan gifted me this book to listen to on Audible and it was awesome! King Peggy is the true story of a woman from Ghana who lives in the Washington, DC area and works in the embassy. Suddenly she finds out that she has become king of a region in Ghana, and the adventure that follows is full of drama. She manages to amazingly juggle both her job in the US and her role as a king improving the lives of her subjects. At first I didn't even realize that it was a true story, because there was so much drama and it seemed too crazy to be real life. But it's true, and King Peggy still works in DC and rules in Ghana. I highly recommend it!
The Power of Habit by Charles Duhigg
This is the second book I'm reading in the pursuit of stronger, more productive habits. I know that I'm somewhat productive because I'm running a successful business – but I still want to improve the way I use my time and the habits that I have.
I'm loving this book! It's presenting great scientific evidence, as well as interesting case studies, about learning and changing habits. There are also some great business case studies presented. I highly recommend this if you're working on self improvement.
Relic by Preston & Child
The first in the series of Agent Pendergast books, which deal with murder, mystery, superstition, and slightly unrealistic magical elements, this was a pretty good book. A curious FBI agent comes onto the scene to solve the "museum murders" at New York's Museum of Natural History. A story about tribal "relics" plays a role as well. I enjoyed the descriptions of adventure through the twisting and mysterious, ancient tunnels below the museum, because I love the idea of exploring hidden and forgotten areas. At times it was very nerve wracking because a lot of characters died, but overall I enjoyed it. A+
Thunderhead by Preston & Child
I was riveted by the story of their travel, the terrain, and the mysteries of the suppsed Anasazi city of gold. However, I was truly terrified and horrified by the gory detail of the many mutilations and deaths (both human and animal) of the characters in the book. It left me nervous and scared falling asleep at night, and for me the stress outweighed the enjoyment of reading the story. But maybe I'm a wimp…
Cabinet of Curiosities by Preston & Child
The third in the series of Agent Pendergast books, I found this one better than Thunderhead but more uncomfortable to read than Relic. The story was riveting and really well written, with incredible detail. Once again there are slightly otherworldly powers at work, and there is a lot of murder and intrigue. Near the end I found the detail in the gory scenes to be too much and I had to skip paragraphs that were very cringe-worthy. However, it's overall a well written book and if you can handle reading about torturous surgeries on captive, living people, you can handle this book. I give it a B.
The Royal Spyness Series  by Rhys Bowen
I re-listened to this series in February as I did housework and sewing. This is a fun, lighthearted, but still intriguing murder / detective mystery starring a young British royal woman (34th in line to the throne) in the 1930's. It's funny, the mystery hooks you, and it's easy and enjoyable. You can find more detail online, of course, but I just straight up recommend it for a fun detective read.