We finished off our Italy adventure at Lago di Garda, or Lake Garda, the largest lake in Italy.  Its location, midway between Venice and Milan, made it the perfect final stop on our journey.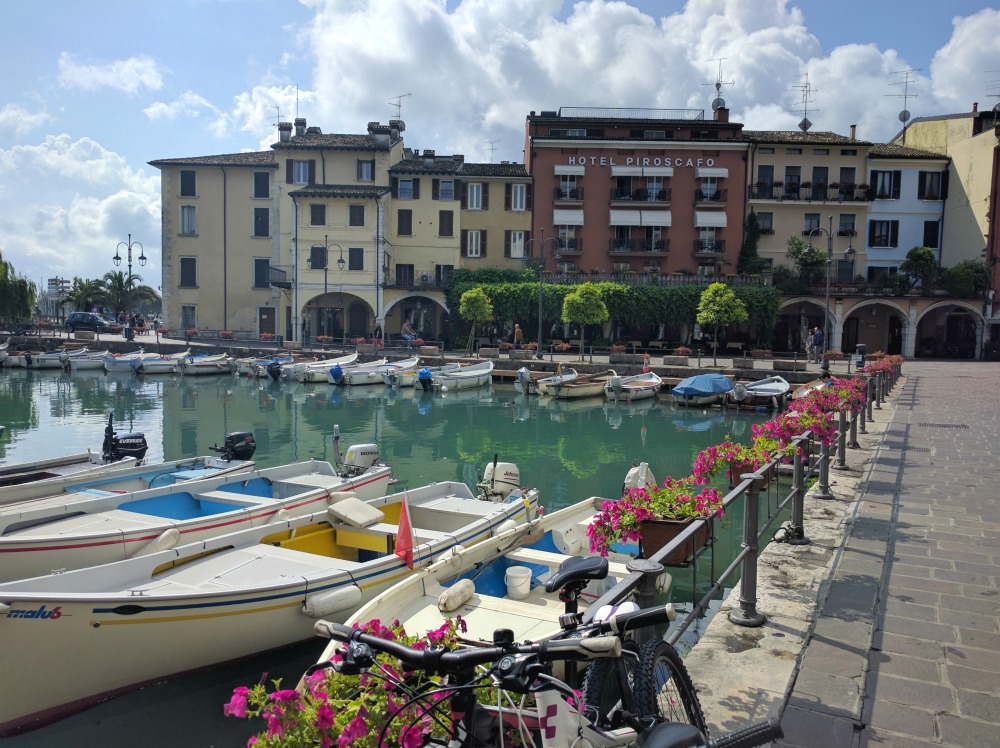 I would compare the lake to our Great Lakes in the US.  It is incredibly long, starting as a mild, hilly region in the south and ending in the breathtaking Italian Alps at the north. We had wanted to stay midway up the lake, but traveling there, car-free and with a baby, appeared to be too much of a hassle. Instead we stayed where the train from Venice stopped, right on the southern shore in Desanzano del Garda.
The town turned out to be lovely and bustling, and the lake was breathtaking.  Our AirBnB apartment was not our favorite, especially with a toddler in tow.  The owners were so welcoming, enthusiastic, and sweet that I won't link to it because I don't want to hurt their feelings.   But the apartment welcomed smokers, and the air of smoke lingered.  Also, every little table was covered first by a decorative tablecloth and then by many breakables.  When you have a toddler just learning to pull up on furniture, tablecloths covered by glass are a nightmare.  The tiny kitchen was crowded with decor and the owner's food, and had a bad smell like old food.
But our central location, right by the shore of the lake, and the lovely balcony, made it ok.  Plus, we were in Italy. It's hard to be unhappy in Italy.
The trip from Venice to Garda was about two hours, and Maple slept in my lap most of the way.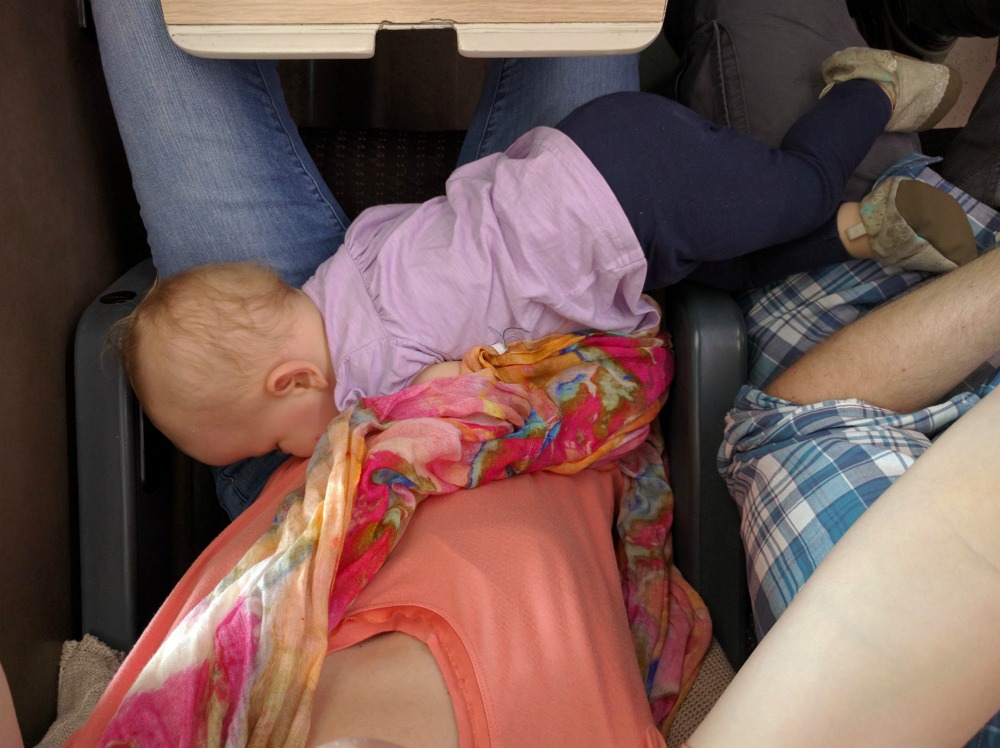 Upon arrival at the train station, the apartment's owner called to tell me her mother was meeting us to drive us down the hill to the apartment.  I'd planned for us to walk, since we had Maple, but the mother barely spoke English so we hustled into her car and I held Maple for dear life as we rattled through the town without a car seat.
This is the tiny kitchen that greeted us, and I immediately removed the flowers and woven trivets from the gas stove once the owner was gone.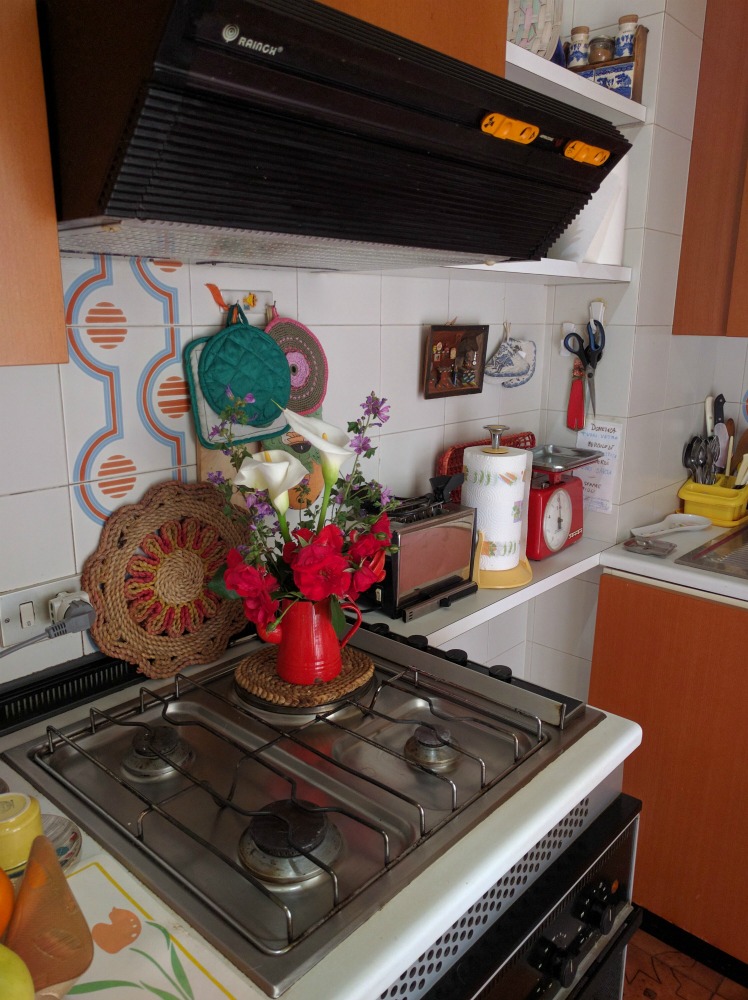 The balcony was just as lush as in the pictures I'd seen online.  That probably is what convinced me to book, and I should have spent more time looking at the interior photos as well.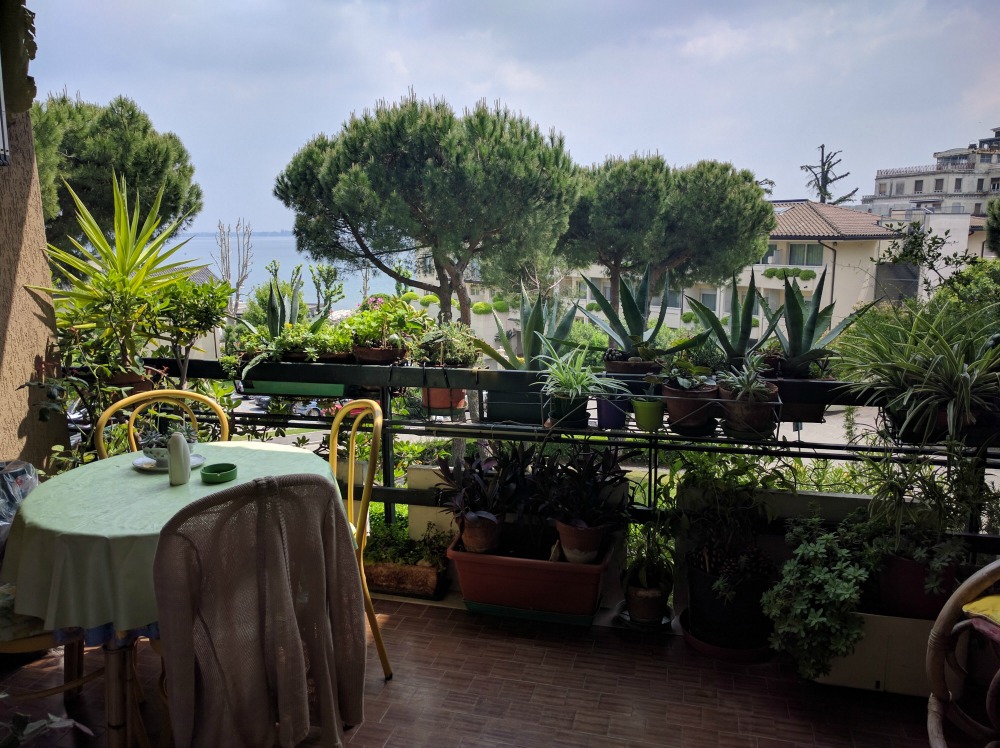 We immediately went for a walk to stretch our legs and find some lunch at a pizzeria.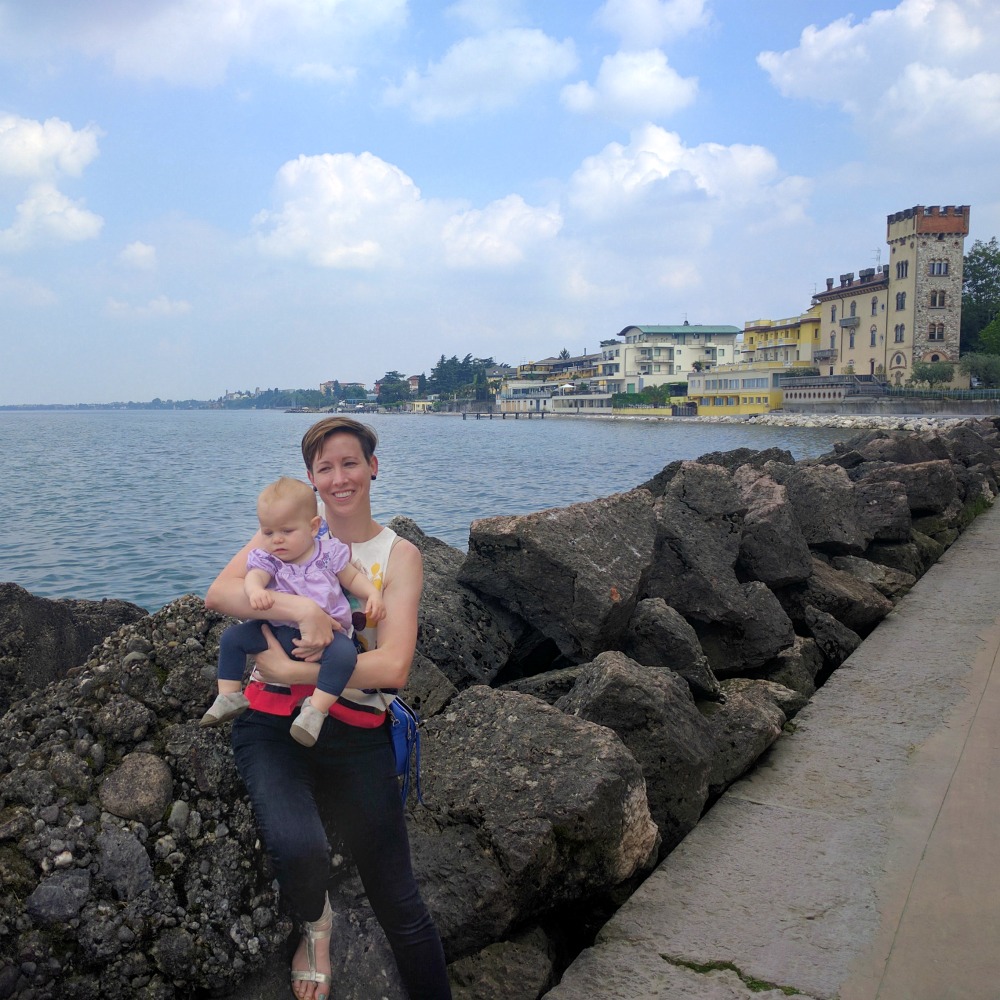 Maple fell asleep again after lunch, gelato, and some swinging at the playground.  It was a very family-friendly town.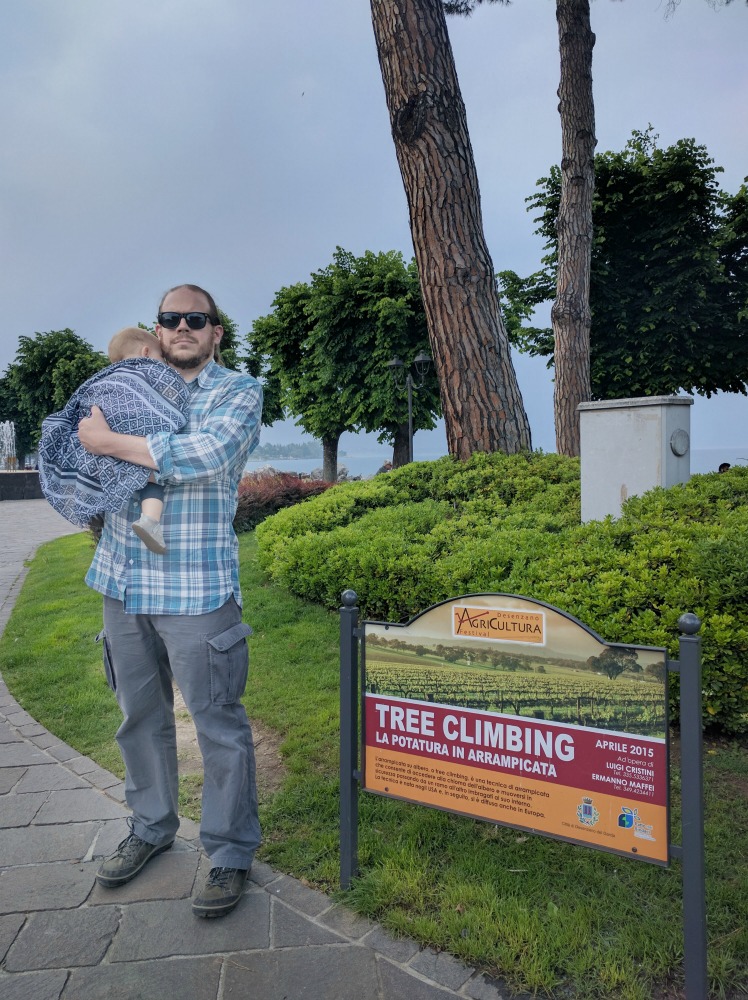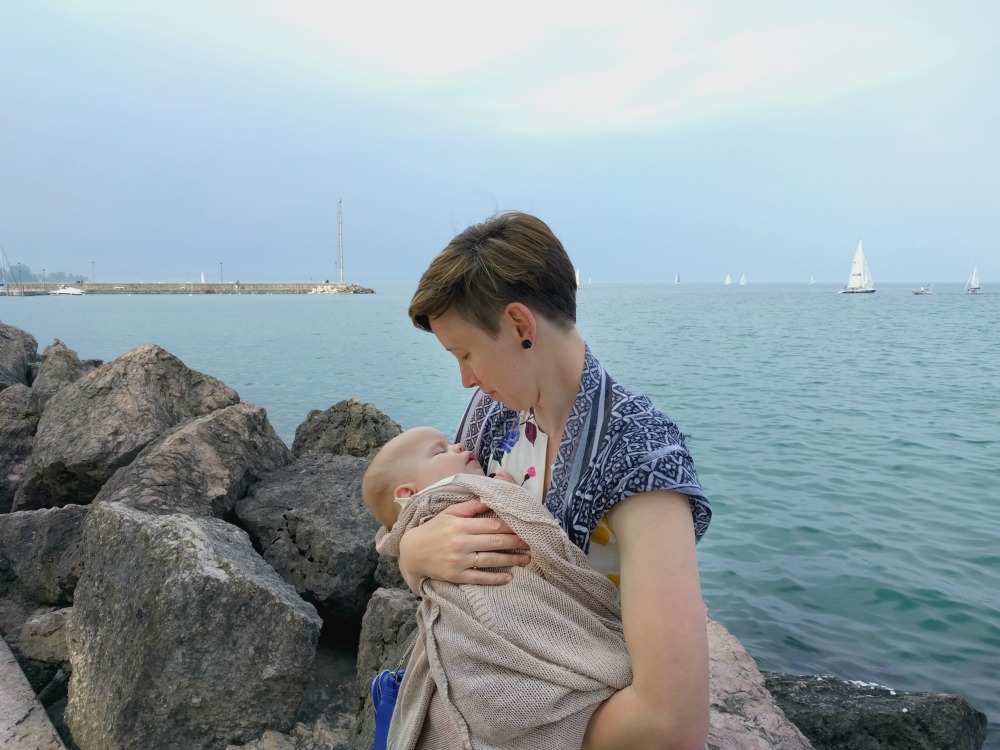 The weather was overcast all day and we enjoyed a few brief thunder storms. Imagine our surprise when the sky cleared as the thunderstorm ended at sunset, and we saw amazing mountains peeking up from the shore.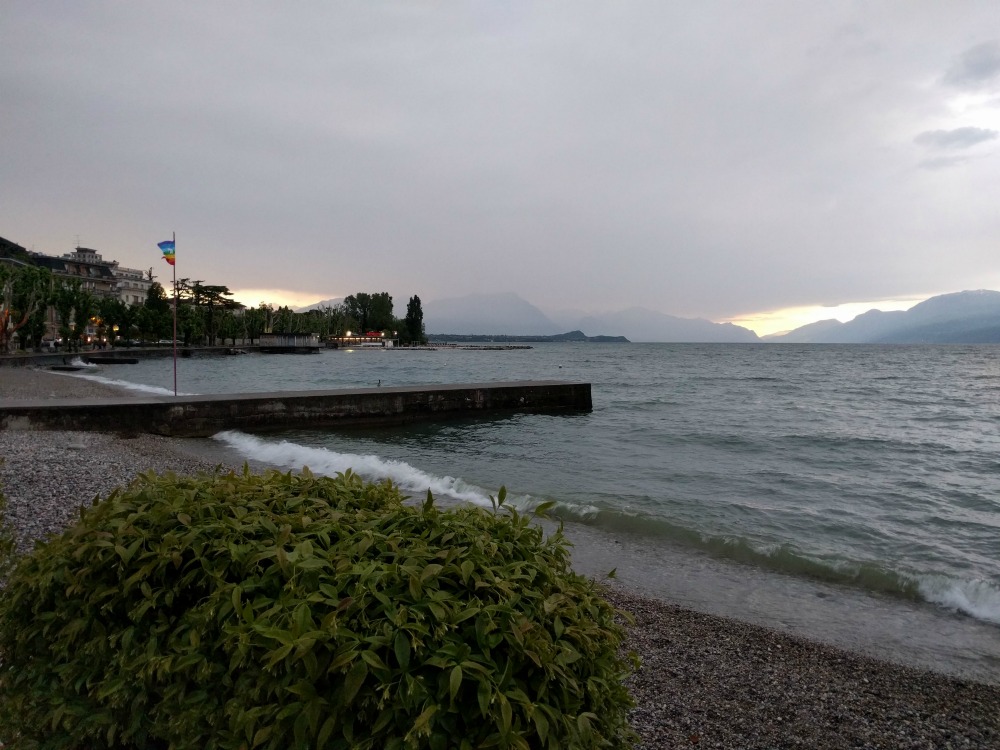 Sunset was spectacular.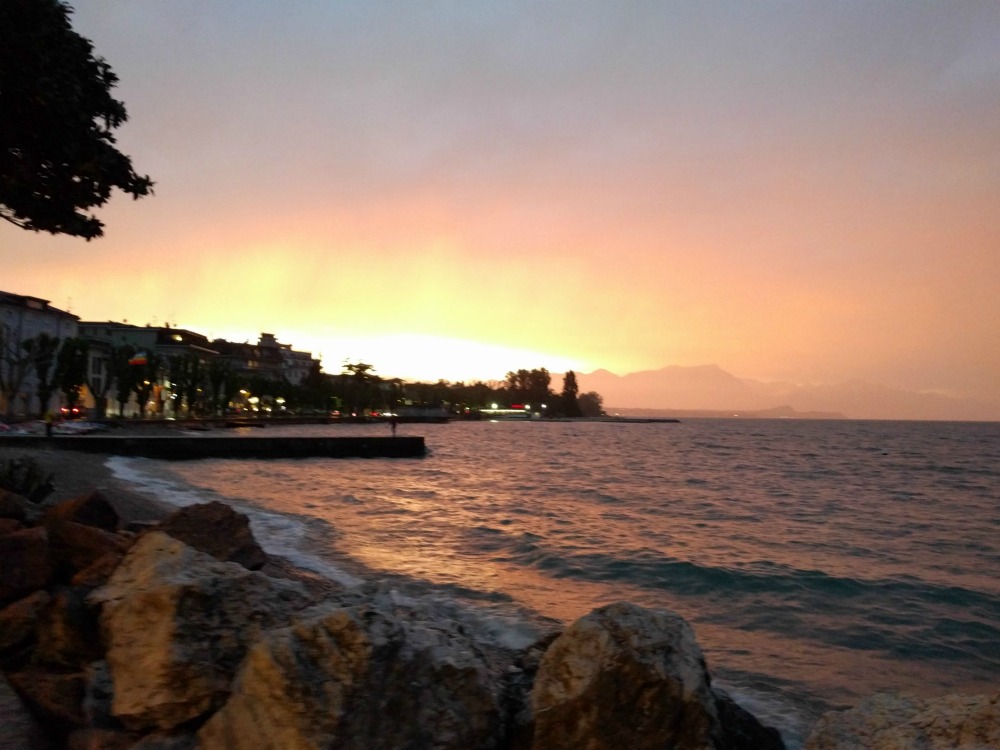 Desanzano del Garda was a busy town, but not crowded.  I can imagine it's much worse in the summer, when locals come in droves for the holiday.  We were some of the only American tourists there; the area seemed favored by Italians, Germans, and Austrians.
The architecture was a funny mix of old world and new beachfront condos.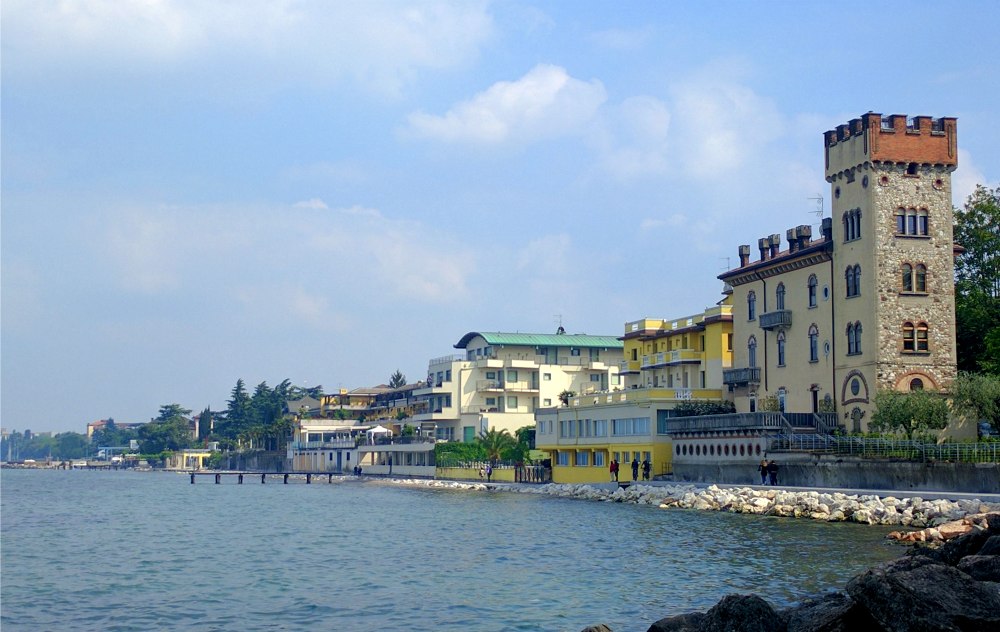 This old neglected home had me intrigued.  I wanted so badly to buy it and rescue it! I'm sure it has stories to tell.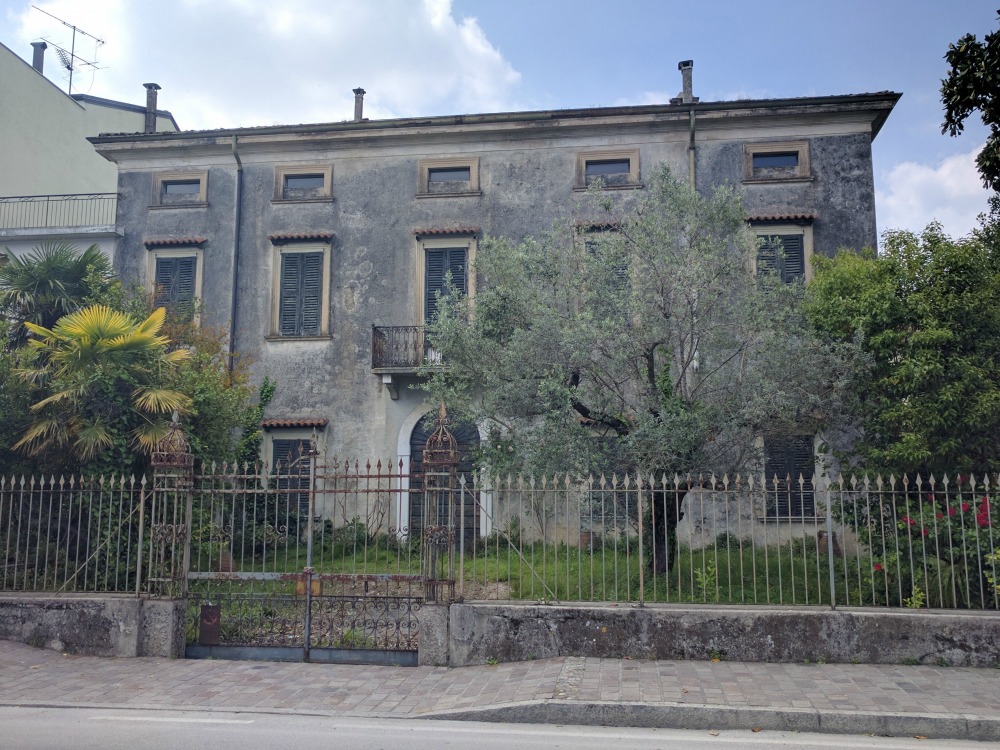 There were a lot of buildings for sale, and it surprised me because many were old and stately with lakefront views.  There was even a creepy-but-cool abandoned resort hotel near our condo.
The "old town" area was as charming as we've come to expect from Italian towns. Cobbled streets, archways, and lots of trattorias with outdoor dining.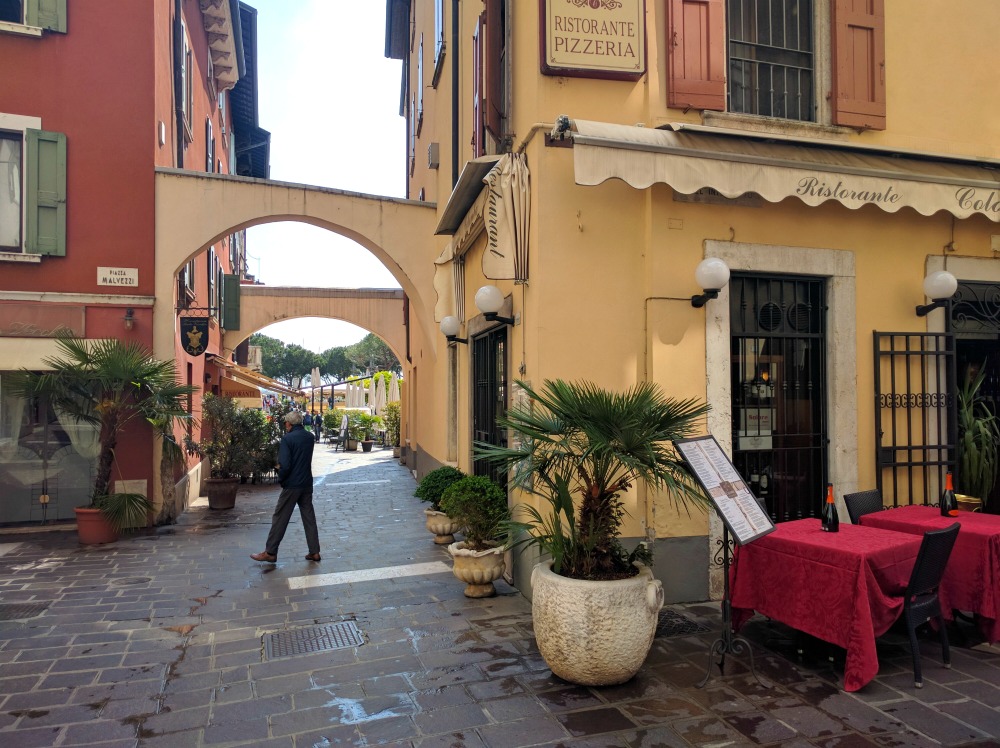 We had a delightful last dinner outdoors at La Cambusa, and we enjoyed many espressos and breakfast pastries at Dom Cafe.  The woman who runs the cafe was just delightful!  We also enjoyed another lunch at La Taverna del Garda, sitting outside on the sidewalk.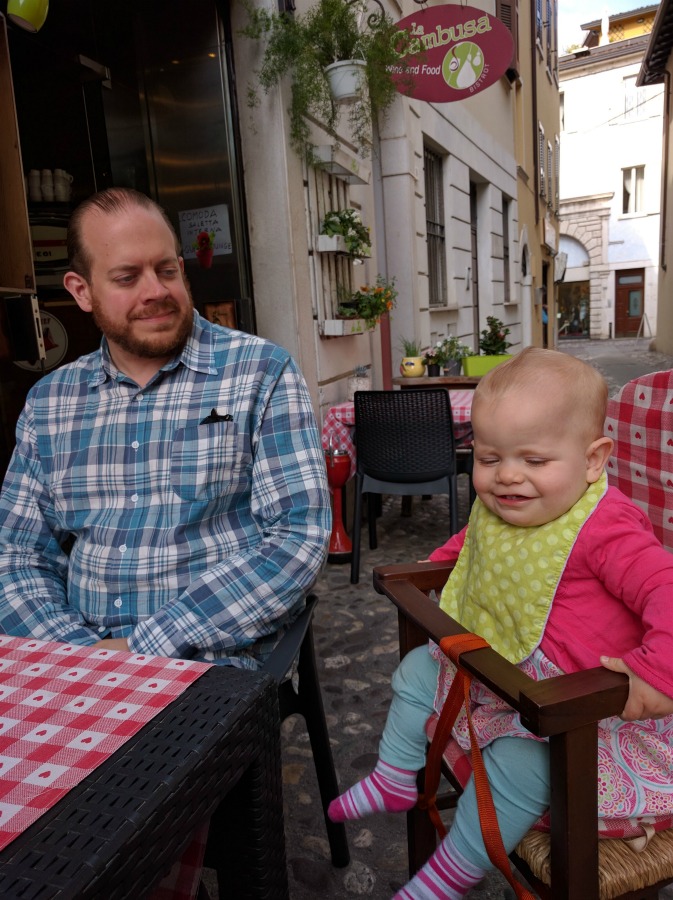 Desanzano del Garda was a lovely, relaxed town especially after the crowds of Venice.  We made one day trip to another amazing town, but that's a story for another post because it has so many photos. 🙂