On our next to last day in Venice, the sun finally peeked out from behind the clouds and I was elated.  Venice is always beautiful, but sunny Venice is a much happier, and less moody, place.  Although I had barely slept the night before (Maple was up every hour crying, from what we would later find out was her chronic ear infections) Ryan and I were feeling optimistic and we set out for the colorful Island of Burano.
Burano is a small fishing village about 45 minutes across the Laguna from Venice.  It's best known for its ridiculously colorful houses, which have been painted bright shades of the rainbow for what seems like forever.  Rumor has it the houses were painted colorfully so that they could be seen by fishermen returning home in the fog.  The island used to be home to a large lace factory, but now most of the lace sold there is made elsewhere by machines.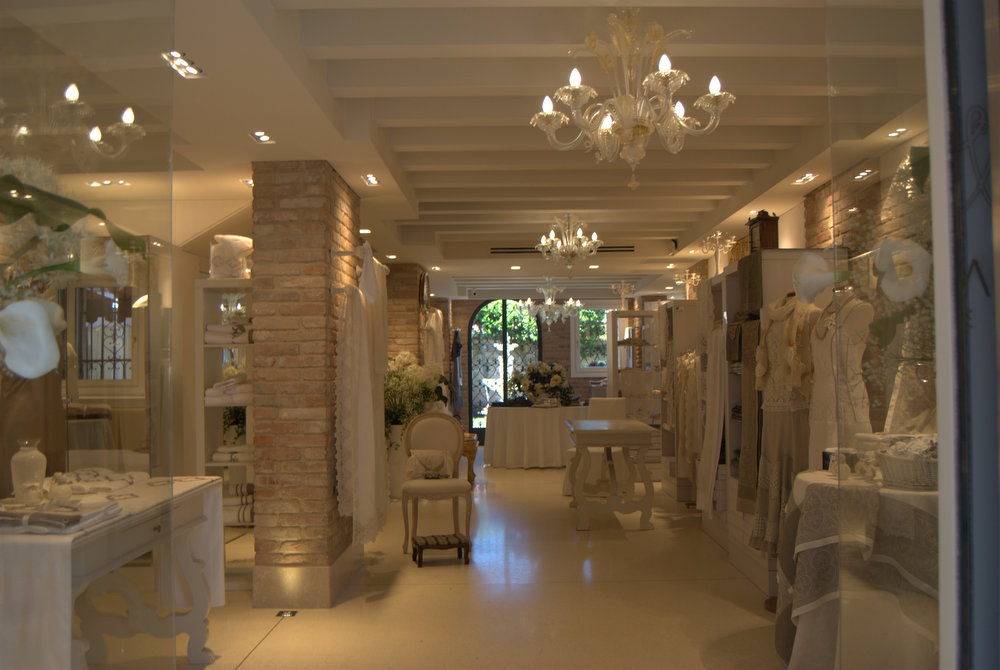 This beautiful shop, above, is one of the first visitors see when they enter the island from the vaporetto stop.  It is much more elegant than most of the souvenir lace shops, and more expensive.  However, I though the quality of the goods was much better as well.
Ryan and I were sad to see that Burano was as crowded as Venice, a huge change from our last visit 3 years earlier.  Of course, we were part of the problem just as every tourist is.  I have mixed feelings about it. There were times we were unable to cross bridges because so many people were clogging them to take photos.  The ubiquity of digital photography has really changed tourism.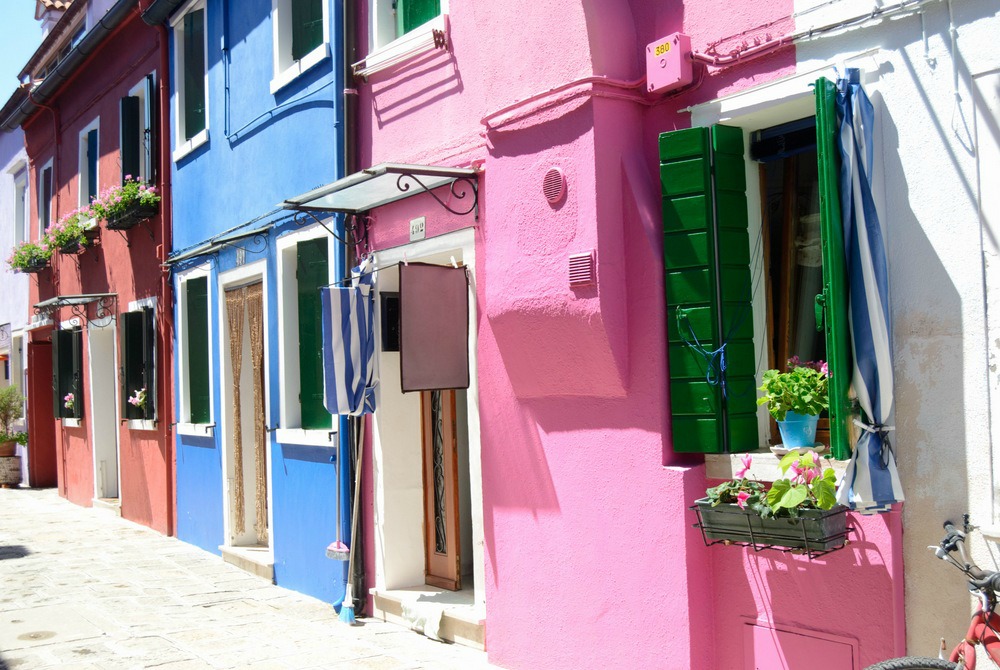 We walked away from the center of the very small island town, and got lost among the colorful alleyways as Maple slept in the carrier on my back.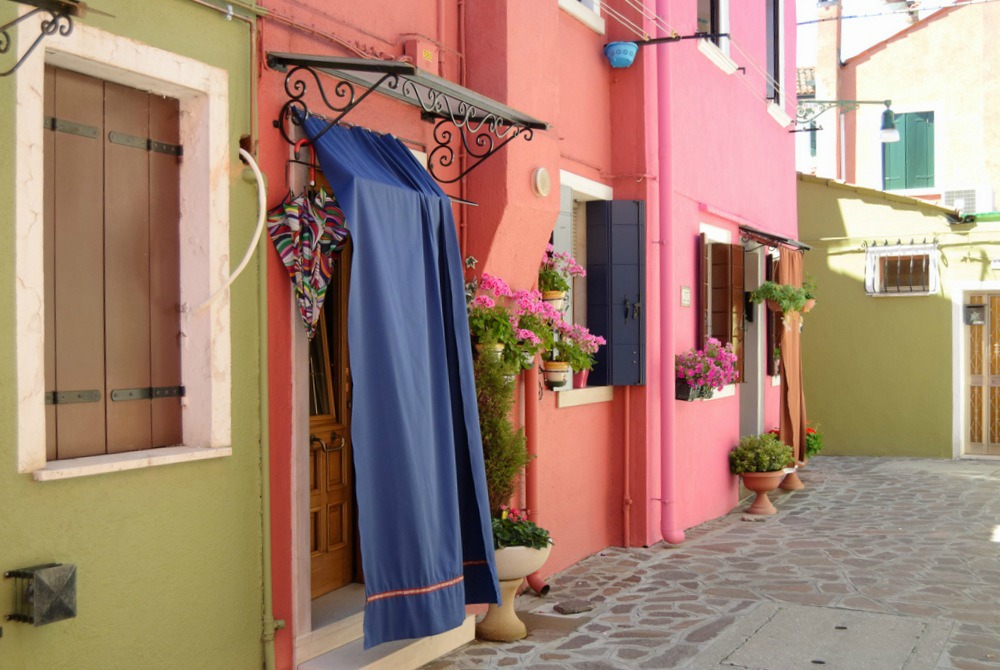 The island is just as breathtaking as people say it is.  Photos taken there don't need to be edited for color – the colors are truly this vibrant.
At first I was taking a lot of photos of the amazing houses.  The ones I took on our first trip were lost when my camera memory card was corrupted.  I was so sad, because I'd love to frame photos of the island.   But as I watched some 20-something girls take maybe 100 photos of shoes drying in someone's house window (I'm not exaggerating), I was appalled to realize how much we were intruding on locals' privacy with our photos.  Can you imagine if tourists were constantly taking photos of your window, your door, your shoes, your laundry, and heaven forbid – you – just because you were "foreign" to them?
I took my camera out much less after this realization.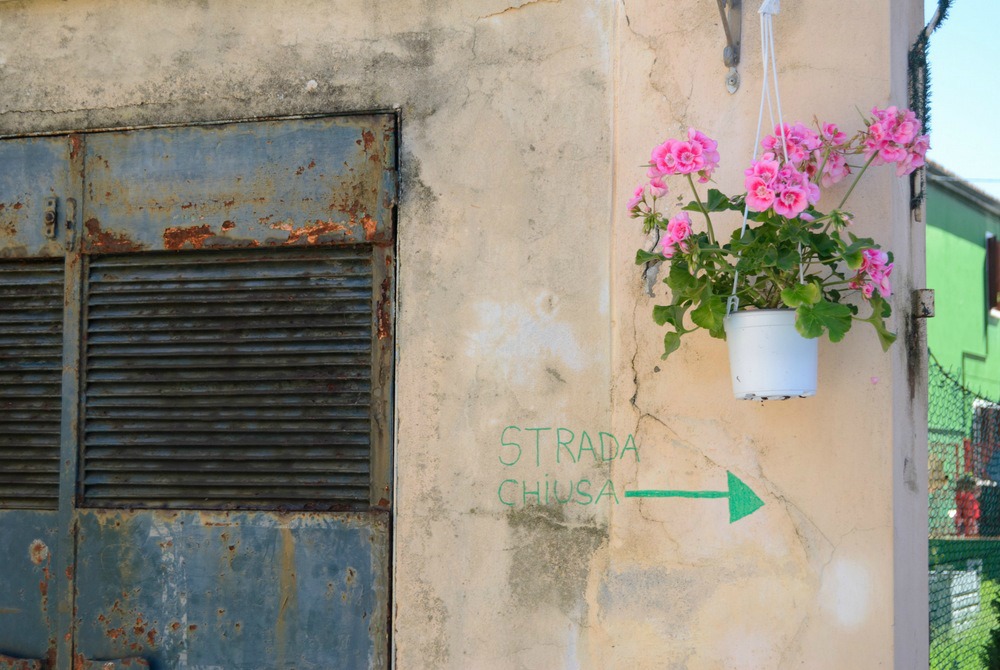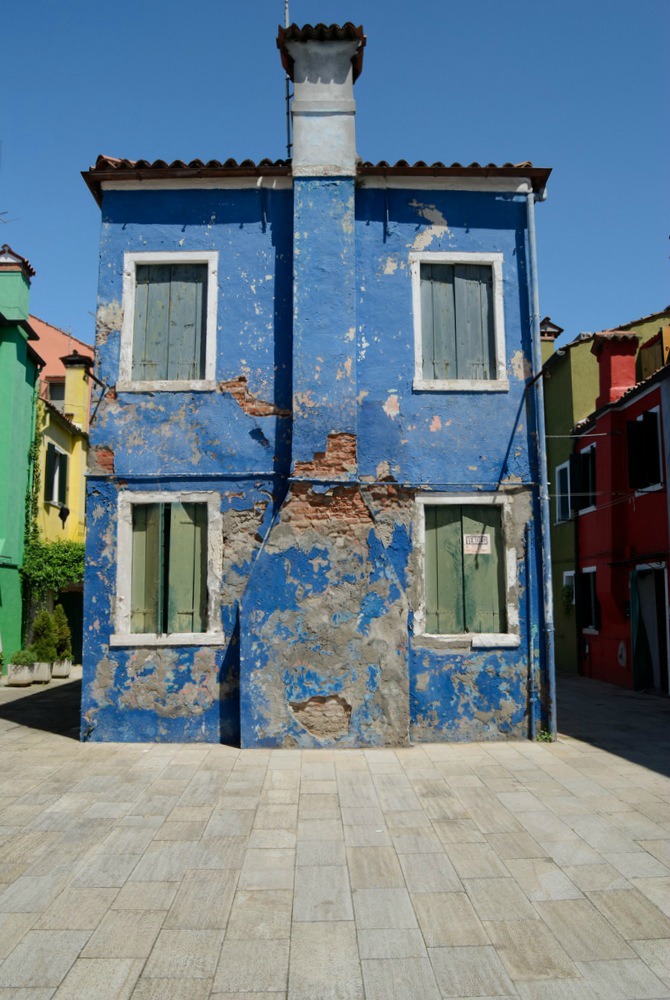 Sadly, not every home in Burano is occupied and there were many "vendesi" signs.  As tourism takes over the Venice island region, these homes are becoming less affordable for true locals.  This one house has been crumbling for years; I remembered it for last time.  And it remains empty.  And the government of the island makes it very hard for outside people to buy these houses.  A catch-22.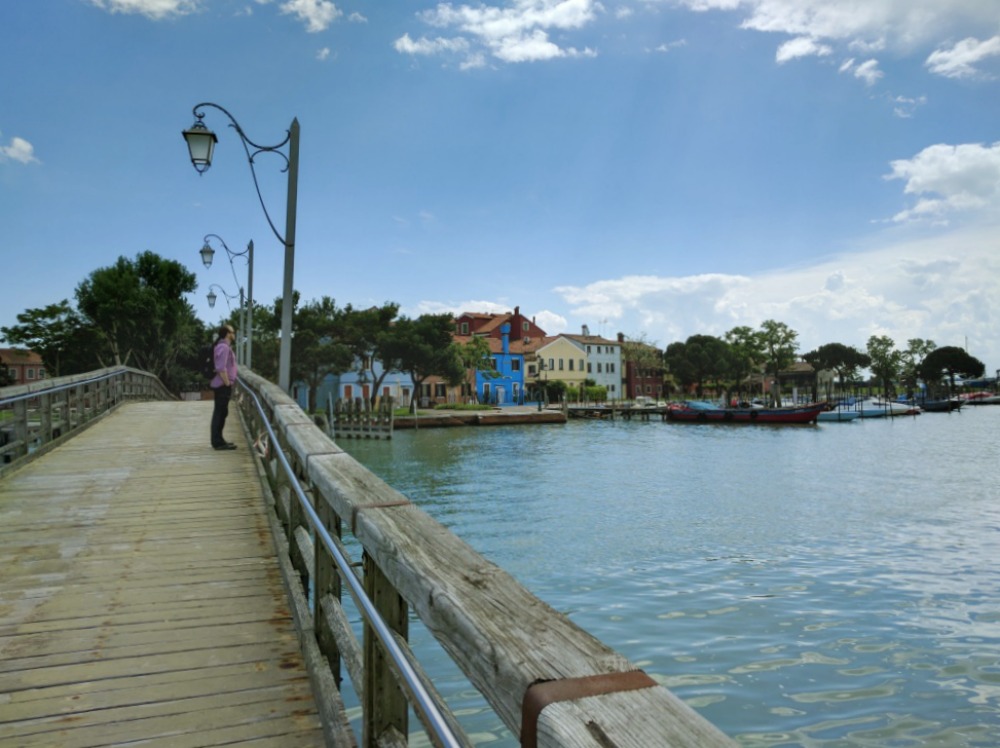 The crowds were so bad and it was lunch time, so we crossed the bridge to an even smaller island of Mazzorbo, where there isn't much other than a vineyard and a famous gourmet restaurant/hotel named Venissa.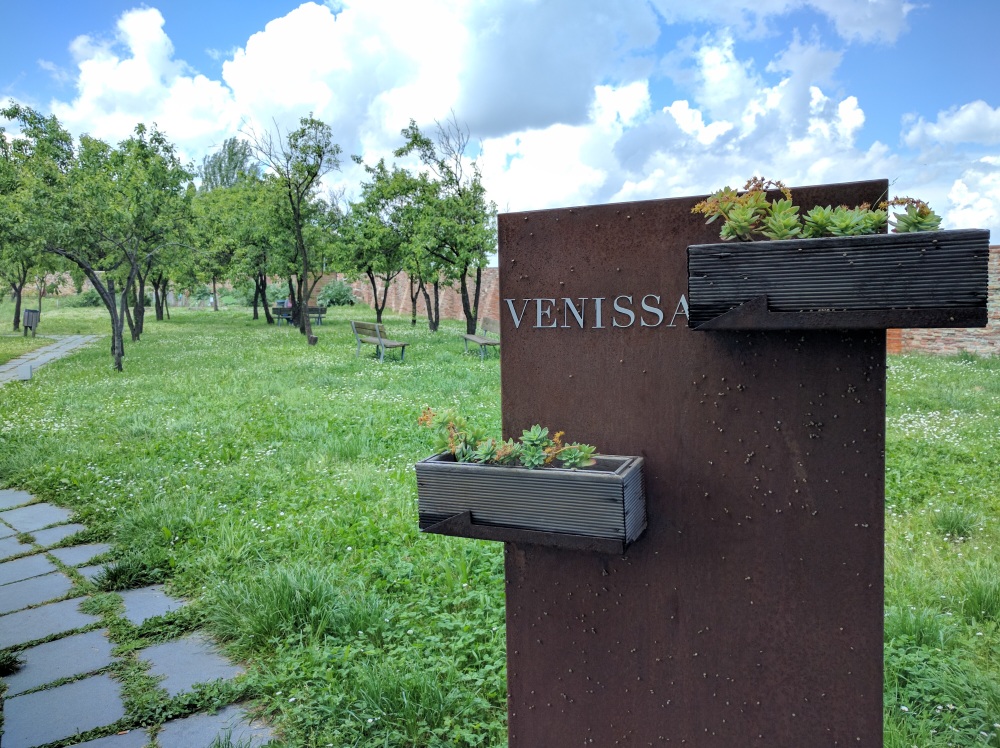 I didn't think that having a multi-course lunch or dinner there would work since we had a toddler in tow, but thought I had read that the hotel had a lighter cafe / bar where you could get a bite and a drink. However, we could only find the fancy restaurant which is now on my bucket list to dine at (child free, of course).
Here's a 360 of the vineyard.  It looks better if you use the little square in the bottom right to enlarge it. The open air restaurant is at the end of the path in one direction, while the houses of Burano are visible at the other end of the path: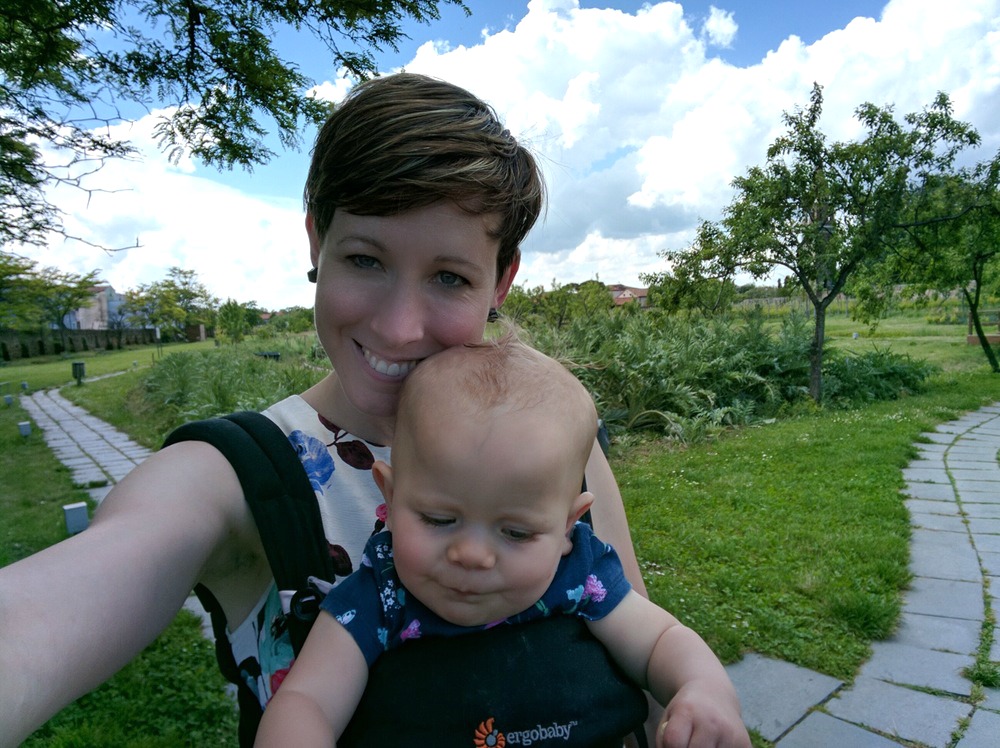 It was past lunch time and we were hungry, so we returned to Burano and decided to just eat at a touristy restaurant with fun umbrellas on the canal. The great thing about pizza in Italy? Most of the time it's pretty good thin crust pizza with gourmet toppings, even when you're at a total tourist stop.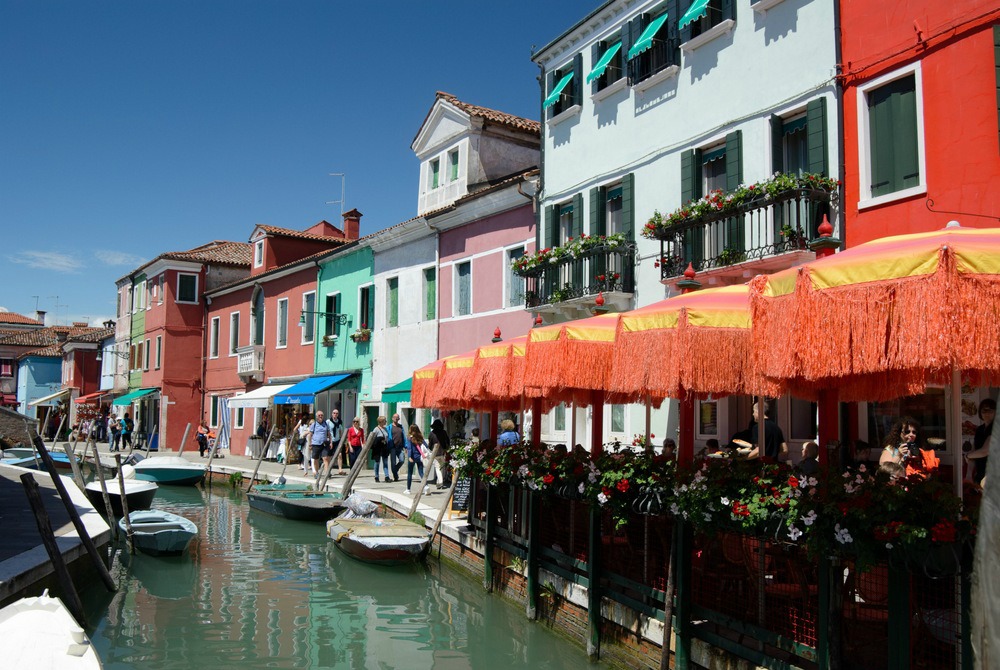 That was the day Maple discovered her love of pizza sauce and Coke Zero.  I let her try Ryan's coke thinking she wouldn't like it…and she went nuts for it. I could see some Italians giving us the side-eye, like we were those typical Americans who raise their kids on soda and donuts.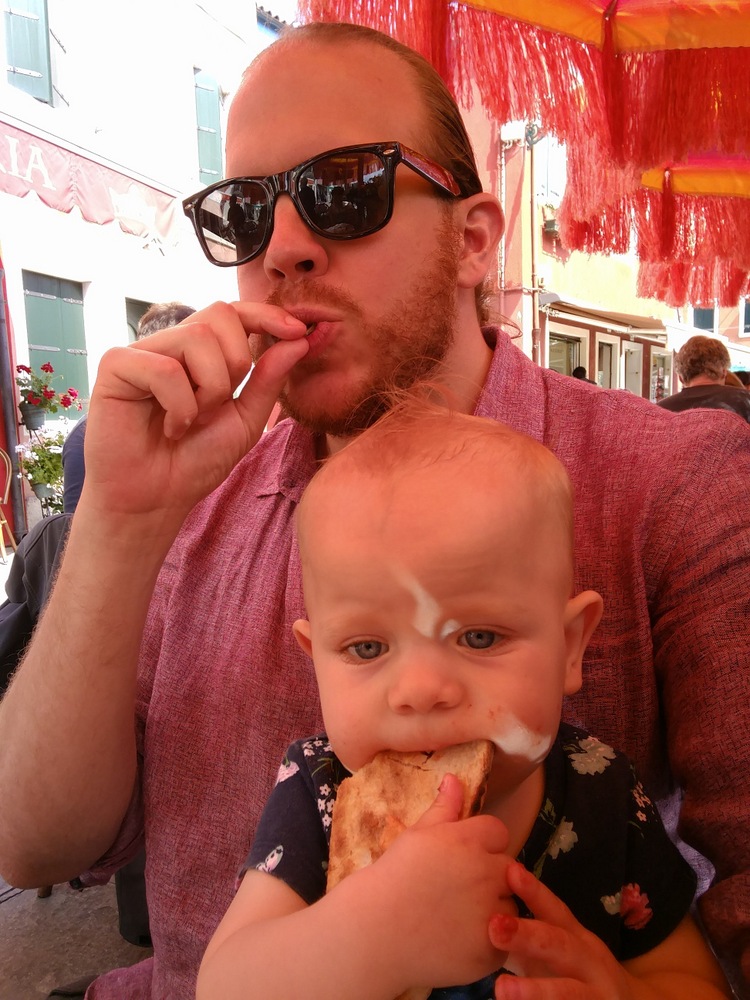 The sky started to cloud over after lunch, and most tourists flocked to the vaporetto.  We decided to stay behind and enjoy the quieter, if rainy, town. It was a great decision.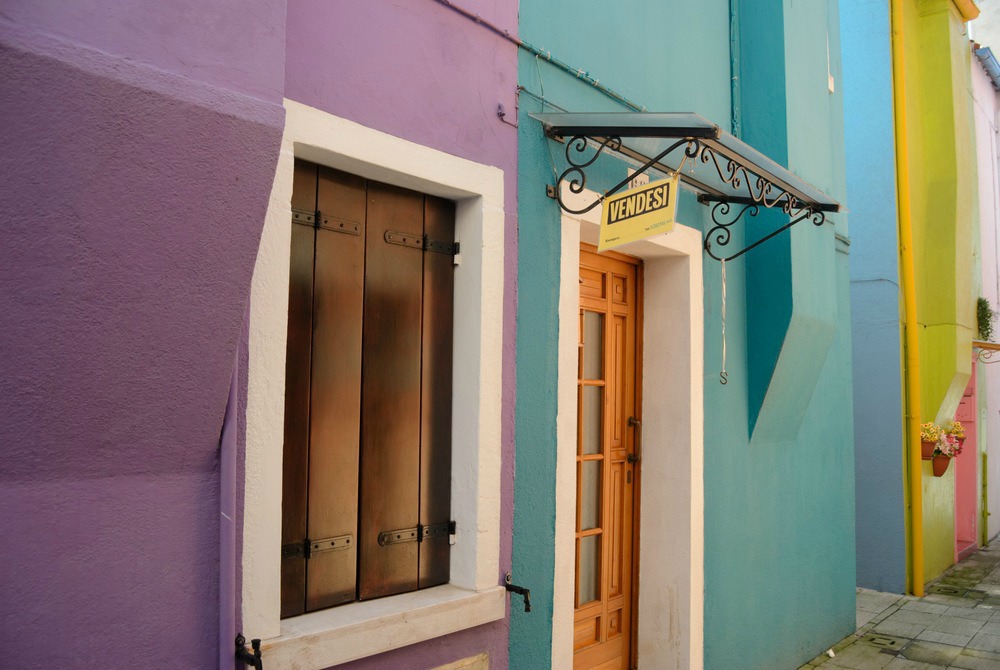 This mural caught my eye: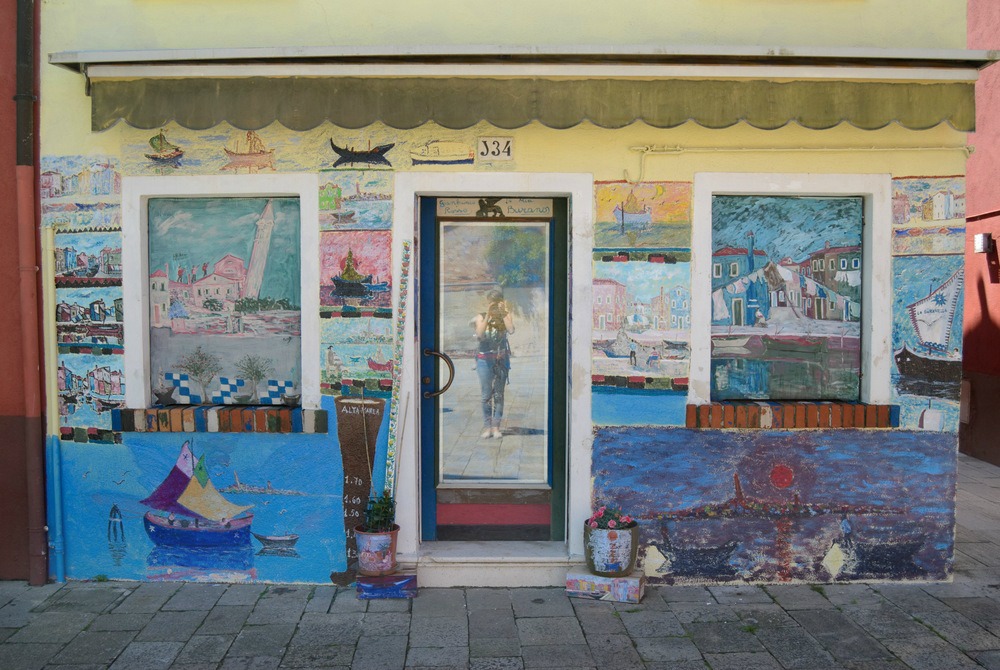 Inside a snack and souvenir shop I was surprised by some of the beverages for sale.  Whiskey and coke in a bottle? A spritz in a bottle? A . . . Cannabis . . . beer ?!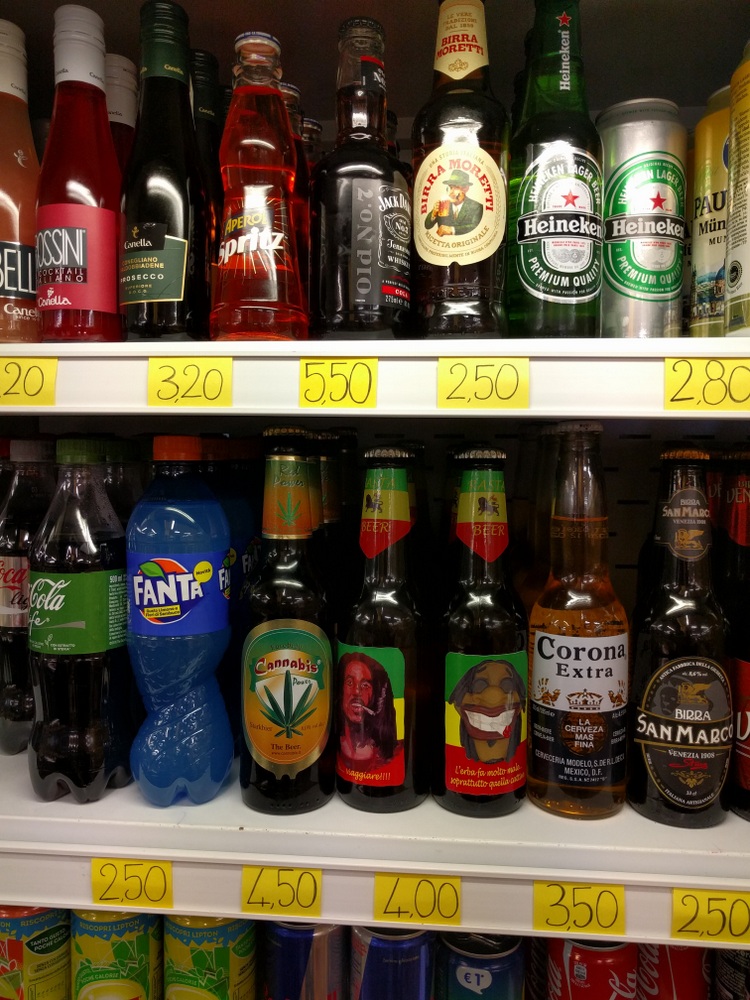 Right before the rain hit, we finally got a family photo.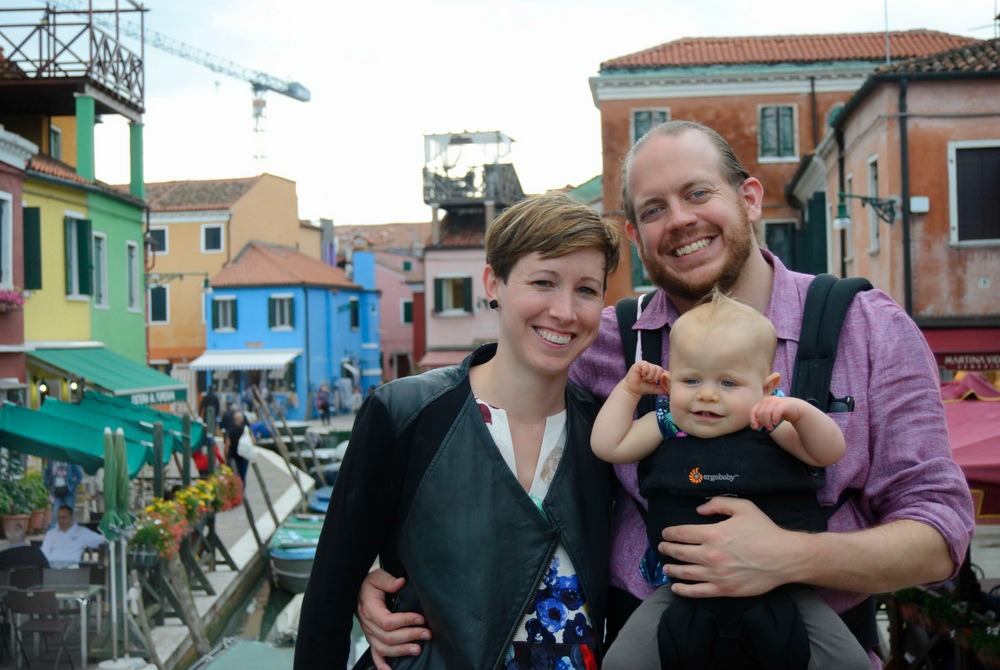 We holed up in a coffee shop as the rain fell, and then we headed to catch the next vaporetto home.  On the way to the port, we found this great little art shop and met the artist.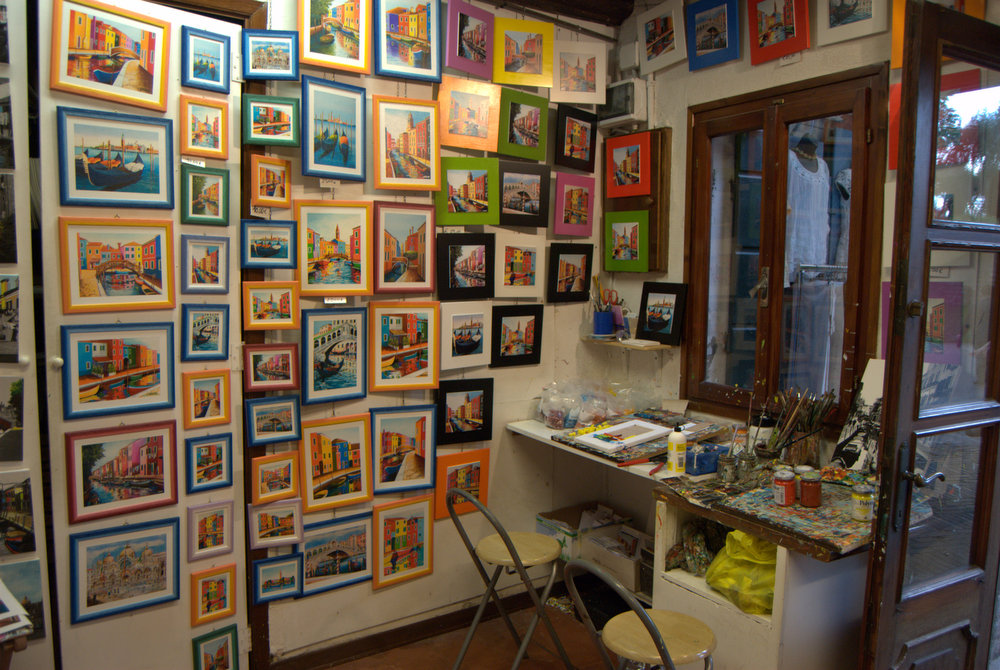 Even though huge crowds had departed before the rain, the stop was still overflowing with people.  It's crazy how many tourists flood the island during the day . . .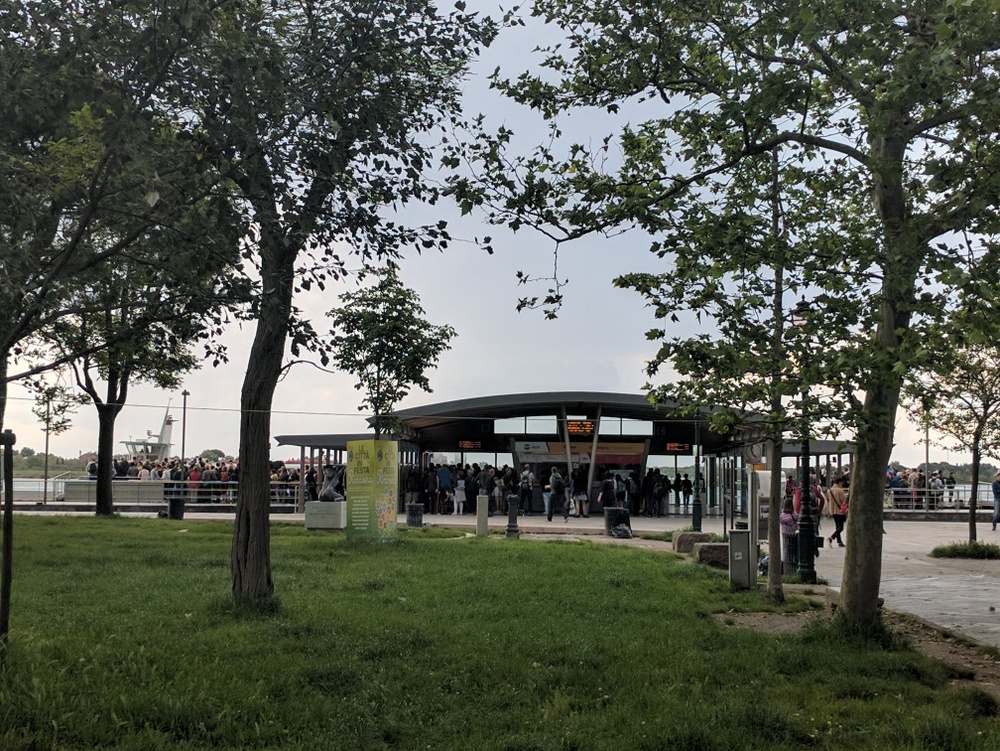 Sure enough, as we departed in the overcast and gloomy weather, Burano cheerfully watched us with its colorful houses shining.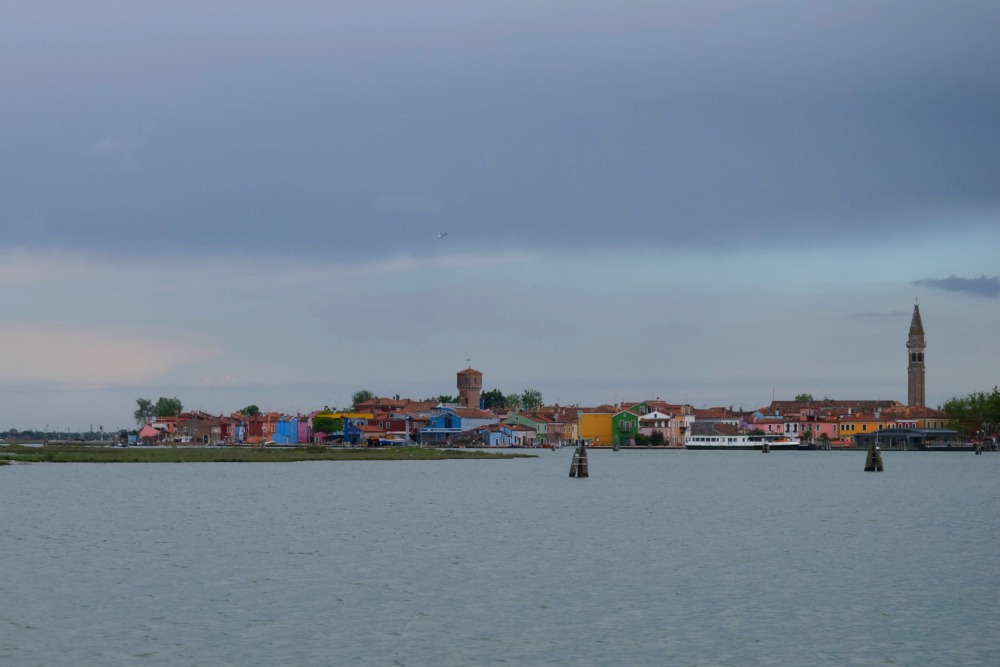 I think it would be awesome to spend the night on Burano and enjoy the quieter local feel.  If we return, I'd like to go in cold weather so that it's not as busy.