Most people who don't know us would caution that Ryan and I should avoid getting a new dog just four months shy of our first baby being born.
But Ryan and I aren't always like other people, and three weeks ago we brought home a friend for Merlin.  Amber, a 1 year old Standard Poodle, has already melted our hearts and added a huge dose of puppy energy and smiles to  our lives.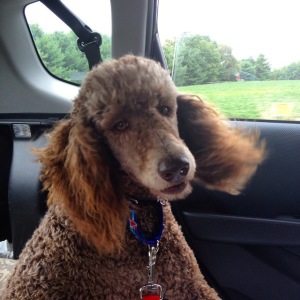 Ryan grew up with Standard Poodles, and when he met me and my four pets, his only request was that we get a poodle when we got our next dog.  I thought they were fancy and too serious, but when I met his family's two poodles, their silly and smart personalities won me over.
Fast forward to Charlie's passing in December.  She left a hole in our hearts, but also left Merlin extremely lonely.  He demonstrated this with separation anxiety when we left the house – for the first time in his 12 years, we'd arrive home to find our usually angelic Merlin frantic, panting, shaking, and whining.  He even ate through a wooden baby gate twice.
I looked into poodle rescue groups, but the ones in our area wouldn't adopt to families with kids under 5 or babies on the way.  When Ryan's mom heard from her poodle breeder that a sweet, 1-year-old poodle puppy had been returned by the man who bought her, we were intrigued.
Our logic?  We didn't really want to deal with a young puppy – the housebreaking, the waking up at all hours, etc.  I also didn't want to buy a dog unless we had to. I understand some people do prefer to buy puppies because they love the breed and want to get a dog before it's developed issues.  But for me, someone who's found and fostered amazing dogs off the streets, it just didn't feel right for me.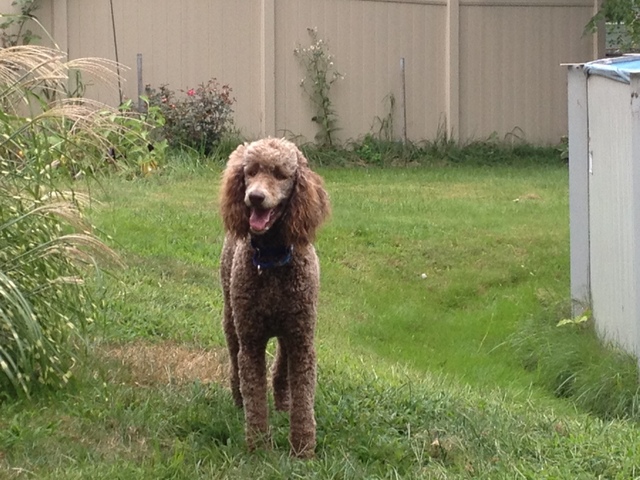 When we took Merlin to meet Amber she immediately melted my heart.  She was fearful but sweet, and the more we learned of her story, the more I felt that we should adopt her.  Long story short, Amber was born to a different breeder, but that lady couldn't sell her.  Amber then was transported to the breeder we met – in the trunk of a car.
Then a man bought her, and called the breeder all the time, complaining about the puppy.  "I didn't know I'd have to walk her." (He didn't have a yard…) "Dog food costs $30 a bag!"  (You paid $1500 for the dog.  Also, try having a dog who needs hypoallergenic for $80 a bag!)  "I have white carpets."  (You had them when you bought the dog, right?  And she doesn't shed.)
Long story short, I have no idea why that man bought a dog.  I also don't know how he treated her.  She's very well behaved, house trained, but is terrified of her crate, and is terrified – to the point of jumping in fear – when people reach for her collar. I don't think he technically abused or hit her, but we sense that when she was in trouble, she got grabbed by the collar and dragged or something.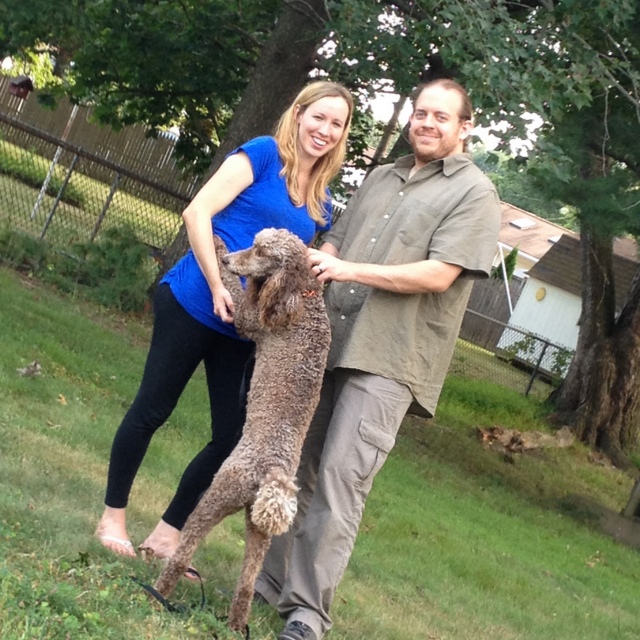 Despite her fears of new people and her few little issues, Amber has fit in perfectly with our family. She's very responsive to training, and we've even successfully done off-leash training in three short weeks.  She loves to run and jump and annoy her older brother, and she's a very busy dog – so I've been walking her every morning for 2 miles to get her energy reduced before the work day starts.
Amber is making us laugh and smile at least a dozen times a day with her silly playful puppy energy – something we really needed right now.  It really does feel like this was meant to be.
For awesome updates & exclusive discounts on Janery pet beds, please sign up for my newsletter!