Happy Mother's Day to all you mothers out there!  I thought I'd take this opportunity to tell you a little about my mom, it's something I've been working in for a while but never found the "right" time to post.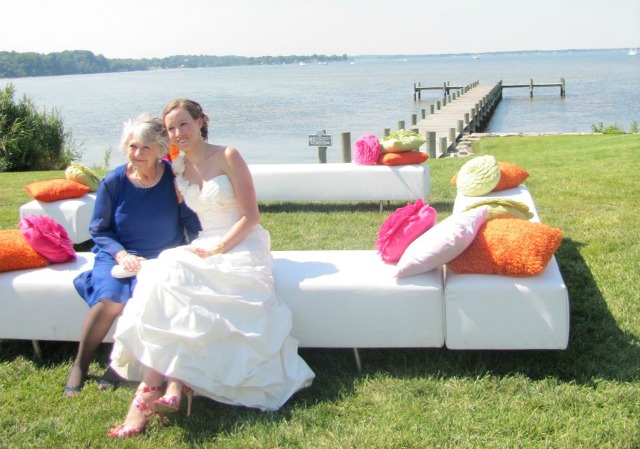 My mom is awesome. She is the best piano teacher in the state of Delaware and is an absolutely amazing (retired) concert pianist.
Oh, and did I mention that in addition to teaching piano, she also learned braille and taught piano to blind students for many of her younger adult years?
She is stubborn and creative and extremely hard working and is talkative and loves to entertain. She should have been a Greek or Italian mom because she loves to have guests and feed them.
Upon meeting her for the first time, Ryan left and said to me "It's definitely nurture, not nature."  He said this because I'm adopted, yet I too have all those traits.  However, I prefer to think that we are "determined," not stubborn. :)
When my brother and I were young, my mom refused to ever let us have a Nintendo, but when it came to Legos, there wasn't a set she didn't buy.  She also stood in line for hours, multiple times, to get me the Cabbage Patch Kids and other silly toys I just "had" to have.
More importantly, she dove into educating us about interesting topics with such zeal.  When we studied dinosaurs we had puzzles and coloring books and 3-d models to assemble and camps and stories and books on tape to listen to. When we did constellations and the sky, she got us sky maps and glasses to look through and even took us to constellation camp at a local observatory and I still know more constellations than most people.
When my brother and I discovered and subsequently caught tadpoles in the stream, my mother turned it into a learning experience, buying a huge aquarium, checking books out from the library, and helping us create a safe habitat to watch them grow into frogs, then release back into the wild.
I used to think that was normal parenting, but now that I'm older I see that not every parent is so enthusiastic about creating a home of learning. Of course, she also made us do math homework in the summer, even on vacations to the Grand Canyon, but no parent is perfect. :)  They just do what they think is best because there's no manual to follow!
Now that we've flown the coop, she's using that determination and killer work ethic to run the League of Women Voters and the state's music teacher association as well as helping many other organizations.  The idea of relaxing is something that does not compute with her.  In fact, I suspect she feels guilty whenever she allows herself to sit down and read a book, or watch a movie.  I'm not sure why.
The thing is, I love my mom and I want to see her spoil herself the way she's spoiled others for so many years,  especially because for the last 8 or so years, my mother has been successfully battling a form of bone cancer.  Because I'm selfish, I want her to take as good care of herself as possible so that she can  experience the things she dreams of in the future with me and my family.
I think it's an inherent "mom" trait to put other people and organizations' needs in front of yourself.  This mother's day, I'd like to remind mothers that they should take great care of themselves the way they care for others, and they deserve to be queen for more than one day a year.  I know my mom definitely does.
And so, in the spirit of love, I'll continue to lecture my mom, telling her to relax more and make more time for herself.   After all, she bossed me around (or tried to) for the first 21 years of my life.  Now it's my turn!
I'll just try and resist using that phrase mothers love:   "Trust me.  It's for your own good."