Ryan spent our second day in Italy revisiting Corniglia and Monterosso in Italy's Cinque Terre coastal region.  Five tiny coastal towns make up Italy's Cinque Terre, a small region that's exploded in popularity thanks to its status as a "hidden gem."  Part of the appeal is the Cinque Terre National Park, where you can actually hike from town to town.   I won't argue that it's an incredibly vibrant, beautiful part of Italy, but the influx of 2.5 million tourists has actually caused a problem – it's more annual visitors than the area can withstand.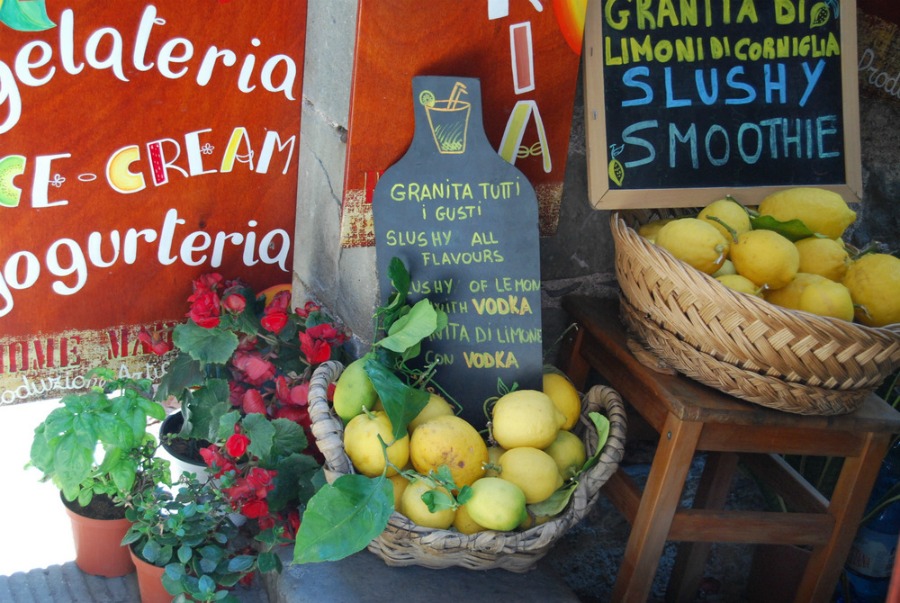 Three years ago Ryan and I visited all 5 towns over two days, and were sad to see how overwhelming the tourist crowd was.
I know, I know – we are tourists, so we're part of the problem.  But there are two types of tourists:  the ones who are respectful that they are visiting someone's home, and the others who act as though they're at a theme park, not a place where people are trying to live.
This time we just wanted to visit our favorite two towns again.  Based on the even larger crowds encountered this time, we probably won't return again. The coast of Italy is covered with charming small towns, and in Italy, even the simplest village is fun to explore.
Back to our adventures:  We visited Corniglia first, taking the train and then walking the hundreds of steps to this cliff-top town.  Last time this had been the quietest town, because many people didn't do the steps.  This time, though, the narrow, winding side streets were jam packed and it felt like we were swept along in a wave.
When you encounter this situation in a town, at least in the Cinque Terre, we just keep walking away from the center of town until the crowds have petered out.  Then you find the good stuff!
On a small square near the coast there was a great little hat shop tucked in next to a staircase.  The lovely owner makes everything in her little shop, on a sewing machine right behind where she is standing in the photo below.  It was refreshing to find such funky, unique style in a region overrun with a million shops selling the same touristy souvenirs.  I definitely got a hat to bring home.  🙂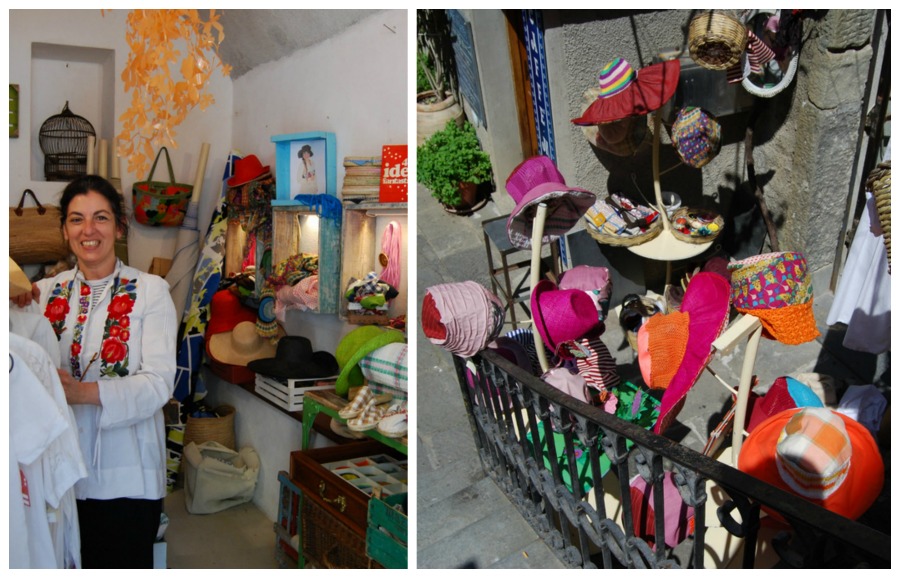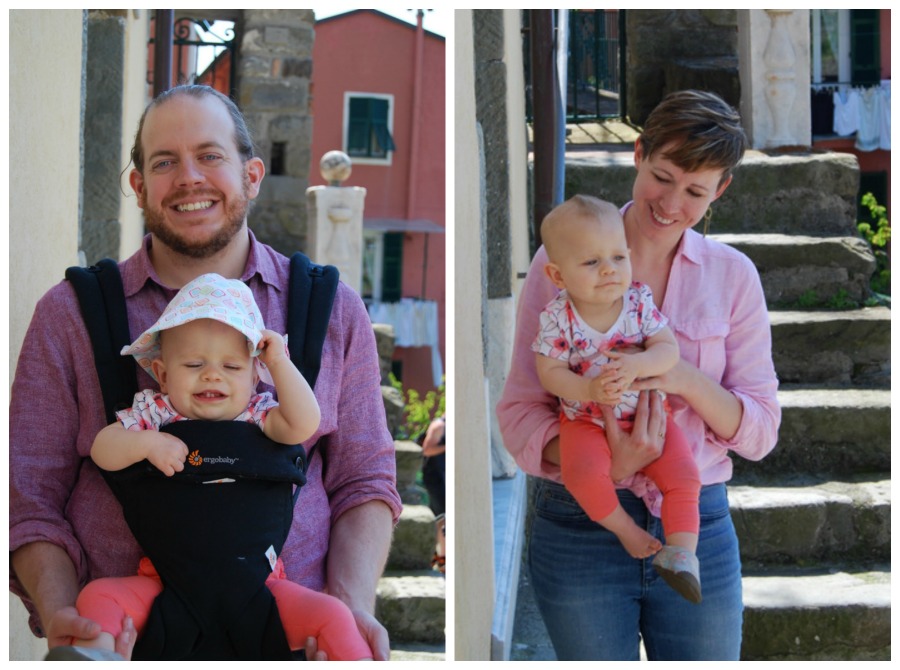 But still, there was gelato to eat, wine to drink, and beautiful vistas to look at.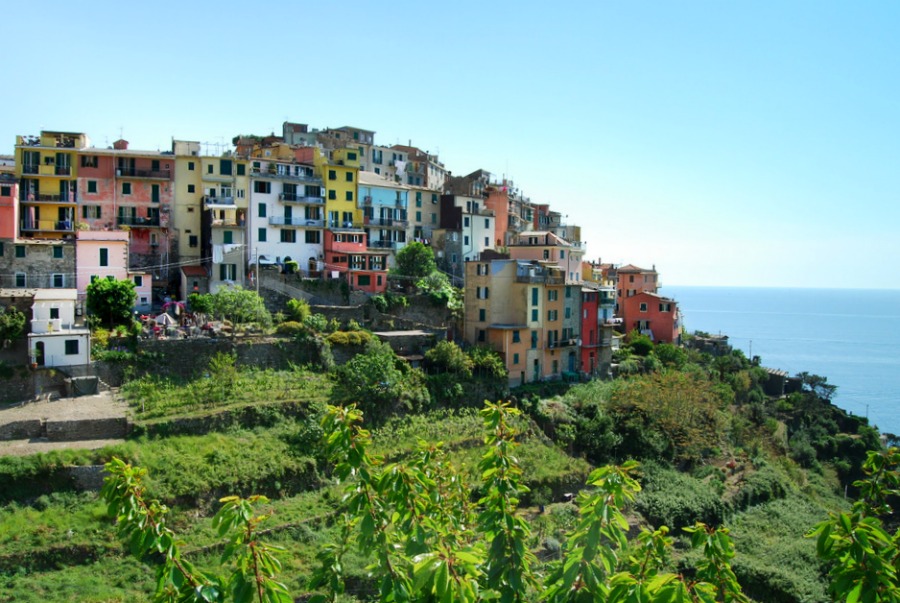 Next stop, Monterosso, where we thought we'd have dinner.  There's a large beach right by the train station, and then you walk through a long tunnel to get to the center of town.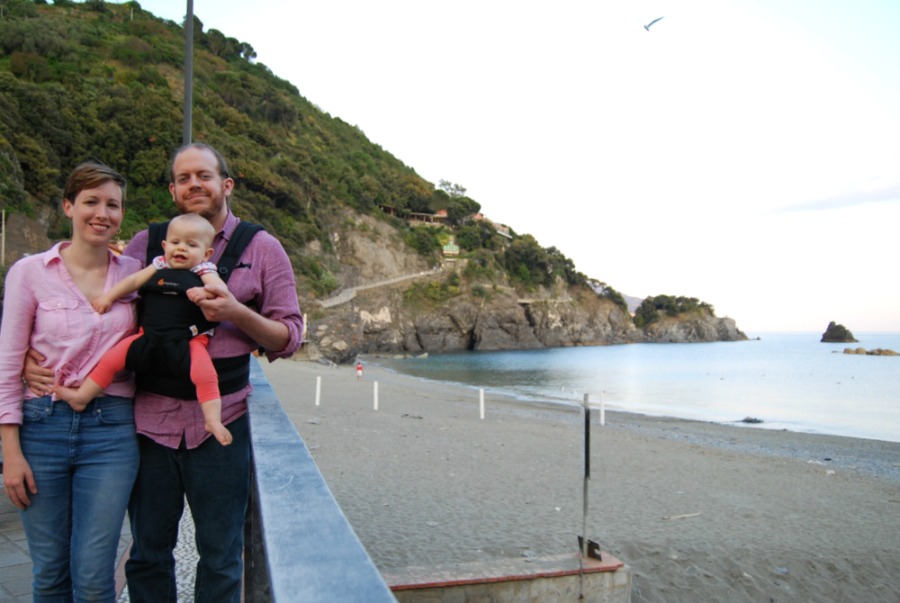 This northernmost town of the CT has the largest town center and is the least packed, probably because there is more room for people to spread out.  It also seems like the liveliest.  Maple had fun at the playground in the town square.  Three years ago we sat there sipping our happy hour drinks, watching the playground and talking about bringing our theoretical child there some day.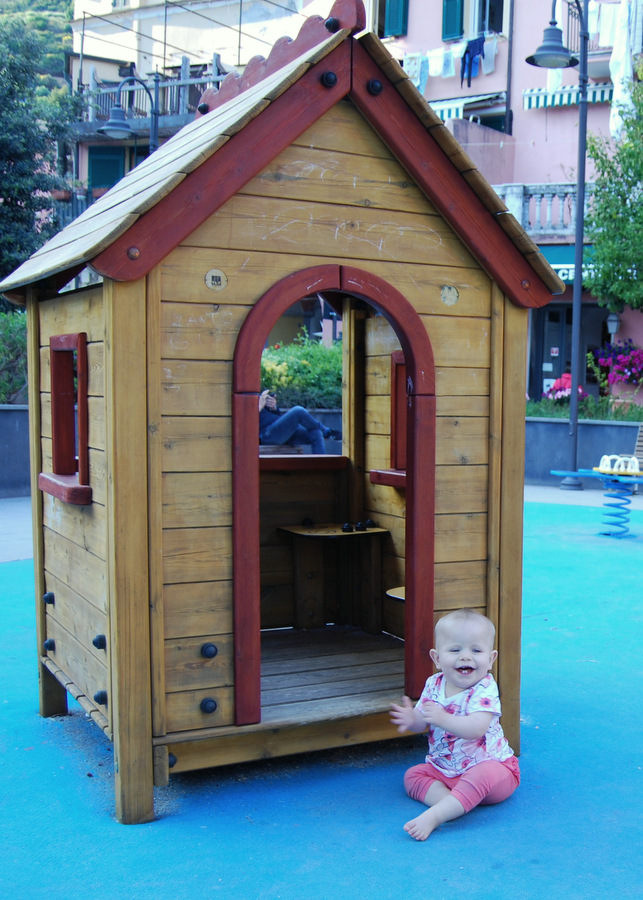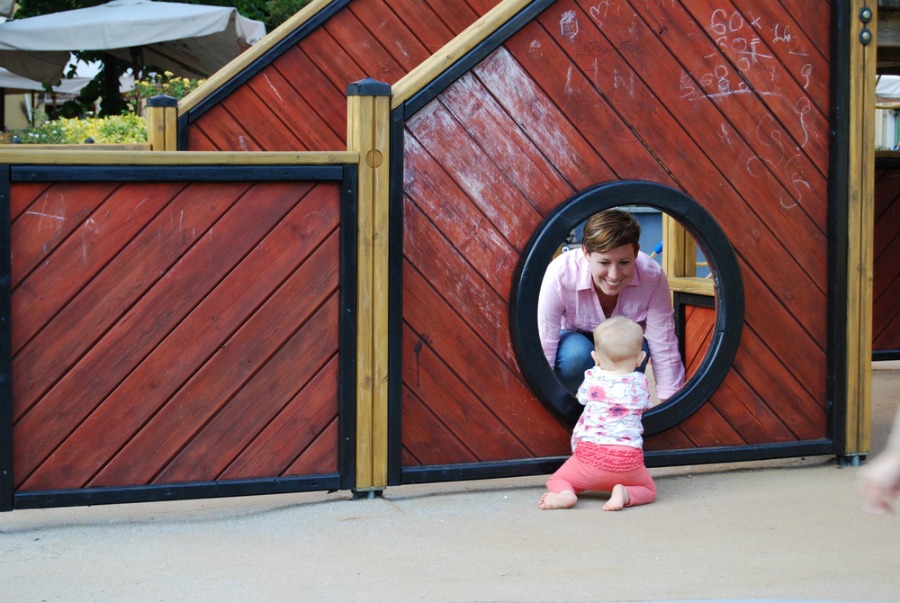 After the playground, we took a walk up the side streets of the town.
We tried to go to a beautiful cliff-top restaurant that overlooked the ocean – and had amazing reviews – but it was booked out.  It was probably for the best, though.  Maple was getting tired, so we hunted down a touristy but family-friendly restaurant and had a pretty good dinner.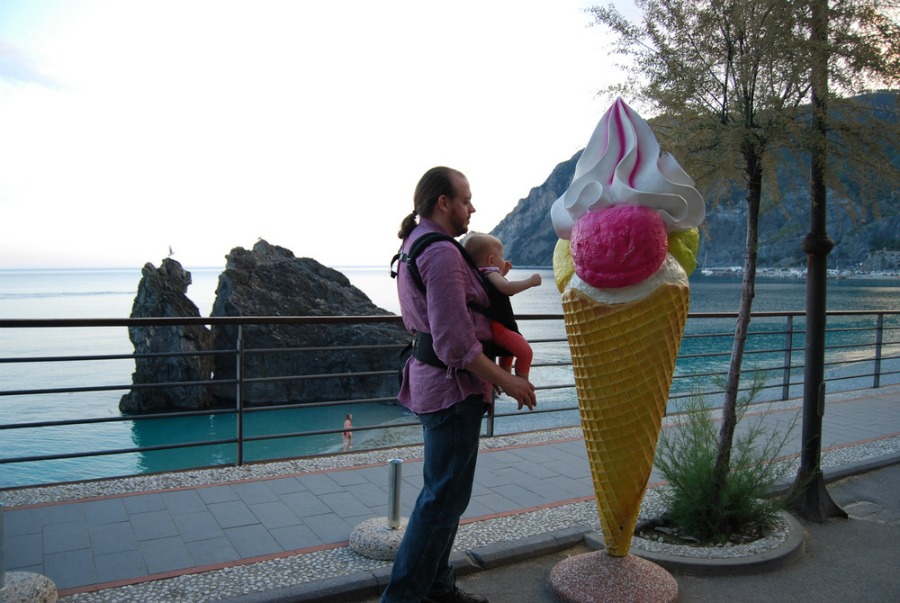 That night, we had trouble getting Maple to sleep again, but again, when she slept she slept all night.  I woke up refreshed for the second day in a row, thinking that this trip was going to be the most restful trip ever!