Ryan and I tried to keep things simple since we had a toddler in tow for this Italy trip.  A big part of that involved revisiting places we had liked on our last trip, because it's a lot easier than exploring a whole new area with a toddler in tow.
On Saturday morning we had cafe and brioche at a corner cafe near the hotel.  It was a great people-watching spot, and they made delicious fresh-squeezed orange juice for Maple.  It was also super inexpensive.
From Levanto we could walk to Bonassola, the next town north, along a converted railway trail.  The flat trail hugs the coast, dips in and out of old train tunnels, and has spectacular ocean views.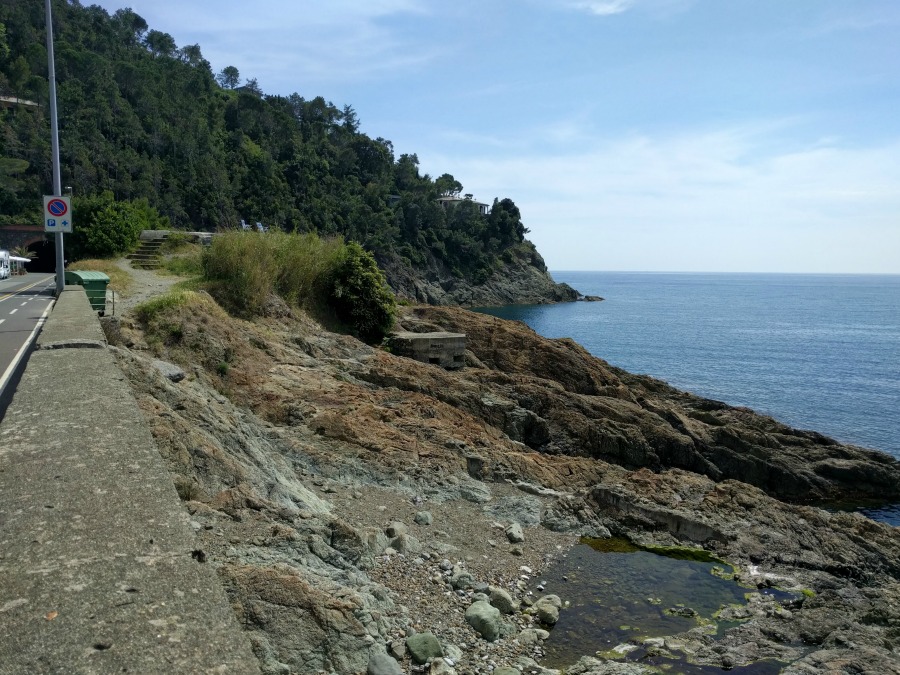 Below is a 360 degree view of the bike path and the Italian coast.  Use your mouse to drag the photo around and get a "virtual reality" glimpse of where we were.  You can expand it by clicking the little square in the bottom right of the photo.
Ryan took this with his Google smartphone.  I thought it was silly at first, but once Ryan showed me the result, I was hooked!  The Google virtual reality photos can actually be viewed in Google Cardboard for an even more realistic experience.  It's crazy what technology can do for us!
In Bonassola, which is clearly a beach town in the summer, several restaurants and bars line the beach.  Near the north end we found a nice "beach club" that had had a restaurant, but attached was a more lounge-like area, with sofas and shade.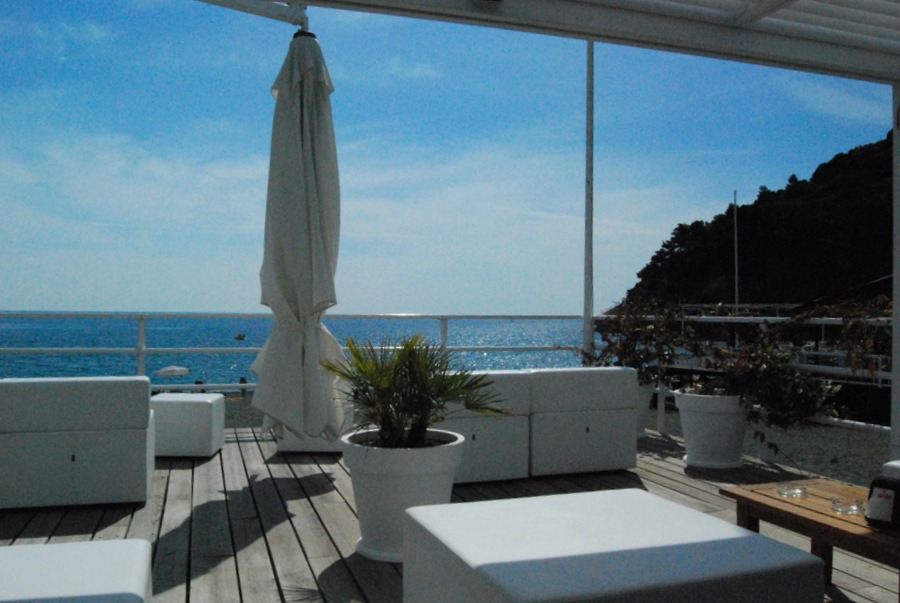 The prices for food and drinks were higher than in town, but we thought it was still a good value for relaxing and enjoying ocean views.  Plus, the space was pretty empty even though it was Saturday, so we were able to let Maple play on the floor around our area.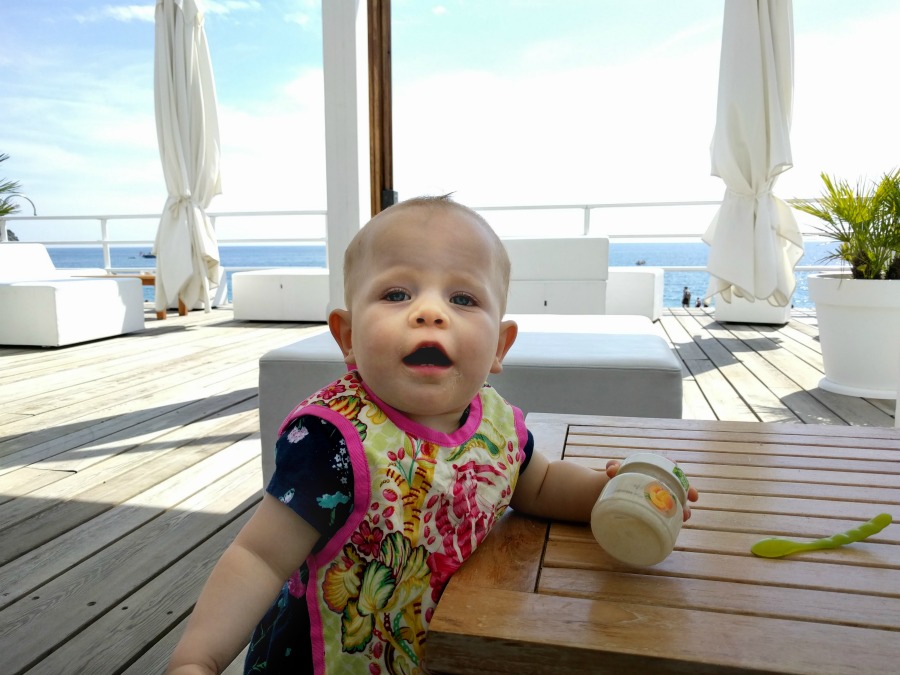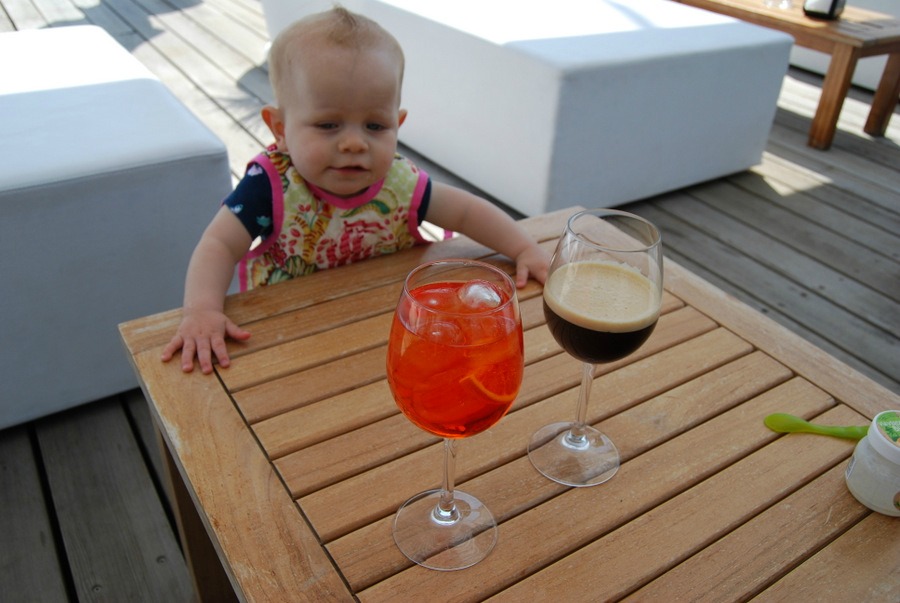 This town was refreshingly NOT overrun with tourists.  Italians flock to it for beach time in the summer, but otherwise it's pretty comfortable and quiet. Just watch out for the Poodle Restrictions! 😉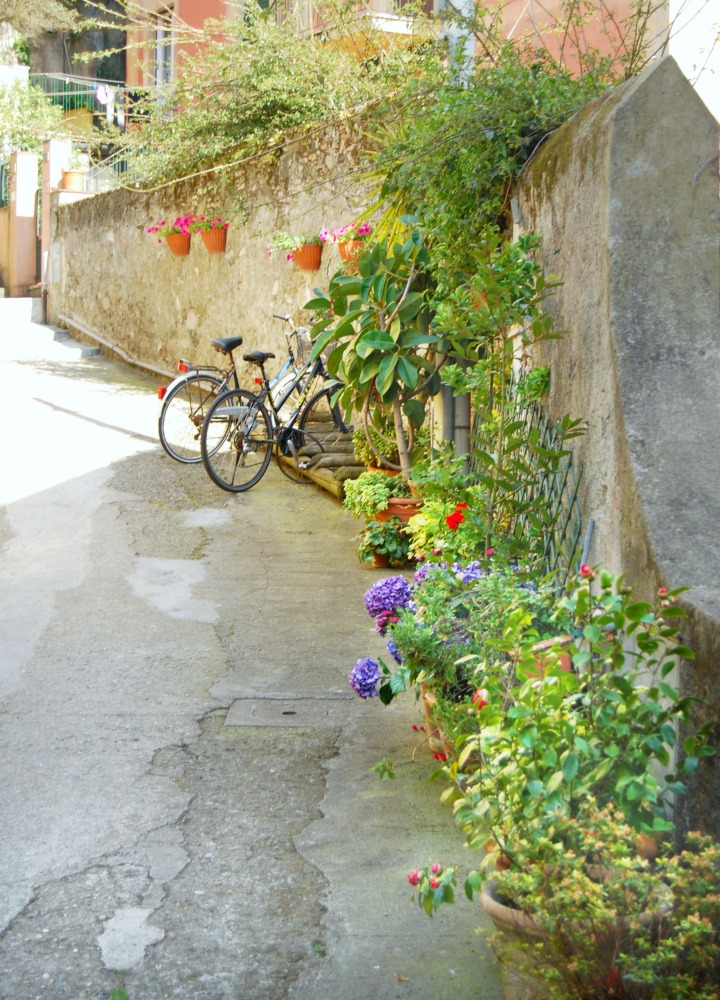 That night we put on some nicer clothes and went out for dinner at our favorite restaurant, L'Articciocca.  This spot is tucked on a little side street in Levanto, and we loved it so much on our last trip that we ate there twice, and missed it when we came home.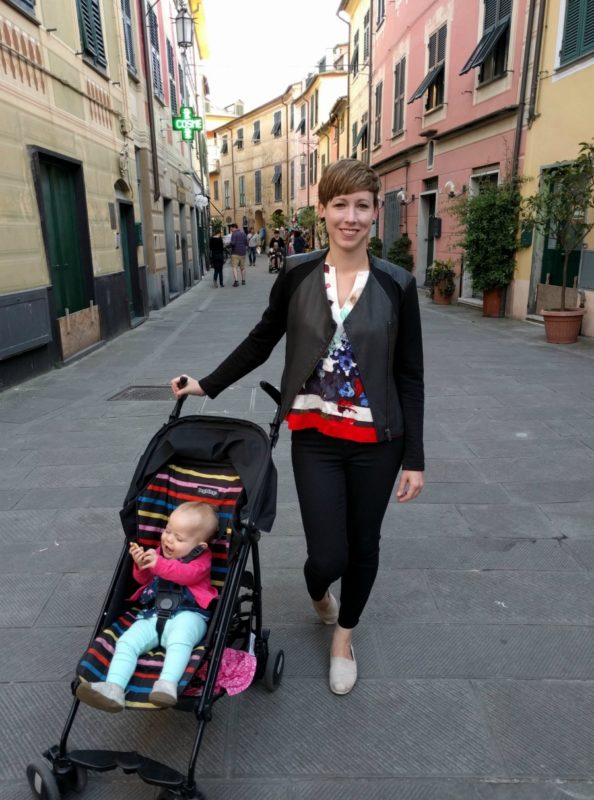 We got there right when it opened at 7 pm, and fortunately for our stomachs, Maple was still wide awake from jet lag.
The food was as delicious as we remembered, and we were shocked when Clara, the owner, remembered us from three years ago!  She even remembered that we ate out on the patio in the rain (by choice) the first time.  The restaurant is on the fancier side, is fairly quiet and intimate, and is slow food where you spend a few hours over dinner, so we felt a little self-conscious of Maple and her energy.  We managed this by taking her outside to play on the patio between courses.
Clara was so accommodating and welcoming of Maple, though.  And Maple was smitten by her voice.
That night Maple went to sleep a little earlier, but not as early as we hoped.  Having a cheerful, talkative toddler in a hotel room with thin walls is nerve-wracking!