Friday morning in Portsmouth dawned gray and dreary, the perfect backdrop for our drive up the coast of Maine. We took Rt. 1 to the Ogunquit area and headed down the Shore road to drive along the rocky Maine coast. The narrow road wound through canopies of fall leaves, and small-towns whose sidewalks were littered with fallen leaves – each looking more and more like something out of a magazine.
We stopped several places in search of good Maine blueberry muffins, with no success, but we did find Blueberry pie at Pie in the Sky.
In Brunswick I was sorry to see that Udder Place Coffee had closed.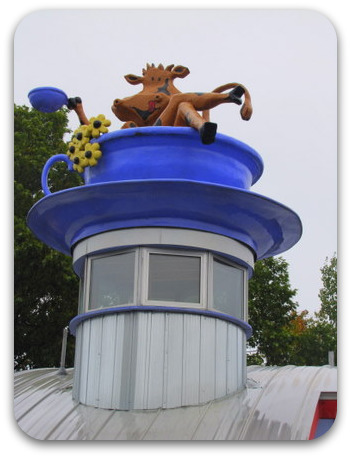 The rain picked up as we headed through Bath, where we took a quick detour to Georgetown Pottery. They make the most amazing pottery. We got a few things, including a gorgeous large salad bowl that matched my dishes.
More rain, more driving, no complaints, as Ryan and I discovered how well we worked together as a road-tripping team. Because Ryan is pretty much always funny, we spent a good part of the day laughing. He also proved to be excellent at pulling off to the side of the road suddenly, whenever I said "Ooh, I want a picture!"
We pulled off for another stop a an inviting coffee roasters, only to find that they didn't sell cups of coffee – only their freshly roasted beans, which smelled so good.
Rt. 1 continued to wind through more picturesque small towns, until we turned off to head onto Mt. Desert Island and Bar Harbor. Finally, as the rain and wind really picked up, we arrived at the Moorings Inn and were checked into our oceanfront room. The room was not as advertised on the website, so I would not recommend staying there, but the view was definitely gorgeous.
Ready for supper, we headed over to the lobster pound, where the woman told us to pick out our live lobsters. No thanks. I allowed her to select my live and miserable dinner-to-be. Ryan ate his first lobster of his life, and I remembered that I'm not that enthused by ripping open a whole lobster and eating it. I'm not sure I'll ever eat a whole one again.