I'm dying to complete my bedroom makeover and share it with you guys.  I have such a vision for the space!   Frankly it's taking way longer than expected.   I guess that's a casualty of this "I'll make my own furniture for the first time ever" idea.  That's ok, though – it's saved me over $200 bucks, and allowed me to customize the piece for my space.
I finally got around to staining the nightstands this weekend. . . but it didn't go well.  There were a few issues.  First off, the fumes from the stain permeated the house.  So gross.   I should have done it outside, but didn't want to because we've been having random storms, and I know the humidity would hinder the drying process.
Second problem:  The espresso colored stain plain did not work well.  I used Minwax brand.  As I surveyed the disappointing results, I remembered the Minwax Espresso stain totally sucked the last time I used it.  It doesn't seem to "stain" the wood evenly.  After 3 serious coats, all of which I let sit for a good 15 minutes, it still looks this weak: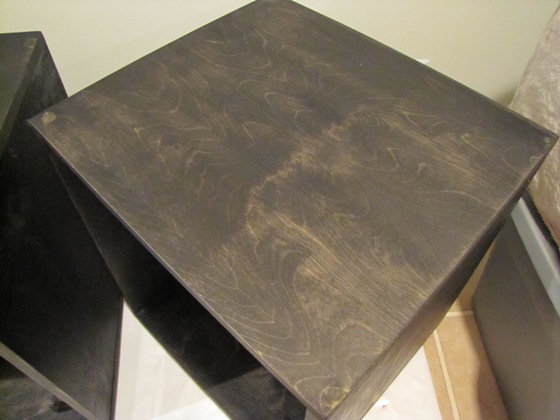 That just won't do.  Our current bed from West Elm is a rich, glossy espresso.  We'd like the nightstands to match that.
Third problem:  Even if I applied stain until the cows come home, I don't think it would help mask the imperfections in the piece, like the spots where the wood filler covers the countersunk holes that the screws are in.  It's my first time using wood filler, and I'm terribly disappointed by it.  It "stained" whatever bits of wood it touched, so that now they're not absorbing the finish evenly.  Even after liberal sanding.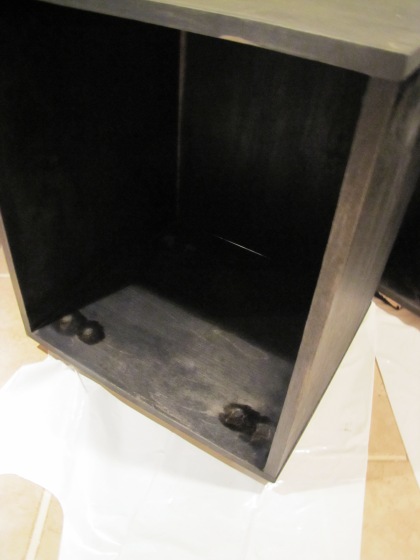 After all this, I think we've resorted to paint the nightstands.  We'll go with a rich brown/black, doing our best to match it to the existing bed.  Now the dilemma is – to spray paint or to brush paint?  What do you guys recommend?  What will give the most even finish? I certainly don't want brushstrokes visible on my furniture, but I also don't want the drips that can be caused by spray paint.

Sigh.  I'm just so ready for them to be done.  I refuse to start the other projects,  such as decorating the walls, because I want to base the decor on how the room feels with the completed furniture in it.  At least my curtain fabric came in the mail today.  Time to get sewing!