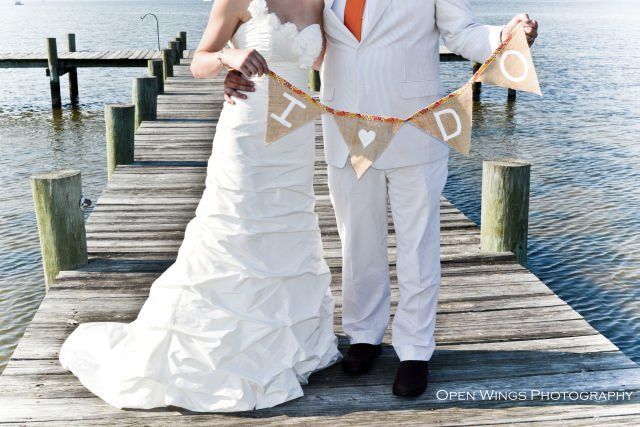 Ryan and I feel so very lucky.
Four weeks ago we got married with a ridiculously awesome wedding, surrounded by amazing people, in breathtaking surroundings, and even though it was hot as hell, we had a wonderful time.   Honestly, we determined that it was pretty much perfect for us, like something out of a movie.
Because this post is so long, if you only want to read the best part, I recommend the last section – called The Explosive Finale.  But I'm biased!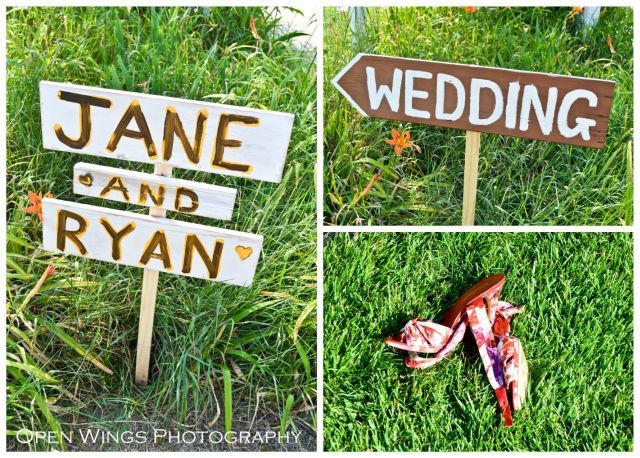 But it's been hard putting this "wedding recap" blog post together because there was so much to the day for us, but I didn't want it to go on and on and on and on. . .
Finally I gave up trying to keep it short, and I just tried to make sure I touched on all the different parts of the day.
The Morning Of
On the morning of the big day I awoke around 5:30, unable to sleep – out of nerves? Excitement? I have no idea.  But that gave me some time to reflect, and to read the "letter to myself" that I wrote in my "She" journal months earlier.  It was a reminder to enjoy the moment, soak everything in, and not freak out if anything went wrong.  I'd written it from a calm state of mind because I thought I might need some reminders in the midst of the excitement.
At 9 am our hair stylist (Danielle Sinicrope:  Tresses for Dresses) arrived to start doing the bridesmaid's hair.  Later on the moms arrived, and around noon my airbrush makeup artist (Amber Dziduch: Makeup Memories) arrived to do airbrush makeup for me and the two moms.   I completely, enthusiastically recommend both of those ladies for wedding beauty services.   Both were extremely professional in all their pre-wedding communication, and on the big day they were prompt and friendly and did fabulous jobs.  And from the research I did, their prices were right in line with what other stylists in the area were charging.
Sidenote: I'll admit that the cost of hair and makeup for what amounts to a 5-hour party really had me freaked out at first.  But knowing I didn't have to worry about doing my hair or makeup was totally worth the cost on the big day.  And both ladies were so good at thinking on their feet – as we didn't really have much in the way of "inspiration images" to work off of.
Before heading to the venue, my bridesmaids and I took a few photos around town and in the backyard of the cottage, up against the white shed.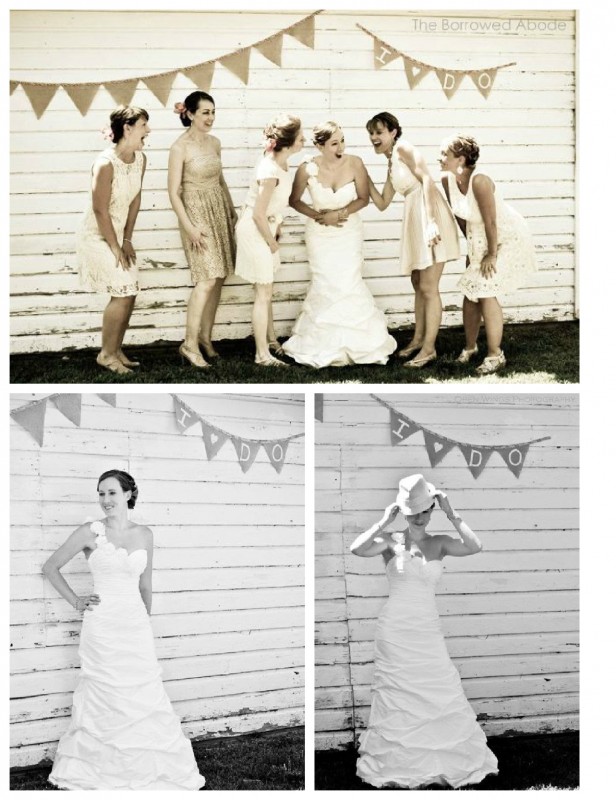 After being outside for that short time we were already sweating.  Temps were in the 90's and there wasn't a cloud in the sky. We dabbed the sweat off, then headed to the wedding venue.
Another sidenote:  There was one stressful element to the getting-ready process.  My dress alterations were borderline disaster.  The very top of the bustline wasn't tight enough – there literally was a gap where I could look down and see "the girls" – and the part below, around my ribcage, was so tight that occasionally my bridesmaids would have to unzip it for me so I could take a deep breath.  I was really freaking out about that.  Fortunately it seemed to stretch just a little during the ceremony, so by the time the reception rolled around I could breathe normally. 🙂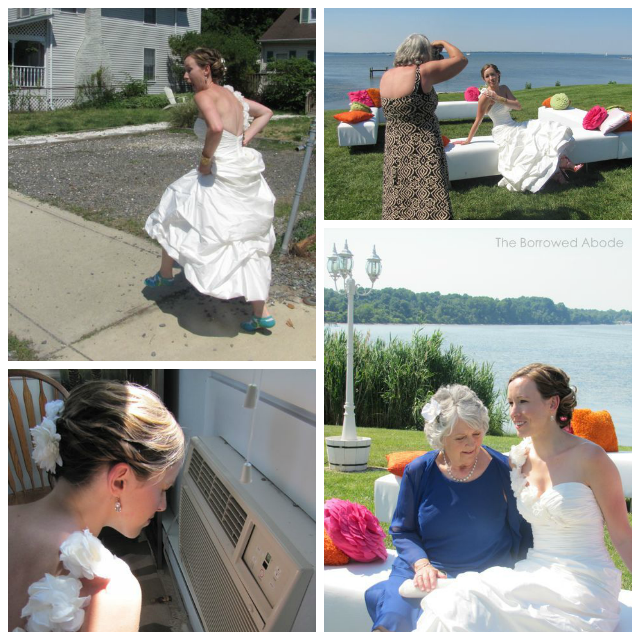 I had to share these photos above because 1:  it's not every day you'll see me skipping down the sidewalk in a designer wedding gown and socks from Target.  2.  I literally sat in front of the air conditioner trying to keep the sweat off.  3. Huge thanks to my friend's mom (and my friend) for doing the photography. 4.  I thought my mom looked so adorable in the bottom right photo.
The Ceremony
The bridesmaids and I did some photos before the ceremony, then retreated to the nice little bridal suite to wait for the beginning of the ceremony. I became increasingly nervous.  Not about marrying Ryan, but just about all the hoopla, I guess.  I mean you're supposed to walk down this aisle and everyone is staring at you and snapping photos and you have to remember to keep your posture straight and do you look at the "audience" or do you look at Ryan or do you look at the ground so you don't have to make eye contact and do you smile or not much or a whole lot and don't walk too fast but don't walk too slow and what if you trip and OH MY GOSH CAN IT GET ANY MORE AWKWARD?!
Now you know how my mind works.
Anyway, at 4:30 Krissy, our absolutely amazing wedding coordinator provided by the venue, came and asked me if we were ready to start. I actually said "No. Give us 5 more minutes."
You see, I was busy getting cold feet. 😉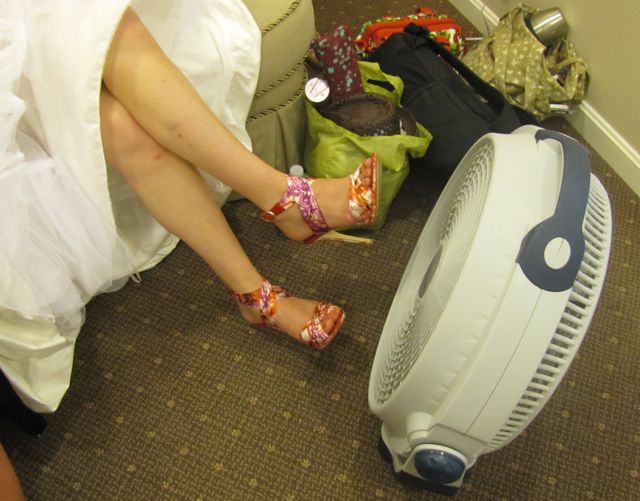 Not really. . . I just needed a few more moments to collect myself.
Sidenote #3:  Concerned about the blazing sun and our wedding guests (most of whom are approaching or already at the age required for AARP membership) we provided sunscreen wipes on the chairs at the reception. Rumor had it they were greatly appreciated.
Eventually, my shaking legs made it down the aisle with my dad.
Musical Sidenote:  My mom really wanted classical music (Handel's Music for the Royal Fireworks) for the moms to enter to.   Then Ryan and I chose Brad Paisley's "Waiting on a Woman" for the bridesmaids to enter to – to add some humor and a bit of our favorite country artist to the ceremony.  Then my dad and I entered to the Main Theme from the movie The Man From Snowy River – my most favorite movie of all time.  It was truly a majestic entrance piece and being able to focus on it helped me stay sane.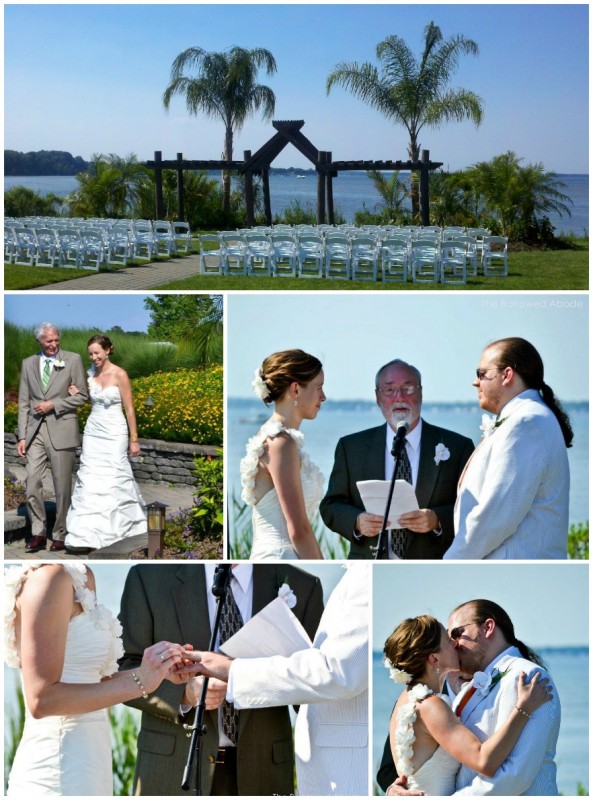 Our wedding was officiated by John, who is the person who hired me at our company 6 years ago.  He's become a great friend and mentor to both of us, and because Ryan and I don't go to church we asked him to officiate.  He did a fantastic job, collaborated with us to create an amazing and original script for the  wedding ceremony.  I'll be sharing the ceremony script later on a separate "wedding page" that we're setting up on the blog.  Ryan worked some humor into our vows at the last minute, and blogging may or may not have been a part of it. 😉
The ceremony itself was a bit awkward because the microphone tripod was set up right between me and Ryan.
My sister-in-law did a great job reading from Kahlil Gibran's The Prophet.  Just like with the rest of the ceremony, I really focused on actively listening to every word, because I didn't want to look back and feel like I wasn't present for the ceremony.  I've heard that happens to some brides.
After the ceremony Ryan and I walked down the aisle (to Star Wars:  The Throne Room / End Titles) and then just kept walking.  I'm sorry, guests.  I know the old fashioned tradition is to do a receiving line, but we didn't want to make people wait in line in the blazing sun. We'd all be at the reception, after all.  We went right to the bridal room . . . which was locked. . . so we sat outside it together.  It was really nice to have a few moments alone together before the madness picked up.
Then it was time for photos. I didn't have a lot of patience for it.  I felt guilty taking time for all those photos when we had guests to visit with, all of whom drove at least an hour to get there.  Have any of you experienced this?  That was a hard part for me.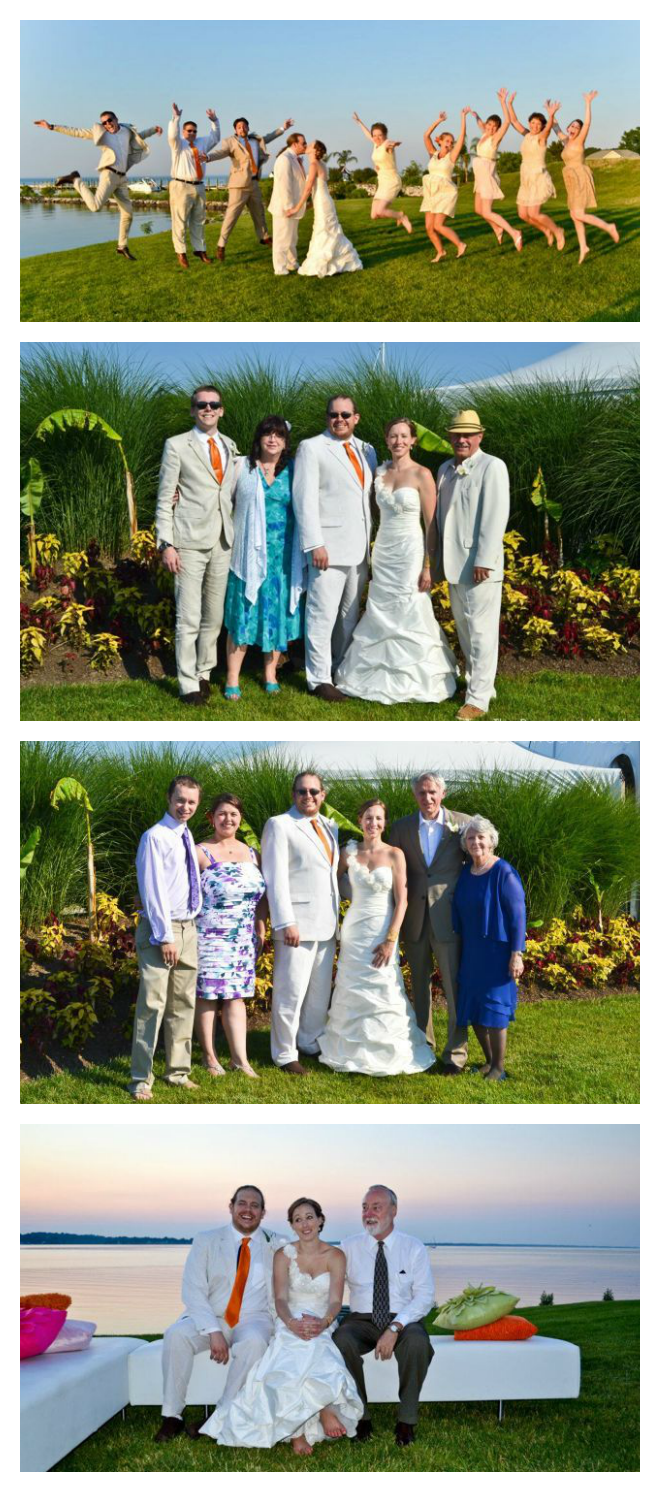 In the photo above:  1.  Wedding party 2. Ryan's family  3. My family -note that my brother and his wife were totally coordinated! 4.  One of our most favorite photos from the whole night:  Us with  "Reverend" John.
The Reception
True to form, we didn't get a single appetizer during the cocktail (aka photo) hour, but Krissy did keep us supplied with cold beverages. I had a fabulously strong and cold mojito, which was just what I needed.    Oh, the magic of a stiff drink!
The venue was absolutely breathtaking. We'd splurged on only a few things, and one of them was the rental furniture outside on the lawn, between our tent and the bay.  The 4 white benches were the cheapest furniture rental option, but at least they came with colorful pillows – because I didn't have time to sew any.
Sidenote #4:  Throughout the night our guests were asking me if I'd made the pillows on the white benches.  No, I did not – they were included in the furniture rental.  But too bad, because they were pretty cute!

Above you can see a lot of the DIY'ed elements of our wedding:  We did personalized water bottles for favors – along with homemade chocolate-dipped pretzel sticks (not ideal for the weather!)  One of my BFFs, in addition to sharing the photography duties with her mom, made all of the boutonnieres the morning before the wedding as we watched the sun rise.  I made burlap runners and banners to add a rustic element – trying to blend our Caribbean color palette with a bit of a country feeling.  And another old window frame came out to play!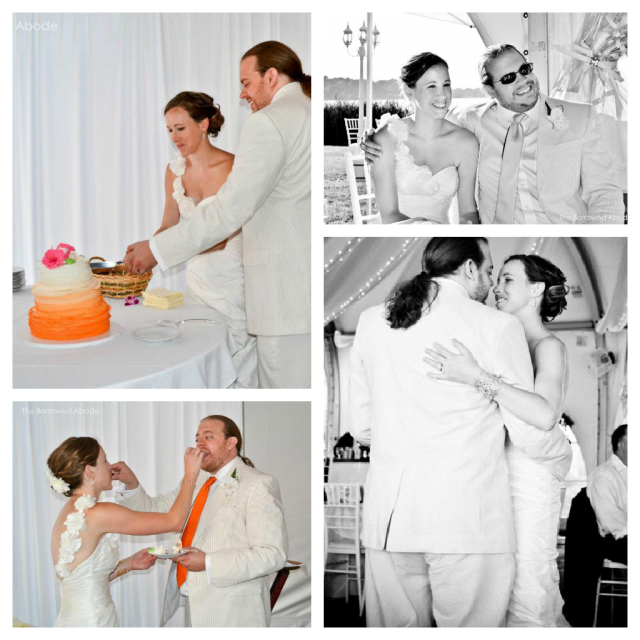 We thoroughly enjoyed the whole reception, but it was really hard for me to feel like we'd been good enough hosts.  We made every effort to both eat AND visit with all our guests.
We hadn't thought about the fact that a Sunday night wedding meant some people would be leaving early during the reception, having to drive home and then work the next day.  So when some people left without our having talked to them personally, I felt terrible. Fortunately Ryan reminded me to not freak out but stay calm and know that they didn't leave because they hated our wedding! 🙂
The Explosive Finale
During our cake cutting we made THE BIG ANNOUNCEMENT:  We were surprising everyone  with a personal fireworks show.
Yes, friends, this was our absolutely ridiculous splurge..  But early on, when we met with the venue and found out that they offered it as a wedding add-on, we knew we had to do it.  I mean when else in your life can you enjoy such a thing?
Our guests enjoyed some amazing cake (Blondie's Baking Company) while they wandered outside to congregate on the lawn, on the benches, and at the tables, where we all watched the sun set over the bay – amazingly beautiful.
No one danced, because they were busy enjoying the gorgeous outdoors.
As the sky darkened, the DJ launched into the 1812 Overture, and the fireworks began shooting straight over the bay.  Ryan and I wandered down to the dock, leaving our guests behind on the lawn. We just stood down there wrapped in each others arms, watching the fireworks, listening to the coordinated music, and seriously soaking in the moment.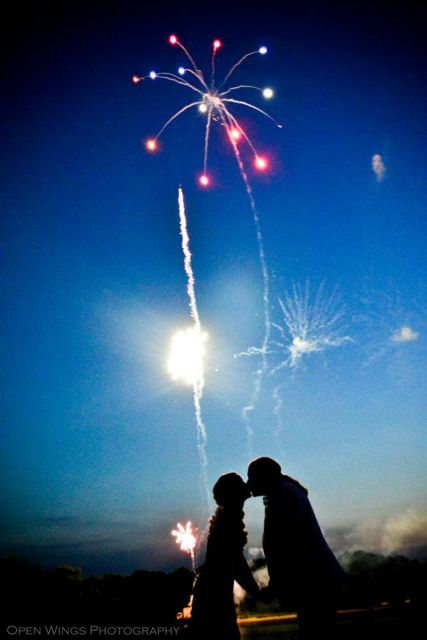 It was the very best possible ending to our wedding.  See, the wedding started with a personal exchange of vows but then turned into a very busy social gathering.  Ending the night together like that, just watching and listening, was a nice, personal closing to an absolutely amazing party.  We are so glad we moved away from the crowd to enjoy that time together.
The fireworks show lasted about 15 minutes.  Holy cow, we'd been worried it may be kind of dinky – but it wasn't. It was like the real, honest-to-goodness fireworks that you see on the 4th of July in a small town.  And it ended with a huge succession of bursts, just like the 4th of July.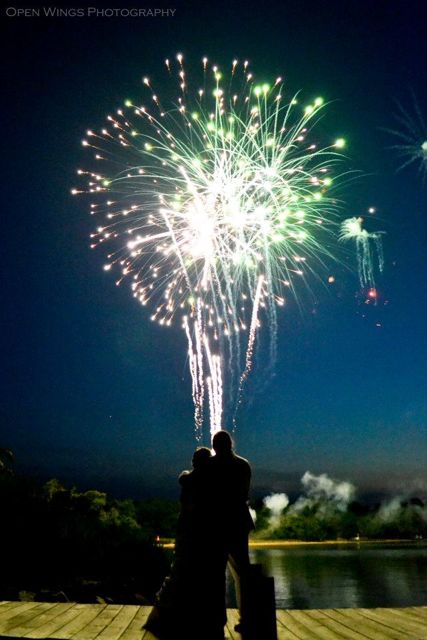 The next morning the staff at the cafe down the road actually thanked some of our wedding guests and wouldn't let them pay for coffee, saying how much the whole community enjoyed watching the wedding's fireworks.   🙂 I'm so glad that it was exciting for other people, too!
After that, the DJ asked us if we wanted him to play more music – but we said no.  The explosions were way better closing than any "last dance" would be!
So there you have it – this is an overview of the wedding. And because I was too busy before the wedding to share my DIY projects, I'll be back with smaller posts about how I created some of the decor and DIY elements.
If you have questions or request for more specific info, please ask me in the comments! I'll answer them all, I promise!
The professional photos in the post were taken by Crysty Perkins of Open Wings Photography – find her here on Facebook. The rest were taken with my camera or by family and friends.