Four weeks before our wedding, as I cleaned up a kitchen that was splattered with icing and cake batter from my wedding cake recipe testing, I decided to order a cake from a decorator rather than do it myself.
It was one of the best wedding-planning decisions I made.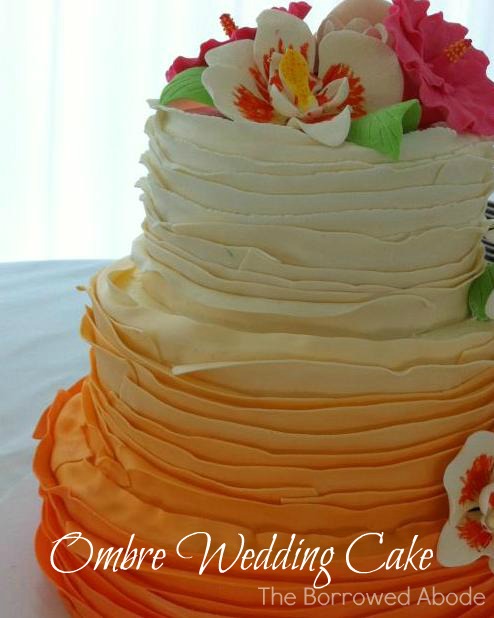 Cindy, the owner and head pastry chef behind Blondie's Baking Company in North Beach, MD, was able to squeeze us in at the last minute.  The only problem?  Ryan and I attended the cake tasting with hardly any idea of what cake design we wanted.
Do you want to know the flavors we chose?
Chocolate cake  filled with real vanilla bean frosting and fresh raspberries
Italian butter cake with a passion fruit filling
Orange creamsicle cake – which tastes just like its namesake.
We chose them during our VERY SERIOUS CAKE TASTING, only three weeks before the wedding.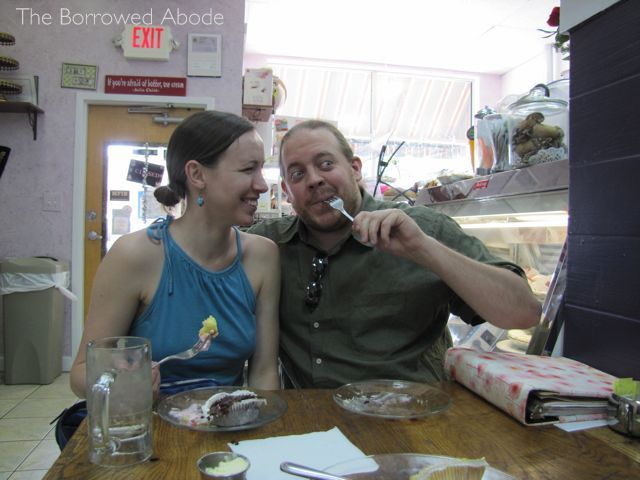 But back to the style:  As a former cake decorator by trade, I'm picky about cake designs – I've seen so many of the designs done over and over, and I wanted our wedding cake to be a design that was new-to-me.
Our theme was Caribbean-meets-rustic with burlap and lace, bright colors, and orchid and hibiscus flowers. I searched and searched for "tropical wedding cakes", but none of them spoke to us.
But when I found this yellow ombré wedding cake on Style me Pretty, Ryan and I agreed that the ombré effect was the way to go – especially since we had chosen the watercolor ombré wedding invitations and I was totally obsessed with this color trend.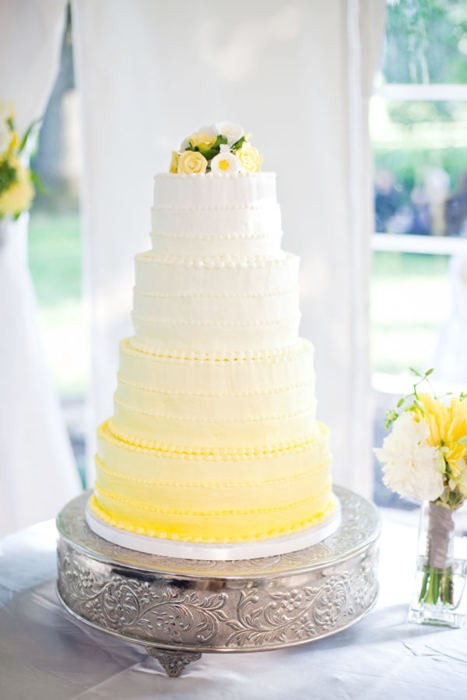 Beautiful, yes, but not us. I'm not sure if you can tell from this blog, but I'm not exactly a prim and proper southern belle for whom this traditionally-designed cake (above) would be perfect. Neither is Ryan, despite the long hair. 😉
Soon after that the ruffles and ombré took over my Pinterest Wedding Cake gallery.
I sent the photos to Cindy, and we requested that the cake be topped with natural orchids and hibiscus in our orange/pink wedding colors. Then a small branch of orchids arcing down from the top of the cake laying against the side of of the first tier.
Cindy loved the idea, but we ran into a slight snag. The florist was quoting her $75 a stem for fresh orchid stems!  That was absurd, so we asked her to go with the much more affordable sugar paste flowers.
On our wedding day, we were thrilled at the sight of our cake. The orange ombré was just like the sunset over the bay, and just like our wedding invites.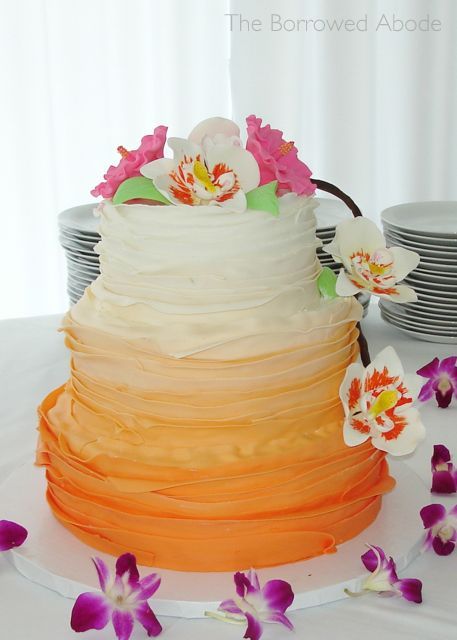 In retrospect, I could have designed it more simply. With such a strong, ruffled design, we didn't need flowers arching over the side of the cake.  A small cluster of white sugar flowers on the top would have sufficed.
But at the end of the day, it doesn't matter. I loved our cake – it was beautiful and tasty, a true coup for a wedding cake. So good, in fact, that there wasn't a single slice left over at the end of the night.  But that's OK, because we know where to get more. 😉