As part of my Jan/Feb goals to "finish abandoned tasks," I'm sharing this long-procrastinated wedding post. :)
I briefly summarized a lot of the decor aspects in my Big 'Ole Wedding Recap post, but I wanted to do a separate post to go into a little more detail about a few things; mainly the table decor which we did on a nice and tiny budget.
I also noticed afterwards that some of my ideas looked awesome, but others did not. I want to share my thoughts on the good and the bad in the hopes that it may help others down the road.
FYI on the theme: I attempted to blend tropical with rustic, because a part of me would have loved a typical barn wedding.  :) If I had all the money in the world I would have paid a designer to do really fabulously styled tables, because I am crazy about well styled parties, but we're not millionaires and we wanted to splurge on other things, like the fireworks.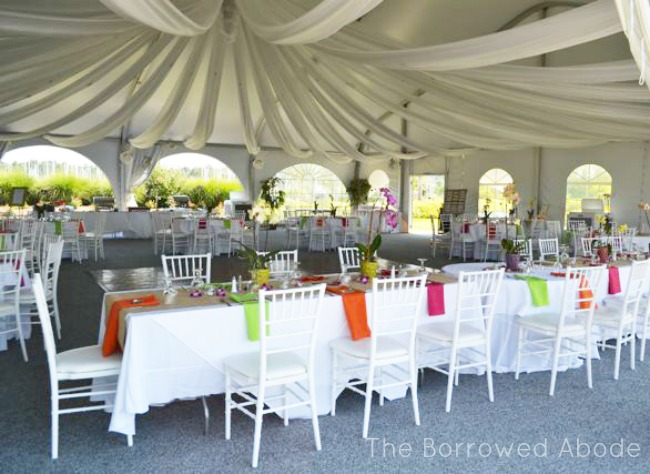 Wedding Flowers – Or Not
Estimates for tropical floral arrangements for the reception were around $2,000.  Regular flower arrangements? Still high at $1500.  Holy cow was that expensive, and not a cost I could justify.  I shopped around and found that we could use live orchids on the tables for about $400 total, and the orchids could be given to guests afterwards. We didn't need bouquets, either, because my bridesmaids were each carrying a floral clutch.
When my attempts to source the orchids from local nurseries failed – either from lack of their communication or poor quality flowers when we visited – Ryan and I picked up 2 dozen Virginia-grown orchids from our local Whole Foods Market, and I negotiated a 10% discount on the purchase.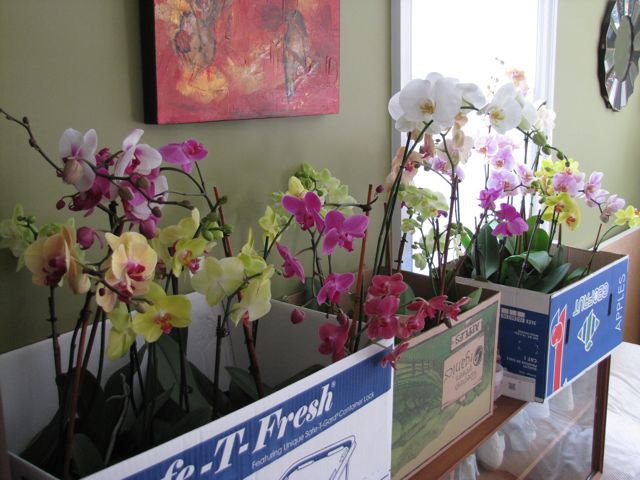 In addition, I ordered 200 fresh orchids (to scatter on the tables) from Hawaii Flower Lei.  At $40 after shipping, I thought that was a pretty frugal way to add more fresh orchids to the decor. The only problem?  I ordered them in white, but they were out of white so they had to send purple instead.  The purple didn't look quite as elegant, it was a little more random on the tables.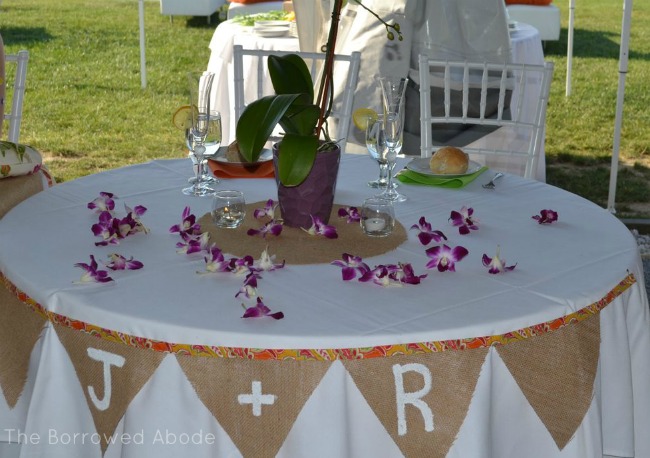 Dining Table Decor
In addition to orchids, I wanted to have burlap runners on the tables (you know, for that "rustic" element.)  I love how the bridal party tables turned out: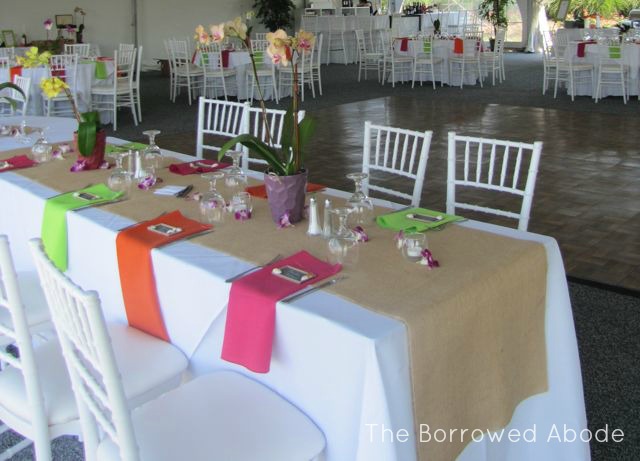 The long burlap runners worked well, and were so cheap and easy to make.  I bought burlap yardage with a 50% off coupon at JoAnns, so it was around $2 a yard, then I cut it into lengths that would fit the long, rectangular tables.
The little chalkboard place cards were made by my friend for the bridal shower, so I re-used them and made a few more for the guys' seats.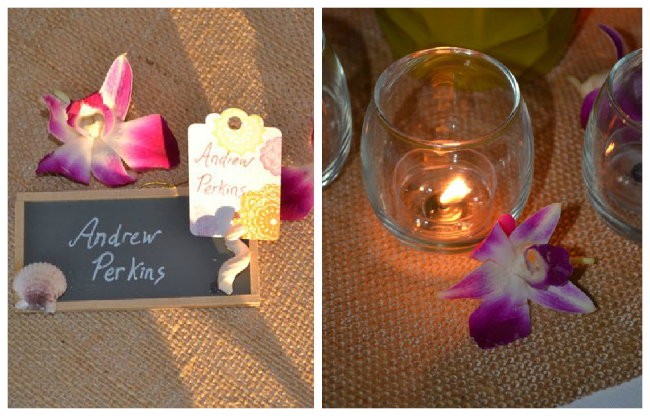 Each round table was decorated with a round burlap circle, a live orchid plant, votive candles, and  fresh orchid blossoms.  I used tea lights because, after cleaning wax out of over 100 of the rounded candle holders that my friend had bought for her wedding, I was not in the mood to fill them with wax again.  The white tea lights from Partylite came in clear plastic shells and burned clear, so they were the prettiest simple solution.   And they were Made in the USA!
Back to those round burlap circles.  Those fall into the "mistake" category.
I did the circles because I don't like the asymmetry of having a rectangular runner across a round table, but I thought I needed burlap on every table.  Looking at the photo below, I see that the tables would have looked more elegant without the burlap, or with a much wider burlap circle: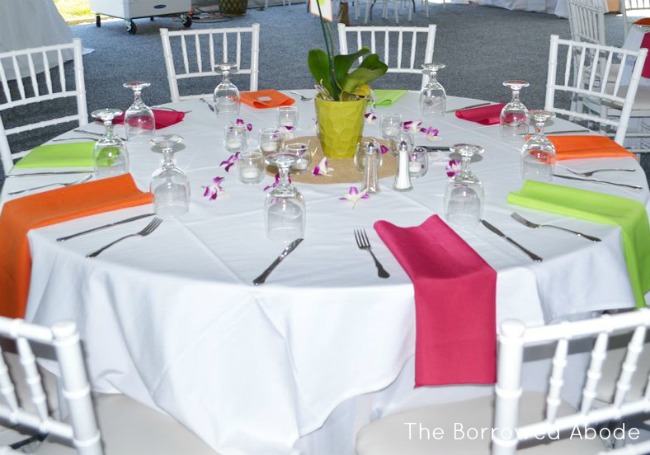 The colorful napkins (provided by the venue) helped incorporate the Caribbean colors.
Accessory Tables
For the rectangular accessory tables – gifts, wedding favors, escort cards, guest book, etc – I made burlap runners and burlap pennant banners.  To incorporate the lace element from my bridesmaid's dresses, I hand-stitched some of my grandmother's old hand-embroidered doilies and linens onto the burlap.  It looked awesome, even if it wasn't very noticeable under the favors and/or gifts.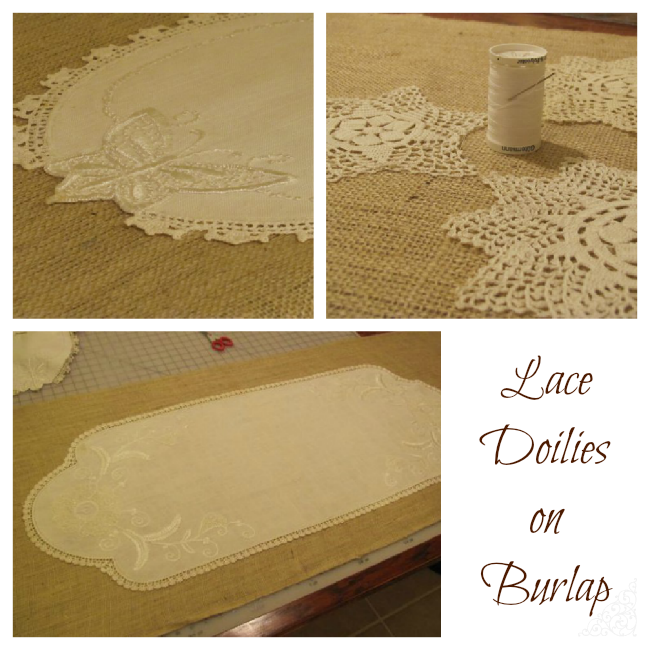 Lawn Decor
Because there was a lush green lawn between the reception tent and the bay, I knew early on that I wanted some "living room" type furniture out there so people could really enjoy their surroundings.  The sofas I wanted were so I went with simple white benches, the cheapest "lounge" furniture offered by the rental company.   In the end they were the perfect choice, because they were so versatile and offered such an open feeling.  They were used constantly by guests through the whole reception.
Table Numbers
Traced the outline of the number using a stencil and a pencil, then painted it with my water colors left over from tweaking the invite sets.
The plan was to put a clear stick in each orchid – you know, the ones that you stick in a plan to display a small card?  But I totally forgot to do that, so there was no simple way for the numbers to be on display.  Whoops.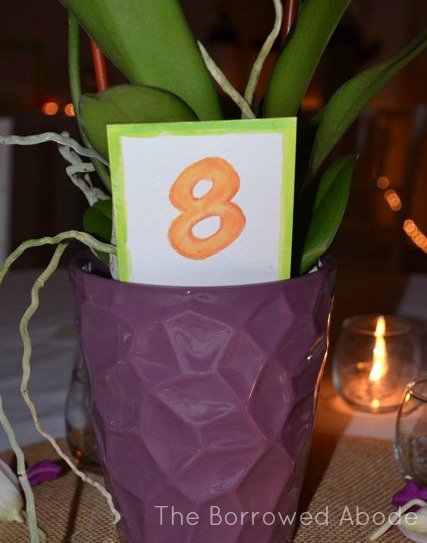 What I'd Do Differently:
Like I said earlier, when I look through the photos I see some aspects that I wish I'd done differently.  I'm not losing any sleep over it, but I do like learning from my mistakes.  So here's what I'd change:
I'd skip the burlap pennant buntings that were swagged around the accessory tables (favors, gifts, etc).  They were unnecessary and did not look as elegant as I'd pictured in my head.  However, I would keep the J&R pennant that I made for our sweetheart table. :)
I'd skip the burlap circles on the round tables.  Totally unnecessary.  I kept thinking that the tables needed to be decorated because we weren't going with large floral displays, but the fact is that – as always – less is more (elegant). There is nothing wrong with a simple white tablecloth and a few votive candles.