Thanks so much for visiting - Please subscribe to my RSS Feed or come say hello on Facebook!
Since this is the week of Awesome, and not the week of good ole' rental decorating projects here at TBA,  I wanted to share some details on eco-friendly and ethical ring shopping, photos of the rest of our weekend, and the proposal story video that I cajoled Ryan into filming with me.
First I'd like to briefly talk about the ring.
Ryan knew that I wanted either a conflict-free diamond or a vintage one, simply because I try to make purchases that reflect my opposition to unethical labor conditions.  He apparently spent months combing through vintage jewelry websites until he found the "perfect" ring.  It's from 1937, and even has the original couple's engraving inside the band, which I love.  I can not emphasize enough what a perfect job Ryan did.  He ordered it from Leigh Nacht Jewelers, and said that he really enjoyed talking to the owner and learning the story of her family business.
Fun fact:  it's a good thing I haven't had a ton of time for organizing projects in the last two months, because apparently that's how long he'd had the ring hidden in our house!!
Now it's time for the weekend wrap-up.  Let's keep this brief – just pictures and captions:
Ryan hung out in the jacuzzi.  Can you read his shirt?
It says "The Awesome Meter Never Lies."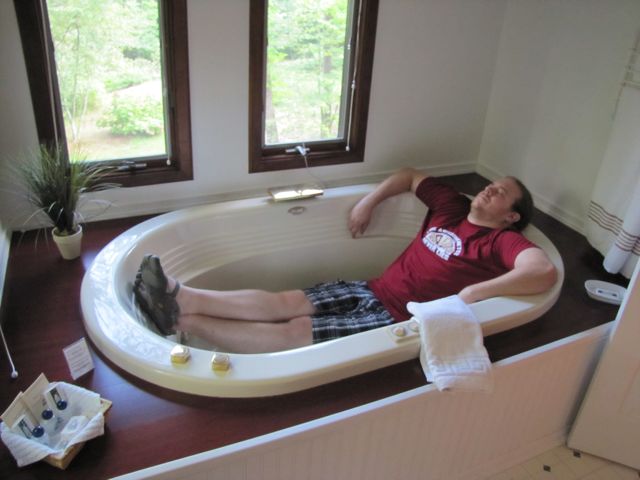 A few hours after he put a ring on it, we went out to dinner at a place called "The Local."  I wore my new dress from the J. Crew sample sale.  The restaurant had great decor inside, but we were disappointed that a) the rooftop deck was no where near as romantic and dimly lit as in the photos on their website, and b) the service was slow, forgetful, disorganized, and generally just not on par with what we expected.  You can find my Yelp review here.
In the end, though, we were so giddy about what had just happened at the cabin that we didn't really have a care in the world.  It would have been nice to have a great romantic dinner, but that's what I get for not listening to the C-ville ladies, who all recommended other restaurants.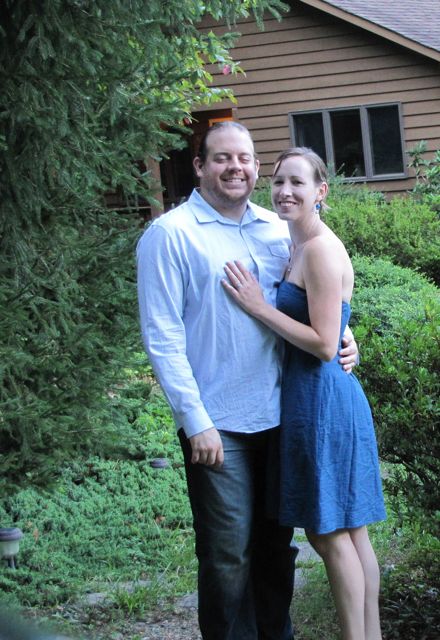 On Saturday we went up to the Skyline Drive.  (That's Old Rag Mountain, one of the best hikes in VA, in the back.)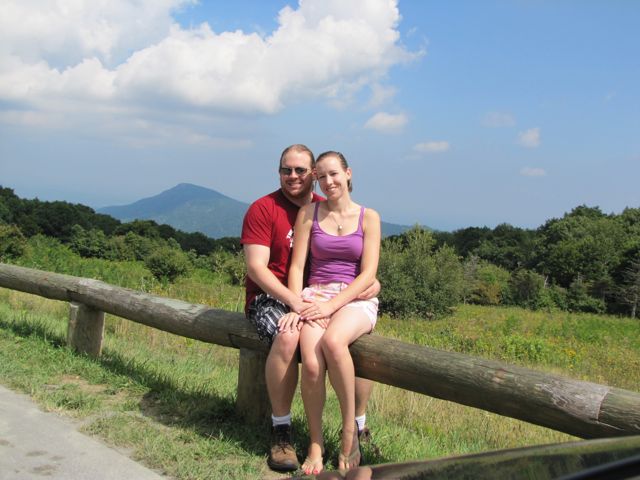 We went for a hike and finally found something that made Ryan look short: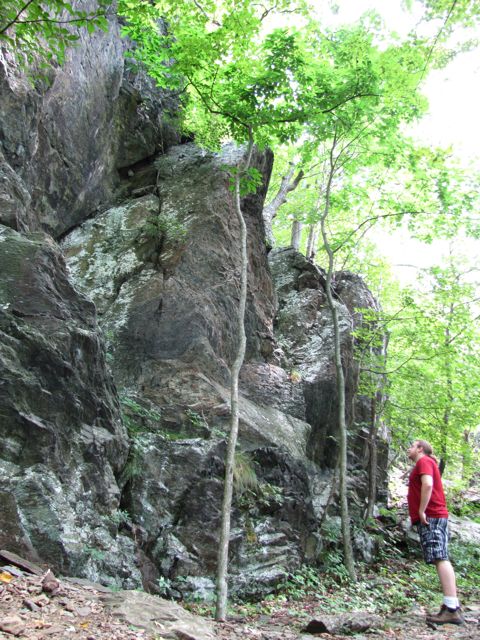 We also drove around and checked out the small towns on the "other" (western) side of the Blue Ridge Mountains.  They don't seem to be doing so well in this recession – it was rather heartbreaking to see even more businesses closed in the quaint little downtown areas.
We were supposed to grill steaks for dinner Saturday night, but instead we filled up on pie, cookies, and a huge box of Godiva truffles.  Special circumstances allow for special diets, right?  Before dusk we lay in the hammock reading our books.  And after dark we moved inside to sit side-by-side on the little couch, listening to music and still reading our books.   Exciting, no? :)  A fun feature of the cabin was the little stereo, along with a stack of CDs.  One of the CDs was the first that Ryan ever let me borrow – Melody Gardot.
Finally, on Sunday morning I dragged Ryan out to the porch where he proposed, and we made a little video for you all.  Please note:  this is a big deal to have Ryan actually appear on camera.  But because he'd included you all in the proposal surprise, he agreed to do it.
But I didn't just want to make the video for the sake of blogging.   First , it's about preserving our stories.  Ever since I met Katie, I've been learning to appreciate the value of "celebrating your story."    And this is most definitely a story to celebrate.
The second reason is just for me & Ryan.  Our first 2.5 years have been utterly amazing and just overflowing with happiness.  It's gag-inducing, right?  But it's the most fabulous relationship I've ever had, like we were just made for each other.  We've never had a "big fight" and have had either 3 or 4 disagreements, which each lasted for about an hour because we handled them so damn politely.  Not fake politely, but just . . . I don't know. I guess we want so much to understand each other that we both do a good job of understanding where each other is coming from.)
But I know that some day we'll encounter real bumps in the long road of marriage.   And when we do, I want us to be able to have reminders of all the fabulous moments, the moments that that are so magical you never, ever want to forget them.  Totally sappy, I know.  But also serious.
A couple random awkward bits to point out, just in case I'm not embarrassed enough already:
This video was take #2.  The first one consisted of me giggling uncontrollably for 1 minute.
Note the awkward way I take his hand to hold it.  Oops.
Sorry about the super awkward comment about Brokenback Mountain Road.  We are that immature.
Finally, I've got a teensy tiny confession for you.
We didn't really go phone-free for the entire weekend.  The few times we had cell phone reception – like on the top of Skyline Drive – we really enjoyed peeking at the phone to see the blog comments coming in.
Oh my gosh, we felt so incredibly appreciative of all the love and good blessings that you shared with us!  In fact, several times I was overwhelmed by the emotion of it all and teared up!  When I started this blog in 2009, I had no idea I was going to meet so many incredibly wonderful people who would become friends!   And I certainly never thought that they'd play a part in my engagement, of all things. :)  Next thing you know, we'll be live streaming our wedding or something.
Just kidding.
My point is, we both want to thank you for being so freakin' awesome.  Your comments on the What the Hell, Proposed Abode post will forever be saved as part of our big fat happy memory of that weekend.  The end.
For the newbies:
-Part 1:  What the Hell, The Proposed Abode!?
-Part 2:  Ryan Asked, and I Said . . . "No"!