Early on in the planning process Ryan and I nixed the idea of wedding favors.  So many weddings include them, and brides are now spending upwards of $4 a person on a trinket that is supposed to provide a lasting memory to the guest who attended.
And let's be honest – not many favors appeal to all people, or they end up adding clutter to their homes. And most of the affordable options out there are not biodegradable and are most definitely Made in China.
But at the last minute we decided to offer our guests something sensible and something sinful:  bottles of water and chocolate-dipped pretzel sticks.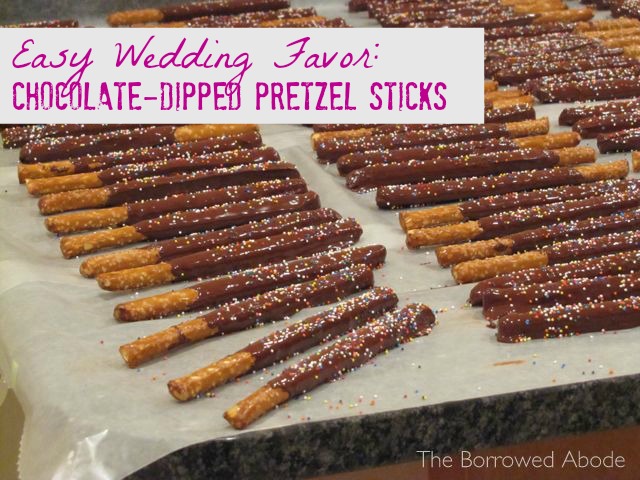 The chocolate-dipped pretzel rods were a pretty easy project that was accomplished in one evening with the help of a friend.
Did you know you shouldn't use chocolate chips for coating pretzels?  I learned that the hard way!
After dipping the pretzels, we had some issues getting the chocolate to harden.  It turns out that chocolate chips have additives that help the chips say soft after the cookies are baked.  You don't want that quality when you're making chocolate-coated pretzel rods.  Baking chocolate, on the other hand, will harden nicely.  Another option is to use the candy disks that they sell at the craft stores, but I'm not a fan of them because I don't think they're great quality and I'm a chocolate snob!
Total cost of wedding favors for 85 people? Less than $100 !
Supplies:
Pretzel rods
Ghirardelli dark semi-sweet baking chocolate
Sprinkles
Here's how we did it:
Line your counter top with wax paper, if you're making a ton.  In my case, we had to make 140.  If you're making a smaller amounts, you can set the pretzels on a baking sheet or across the top of a bowl to dry.
Break the baking chocolate into a tall container.   We used a tall, wide-mouthed mason jar.  You need to be able to dip a good part of the pretzel!
Microwave it, checking every 30-45 seconds to stir the mixture and prevent burning.  You'll need a pot holder so you don't burn your hands on the container.
After a few minutes your chocolate should be smooth and melty.   Dip each pretzel stick in, then pull it out and let the excess drip off.
Set it on the wax paper, and then shake the sprinkles onto it before it hardens.
Continue the process, re-microwaving the chocolate and adding more chunks whenever it starts to harden.
Let dry overnight to ensure they harden fully before you package them.
It's so easy!
Packaging the Pretzel Rods
To ensure our treats weren't wasteful, I ordered skinny biodegradable plastic pouches from Nashville Wraps, my go-to packaging source for Janery.  They were the perfect size to hold two pretzel sticks.
I tied the pouches with ribbon and added fun little tags.  Cute packaging makes all the difference!!   I created the tags using a "thank you" stamp and the same lace stamps used on our escort cards.  The tags were cut with a die cutter from the craft store.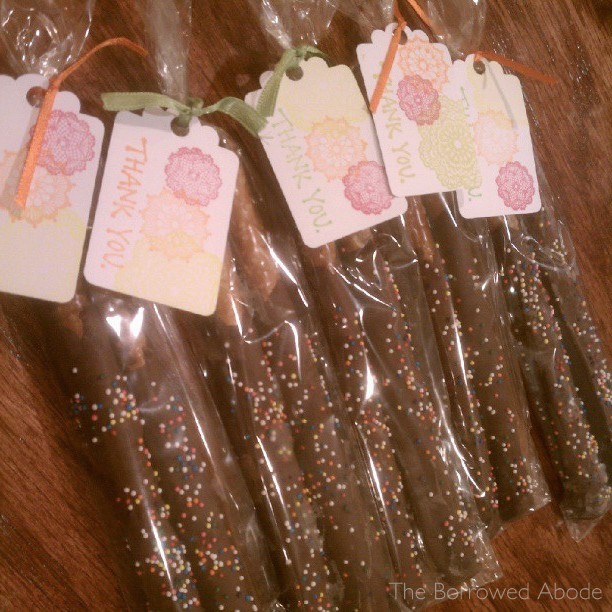 Easy Personalized Water Bottles
To dress up the water bottles for the occasion, I created some labels with our initials, in our wedding colors.  We then printed them, cut them out, and wrapped them around the bottles, securing them with a small piece of tape. If you're really particular you can use double-sided tape.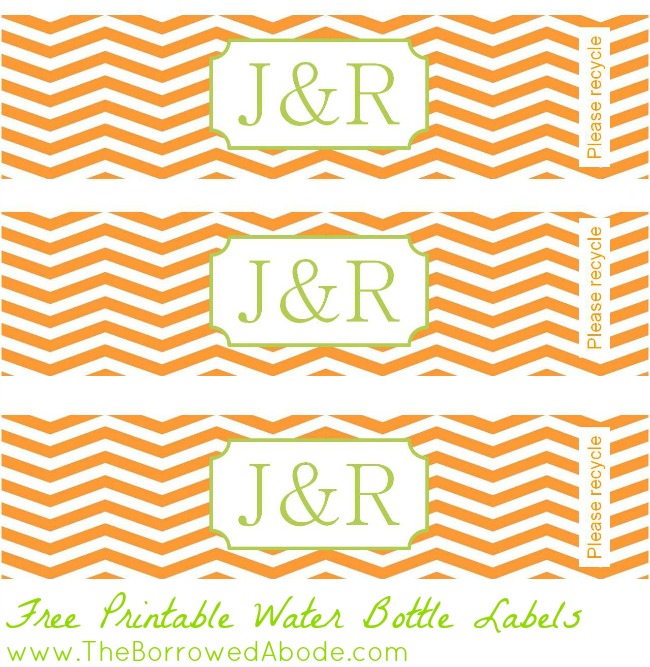 I created the labels in  PowerPoint, and I'm sharing it as a free, customizable printable where you can change the initials, colors, or even the image background if you want to.  At least this way you have a guide to work off of.  It fits most standard small water bottles.
Get Your Free Printable Labels!
Click here to access the water bottle labels. 
At the wedding the favors were on a table, with a framed sign in the middle that read "something sensible and something sinful", with arrows pointing to each.  Unfortunately the table didn't look as amazing as I'd hoped, because I totally forgot to pack containers for the pretzels.  As a result they were just piled on the table.
I suppose the poor display won't make or break our marriage, though. 😉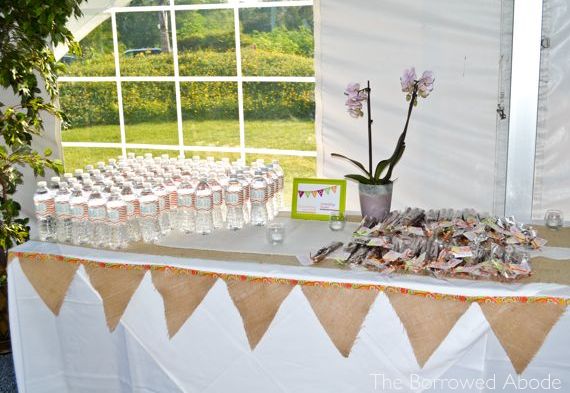 PS: If you're new to the blog, click here for more wedding project posts!