When you're decorating a room, rugs are a fantastic way to make a huge impact on a space – the bigger, the better.  However, the prices of large rugs can intimidate a renter who's decorating a temporary space, or a homeowner who is on a tight budget.
Now that I'm trying to finally decorate our basement TV room, I'm on the hunt for an inexpensive, large rug.  I'm happy to invest in a beautiful piece of furniture, but since we are renting, now is not the time to splurge on a fancy, over-sized rug.  That led me to search for DIY and budget options – and I was thrilled by the many results I found.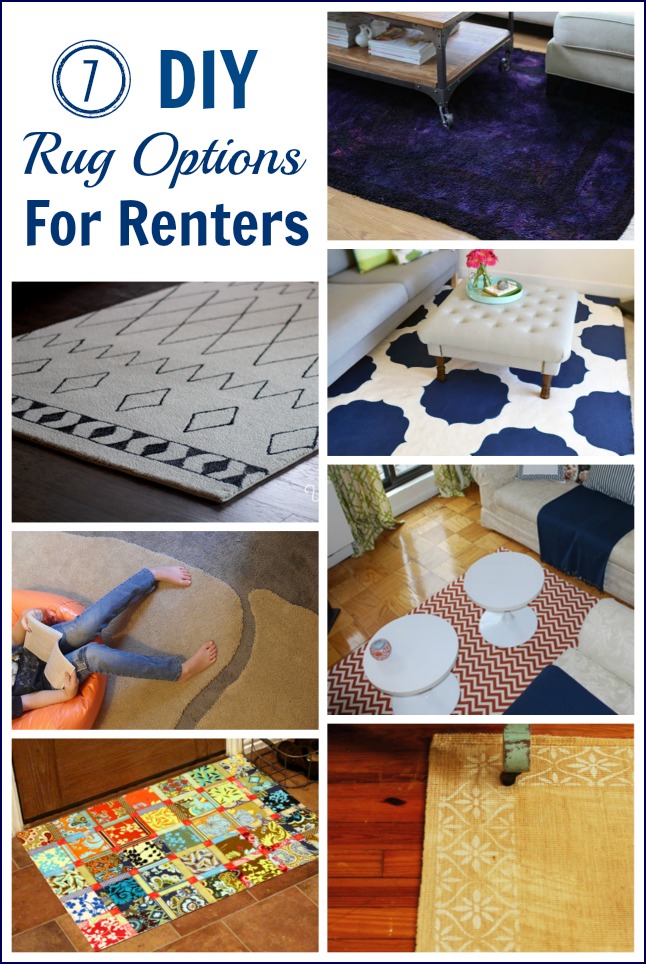 1.  Painted Cloth Rugs – This option seems to be a popular one with DIY bloggers.  You find an inexpensive, plain rug, then either tape off a pattern or use a stencil when you paint it.  I haven't found much info on how well a painted rug holds up to foot traffic, but it sure looks like a fun project that could yield great results if done well.
This painted rug by Sarah M Dorsey Designs is my absolute favorite:
Sarah of Diddle Dumpling painted her white Ikea rug using a DIY stencil. It looks fantastic!
2.  Painted Jute or Sisal Rugs – Jute Rugs are another great candidate for the paint treatment.  Below, Marian of Mustard Seed Interiors gave a simple jute rug a classy upgrade with a simple white border.
3.  Sharpie Sketched Rug – This is a newer twist on the painted rug concept.   Katie of Upcycled Treasures created a great West Elm knockoff for only $25 by using a sharpie to create the rug's pattern.
4. Fabric Scrap Floorcloth – This funky rug is essentially a small quilt!  The blogger at Craftapple turned it into into a sturdy rug with a few simple supplies.  Skeptical? I was too, until I read how she did it.
5. DIY Fabric Yardage Rug – Camila of Effortless Style sewed a chevron rug out of fabric and rug backing.  I think this is a great option for renters who are stuck with dingy wall-to-wall carpet in living rooms or bedrooms.  A simple DIY rug like this would pull the room together if placed under or a bed or coffee table, and you don't have to worry about heavy wear since it would sit over carpeting.
6. Remnant Cutout Rug – Finally, you could get an inexpensive remnant from a wall-to-wall carpet store and have it bound.  But why do that when you could cut out a fun shape instead, like they did at Offbeat Home?  A simple wavy edge could kick things up a notch.
7.  Overdyed Vintage Rug – I've saved my favorite DIY rug option for last.  To transform an old, unfashionable rug, you dye it a rich jewel or dark tone.  The former pattern peeks through, but the wash of bold color helps overcome the outdated pattern.  Be sure to use a natural fiber rug (cotton or wool)  to ensure it drinks up the dye evenly.
This rug at Paperblog is my inspiration – and you'll never believe what it looked like in the "before" image!
I also love how this one by Kristen F Davis Designs turned out:
For our basement solution, I'm leaning towards that last option – overdying a vintage rug.  Now it's time to hit the thrift store in search of an old, unloved rug!  In the mean time, you can find more rug and floor covering ideas on my Rugs & Floors Pinterest Board.