I recently tried a project I saw on Pinterest – dyeing a thrifted wool rug to make it less ugly and more awesome, in an attempt to have a budget-friendly large rug for our basement TV room.   I had mixed results, which I imagine is often the case when a budget-friendly solution seems too good to be true.
If you want to see my pros & cons list, skip to the end of the post.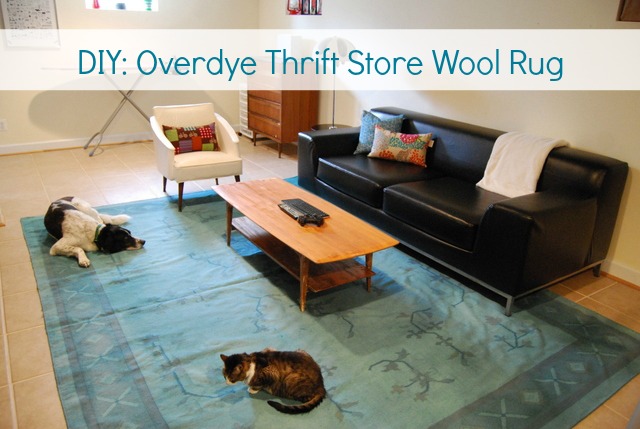 It all started when I scoured Pinterest for budget-friendly DIY rug ideas.  One idea I stumbled onto was the overdyed rug, where you take an ugly old natural fiber rug and dye it a rich jewel tone to mask the outdated pattern and make it more modern.
In a great twist of fate, I found a large (10 x 12) wool rug at the thrift store for only $15.  It was filthy, but after four rounds of steam cleaning at home, the water finally ran clear and the rug was ready to dye.
I tackled the dyeing process when Melissa, my college roommate, spent the weekend with me.  She's the perfect person to rope into any DIY adventure.
The rugs I read about were small, so people were able to soak them in tubs of dye.  My rug was way too big for any of that, so I laid the rug on a large tarp in my back yard.  I mixed 8 boxes of teal RIT dye with hot water in a plastic laundry hamper, and then Melissa and I proceeded to pour the dye over the rug with watering cans.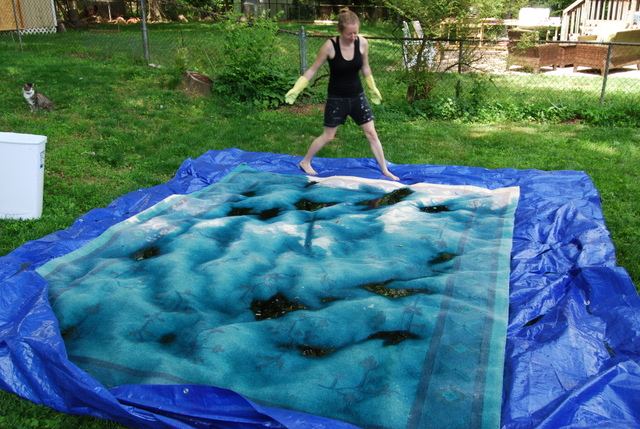 The dye pooled in different areas and wanted to run downhill to one end of the rug, even though the yard appeared flat.
The wool rug was so thick and densely woven that the dye wasn't soaking all the way through, so eventually we started stomping the dye into it with our feet, like we were doing grape stomping.  (Our toenails are still blue. . . )
We let the dye sit on the rug for an hour, and then rinsed it off with the hose as well as we could.  Finally, we left it in the sun to dry before bringing it inside.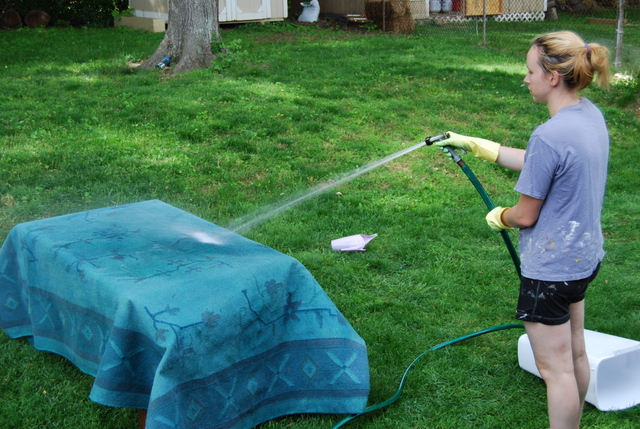 Fortunately Ryan and I have a dehumidifier in the basement, because I think the rug needed several days to dry completely.
This past weekend Ryan and I rolled the rug into place, and even though the 80's pattern was still evident, it looked much better than its original beige and pastel colors.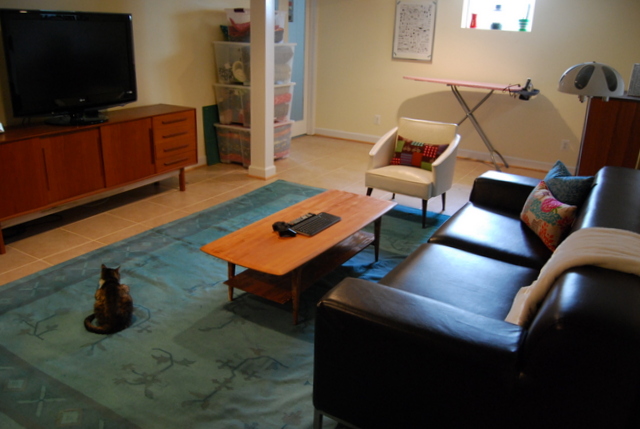 The teal color was only 50% as dark as I wanted it to be, but I didn't feel like repeating the process.  The large rug is really cumbersome to deal with, even more so when it's soaking wet.
There are natural variations in the dye so that some areas are darker than others, and I don't mind that so much. This one corner, which was on the downhill end, has the richer, darker teal that is closer to what I'd hoped for: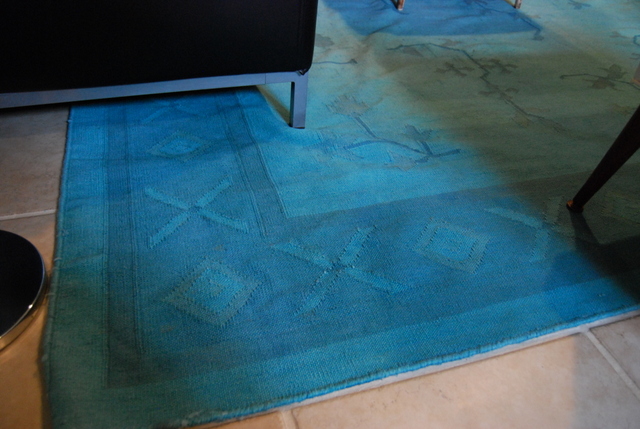 This corner is lighter and more dingy looking: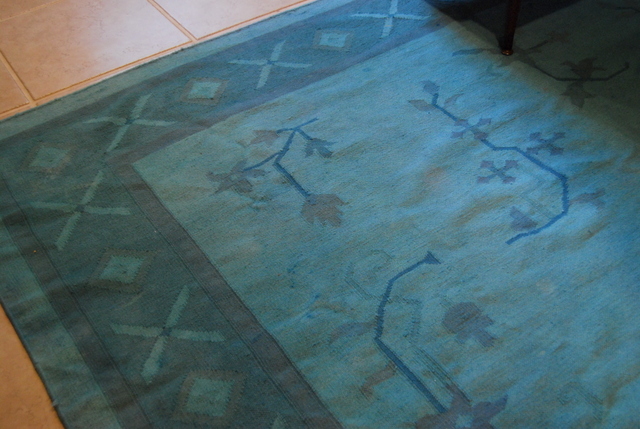 And this corner is the worst: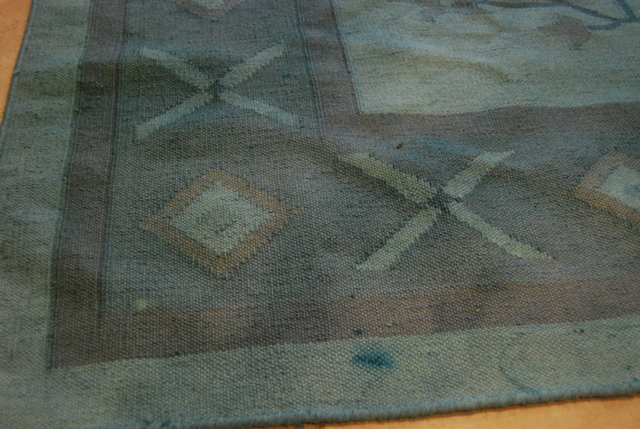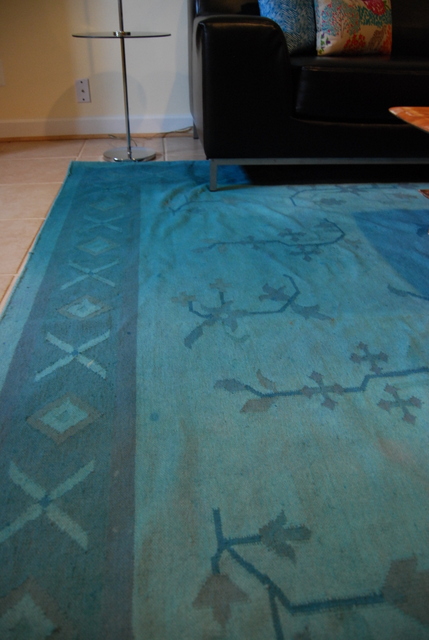 So, what's the verdict?
I could work with the variations.  The worst corner could go under the sofa area, where it would be less obvious. And the basement looks much better with a big, colorful rug anchoring the seating area.
However, we've decided this isn't a good rug for our basement.  Here's why:
When we pulled up an area of the rug to move it, we found teal dust underneath it.  This makes me think I didn't rinse it out all the way.
Our basement floods after days of heavy rain, and I worry that if the rug gets wet it may stain the tiles or grout teal.
The whole reason we wanted a cheap rug was because my one cat occasionally pees on the basement rug, and again – if the dye comes out, that could be a big mess.
Pros:
This is a cheap & easy way to update an ugly rug.
Cons:
The larger the rug, the harder to dye it.
It's hard to rinse the rug thoroughly, so there's a risk that moisture on the rug could cause stains.
Large rugs don't fit in the dryer, so you can't really heat set the dye.
Overall, if you want to create an inexpensive, colorful rug, I think you're better off painting a rug or trying one of the other DIY rug ideas.  I don't think dyeing a large rug like this is worth the risk of staining.
For awesome updates & exclusive discounts on Janery pet beds, please sign up for my newsletter!