While we're on the topic of kitchen-y updates, would you like to see our new-to-us dishes?
When my brother and his wife recently moved into their 100-yr-old home, they discovered this awesome vintage set of atomic dishes in a basement crawl space: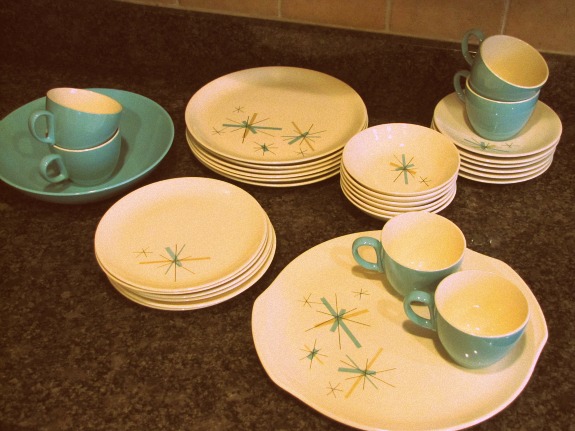 And when he asked if we wanted them, I jumped at it faster than a cat on a mouse!  Our only dishes are a pricey set of Denby stoneware.  Therefore I'd been glancing at thrift stores hoping to find a few inexpensive vintage plates for casual daily use.
These fit the bill almost perfectly.   And after a smidgen of online research, I now know we obtained Salem China's North Star pattern, made in the 1960's.   They seem pretty popular amongst mid-mod enthusiasts.  I'm just not sure about two things.
1) I don't like to save things I don't need.  And I certainly don't need the teacups and saucers that came with the set.  For nightly mugs of tea I prefer a large mug.  For a morning coffee or post-dinner-party coffee I use my "good" stoneware teacups.   Should I split up this vintage set and give away / sell the teacups and saucers? Or should I store them in a box in the basement, so that the whole set can remain together?  As a vintage dish fan, I'm reluctant to split up a pristine set.
2) I have no idea if this stuff is microwave safe.  Anyone have any idea?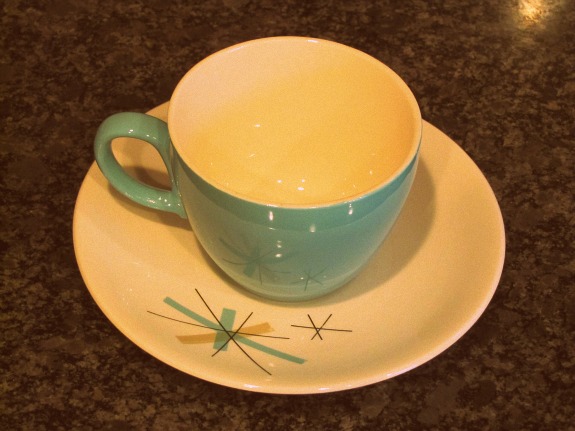 Check out the sweet platter that was included.  And from what I found on Atomic Inspired, there's even more fun to be had with the matching teapot, cream and sugar set, and casserole dish.  If Ryan approves, I may have to hunt those pieces down on Etsy and eBay.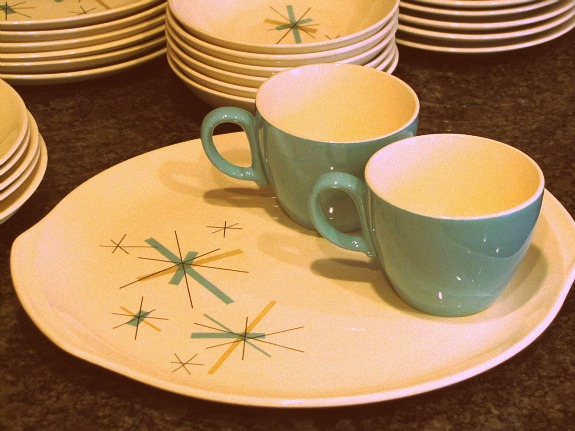 But that's not all the vintage goodness we received!
Also in the crawl space was this set of white stoneware, made in and shipped by Ceramano in West Germany (circa 19-??).  Even better, most of the dishes were still in their crumbling original packaging.  Never opened or used. Would I love to know the story behind that.
All in all, our set is comprised of 8 dinner plates, salad plates, pasta bowls, mugs, and 1 cream and sugar set.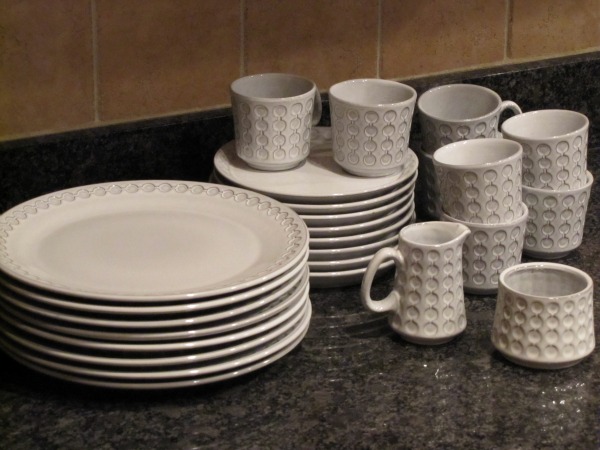 How much fun is the recessed circular pattern?  The only thing I can't figure out is why there is a mismatched black stoneware lid for the sugar bowl.   Information on this exact pattern seems to be lacking, though a similar pattern, Ceramano Omega, exists.    If you know anything more about these dishes, or can point me in the right direction, I'd love to know!!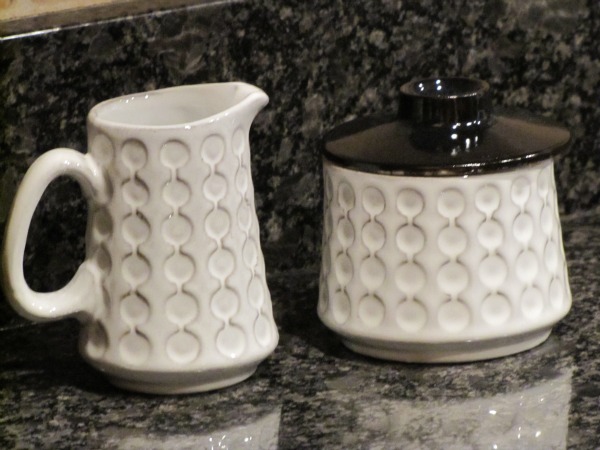 So now we have not two, but THREE sets of dishes.  Oh dear.  I'm absolutely keeping the Ceramano cream and sugar set, because I can't wait to make some small flower arrangements in them.   And the Ceramano pasta bowls are awesome – a cross between large bowls and small plates.
So back to my anti-hoarding tendencies.  There's NO REASON we need three sets of dishes.  But I can't decide if I want to break up the Ceramano set either.  So I told Ryan that for now we'll store the white plates and mugs, and the atomic teacups, in a box in the yet-unused attic.  And I promise to make up my mind in a few months.  Decisions about mint-condition sets of vintage dishware are not to be made lightly!
In case you haven't yet noticed, I have a thing for vintage dinnerware, Pyrex, and barware.  What's your weakness when it comes to collecting?