I just realized I never shared the rest of my completed studio/office makeover!  So without further ado, let's take a look at all the function and storage in the sewing corner of the room.
The two shelves above the sewing table hold most of my desk supplies and sewing bits.  And any tiny odds and ends that didn't have a place anywhere else.  You've already gotten a peek at the custom dry-erase board and cork board in this space.
As you can see, I also mixed in a few framed photos of loved ones, as well as my stash of journals and inspiration books.
Check out that crazy bright glow of the lamp.  It helps me not feel like an old lady when trying to thread a needle now.   After listening to all your opinions on the placement, I'm pretty sure I'm going to move it over a bit.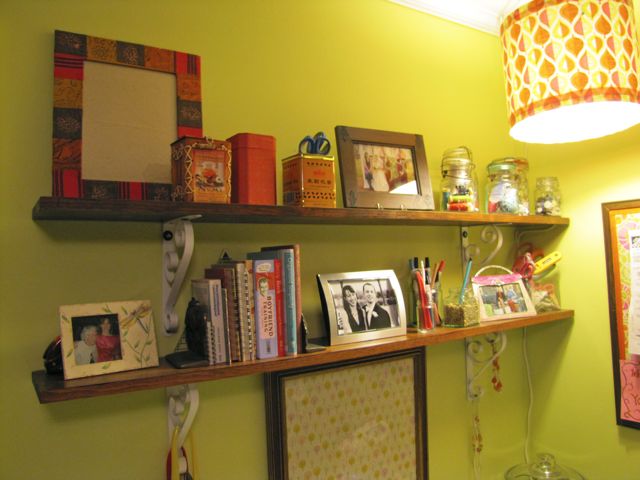 To corral all the different bits and pieces I use when sewing and crafting, I dug through my stash in the basement: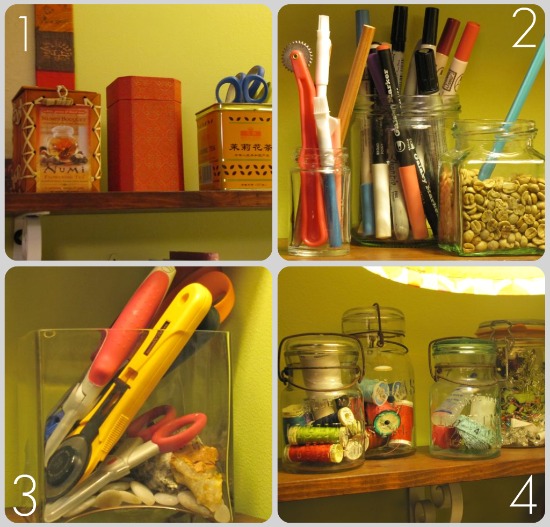 My loose change, command adhesive products, and scissors are all corralled in some old tea boxes.  Finally, my container hoarding has paid off!
Clean glass jars store my scrapbook pens, fabric marking tools, and my sole charcoal drawing pencil is nestled in the random green coffee beans found in the jute sacks I'm sewing with.
A large, square glass vase does double duty for now, holding not only my sewing scissors and rotary cutters but also the rocks that I've picked up on special trips. (I use a sharpie marker to write the date and location of each trip on the rock I save.) Eventually the rock collection will graduate to another container.
Finally, my spools of thread and fabric trim found a cute home in the vintage glass canning jars that I showed you last month.
It's quite the mish-mash of containers, huh?  But I think I make it all work because they're all arranged in groupings, and the colors tie into the other accessories on the shelf.
And speaking of those shelves, here's how I mounted my custom dry-erase board below them.  I initially planned to hang it from hooks on the wall, so that I could grab it easily to carry it around and write on it.  Instead I  screwed tiny little cup hooks into the bottom shelf and hung it from there, so that I wouldn't have to put anything on the wall to suspend it.  I love how it worked out!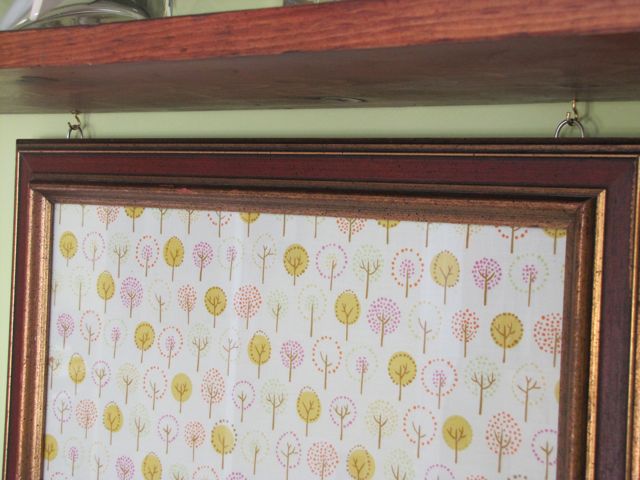 I also found a clever way to store both my small and large cutting rulers so that they were right in reach but not cluttering up my sewing table.  The small ruler rests on two tiny little Command hooks on the wall below the dry-erase board: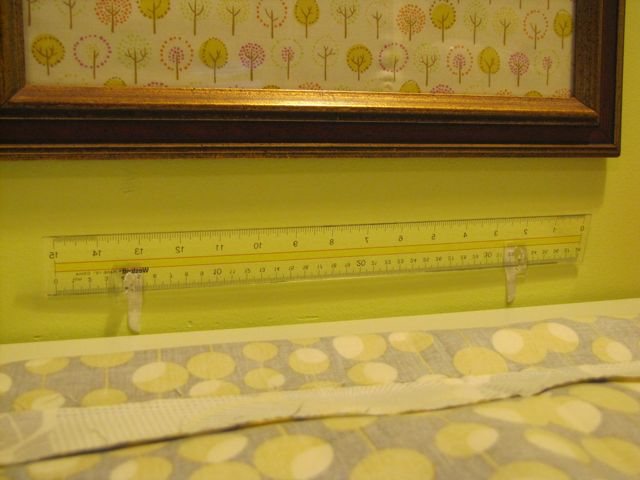 And the huge ruler hangs on the other wall in that corner.  I am so pleased that I thought of this storage method, because it walks the fine line of being super easy-to-grab, while staying out of my way when I'm not using it!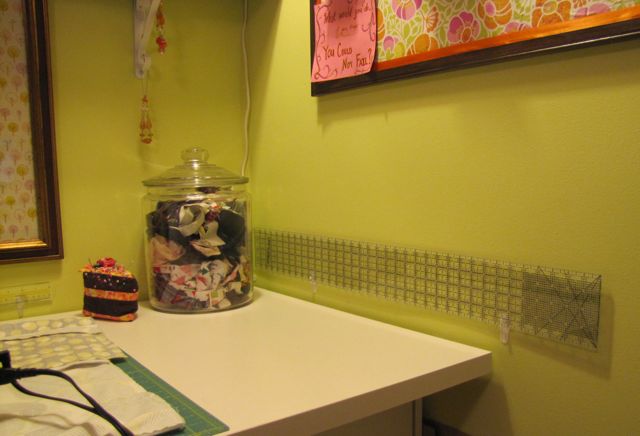 At first I wasn't sure if my idea would work, because the tiny clear hooks are so small, but it totally does!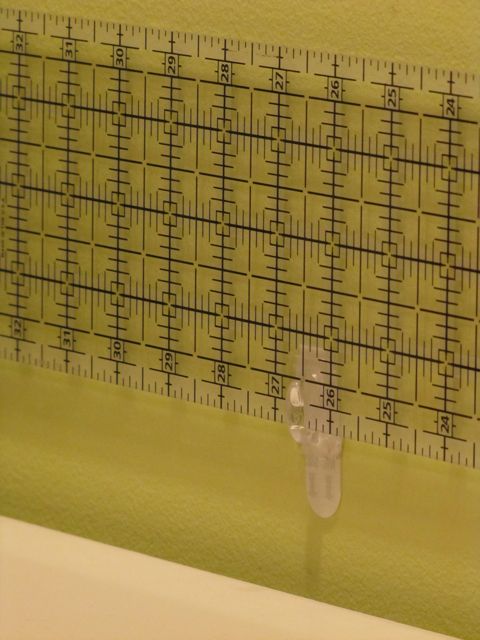 That's a wrap of what's going on in that corner.  I'm not sure the space could handle any more function than that!  By next week I'll show you the final touches in the other areas, and then we'll finish it off with Ye Olde Studio Makeover Video Tour.