On Monday night I wasn't in the best mood when I ran to Home Depot.  But when I came home, I marched straight into Ryan's office, practically glowing with happiness, and said to him "It's amazing how one little thing can change my mood completely, to make today go from a terrible day to a totally fantastic day."
I also couldn't stop grinning.
I was going to ask Ryan if he could guess why, but he was already putting on his shoes and asking me "So what did you find now . . . "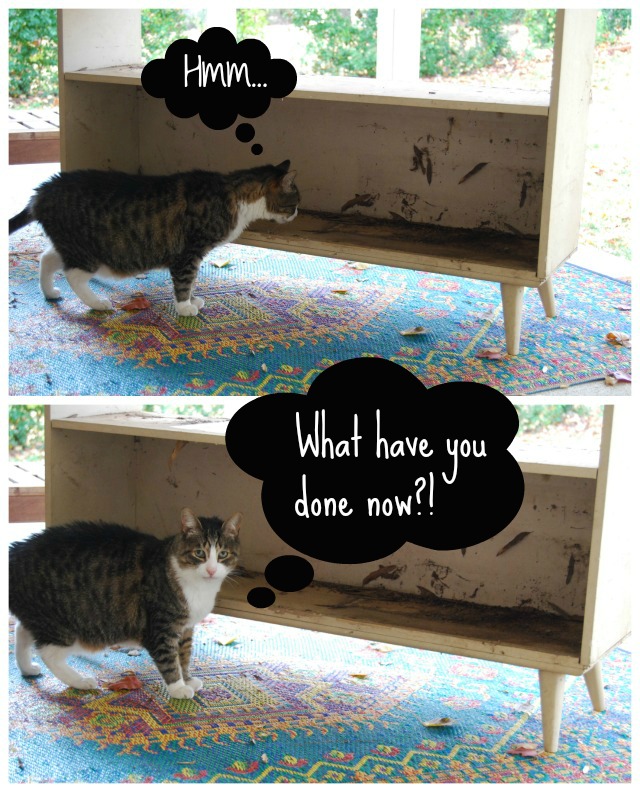 Well, I'm sure the title of this post answers that question plain and simple.  It was dark when I was driving, but I saw the outline of the shelf and pulled over to check it out.  It was made from solid wood (not crappy 50′s veneer) and appeared to be structurally sound, so I popped that baby in the car.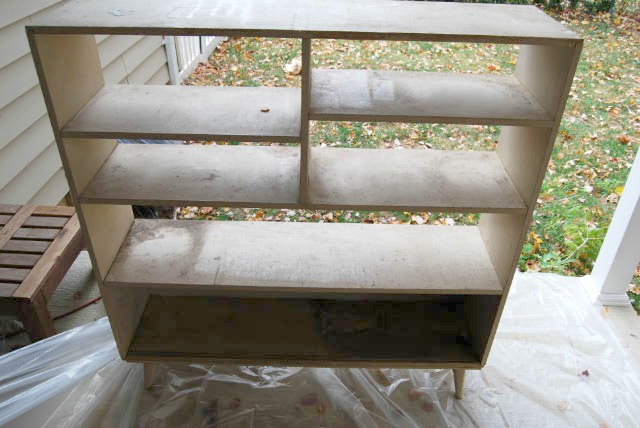 I tried not to freak as clumps of dirt fell onto me, and my hand felt a spiderweb in it.  Apparently my fear of bugs is no match for my enthusiasm for trash rescue.
The poor shelving unit had clearly been used in someone's carport or other outdoor area, because there truly were CLUMPS of mud and leaves on its shelves.  Not to mention mouse poop, oil stains, bug cocoons,  and heaven knows what else.
As soon as the bookshelf was safely stowed on our back porch, I raced back to the car to sweep out any dirt that may have remained, because eww. . . I don't want bugs in my car!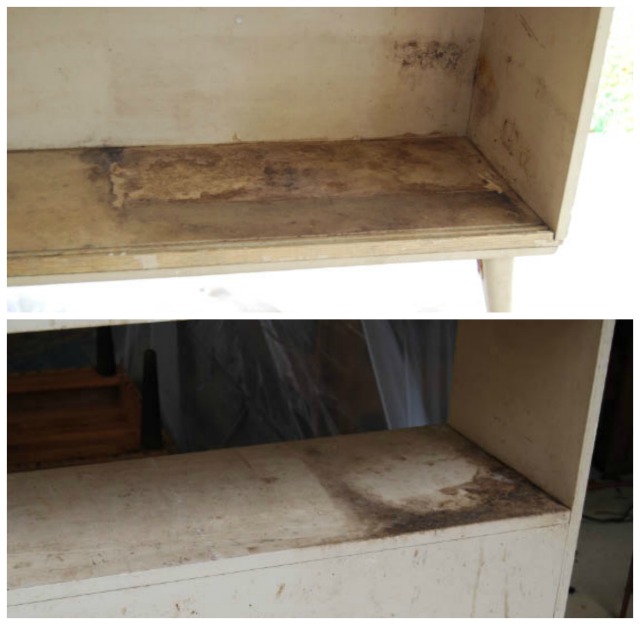 Meanwhile, back on the porch, Ryan was just shaking his head. 
The bottom shelf has grooves for glass doors, like a sort of cabinet.  I'd love to find replacement doors because the bottom shelf always collects the most pet hair . . . at least in our house.  Doors would solve that problem perfectly!
I think it will be perfect in our basement rec room.  We've talked about adding book shelves for a while, and wanted to build them with pipe segments and old lumber, but now that Charlie's put us on a budget — well, free furniture is the best way to go!
Stay tuned. . . I'm not letting this sucker sit around for long. One of my two goals for the year was to Finish Half-Completed Tasks, so that means no procrastinating!