The other night I spied a Wassily style chair as I walked the dogs.  It was just like the one in Ryan's office, except with different upholstery.
This chair was sitting in someone's yard, not as part of landscaping, but more like it was destined for trash. Since it wasn't on the curb, I wondered what was going on.
Last night I got answers!
Ryan and I were driving down our street as the homeowner carried an identical chair to the curb, setting it down next to his trash. Before I could finish squealing "stop the car!" Ryan had stopped on a dime, and I hopped out, asking the man if the chair was trash and we could have it.
He said yes.  Then he asked if we wanted a second one.
I almost died of excitement, but tried to remain cool. I didn't want to seem like a grinning fool. Sure enough, the man carried over the chair from its spot in the yard.
We could only fit one of the chairs in the car easily, so I carried the other one home while Ryan drove. It was only a few blocks.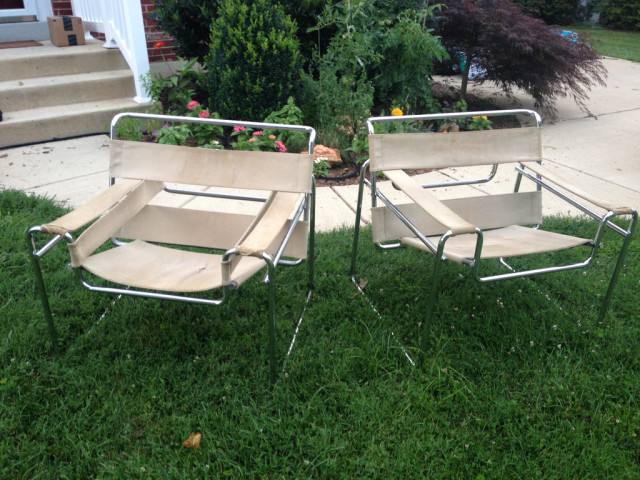 Once home, I inspected the chairs. The chrome tubing was in decent shape, nothing a little elbow grease won't fix, but the canvas upholstered straps were gross from years of use.   Nothing a little reupholstery can't fix!
The timing couldn't be more perfect. I was looking for a pair of chairs for a room makeover Ryan and I have discussed, but I won't spill the beans on that just yet!
What's more exciting is that the chairs have old, worn labels on them, but I was able to make out some of the writing: "GAVINA Made in Italy".
A little research led me to believe that these could be authentic Wassily chairs! They were manufactured by Gavina in the 1950's and 1960's until Knoll bought the brand in '68. To find out more, I emailed my favorite vintage guru, Lance at Just L Modern Antiques and asked what he thought. I look forward to learning more.