After sharing that Ryan and I got our sofa back from the upholstery shop, I wanted to discuss the reasons why we chose to use real leather instead of any other material. Also, did you know there's  several different "grades" of leather, with some of them being really crappy? Before this, I had no idea!
This has been an adventure in taking the time to save up the money to do a project right the first time. In  the past I've been tempted to choose a cheaper option thinking it will be good enough, and that has sometimes been a mistake.  In the case of our sofa, since we loved the lines and were spending the money to get it recovered, we wanted it to be just right.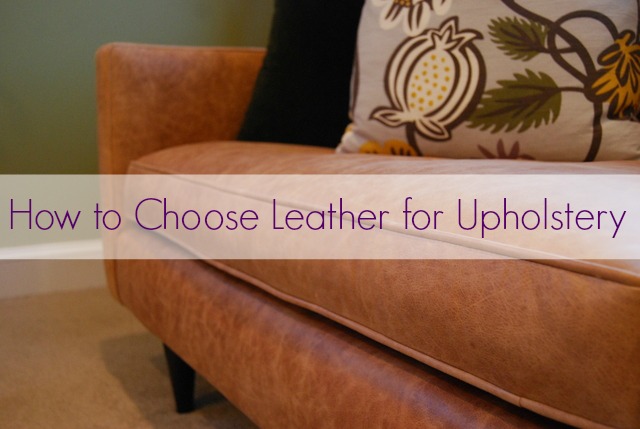 Why Leather?
When I first purchased the white couch, I thought I'd have it redone in white faux leather.  But we were both disappointed in the black faux leather slipcover (from ComfortWorks) that we put on the rec room sofa.  It feels plastic-y and scratches show white fabric underneath.
What about fabric?  Many fabrics require maintenance.  Washing slipcovers or vacuuming.  And heaven forbid the cats snag the fabric again.
This brought us back to the topic of leather, which we had been avoiding because of cost and animal rights reasons. But for what we wanted in a sofa, leather really fit the bill:
Clean up easily
Not attract pet hair
Not be slipcovered
Scratches and worn spots must contribute to its look, not detract from it
Be kid-proof
Last for about 10 years, if not more
We decided that we'd go with leather, and in the long run the durability and environmental friendliness of having it last for a long time would outweigh the animal rights & cost issue for us.
Choosing the Right Grade of Leather:

The upholstery shop explained about the different grades of leather, and we decided to save up for high quality, full-grain leather.
Cheapest Option – Bonded Leather:
Bonded leather, or recycled leather, is the cheap leather on lower-end furniture in stores. They use the word "recycled" to make it sound like such a responsible choice, but as the consumer you will likely be disappointed in how it wears over time.
Scraps are glued to a fabric backing, and the top is coated with a polyurethane layer to help it all hold together. It's like the leather equivalent of particle board, and it falls apart quickly.  Scratches and worn spots do not look good on bonded leather.  When areas get worn, the polyurethane coating wears off and the color underneath is totally different.
I've read that even La-Z-Boy is using this stuff now.  Yuck.
Best Option – Full Grain Leather:
Full Grain Leather is the best, and its natural surface wears beautifully with use.  It comes from the top layer of the hide.  Scratches can be buffed out if they're really bad, and they won't reveal a different color underneath
We want this sofa to look fabulous and hold up well to kids, pets, and me for a long time – so we chose full grain leather. 
If you're considering buying anything made with leather, you seriously should check out this article on the different types of leather so you don't get screwed: Saddleback Leather's awesomely great article.
For awesome updates & exclusive discounts on Janery pet beds, please sign up for my newsletter!